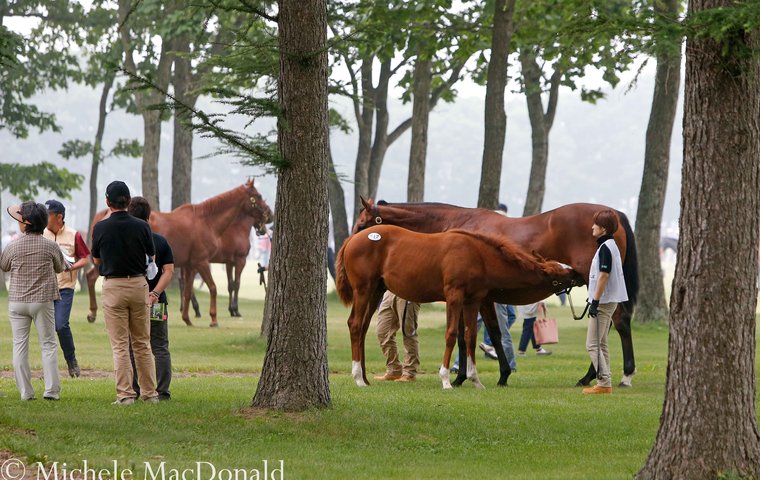 For virtually as far as the eye can see, hundreds of mares and foals stand under white birches and towering evergreens, morning mists wafting around their bay, chestnut and black forms in a mystic scene unlike any other.

The air is punctuated with questioning whinnies and reassuring nickers. Foals yawn and nurse, and sometimes buck and jump, but there is a general sense of exquisite natural harmony in this tableau.
This is a nirvana for anyone who treasures horses, an Elysian Field of visual delight charged with an almost palpably potent promise for the future.
The mares who gather under the trees, their ranks extending into a wide grassy plain, include an impressive number of the world's most glittering equine jewels. Some of their foals — most ranging from about three to six months old — undoubtedly will grow into the next wave of racing stars.
Breathtaking scene
But all that can wait. The sheer beauty of this scene, particularly when the value of the horses is considered, takes the breath away of even the most seasoned Thoroughbred breeders and buyers.
"You can't help but get goosebumps when you see all those mares and foals lined up together," said Dermot Ryan, manager of Coolmore's Ashford Stud in Kentucky.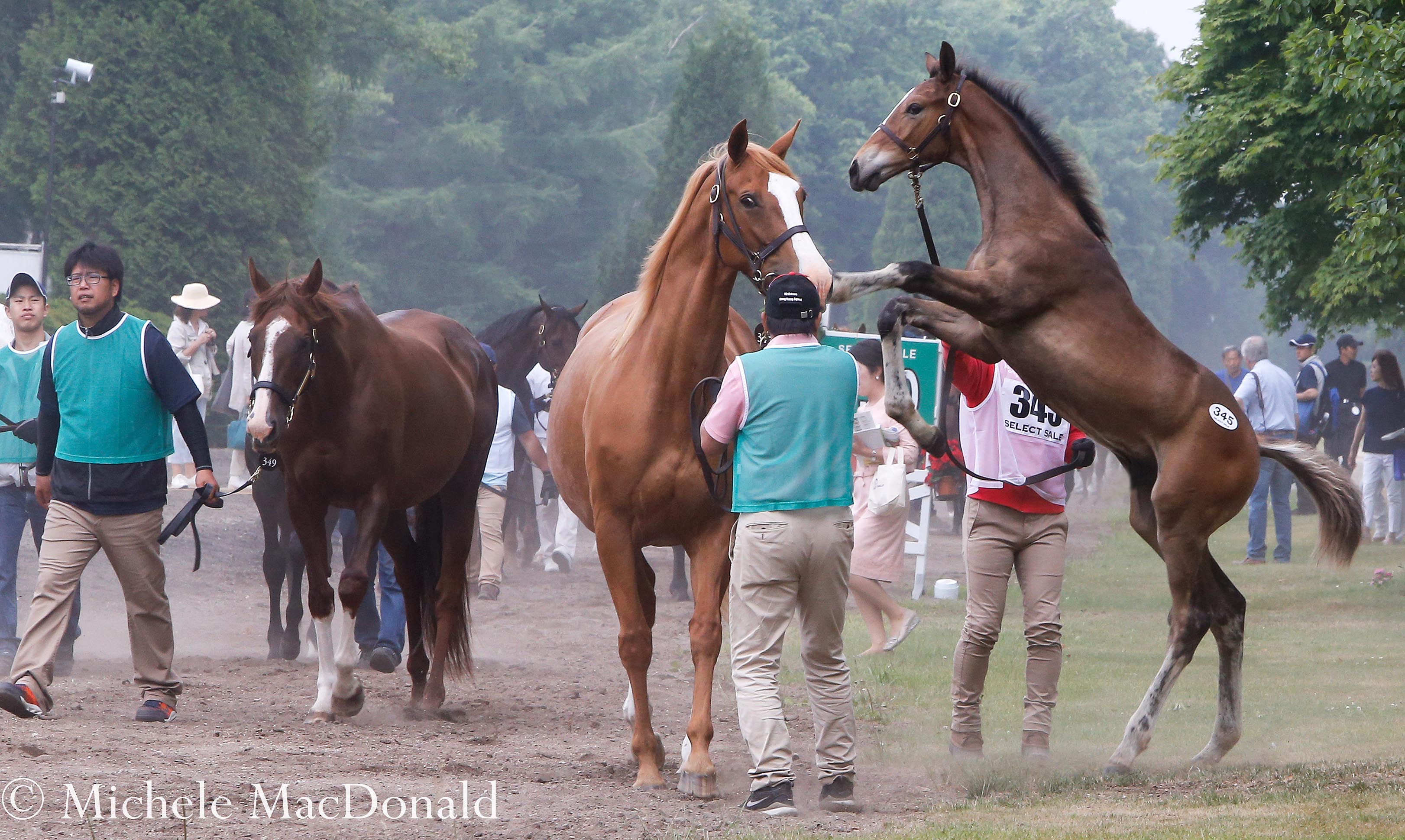 It may be surprising to some that this glimpse of horsemen's heaven can be found only in Japan, during the annual select sale conducted by the Japan Racing Horse Association at the Northern Horse Park on the island of Hokkaido last month.
As much as ever, the eagerly anticipated foal show during the recent 20th anniversary edition of the JRHA sale was the highlight of not only the auction, but of the Japanese breeding industry, which is the world's fifth largest in terms of foal production after only the United States, Australia, Ireland and Argentina.
Sparking the fifth consecutive record for gross sales during the two-day auction, which begins with a yearling session, this year's JRHA foal extravaganza set new standards for turnover and average price.
Fifteen by Deep Impact
Yet it's the vision of the foals with their dams that makes it unforgettable.
Milling among the 220 mares with their foals on display in July were the 5½-month old full sister to international superstar Gentildonna, who banked $18,468,392 during her incomparable career spanning Japan and Dubai, and the 3-month-old full brother to reigning Japanese Horse of the Year Kitasan Black.
And there were so many more intriguing foals with superior catalog pages, including a total of 15 by the world's leading sire by progeny earnings, Deep Impact (world-ranked three in the TRC Global Sires' Rankings).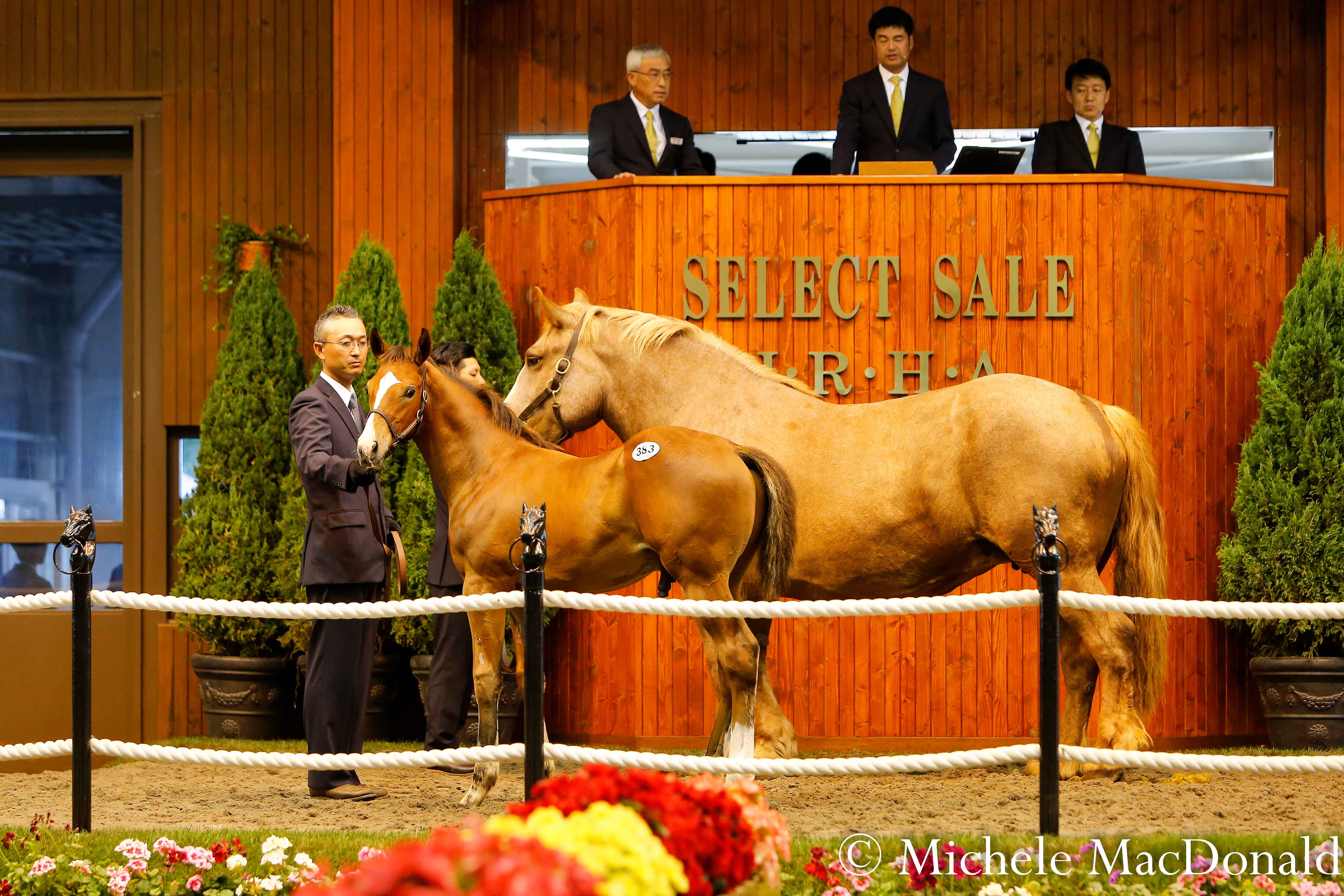 This sale also typically yields foals by exciting young or established international sires, and this year those individuals included youngsters by Curlin, Golden Horn, Liam's Map, Medaglia d'Oro, Bernardini, Pour Moi, Speightstown, Uncle Mo, Will Take Charge, War Command and, of course, all the top and emerging Japanese sires.
Just before 8 a.m., on an overcast morning that loaned an even deeper sort of mysticism to the proceedings, the mares, foals and handlers began gathering for inspection by potential buyers and spectators from around Asia, Australia, Europe and the Americas. For two hours, the horses stood and walked in close proximity, displaying their athleticism, patiently accepting pats and posing for photographs.
Although it would be spectacular anywhere, there are simple reasons that this kind of scene doesn't happen quite like this at any other location on the globe.
The first is that most horsemen in the rest of the world are reluctant to stake large sums on babies still with their mothers since the conformation and physical quality of foals can change over time, sometime for the better but sometimes not. Thus, this kind of auction is not viewed as practical for buyers or sellers elsewhere.
But, in Japan, there are longstanding traditions that make this sale mandatory for those both seeking and offering a sharp-looking foal with a desirable pedigree.
A Japanese tradition
Beginning years ago when Thoroughbreds often were not readily available in the limited marketplace, Japanese owners had to search for well-bred individuals as early as possible in order to secure the best racing prospects for their stables. Thus, they became accustomed to buying foals and indeed still relish the highly competitive opportunity.
For sellers, the foal sale represents a chance to make money quickly with at least some of the year's crop and thus avoid risks involved with raising horses subject to injury and disease over the course of another year or two.
"It is also a tradition in Japan to exhibit many horses together," said Naohiro Goda, JRHA spokesman and international coordinator, of the grand assembly of mares and foals. "I think buyers, especially those from foreign countries, find this sale unique and beautiful and are amazed at how well the foals behave," he added. "They are well managed and well trained to behave."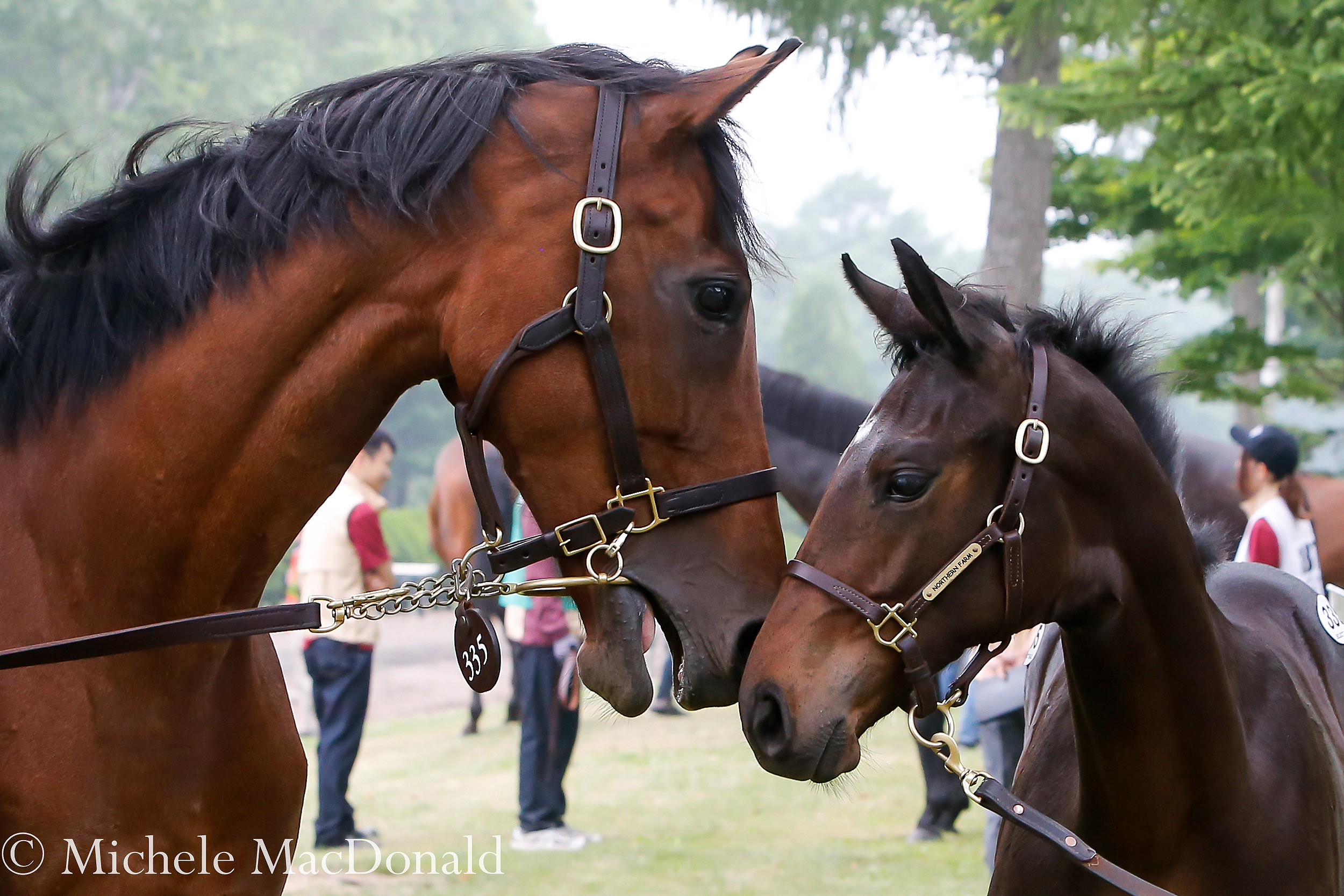 Like everything in Japan, there is emphasis on efficiency and propriety, and the foals and their dams are walked and shown often at the farms where they are based to prepare for this potentially stressful assembly.
Handlers also put in long hours of working with the mares and foals that are going to the sale, and typically the people on the end of the shanks are what one would expect in this nation: they are quiet and polite, not prone to yanking on shanks, and the mares and foals respond in kind. Few of the horses exhibit high stress, although a few mares can be expected to get a bit hot in such close company, particularly on a summer sale day when temperatures can rage past 90 degrees F (32C).
Farm visits required
With thousands of mares and foals having been paraded and then the foals auctioned at the JRHA sale over its two-decade history, remarkably there has only been one notable injury, and it was to a human, Goda said, which underlines the almost unbelievable serenity of this event. That injury involved a spectator who was kicked and suffered a broken arm.
It remains a cherished custom for buyers and observers to drift among the horses, savoring the scenery, and Japan's racing royalty can be seen bowing to one another and chatting as they complete their short lists for bidding.
The dynamics of this special sale, particularly the narrow two-hour window to view so many foals in this magical display, almost requires serious buyers to spend time visiting farms to pre-screen individuals in prior weeks.
With the Yoshida family dominating the sale in terms of number of offerings, particularly those with top pedigrees, visits to the Shadai, Northern and Oiwake Farms of brothers Teruya, Katsumi and Haruya Yoshida are advisable, Goda said. That trio of key farms lies not far from the Northern Horse Park area.
Stars shining everywhere
Other farms and consignors also offer shows, although some require more lengthy travel across Hokkaido to access.
What is immediately apparent in viewing the foals is how much the overall quality of Japanese bloodstock has improved since breeders, particularly the Yoshidas, began buying elite mares around the world to support Sunday Silence's Triple Crown-winning son Deep Impact. With the assistance of these mares in large numbers, Deep Impact has risen to reign as a world's leader, carrying on his sire's legacy, and other sires also are benefitting from the bloodstock upgrading.
When the mares and foals gather on sale day, it is easy to look up and see an American Grade 1 winner, an Australian champion, a French Classic winner, an Argentine champion, an English Group 1 winner or a Japanese champion among the producers. Stars are shining everywhere among the trees.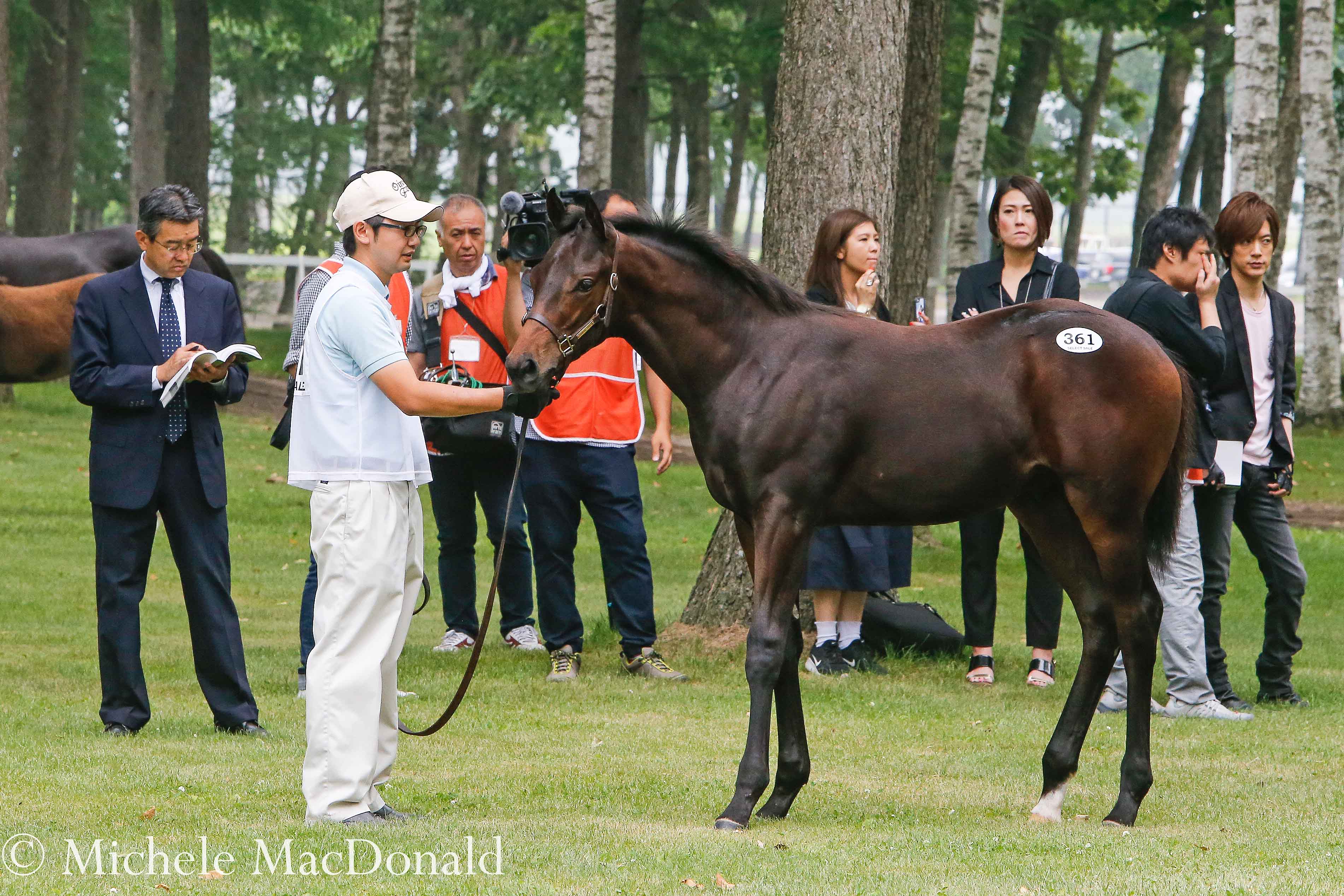 "Some visitors to the sale find the mares a subject of great interest," Goda said, recalling how at times some particularly stellar mares have drawn crowds of onlookers and media, all with cameras in hand.
This year, a quick perusal of the catalog showed that nearly a third, about 29 percent, of the mares with offspring in the foal session were of the highest elite quality, with 21 G1 winners, five champions, 36 sisters or daughters of G1 winners and a further three mares that had produced G1 winners. There were many, many more with rich, appealing pedigrees.
Among these bluebloods was Australian champion Shamrocker, a ten-year-old New Zealand-bred daughter of O'Reilly, who drew a crowd around her at one point during the morning show and was accepting fond caresses.
Hajime Satomi, the chief executive of Sega Sammy Holdings, later acquired Shamrocker's colt by hot young sire Lord Kanaloa for ¥180 million (about $1,578,948 under the exchange rate used by the JRHA). Shamrocker's colt, born on February 7 and offered by Northern Farm, was one of 17 foals that drew bids of at least ¥100 million.
$5 million bidding war
Poule d'Essai des Pouliches winner Elusive Wave also was a magnet for attention during the morning inspections as she walked briskly with her Deep Impact colt, born on January 27, at her side. The bay colt proved the most prized foal of the day, sparking a bidding war ultimately won by Riichi Kondo at a staggering ¥580 million ($5,087,720), the second highest price in JRHA history.
After the Elusive Wave colt was sold by Northern Farm, Kondo participated in another charming JRHA tradition: proudly posing for photos with his new purchase while cuddling the colt's head.
Another standout mare, Donna Blini, dam of Gentildonna and her foal full sister who sold for ¥370 million to digital gaming company DMM.com as a linchpin for a future racing club, was herself a star long before Gentildonna arrived at a racetrack.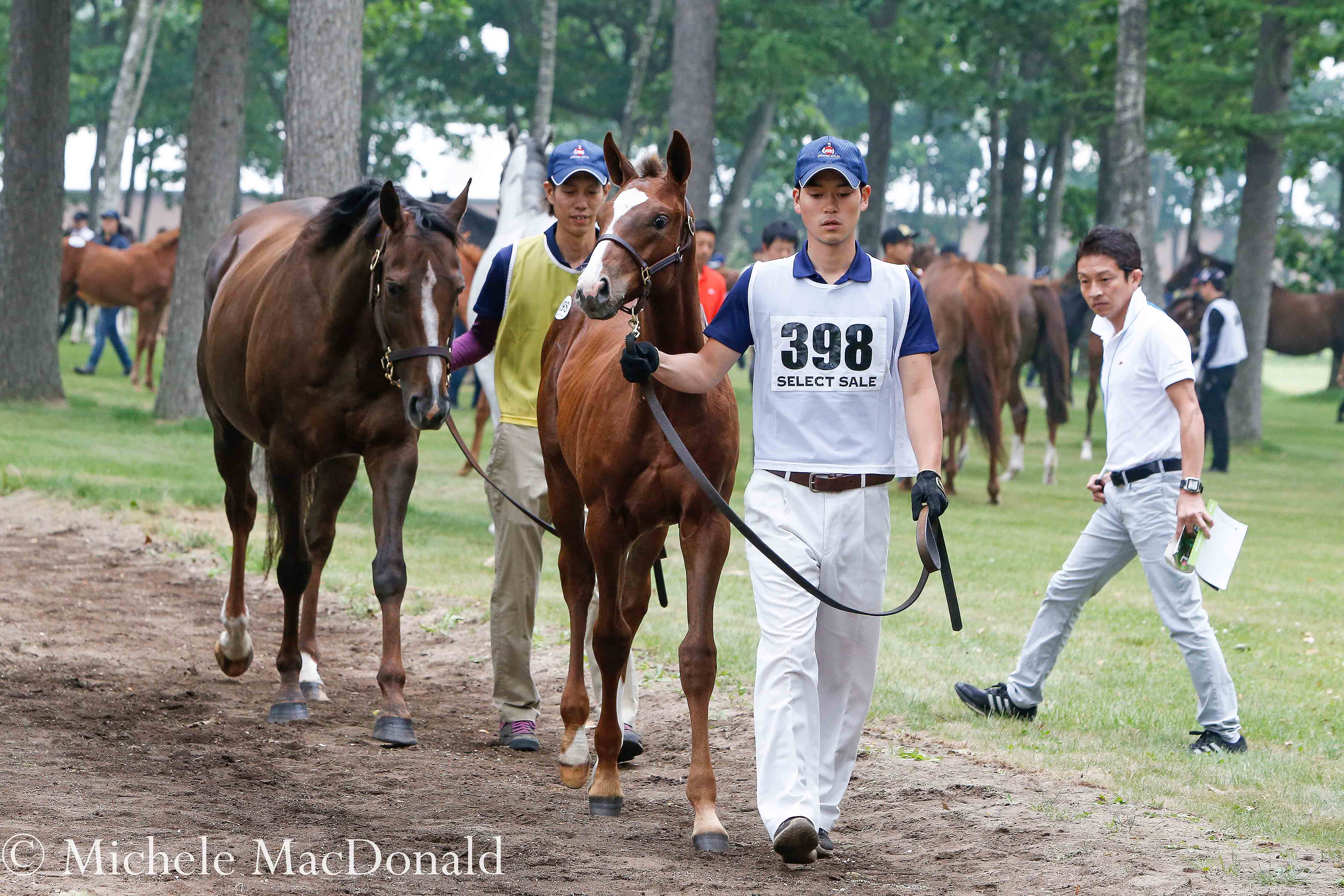 Winner of the G1 Cheveley Park Stakes in Britain as a juvenile, the daughter of Bertolini was surrounded by such a throng during much of the inspection period that people had to wait for a chance to get a proper view of her foal. Donna Blini has produced eight foals by Deep Impact for Northern Farm, including the filly born on January 27.
North American visitors would recognize many of the mares with foals at this year's sale, from G1 winners such as Condo Commando, Sky Diva, Contested, Ermine and Zazu, to Palace Rumor, dam of Belmont Stakes winner Palace Malice, and Canadian champion Sisterly Love.
Other elite mares included Argentine champions Ollagua and Balada Sale, South African champion Here To Win, German Oaks winner Feodora, Oka Sho (Japanese 1000 Guineas) winner Reginetta, and Italian Oaks winner Dionisia.
But while the sale offers a unique opportunity to view many superior mares and see what they can produce — and since some also have had yearlings in the previous session, there can be a good chance to assess their production ability insofar as physical characteristics go — the foal session is not all about mares.
In fact, like bloodstock sales that showcase weanlings in other parts of the world later in the year, the foal session allows breeders and buyers an informative view of the physical attributes young stallions are passing along. When there are enough foals by a certain sire, buyers can get an idea of what the stallion can get in general and also more specifically when bred to mares of varying physical types.
Ryan, for one, observed that the venue offers breeders a chance to learn what sort of mare may produce a preferred physical type of foal by Deep Impact, for example. That is one reason he and Coolmore's Director of Sales David O'Loughlin have attended the JRHA sale.
During the just-completed breeding season, Coolmore sent a trio of outstanding mares to Deep Impact: Galileo-sired full sisters to outstanding G1 winners Minding, Found and Maybe.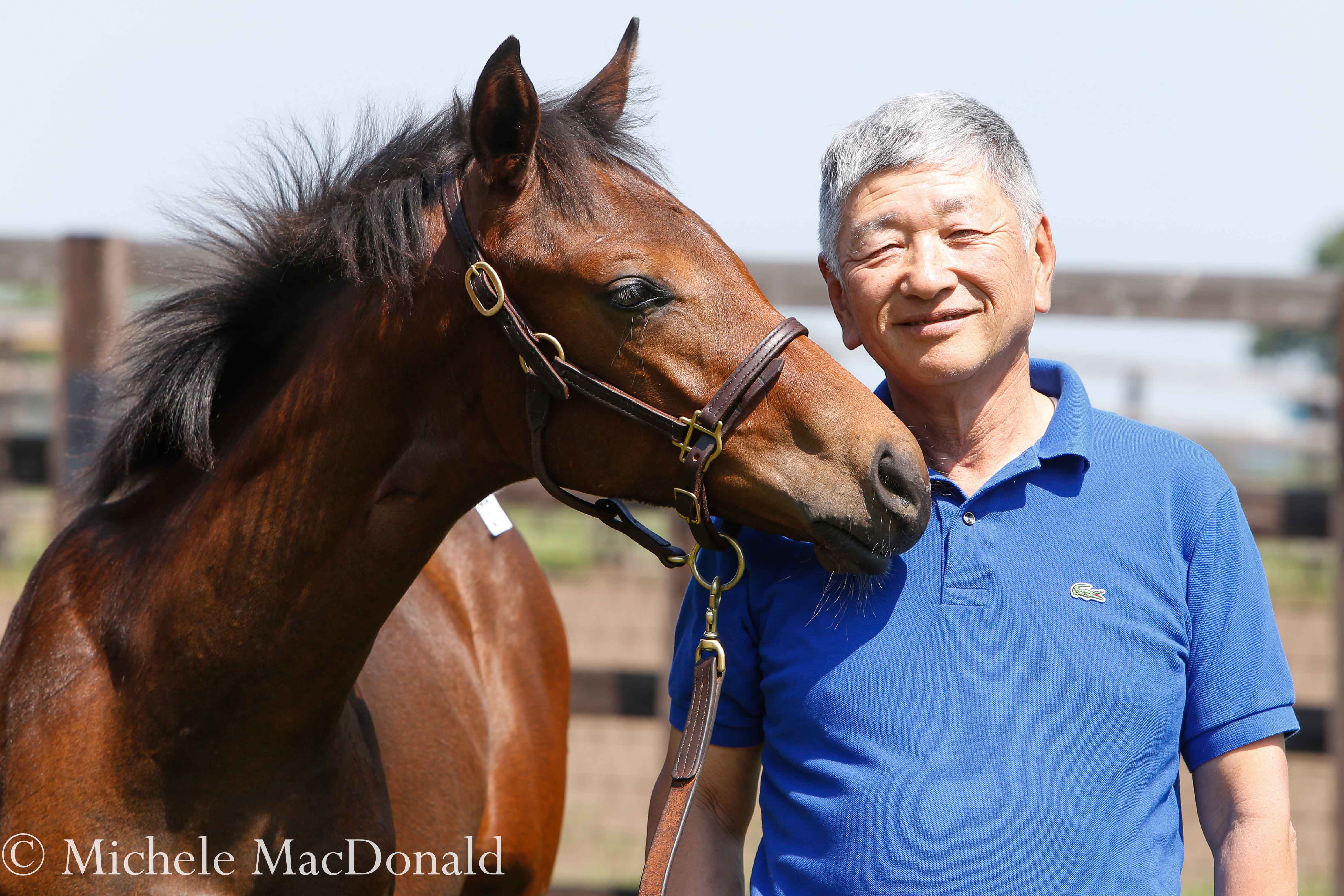 The JRHA foal sale also provides the first public views of foals by young sires. This year, some of the first foals by exciting stallions Kizuna, Epiphaneia and Gold Ship paraded under the trees and trotted through the sale ring.
Kizuna, a striking, nearly black son of Deep Impact, who won the 2013 Tokyo Yushun (Japanese Derby) and later was crowned champion 3-year-old, led the way for the young trio by sale average and top price. Eleven of his first-crop offspring were reported sold for ¥339 million and an average of ¥30.81 ($270,263).
A Kizuna colt delivered on January 28 by Feodora at Shadai Farm topped his offspring when sold for ¥90 million ($789,474) to Shinji Maeda, who campaigned the sire.
Epiphaneia, winner of the 2014 Japan Cup and a son of Symboli Kris S. and champion Cesario, proved popular with a wide variety of buyers, with Qatar's Sheikh Fahad Al Thani buying two members of his first crop and Katsumi Yoshida also among his patrons. Altogether, 15 offspring by Epiphaneia sold for an average of ¥22.93 million.
Celebrity draw
Gold Ship, the dual Japanese Classic winner by Stay Gold who was a fan favorite due to his quirky personality and gray color, sired four foals reported sold at the JRHA for an average of ¥29.25 million. His strongly-made gray son out of G2 winner My Jen, a half sister to Coolmore's brilliant sprinter Caravaggio, sold for ¥50 million to Satomi from the Shadai Farm consignment.
With so many foals out of superb mares and by premier stallions, it's no wonder the foal sale draws Japan's biggest buyers and racing celebrities.
This year, former Seattle Mariners pitcher Kazuhiro Sasaski was among those inspecting foals in between doing media interviews. Sasaki, who also has been a singer and a reality television performer in addition to being involved with auto racing in Japan, campaigns this year's Dubai Turf winner Vivlos, who also won the 2016 Shuka Sho, the final jewel of the Japanese Fillies' Triple Crown.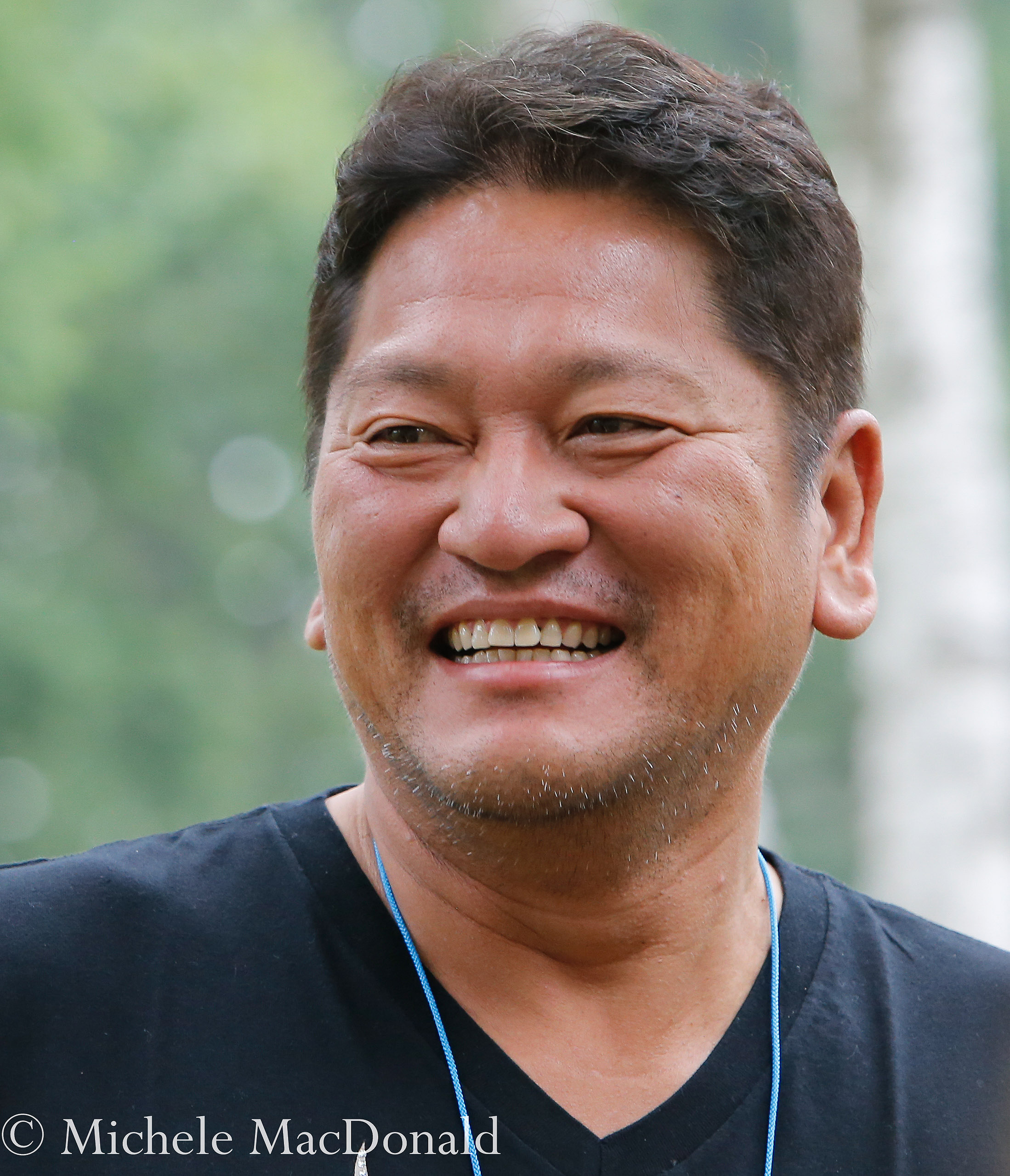 In previous years, when Sunday Silence's yearlings and foals were being sold at prices that have been rivalled only by Deep Impact's sons and daughters, flamboyant owner Fusao Sekiguchi made regular appearances. He once arrived at the sale pavilion in a flashy white and red outfit that set off his huge emerald ring while accompanied by his own video crew to record his spending.
In 2003, Sekiguchi paid ¥330 million for a colt foal from the last crop of Sunday Silence who went on to become stakes winner and Classic-placed Fusaichi Junk.
The following year — with the video team filming — Sekiguchi bid a whopping ¥490 million for a Dance In The Dark colt out of champion Air Groove. Named Thesunday Fusaichi, that pricey purchase won only three of 41 starts, including a minor stakes at Kyoto.
In addition to the plethora of well-bred individuals, such a large assemblage is certain to include foals that stand out just for their looks. This year, for one example, it was impossible not to notice a colt by Deep Impact's son Tosen Homareboshi who was consigned by Kamii Stud; the flashy bay with four white socks and a blaze has two mesmerizing blue eyes.
High-achieving graduates
A number of JRHA foal sale graduates, both expensive and bargain-priced, have gone on to achieve major racing success. SatonoDiamond, Satomi's 2016 champion 3-year-old and winner of the G1 Kikuka Sho (Japanese St. Leger) and Arima Kinen, was acquired for ¥230 million at the 2013 JRHA sale and is being aimed at the goal of making history as Japan's first winner of the Prix de l'Arc de Triomphe.
Other foals sold at this venue that went on to racing glory include:
Deep Impact, who sold for less than the average commanded by Sunday Silence offspring when, as a smallish foal, he was acquired by Makoto Kaneko for ¥70 million in 2002;

Champion, Japanese Derby winner and top sire King Kamehameha, another Kaneko acquisition when bought as a foal for ¥78 million;

Champion Manhattan Café, Japan's top sire in 2009, sold for ¥130 million at the inaugural sale in 1998;

Admire Moon, Japan's Horse of the Year in 2007 and winner of the Dubai Duty Free, who was initially sold to Kondo for only ¥16 million ($135,364) prior to his racing career and later acquisition by Sheikh Mohammed's Darley for about $40 million;

Multiple Japanese champion Curren Chan, sold for ¥25 million;

Tokyo Yushun winner Deep Brillante, now a sire himself, sold for ¥31 million;

Champion and now American-based sire Hat Trick sold for ¥68 million;

Utopia, a major runner in Japan and winner of the Godolphin Mile in Dubai, went through the JRHA ring as a foal for ¥51 million, and

Japan's Horse of the Year and sire Zenno Rob Roy sold for ¥90 million.
Even though it may be difficult to comprehend in other parts of the world, the undeniable yen by Japanese buyers for foals is stronger than ever. At this year's sale, the JRHA foals clearly outpaced the yearlings, which would be unheard of in other jurisdictions.
Although fewer foals were catalogued and thus sold (190 foals sold compared with 216 yearlings sold), gross for the foal session soared to a JRHA record ¥8,692,500,000, ($76.25 million) and a record average price of ¥45.75 million ($401,316). Yearlings at the sale sold for a total of ¥8,634,500,000 ($75.74 million) and an average of ¥39,974,537 ($350,654).
To put the JRHA foal figures in a more global perspective, the average price for yearlings — older and easier for buyers to evaluate — during the prestigious Book 1 of the 2016 Tattersalls October yearling sale was $302,724. Average price during Keeneland's Book 1 of the 2016 September yearling sale also trailed the JRHA foal average at $347,471.
A deterrent to foreign buyers
Obviously, for breeders led by the Yoshidas, selling foals for big prices is huge boon to their operations. To limit the ability of any foreign breeders who are active in Japan to reap the same rewards, the JRHA forbid them from selling foals at the auction beginning in 2015.
Japan's prizemoney ranks as the highest in the world and thus sustains high prices for the best young bloodstock, which also is a deterrent for foreign buying participation in the market. Unless they have a license to race on the Japan Racing Association circuit, non-Japanese owners likely would not find the steep prices, coupled with export costs, practical.
The result has been that Japan continues to shelter most of its best bloodstock from the rest of the world, which is becoming more significant as the island nation continues to produce better horses that are winning internationally.
Teruya Yoshida, buoyed by this year's sale results after the electric foal session, said he realizes how difficult the prices can be for most. As vice chairman of the JRHA and a longtime proponent of making the sale an international venue, he acknowledged that the pricing is disadvantageous to most buyers from outside Japan.
Yet the allure for all, with Japan's virtual monopoly on the blood of Sunday Silence coupled with the infusion of elite mares from around the globe, looks to grow even stronger.
"We've reached a maximum point — but maybe that point will go even higher," Yoshida said with a smile, particularly noting the important mares represented in the sale, those who stood so patiently with their foals under the trees.
"I don't think there is any other sale in the world to offer these kind of good pedigrees," he said.