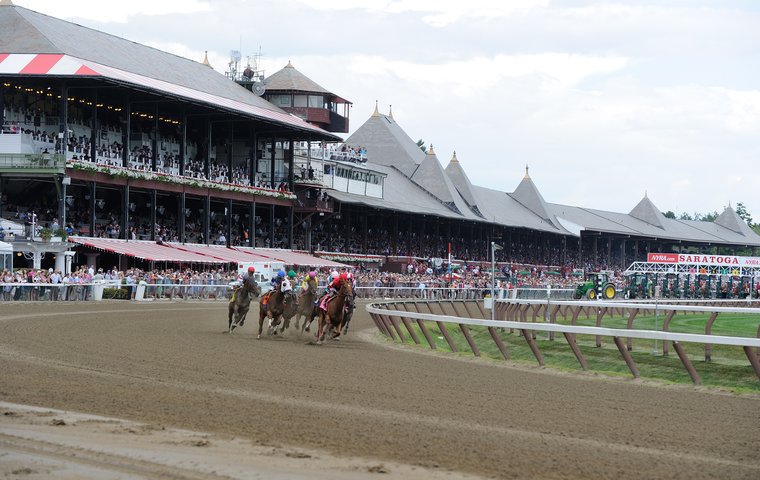 The Travers. The Pacific Classic. The Jim Dandy. The Clement Hirsch. The Whitney. The Bing Crosby. Like the signposts along Route 66, these famous races delineate the summer for racing fans drawn by top-class competition to Saratoga and Del Mar.

Preparations at both tracks are already well under way for this year's summer carnivals. Only, what nervous anticipation that typically exists at this time is this year underpinned with more anxiety than is perhaps usual.
"No question about it," said Del Mar's executive vice president and chief operating officer, Josh Rubenstein, acknowledging that the specter of last summer, when 17 horses died during racing or morning training, looms large in the minds of those at the helm of these preparations at the Californian track. "It's definitely a pivotal year."
Those fatalities triggered a prolonged campaign against the track by animal rights protestors, who parked themselves outside the entrance, week in, week out, carrying placards with slogans like 'Racing to the Grave' and 'Raced to Death at Del Mar'.
Intense scrutiny
But this intense scrutiny wasn't squared on Del Mar alone. Local press coverage focused on Saratoga, where 10 horses died during training and racing over the course of their 40-day meet.
Nor was this a new phenomenon. Both tracks in previous years have faced intense scrutiny for higher than typical fatality rates – typical being the operative word, for what makes the numbers at these two boutique meets so glaring is that they run counter to overall U.S. fatality rates that appear to be shrinking.
According to Jockey Club figures, the national fatality rate has declined year on year since 2012. The number in 2016 was 1.52 fatalities per 1,000 starts. At Del Mar and Saratoga last summer, fatality rates were 2.42 and 1.8 per 1,000 starts respectively.
(Here, it should be noted not all individual tracks that participate in the Jockey Club's database make publicly available their fatality figures - here's a list of those that do and don't)
Only now, with Del Mar's and Saratoga's summer meets just weeks away, one question garners added urgency: what has the industry done to prevent the same thing from happening again this summer?
'Just another caution flag'
"Everybody's pulling in the same direction," said California Horse Racing Board executive director Rick Baedeker about efforts at the regulatory level in California that he said have been primarily focused on better identifying horses that are vulnerable to catastrophic injury, and to better understand why these sorts of accidents occur.
"From a regulatory standpoint, we have the ability to work with the associations to keep horses out of races that in our opinion shouldn't be running," he said.
The "most significant" trend connecting the horses that died last year is that five of the 17 had gaps in training of 60 days or more prior to their fatal injury, he said.
(Though one of the 17 horses, it should be noted, died as a result of a freak accident.)
This trend tallies with broader state-wide findings from recent years. From 314 fatalities (among Quarter Horses and Thoroughbreds where the horse had at least one start) in California over the past three years, 86 had training or racing gaps of at least 60 days. And, of those 86 horses, 45 had gaps of more than 120 days in racing, in training or both prior to their fatal injury.
Of those 314 horses described above that experienced a 120-day or more layoff, 36 percent had been on the vet's list at some point in their career.
Horses deemed vulnerable
These findings have prompted the CHRB to introduce an amendment requiring horses returning from a layoff of 120 days or more to undergo an examination by an official veterinarian.
Though that rule might not be enacted until the middle of the Del Mar meet, safety stewards will coordinate with the official vets to identify and "take a closer look" at horses deemed vulnerable to catastrophic injury, said Baedeker.
This includes horses that haven't started at two, or until late into their 3-year-old careers, as well as horses with irregular work patterns. As an example, one of the horses fatally injured last year worked only sporadically in the weeks before running, said Baedeker.
"When you see the work patterns interrupted like that, that's just another caution flag," he added.
The CHRB has started a program of randomly testing horses after timed workouts to better understand the frequency of use and quantity of dosage of nonsteroidal anti-inflammatory drugs (NSAIDs), like Banamine and Phenylbutazone, or bute, during training.
In the pipeline is a new stricter out-of-competition model rule, as well as a proposal to invite trainers, veterinarians and other involved parties after fatalities occur to sit in on an informal panel to discuss the circumstances surrounding the incident.
These developments build on others enacted in recent years that appear to be working. Despite a near-10 percent uptick in fatalities during the fiscal year 2015-16, California racing recorded the lowest number of total fatalities in 20 years during the previous fiscal year.
'Are you more at risk of something happening?'
At Del Mar, the most "significant" change since last summer involved drafting Santa Anita's veteran track superintendent, Dennis Moore, to oversee management of the San Diego facility's racing surface, said its president and CEO, Joe Harper.
And the primary focus of Moore's work has been to alter the banking of the track to mirror the consistency and geometric dimensions of Santa Anita's surface.
Tom Robbins, Del Mar's executive vice president and Racing and Industry Relations, explained that, for horses stationed at Santa Anita for nine months out of the year, it makes "absolute sense" that when they relocate to Del Mar, they're required to make as little adjustment as possible when acclimatizing to the surface.
"[If] you put them on something different here," he said, "are you more at risk of something happening?"
But the track surface is just one of multiple variables that factor into any one fatality (a view hammered home by experts as the knowledge base surrounding catastrophic injury grows). Which is why the management have taken steps to alleviate the pressure cooker environment during training of a morning:
There will be roughly 10 percent fewer horses stabled at Del Mar this summer, with a 40-horse cap per trainer.
For a ten-minute window after each break, only horses scheduled to work can use the track (a change adopted during the meet last year).
An official veterinarian will also be posted at the track of a morning to watch horses enter and leave the track (though management admit that more than one vet is needed to adequately cover the various gaps on and off the track)
Racing will begin a week later this year than usual to give the horses more time to acclimatize to the new environment, and for the track superintendent to ensure the surface is up to par.
To repair the damaging optics of last year's meet, Del Mar reached out to PETA (People for the Ethical Treatment of Animals), said Harper. And he's cautiously optimistic that the group is receptive to the changes being made.
"What we're trying to do is make sure they know we're on the same page as them as far as trying to stop the injuries," he said.
'Ongoing process'
In California, I've focused almost solely on the developments that have occurred over the last year. But in New York, Rick Violette, president of the New York Thoroughbred Horsemen's Association, emphasized the "ongoing process" of change in the state in recent years.
The bulk of these changes have arrived since 2012, in the wake of the New York Task Force on Racehorse Health & Safety report released after the rash of fatalities during Aqueduct's 2011-2012 winter meet.
Violette singled out the programs that he believes have proven most effective during this time: the online database to record corticosteroid joint injections within 48 hours of administration, for one; "significant progress" in uniform medication policy stemming from sweeping medication rule changes first enacted in November 2014; and heightened emphasis on pre-race examinations, to better identify horses that are at risk of catastrophic injury during competition.
In better understanding which category of horses are most vulnerable to injury, along with greater transparency in what veterinary treatments horses receive in New York, "the criteria and the standards for pre-race examinations have been stepped up considerably," he said.
Like Del Mar, Saratoga participates in the Maintenance Quality System, a centralized database for track management to record measurements on such things as moisture content, cushion depth, surface composition and mechanical testing.
Mick Peterson, professor at the University of Kentucky, and the brainchild behind the Maintenance Quality System program, has worked closely with the track superintendents at both facilities.
And, while the collected data from Saratoga didn't reveal any obvious reason for the spike in fatalities there last year, said Peterson, "what they have continued to work on at Saratoga is the single other biggest variable that you face, and that's moisture."
As an example, Saratoga has upgraded its turf courses' irrigation systems. "And they're working with me to develop the evaporation model, so we can fine tune the moisture content," he said.
Quality control program
New York State equine medical director Dr. Scott Palmer reinforced Violette's assessment that change in the state has been an ongoing process over recent years.
"We don't limit our attention to the Saratoga meet – even if it in itself presents unique challenges," he wrote in an email to TRC (declining an in-person interview).
Overall, there were 40 fewer equine fatalities in New York in 2016 than there were in 2012 (despite a slight uptick in fatalities between 2015 and 2016), which Palmer attributed to the five primary components of a 'quality control program' in the state:
Equine Safety Review Board. A review panel looking at racetrack fatalities to determine whether the horse had, for any reason, slipped through the pre-race screening process and whether any wrong doing took place with an eye to determining if further lessons can be learned.
Continuing Education. Yearly, trainers and assistants must undergo continuing education in horse stewardship, which includes seminars to help meet this requirement. "We also work with racetrack examining veterinarians to ensure they know the latest established risk factors and warning signs of minor injuries that can lead to serious injuries if undetected," Palmer wrote.
Ongoing Research: Cornell University conducts research into the causes of equine injuries and catastrophic fatalities. It also collaborates with researchers and equine experts to better improve overall procedures to ensure that horses vulnerable to injury are fit and safe for competition.
Real Time Weather Assessment and Racetrack Maintenance: as broached before, attempts to scientifically reduce the variability and improve the consistency of the state's racetrack surfaces.
Daily Reassessment: "We continually reassess what elements of our efforts are working well and what elements need refining," wrote Palmer. "And we have taken many productive steps toward that goal."
An Equine Safety Review Board report on the fatalities at Saratoga last summer is currently in review.
Is it enough?
Another question remains: are all of these developments enough?
Barry Irwin, founder of Team Valor International and a vocal supporter of the Water Hay Oats Alliance movement, identifies primary areas each track needed to focus upon to improve their respective catastrophic injury statistics.
For Del Mar, problems have historically pivoted around the track, he said. As regards Saratoga, Irwin is critical of the carding of too many cheap, lower-class races to amplify field numbers.
"And as everyone knows, the lower the horse on the class totem pole, the more suspect is their soundness going to be," he said.
With those points in mind, Irwin is complimentary however about recent efforts on both coasts in tackling fatality rates.
"They are trying, there's no question about it," he said, about California specifically. "And that's good, because for years, they just ignored it, denied it, covered it up. All of the three."
Likewise, California Thoroughbred Trainers president Jim Cassidy is cautiously optimistic that changes made in California, and more locally at Del Mar, over the past ten months will prove effective.
"I think it's plenty, and I think it's all good," he said. "In this instance, I think everything they've done is done with thought and foresight. "
But he warned of an over-reliance on safety nets designed to catch vulnerable horses before they run, arguing that many injuries often occur arbitrarily, without any obvious predicating reason.
And Cassidy stressed that, ultimately, the onus rests on the shoulders of the trainers, many of whom are under heightened pressure by owners to perform at Del Mar and Saratoga, to live up to their responsibility as caretakers for their horses.
"Those that don't should be made an example of," he said. "I don't think there's much more left that can be done unless people start pointing fingers."