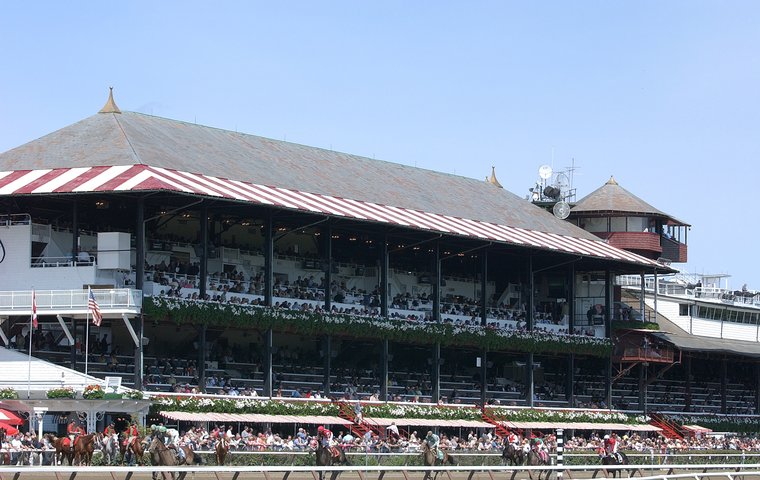 It's horse racing's ultimate challenge, the problem no-one has ever come close to solving, the key to ensuring its very survival: how does the industry stem the tide of falling popularity. While the sport chugs along optimistically from day to day, from season to season, this is the elephant in the room, racing's global warming, the spectre that hangs over its long-term feasibility.

Various efforts have been made in different parts of the world over the years to grow its appeal with the general public - from championship series to jockey challenges, from ladies' days to bouncy castles - but they have largely been tinkering at the edges, and none has had much effect.
But an event takes place in Saratoga Springs in New York State in 11 days' time that might just provide the beginnings of an answer.
According to its mission statement, the inaugural Equestricon convention (August 13-15) is "an international racing convention, fan festival, and trade show that will bring together fans, stakeholders, industry insiders and horseplayers to participate in a lively atmosphere of engagement, discussion, and entertainment".
Massive showcase
But this massive showcase, taking place close to Saratoga Racecourse, where perhaps America's finest race meet is currently in full flow, could have even greater importance.
This is an attempt to spread the word, to broaden the sport's appeal, to enforce horse racing's place as a mainline leisure activity, to illustrate to the uncommitted the sheer pleasure the sport has to offer. And it has never been done before. Anywhere.
Horse racing is an industry increasingly under fire. Betting revenue, the fuel that drives it, is slowly seeping away as alternative forms of gambling overtake it all around the world. Racecourse attendances, TV audiences, indeed enthusiasm for the sport generally, are on the wane amid public distaste over its animal welfare image and the general lack of interest of younger generations in the face of so many counter attractions.
Equestricon addresses all these issues, and offers more besides. It features over 80 panels, workshops, seminars, networking sessions, autograph signings and other events. And the idea is to make it all fun.
The schedule includes sessions on: Women in racing, Backstretch workers, Ownership, Syndicates, Hispanic leaders in racing, 'The Greatest Race Calls', How to get a job in racing, Advanced handicapping, Leading women horseplayers, and two panels on Aftercare of Thoroughbreds once their racing careers are over.
Meet racing legends
Attractions include autograph-signing sessions with a variety of personalities, including Triple Crown-winning jockeys Steve Cauthen (Affirmed), Jean Cruguet (Seattle Slew) and Ron Turcotte (Secretariat).
Visitors can meet owners, breeders, trainers, jockeys, representatives from stud farms and sales company, veterinarians and racing journalists - and a number of racing legends. They can get the lowdown on innovations, new media, marketing and wagering technologies. There will be competitions including Name a racehorse and Design your own silks, and a sweepstakes with a holiday for two at the Hong Kong International Races in December as the main prize.
The idea is to present all this in an atmosphere of fun and excitement, with live music, bars, an arcade, and many other activities for fans of all interest levels and ages.
An 'aftercare keynote' address will be delivered on Monday, August 14, by broadcaster and Off-Track Thoroughbred owner Soledad O'Brien. The following day, the 'racing keynote' is the responsibility of TRC blogger Nick Luck, the seven-time winner of Britain's Horserace Writers' Broadcaster of the Year award and an NBC Breeders' Cup broadcasting regular.
Vision, passion and optimism
Another TRC correspondent, Dubai Racing Channel presenter Laura King, will join Luck later in the day on the 'Perspectives: International Racing Viewpoints' panel, presented by the Breeders' Cup and moderated by Pat Cummings, the Executive Manager, Public Affairs (Racing) for the Hong Kong Jockey Club.
Luck said: "It is a huge honor to be one of the inaugural year's keynote speakers. I must admit it is a slightly daunting prospect, but I was so impressed with the vision, passion and optimism that Equestricon embodies that it was a very easy invitation to accept. Saratoga is a fabulous backdrop, and I'm sure this will be a tremendously rewarding and enjoyable few days for all of us."
Equestricon looks sure to be a bustling, thriving and thoroughly enjoyable experience - if you have even half a chance to go, take it (ticket details on equestricon.com). It won't alter the course of history on its own as far as the long-term future of horse racing is concerned, but it could be a massive step in the right direction.
Here, hopefully, is a template for the rest of the world, a model for other racing nations to embrace in the struggle to guarantee the sport's future. Let's hope they're watching closely.