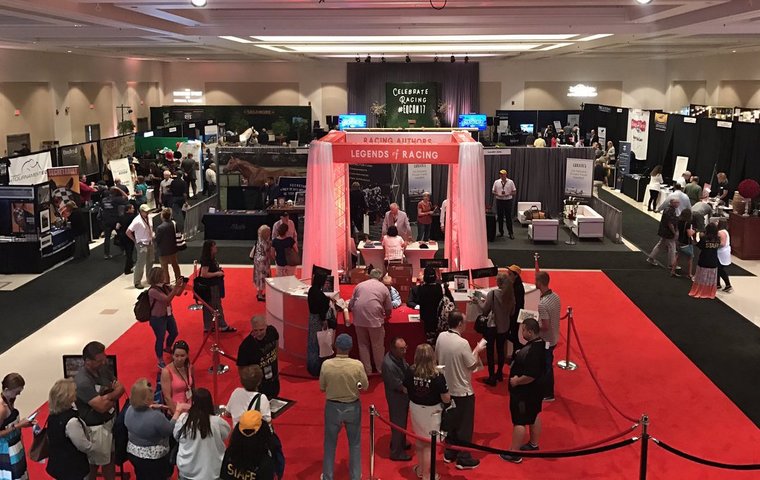 Summer in Saratoga Springs, New York, is a hotbed of Thoroughbred racing industry meetings. During the seven weeks of the summer meet at Saratoga Race Course, various organizations take advantage of the convergence of owners, breeders, executives, and regulators attracted by the appealing location and the quality horse racing.

So far this summer, Saratoga has seen a meeting of the Association of Race Track Commissioners International; a two-day conference hosted by the Albany Law School Racing and Gaming Institute; The Jockey Club's Round Table Conference on Matters Pertaining to Racing; and a gathering of the national Thoroughbred Horsemen's Association.
Stodgy affairs, most of them, attended by those required to be there, with media coverage by the usual turf racing suspects. Mostly closed to the public, they likely wouldn't draw much of a crowd even if they weren't.
But this week was different. This week, at a brand new assembly, racing industry professionals, fans, and media were welcomed by music. There was a bar (or two). Gray hair was in short supply, as were suits and office attire.
Hello, Equestricon.
On to something
Conceived several years ago by America's Best Racing's Dan Tordjman, co-ordinated and executed by him, Katie Sharp, and Justin Nicholson, Equestricon was a three-day extravaganza that threw open the doors of the Saratoga Springs City Center and invited everyone in, from fans to executives, the budget-minded who purchased $25 exhibition hall tickets to the VIPs who shelled out $450.
Combining panels, seminars, book signings, meet-and-greets, Equestricon was inspired by and modeled after events like Comic-Con, which annually celebrates comics and draws thousands of fans.
"I brought it up to Katie and Justin, sort of like, 'Hey, this is an idea I have — tell me if you think it's ridiculous,'" said Tordjman. "The response I got was, 'No, this is great. I think you're on to something and let's try to make something happen."
The trio, joined by some members of its advisory board and Saratoga Springs mayor Joanne Yepsen, introduced Equestricon to the public late last summer, just outside the venue that this year hosted it, and perhaps improbably, pulled off the impressive accomplishment of scheduling hundreds of people from around the world and dozens of events on topics from breeding to training to aftercare to international perspectives to handicapping.
"[We wanted] to hammer home the fan angle and have every access point that fans have," said Sharp, sitting on the Saratoga backstretch. "It's not just handicapping; it's not just ownership. It's the photography of the animals, it's the aftercare — we wanted to make sure all of that was covered."
Crowds ebbed and flowed
On Monday and Tuesday, the two main days of the convention, crowds ebbed and flowed, largely in sync with the schedule of the race day. Monday morning was busy, with people flocking to the exhibit hall, where they could talk with aftercare representatives, learn about industry products and ownership opportunities, and purchase a wide array of equine-themed merchandise. By post time, attendance had thinned, but afternoon panels nonetheless attracted several dozen attendees.
On Tuesday, as expected, attendance was more consistent throughout the day, and a town hall meeting scheduled from 5-7 pm drew more than 100 people to listen to and question a panel that included Peter Rotondo, vice president of the Breeders' Cup; Boyd Browning, president and CEO of Fasig-Tipton; and Hunter Rankin, president of Sagamore Racing.
Equestricon opened with a keynote address by Soledad O'Brien on the topic of Thoroughbred aftercare and off-track Thoroughbreds in second careers. The official charity partner of Equestricon is the Thoroughbred Aftercare Alliance, and the exhibit hall featured information booths on a number of aftercare facilities, such as the Thoroughbred Retirement Foundation, ReRun, and New Vocations.
Tuesday's opening address was by Nick Luck, the British racing broadcaster who also appears on NBC's racing telecasts in the U.S. His presence, along with appearances by other international racing representatives, created the impression that, worldwide, Thoroughbred racing is more united and less divided than it can often appear, with a number of overseas speakers praising the quality of U.S. horses and racing.
"Equestricon seems to have a bold and inclusive outlook, bringing together horsemen, handicappers, and fans without favoring one group over another," said Luck of his decision to participate. "It promises to be a little bit different and might just reach parts that other conventions don't."
Views on Twitter
Over the last two days, racing Twitter bubbled with effusive expressions of enthusiasm, many posts tagged with #EQCon17.
"An honour to be involved with @EQconvention at #EQcon17. A first time out maiden winner at the highest level. Onwards and upwards for #EQcon18" - from the account of Global Equine Group, represented at the convention by Dr. Adam Driver.
"@Dan_Tordjman @DanonymousMan & team lit up the tote board for #EQCon17 – Fun, educational & memories for a lifetime! Thank you @EQconvention," wrote Sara Gordon (@SaraChristineG).
Among the experiences promised by the conventions of organizers was access to people in racing — trainers, authors, breeders, etc — and the social media selfies offer evidence of a promise kept, and of happy fans with their racing heroes and heroines.
There were grumblings about ticket costs and discounts after tickets had already been purchased, and traffic appeared to be slow at the booths of some of the exhibitors, who had paid to be a presence at Equestricon. But the negative murmurings seemed to be in the minority, far surpassed by positive feedback.
Speaking late last month, Sharp said, "I don't think [our success] is going to be financial this year. But I think having people turn out and have the experience we're helping them to get will feel like a success and make us come back for year two."
A question answered
"We had attendance figures in mind," said Nicholson at the time. "We never want the room to feel empty; we want to feel like there's a buzz all the time. If exhibitors and sponsors feel like they got something out of it, if they made connections they might not otherwise have, and if attendees have a great time and talk about it on social media, that goodwill goes a long way."
None of Equestricon's organizers would disclose how many tickets were sold or what the financial investment was, but Nicholson pointed out that some metrics of success are intangible, and he was clearly pleased on Tuesday when, as the convention began to draw to a close, he said, "90 percent of the people who have come up to talk to me have asked, 'Are you going to do it again next year?'"
A question that the official Equestricon account answered later on Tuesday evening:
"It's been a GREAT TIME at #EQcon17! Thank you to all of our sponsors, partners, and a HUGE thank you to the fans! We will see you at #EQcon18."
The author participated in an Equestricon panel on Women in Racing. ​