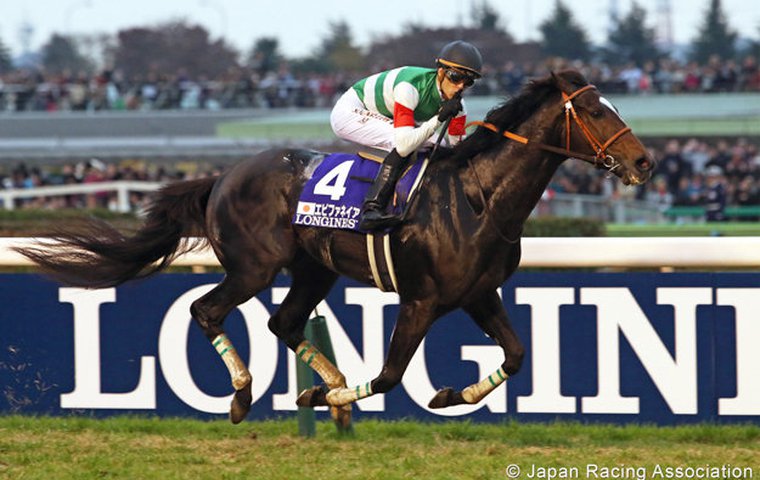 Notwithstanding the tactical debacle of the three Japanese-trained horses in the Arc, Japanese racing may never have been stronger, according to the numbers. There is strength and depth to their domestic racing that can provide the platform for spectacular performances like that witnessed in the latest Japan Cup on Sunday.

Epiphaneia - the Japanese St Leger winner as a 3-year-old – ran away with the 18-runner, mile-and-a-half turf contest in a manner rarely seen at G1 level. Can this colt – now worthy of consideration for the title of "best horse in the world" – press his claims internationally?
Nowhere in the world does good-class racing on turf resemble that which takes place in Japan. The most common scenario is a big field, strong pace, and firm ground, often setting things up for horses coming from off the pace.
It's no wonder that some Japanese-trained horses struggle to reproduce the top-notch form they show at home when shipped to other racing circuits. Loop-and-swoop types such as Harp Star – who again got going too late – are beholden to a strong gallop and waiting tactics. And, to many Western race-readers, Japanese jockeys are often guilty of waiting too long at the back.
Epiphaneia, trained by one of the best horsemen anywhere in Kat Sumii, had encountered just such a slow-paced scenario – and a less-than-judicious ride – when finishing only sixth in the prestigious G1 Tenno Sho on his previous outing. In a race admittedly strangely atypical, jockey Yuichi Fukunaga was caught in traffic as the leaders kicked off the bend. In defence of the jockey, however, when he raced much closer to the pace in April's Queen Elizabeth II Cup at Sha Tin, the colt had been completely unable to adapt to a slow tempo and ran too freely.
Herein lines an important point, in my view. Racing tends to have a parochial outlook, and an appreciation of the way things are done in other countries and continents is sometimes lacking. Practices that seem curious or downright naïve – such as exaggerated waiting tactics – typically have their root in a rational response to the situation usually encountered locally. In Japan, the pace is quite often very strong and the ground facilitates acceleration, ergo the percentage call is to refrain from mixing it with the leaders early.
So it is that most jockeys – and most racehorses - are a product of their environment. A jockey's timing is honed according to local demands, so that the tempo of racing is ingrained. Even more significantly, it has been shown that the proportion of slow-twitch and fast-twitch muscle-fibres is mutable in racehorses. Horses adapt to their training regimes to deliver power consistent with the tempo of races they contest, while jockeys are most comfortable riding the way they know best after thousands of repetitions.
Last Sunday, the inside rail of Tokyo's expansive, galloping circuit resembled the centre court at Wimbledon in 1976. The going can be so firm for the Japan Cup that the eye-popping times are often produced by winners who are far from all-time greats. The 2005 winner Alkaased, for instance, was a smart middle-distance horse in Britain for trainer Luca Cumani, but nobody was mistaking him for a champion. Yet he stopped the clock at 2 minutes, 22.1 seconds for the mile and a half at Tokyo – 10 lengths faster than Secretariat's Belmont. To those, particularly in the U.S., who have a reasonable expectation of a world-class time at each distance, racing in Japan almost recalls the 1980s in California.
Yet, even when making adjustment for the firmness of the ground, the strength in depth of Japanese racing is apparent from data. It is common for fields to finish bunched, even after a torrid pace, and when a horse comes clear, it is usually less the result of the race falling apart behind – as, say, happens frequently on dirt or soft turf - and more a function of the special quality of the winner's performance.
And, to underline the belief that Epiphaneia posed something special, the horse who chased him home was Just A Way – also known as the highest-rated horse in the world.
Epiphaneia gatecrashed the 100,000-strong party assembled for presumptive hat-trick heroine Gentildonna, but even Ryan Moore could not motivate her. Moore had been at his brilliant best 12 months earlier on the mare, having taken over the ride from Yasanuri Iwata and gone on to triumph in the latest Sheema Classic at Meydan.
Moore's presence on Gentildonna, as well as Soumillon's on the winner, could be seen to represent a tacit recognition among some powerful Japanese racing concerns that using proven world-class riders confers an advantage. For his part, Soumillon also rode Orfevre in the 2012 and 2013 Arcs.
The full range of Soumillon's talents were on display in this race, and it is that which makes one doubt whether Epiphaneia was quite all he appeared. While other riders were caught too wide or too far back, the Belgian found the inside rail in a perfect spot just off the pace. By European standards, the gallop might have seemed good, but it steadied somewhat down the back straight and allowed the second-flight of horses, just behind the lead, to run at an even pace.
When Epiphaneia burst through to lead entering the straight, his acceleration was real, and he ran on very strongly to draw clear. But this was the idealized dream trip for a racehorse, and it has to lead to some doubt as to whether, like Just A Way in the Dubai Duty Free, it will represent a peak that cannot be reproduced.
So, what do we make of the highest-rated horse in the world with the luxury of time and subsequent performances to judge him?
In that Meydan contest, Just A Way encountered the kind of pace off that many a Japanese horse thrives (coincidentally set by countryman Tokei Halo), which just did not materialise in the Arc when Japan's three-headed challenge – consisting of Just A Way, Harp Star, and Gold Ship – was over by halfway. In other circumstances, it appears he is just not that good.
In the Arc, jockeys Yuga Kawada (Just A Way), Fukunaga (Harp Star), and Norihiro Yokoyama (Gold Ship) sat way back when the leaders were going optimal fractions. In many strongly-run Japanese races, this might have been ideal, but, if the country's horses are to prove their supreme talent on the international stage, this can't afford to become a default setting.
In fairness, Japanese-trained horses have already put their tactical versatility on global display. Most famously, El Condor Pasa took Japan closest to an Arc victory when Masayoshi Ebina set a torrid pace in the mud at Longchamp in 1999 and was caught only by Montjeu. And Epiphaneia's own dam, Cesario, was well ridden close to the pace by Fukunaga to win the 2005 G1 American Oaks at Hollywood Park. And the 2006 Melbourne Cup hero Delta Blues, who led home countryman Pop Rock, sat second under Iwata.
In the history of the Japan Cup, foreign jockeys have built a great record mainly because foreign-trained horses have carried them to victory, but there is some level of co-dependency involved that may have led to the opportunities that Moore and Soumillon have been given.
Japanese domestic jockeys have a poor reputation on the international stage. Before the 1994 Arc, for instance, many considered that 25-year-old Yutaka Take was a liability on the back of favourite White Muzzle. And when a prior belief appears to be validated in racing – as it happened, White Muzzle was set too much to do and could finish only two-lengths sixth to Carnegie – it tends to cement reputations in stone.
That some tend to conflate a poor ride and a poor jockey in the small-sample theatre of top-class racing is regrettable. Take, many times champion jockey back home, is a great jockey, period. And I can testify to his racing brain first hand.
In 2007, I was chef d'equipe for the international team of jockeys at the Shergar Cup at Ascot Racecourse. Blessed with selecting horses to be ridden by Take and the superb Australian pair Darren Beadman and Hugh Bowman, I was particularly keen to find horses who might improve for a proper hold-up ride. It turned out that Take got the ride on an idiosyncratic stayer by the name of Leg Spinner, trained by Irish handicap wizard Tony Martin.
When liaising with Take's interpreter, I found he knew the horse inside-out due to study. Moreover, he went out to ride with a confident air and delivered an absolute tour de force.
Take has won G1s in Britain, France, and the UAE, and if European and American riders were always held to the same standard by the critics, some would fare a lot less well.
With the Hong Kong series now upon us and Dubai on the horizon, the international racing campaign continues apace. It will be fascinating to see horses from the Far East spread their influence, and to monitor how well they adapt to the out-of-the-box thinking required of all horsemen outside their native country that makes the whole circus so compelling.