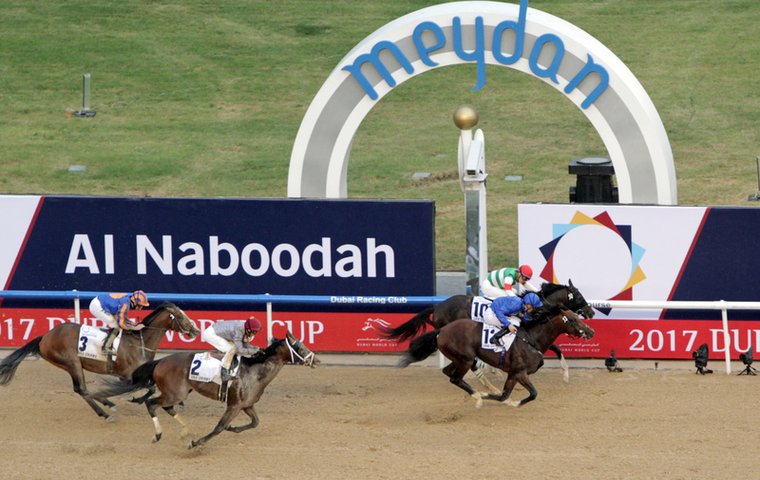 For international runners, the American Triple Crown has offered only one pleasurable port of call. Ten horses who never raced in North America have entered the Kentucky Derby in the past and not one finished better than sixth. Horses new to the U.S. are also searching for their first win in the Preakness. Yet, in the Belmont Stakes, at a mile-and-a-half distance that flatters the stamina in their pedigrees and training, horses from overseas have enjoyed success in a variety of degrees.

One year after Le Voyageur arrived from France and finished third in the Belmont, Go And Go shipped in from Ireland and captured the 1990 edition of 'The Test of the Champion'.
In the years to come, My Memoirs came from England to finish second in the 1992 Belmont, and then ten years later the Japanese-bred but U.S.-raced Sunday Break was third in the final leg of the Triple Crown.
Just last year, Lani, a Kentucky-bred who started his career in Japan, represented his Japanese connections in all three legs of the Triple Crown, finishing ninth in the Derby, an improved fifth in the Preakness and then jumping up to third in the Belmont for owner Koji Maeda and trainer Mikio Matsunaga.
Impressive resume
It is against this backdrop of foreign intrigue in the last and longest of the Triple Crown races that brings the practically perfect Epicharis to American shores in search of glory in Saturday's mile-and-a-half classic at Belmont Park.
As well as Lani performed in last year's Belmont, Epicharis arrived in the United States last week with a more impressive resume. While Lani won only two of his five starts in Japan at two and three, Epicharis is undefeated in all four of his starts in Japan. Owned by U. Carrot Farm, the racing arm of Northern Farm and the sixth highest ranked owner in the world on the latest TRC standings, he suffered the lone setback in his career in his last start when he traveled to Dubai in March and battled tenaciously but lost by a nose in the UAE Derby.
Facing a field without the winner of the Kentucky Derby or the Preakness, Epicharis has surely picked the right time to enter the Triple Crown chase. Fresh and rested since his March 25 loss in Dubai and racing at a track similar in some ways to the courses he handled in Japan, the grandson of 1989 U.S. Horse of the Year Sunday Silence just might thrive at 12 furlongs and become the 3-year-old who gives his country a monumental victory in the United States.
Lucrative bonus
"The owner and the trainers believe they have a chance in the Belmont Stakes because the horses who ran in the Derby and Preakness could be tired and vulnerable," said Ryota Sensui, Senior Manager of the United States office of the Japan Racing Association. "Belmont Park is a good environment for a Japanese horse. It is a big track and it's easy for a horse to train on it without a feeling of being crowded. Lani loved it there and Epicharis should as well."
Regardless of how Epicharis performs, his mere presence in the Belmont Stakes was a victory for the New York Racing Association, which has actively pursued a Japanese starter for the race and put together a lucrative bonus to attract one and secure a wagering outlet in Japan for its premier race.
If Epicharis wins the Belmont, he will collect a $1 million bonus on top of the $800,000 winner's share of the purse. While races valued at $1 million or more are hardly unusual in Japan, the lure of enhanced purse money and black type from an American classic has roused Japanese interest in traveling more than 6,000 miles to New York.
Enticing more Japanese runners
"Japanese fans are more familiar with the [Prix de l'Arc de Triomphe] than American races. They know about the Kentucky Derby but do not know as much about the Preakness and Belmont Stakes, though having Lani run in the Belmont last year helped introduce them to it," Sensui said. "One of the reasons Epicharis is coming is because of Lani. He showed how competitive a Japanese horse can be in a race like the Belmont Stakes.
"NYRA did a good job by boosting the purse with the bonus. Without it, the purse is not that attractive. There are some large purses in Japan."
Now, with Japanese horses in back-to-back editions of the Belmont, NYRA is hoping to grow its relationship with the JRA and perhaps entice Japanese stars to appear in Grade 1 races such as the Belmont Derby and Belmont Oaks in July.
"Lani paved the way last year and, in all truthfulness, his connections did it on their own. It wasn't like we were pursuing them," said Martin Panza, NYRA's Senior Vice President of Racing Operations.
"Once Lani ran in the Belmont Stakes and when the Japanese were allowed to offer simulcast wager on certain races from around the world, we started a program to entice Japanese horses to run in the race. We went over to Japan in February and then put the bonus in place with our insurance company, so it's satisfying that he's coming. We have expenses here in the insurance policy and helping with some of the shipping. This didn't happen for free. We invested in it, but we were happy to do so and we got a very nice horse here in Epicharis.
Classic Empire a solid favorite
"Northern Farm and U. Carrot Farm are good people and they have quality horses. We're trying to bring good, quality horses to New York and present exciting and interesting races for the fans. It's not always easy but you do it one step at a time and try to build on it."
Putting the business implications aside, the presence of Epicharis adds another variable into a Belmont that has a solid favorite in Preakness runner-up Classic Empire and a large collection of inconsistent rivals who may or may not be primed for a top effort.
"It's going to be a fun race to watch and see where he fits with our horses. Is he good enough to beat them? Does he hit the board and show that the Japanese can be very competitive in our dirt races? I thought Lani ran a good race last year," Panza said. "They are bringing over here a horse who probably wants to go a mile and a half and that's what it takes in this race. We've seen it over and over again. In that last sixteenth of a mile, it comes down to who has the stamina and that's where the breeding comes into play. He's probably bred to go farther than the U.S. horses and that will be their advantage in coming to the race.
"I think the breeding in Japan, and it's a tribute to Katsumi Yoshida and his family, Shadai Farm and Northern Farm, they breed for stamina. A lot of their classic races are a mile and a half and I don't think anyone would argue that we breed more for that first Saturday in March or can my 2-year-old go 21 (seconds) and change at the 2-year-old sale.
Right distance for Epicharis
"The disadvantage is that they have an awfully long airline trip and an 18-hour time difference and that can wear on a horse."
Speaking through an interpreter, Kiyoshi Hagiwara, who trains Epicharis, believes his horse should be well suited by the daunting distance of the Belmont.
"I think 1½ miles is the right distance for Epicharis," Hagiwara said. "He has proven his skill under ten furlongs but I think he wants to have ten furlongs or more."
After seeing Epicharis on Saturday when he was released from quarantine at Belmont Park, Hagiwara commented that his colt had handled to trip to New York better than his visit to Dubai.
He said Epicharis had lost weight during that trip and needed rest afterwards, explaining why his connections passed up the starting berth in the Kentucky Derby the 3-year-old had secured through the newly instituted Road to the Kentucky Derby series for Japanese horses.
Hagiwara added he would have normally given Epicharis a prep race for a difficult test such as the Belmont Stakes, but he feels comfortable with the way his horse has been training for his tussle with American rivals.
Form harder to interpret
"He's been training good since then. He was tired after the long flights to and from Dubai, so I think having a long gap between the races is good for him," he said. "He is a horse that wants to have a prep race, but, for this time, I decided to give him a long gap between the races to keep him in good form. He looks good coming out of quarantine."
Looking over the surface at Belmont Park, Hagiwara said it was similar to racetracks in Japan, though he commented that Belmont had a "harder" surface and the turns were bigger than a typical Japanese dirt course. Turf is the preferred racing surface in Japan and, while there are mile-and-a-half tracks, dirt courses are usually built inside the turf course.
Lani adapted to the conditions at Belmont Park quite well when he ran third at 12-1 odds, but with the Kentucky Derby and Preakness in his past performances he was much more of a proven commodity in the United States.
Epicharis' form is harder to interpret. He set the pace virtually from the start and lost by a nose to Thunder Snow, who was sent off at 16-1 in the Kentucky Derby. But Thunder Snow was basically a no-show in the Run for the Roses as he bolted shortly after the start of the race and was pulled up. In a subsequent start on May 27, Thunder Snow was second to Churchill in the G1 Tattersalls Irish 2,000 Guineas at the Curragh.
Master Plan, trained by Todd Pletcher, was third in the UAE Derby and then returned to the U.S. He finished a distant fifth in the G3 Peter Pan at Belmont, but a key factor in his weak effort may have been a soaked, sloppy racetrack.
Uncertainty over the likely odds
"We thought Thunder Snow's performance in the Kentucky Derby would show how Epicharis fits in, but that did not work out," Sensui said. "We know Epicharis is the best 3-year-old on dirt in Japan and he has the kind of speed that should help him get a good position in the Belmont."
Though there's some uncertainty about his competition, there's little doubt his speed and a demanding uphill training regimen to build stamina make Epicharis one of the main contenders in the 149th Belmont. Eric Donovan, NYRA's oddsmaker, said he expects to list Epicharis as either the second or third choice at odds of 5-1 or 6-1. (He is currently as short as 4-1 second favorite with some British bookmakers behind Classic Empire, who is around 7-4.)
Odds and wagering played a key role in the circumstances that came together in the courting of Epicharis.
Under new legislation, the JRA can now conduct simulcast wagering on selected international stakes, provided there is a Japanese starter in the field, which gives international outlets access to the JRA's wagering public, which accounted for roughly $24 billion from April 2015 through March 2016.
Thanks to Epicharis, the Belmont will be the second U.S. race with separate pool wagering conducted by the JRA, joining last year's Breeders' Cup Filly and Mare Turf. About $7 million was wagered on that race despite a post time in Tokyo of about 4:45 a.m. with only online wagering.
A more palatable start time
Wagering on the Belmont Stakes will also be limited to online customers, but post time will be a much more palatable 7:37 a.m. in Japan, which is not far removed from the typical 10 a.m. start of racing programs in Japan.
The JRA's separate pool wagering on the Arc was nearly $42 million last year, but it's unlikely the Belmont, even with a fan favorite such as Epicharis, will attract anything close to that. NYRA officials are privately hoping for at least $10 million in handle and possibly as much as $20 million. Since the pools are not comingled, NYRA will most likely get the international standard of about 3 percent of the handle, with half of that take earmarked for purses.
"It's a win for the horsemen, helping the purse account. It's a win for NYRA and win for the fans because it makes the race more interesting," Panza said. "The JRA has always been willing to jump in and take chances when they present themselves and I give them credit for that, for being sportsmen and taking up the challenge with a horse they believe belongs here. That's good for the sport worldwide.
"You want to try to provide the best racing you can and we're fortunate they have faith in what we are doing and are being supportive."
Different level
Panza said that last year, without wagering in Japan, Lani did not have much of an impact on the wagering handle since he was coming off losing efforts in the Kentucky Derby and Preakness. Yet Epicharis figures to attract more interest at the betting windows because of a better record and increased awareness of the Belmont Stakes.
"Lani didn't carry the same magnitude that this horse does in Japan, where he's undefeated," Panza said. "This horse is on a different level than Lani and his form stands out more than Lani. In Japan he probably has a much larger fan base and following. This race will be a better gauge of what we can expect from having top Japanese horses in our races."
The wagering itself could be quite interesting. In Japan, it would not be surprising if Epicharis was favored and many of the U.S. horses are sent off at higher odds than in NYRA's pools.
For example, Japan's Nuovo Record was sent off at 19-1 in the Breeders' Cup Filly and Mare Turf, but in the JRA pool she was 7-1. Meanwhile, Lady Eli, the 8-5 favorite at Santa Anita, was nearly 3-1 in Japan.
Solid partnership
Given the possibility of differential odds in large pools, it figures that savvy gamblers in Japan and the U.S. will get creative to gain access to more favorable odds.
"Epicharis is going to be much higher odds in the pools here so there's going to be some Japanese money that finds its way here. A lot of people are going to be looking for uncles or cousins in the United States because he might be 6-1 here but 6-5 in Japan," Panza said.
Odds are, though, that regardless of what happens in Saturday's race, the relationship between NYRA and the JRA will continue to grow as both sides understand the value of solid international partnership.
"As we continue to build the relationship and their trust, hopefully they'll continue to come back and if their horses perform well that's a good thing for everyone," Panza said. "I think the Belmont will become much more popular in Japan. Lani helped and Epicharis is probably going to cement it, especially as they bet on the race. It means their fans are going to become even more aware of the American Triple Crown in general and the Belmont Stakes in particular. The future looks bright."
Which is as it should be for international horses in the one Triple Crown race where they do not run into a world of difference.