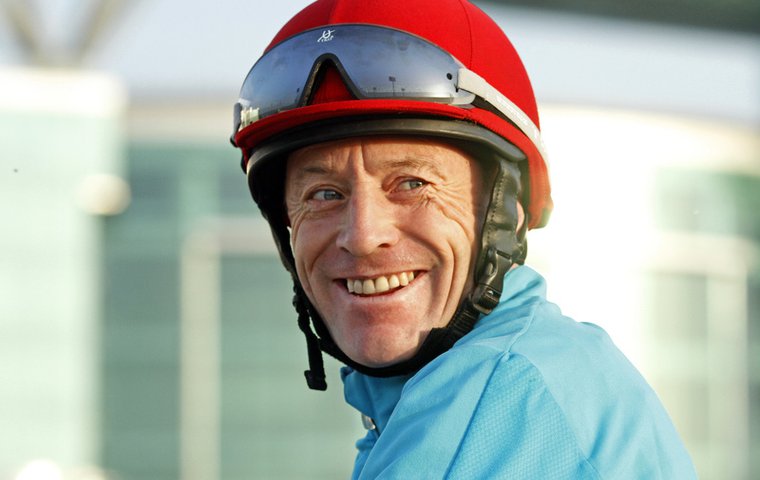 Kieren Fallon is in very good spirits. Fresh from riding work on Fog Of War, lead horse to Godolphin's Thunder Snow, favourite for the UAE Derby on the Dubai World Cup card at Meydan on Saturday, he pulls up a chair at the course's adjacent golf course and is clearly enjoying life.

Since November, the 52-year-old has been happily based in Dubai, riding work for Saeed bin Suroor at Al Quoz alongside a plethora of retired Group 1-winning jockeys. He arrives with one of them, his good friend Daragh O'Donohoe, and there's plenty of banter between the pair.
The relaxed setting helps and he covers a lot of ground, from what he thinks of Godolphin's World Cup team - "Thunder Snow, you can't see beyond him really – he's a really good horse" - to what he plans to do when leaving Dubai in a few weeks' time, to the fascinating prospect of a training career.
"I love Dubai," he says over an espresso. "I've been coming here for a long time, and had a lot of success over the years. After America and Hong Kong, this is the ideal place to come."
Not so safe in America
Riding work for Saeed bin Suroor is 'safer', he feels, than his former 'second home' in California. "Dubai is a place where you keep fit and have a great holiday. Last year, when I was working in America, I had a horse snap a leg with me and go down and I was lucky I didn't break my neck.
"Horses in America are on medication and the jockeys have bad falls. Because they are on medication, they don't feel the pain and so they don't pull themselves up and tend to go down. The horses here for Saeed are all good rides and then you have the rest of the day to do what you want with."
Fallon retired in July, having spent a brief period riding for up-and-coming Curragh-based trainer Michael O'Callaghan, who gave him his last Group race success, on Now Or Never in the Derrinstown Stud 1000 Guineas Trial at Leopardstown. Then, the wider world was unaware that he was battling depression, which subsequently forced him to call time on a career that yielded 2,200 wins, including more than 80 at G1 level. It must have been a hard decision, but there will be no Lester Piggott-esque return.
"I probably should have retired years ago," he says. 'I was hanging in there when my best days were gone. I knew I wasn't riding as well and I wasn't really enjoying it the same.
Training thoughts
"When I went back and watched the replays, I felt I wasn't the same person, you know? When you lose your confidence there's no point trying to ride competitively. When I went back to Ireland, I thought I'd find the spark that I needed – I love Ireland – but it wasn't to be. But I love being around horses, especially in the mornings. In the afternoons I prefer just watching them now."
Bearing that in mind, plus the fact that he's held down stable jockey jobs with some of the greats of the game, including Sir Henry Cecil, Aidan O'Brien and Sir Michael Stoute – "a job I wanted ever since I was an apprentice in Ireland" – wouldn't training be a logical step?
He pauses, looks around. "I thought about it. I was going to stay in America and start training, but then then when Michael [O'Callaghan] rang me to go back I thought 'it might work'.
"I will [start training], soon. I think I'll start. I'm going back to work for [Newmarket trainer] William Haggas in the mornings and I've got a few options and another few things I have to do as well, but I'd like to start training, or, if I didn't train myself, I'd love to join somebody and work with a good trainer."
A horse 'they wouldn't have touched'
Besides that, his children are a priority, and he lights up when asked about his son, Cieren, who is beginning his apprenticeship.
"I'd prefer to work in England because my kids are there. My son is starting his apprenticeship, so I'd like to be there to help him. He's confident in everything he does and hopefully he'll be able to learn from my mistakes."
Fallon remains unfailingly modest. He genuinely can't quite remember how many 2000 Guineas he's won [five] but speaks fondly of the best of them. "Night Of Thunder [2014] was the most enjoyable and not just because he was my last," while "Footstepsinthesand [2005] was amazing. If he didn't retire, they wouldn't have touched him."
When pressed on the more sensitive subject of the race-fixing allegations he faced in 2007, he is understandably cautious. It was a rollercoaster of weekend, beginning with a narrow Prix de l'Arc de Triomphe win on Dylan Thomas before a torrid time at the hands of the judicial system.
"It was a great weekend, the Arc," he says. "That was a great Sunday, then Monday morning we're walking into the Old Bailey, looking at six to ten years, nine weeks in the Old Bailey. That was tough, for something we'd never done, but anyway, it's history now."
Career in tatters
He gives a half-smile, keen to forget, but offers more when pressed. "There was nothing we could do. Obviously the police took it and you can't take on the police. When it comes out – which it will shortly – about some of the stuff that went on in there, how wrong it was … but we're still here."
It must have been a huge relief when he was cleared?
"Yes, but my career was in tatters – I never recovered after it. That was the end. I hung in there, but it was tough."
We return to riding, where what comes across is what a consummate horseman he is. "I love being around horses, trying to suss them out. Because they're all different, you know? You have to try and get a rapport going with them."
Training, therefore, is a serious consideration, but you sense there will be more chapters to the Fallon story before that. As he's done throughout his entire career, he'll keep us guessing.