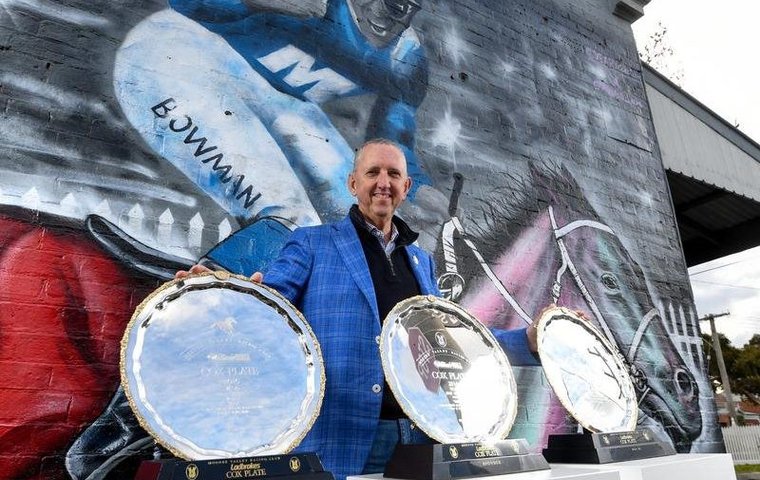 It could all come to an end on Saturday, but Peter Tighe is fully prepared - whenever it happens. In fact nothing much about his lifestyle will change. He'll continue to get up while it's still dark every morning and he'll continue to love going racing. It's just that Winx will not be running anymore.

Tighe is a part-owner of the great mare, who is out to add a record fourth Cox Plate to her illustrious record in front of an adoring Moonee Valley crowd in Melbourne on Saturday.
Her career may continue in 2019, but, win, lose or draw, there's a good chance Saturday's race will be her last. Tighe will be ready, though. "I can just go back to anonymity," he said. "It will be a case of moving on to the next phase of our racing lives."
Winx steps on to the track to receptions Australians reserve for only the greatest sporting figures, the world's biggest rock stars or, as we have seen down here in the last week, newly-married Royal couples on tour.
Sporting trivia question
Tighe and wife Patty are responsible for Winx's now famous blue silks - the ones with the white 'M'. The reason for the letter M will become a racing or sporting trivia question in years to come. It represents the Tighes' racing holdings, which compete under the Magic Bloodstock banner (currently world #4 in the TRC Global Owners' Rankings).
Peter and Patty Tighe own the 7-year-old in partnership with 87-year-old Richard Treweeke and the effervescent Debbie Kepitis, the daughter of former chicken magnate Bob Ingham, who raced wonderful gallopers such as Octagonal and his son Lonhro in partnership with older brother Jack for many years.
Tighe might even get out of bed earlier than Winx's trainer, Chris Waller, has to each day to head to his job trading fruit and vegetables at the Brisbane markets in Queensland.
Fruiterers and greengrocers can do business at what most of us would call unsociable hours, but Tighe said the hours fit perfectly with his passion – racing and breeding racehorses.
"I've been doing it all my life, and I still go in early in the morning and get that done, and it clears it up to go to the races in the afternoon," he said. "We trade 16 hours a day basically, with both incoming and outgoing produce, and racing works in with it really well. We've got a lot of people at the fruit and veggie market that are into their horses and racing, so we have a lot of commonality."
Tighe's links to the fruit and vegetable market are part of the reason his love of racing has only deepened as time has passed, as it brought him into contact with prominent Sydney owner Nick Moraitis.
Moraitis had a champion of his own in the form of Might And Power, the son of Zabeel who claimed the 1997 Caulfield and Melbourne Cups and the 1998 Cox Plate. Moraitis also raced Doncaster Handicap winner Vision And Power while Tighe's bloodstock interests developed.
"We used to, and still do, a lot of business with the Moraitis family and we used to watch them and see how good it was when they had their stars while we had all our slow horses," Tighe said.
Winx mania
Might And Power created terrific interest until a tendon injury halted the brilliant front-runner's career in its prime, but the mania around Winx has bubbled at another level altogether as her winning streak, which now stands at 28, has grown.
Winx's popularity has shifted from being solely among the racing public to general sports lovers and now the general public clamours for information on when the champion will next appear on an Australian racetrack.
"She was the racing fraternity's horse, then the sporting sector and now just the general public," Waller said at the launch of the official biography of Winx's career on Monday.
Tighe relishes the responsibility that he feels he and Winx's other connections have to promote the sport that gave them the rush of owning an equine marvel of her calibre. Tighe knows people come to the races just to see his horse in the flesh and welcomes the interest of newcomers to the Thoroughbred world.
"When racing has got something to follow, it's just great and it's giving people a taste of what it's about," Tighe said. "That's the nicest thing, to go to the races in Sydney or Melbourne and people turn up and bring their kids to introduce them to racing.
"It's not about one horse and one race, it's about the entertainment and the social aspect. I don't think I've ever met anybody at the races that hasn't enjoyed it. You don't have to be a racing person or a gambling person, but it's such a social occasion and a great way to spend a day."
Tighe says he is still amazed by the lengths to which people will go to show their support for the brilliant daughter of Street Cry, who hasn't been beaten since she finished second in the G1 Australian Oaks at Randwick in April 2015.
People from all facets of life inundate the Winx team with messages of support, including some that aren't always able to make it to the races to cheer on the superstar. It's clear the Winx phenomenon has inspired Australians to become part of the story in their own ways.
"We've got people that follow us on Facebook and things like that," Tighe said. "For example, there's a particular lady in Adelaide that is wheelchair-bound so she dresses her wheelchair up in the white with a blue emblem on the wheels and she drives across to Melbourne to see her run.
Learning about racing
"There's a multitude of stories and it's great to see the kids. They're learning about racing and they're the next generation, and even Hugh Bowman brings his daughters now because he thinks they're old enough to have an understanding.
"I've spoken to people in nursing homes that are not well and it's something they look forward to when Winx is racing. They can be in their 80s and 90s and they look forward to it and they make an afternoon of it in their nursing home, so it's wonderful."
So much public expectation surely creates a few nerves for Tighe, Treweeke, Kepitis, Waller and Bowman. Maintaining Winx's winning streak brings pressures that only they or Black Caviar's connections could understand in Australia.
Arrowfield Stud boss John Messara said beating Winx would be "like killing Bambi" when he declined to pit newly-purchased Caulfield Guineas winner The Autumn Sun against his illustrious stablemate. The Autumn Sun would have needed to have been extraordinary to beat Winx as a 3-year-old, but his owners are happy to bide their time to challenge for the title of Australia's best racehorse, which will be thrown wide open once Winx retires, be it this year or next.
Tighe says the weight of such adulation for Winx produces quiet celebrations when she wins races these days, despite the millions of dollars earned for her previous three Cox Plate wins and two Queen Elizabeth Stakes victories.
The relief of victory
"Some nights it's just a dinner with some of the owners or Hugh Bowman and his wife, or sometimes we go back to Chris Waller's place and have a pizza," Tighe said. "We couldn't go out and write ourselves off every time she won, we'd all be alcoholics and I'm too old to be going out drinking like a fish.
"There's often a bigger build-up to the race now than when she actually wins and, after the race, it's quite relieving and it's just really about thinking about where we go next."
Waller and Winx's owners have maintained the mare would decide when she's had enough of the adulation, crowds and racing. She's the hot favourite (at around 1/4) to keep her winning streak alive with another Cox Plate win before a break and another possible Sydney autumn campaign in 2019.
If the Cox Plate is Winx's last run, Tighe will simply revert to enjoying his passion for racing on a quieter scale. And he'll be back at the markets after a short break indulging in his love of the game during the Melbourne Cup carnival at Flemington.
"I can just go back to anonymity and enjoy a nice day at the races," he said. "It will be just business as usual but it just won't be as high-profile, but we love the races and it will be a case of moving on to the next phase of our racing lives.
"One day, there will be a horse to challenge Winx. I'm sure we won't own it, but I'll follow it just as closely as I followed Black Caviar, Makybe Diva, Saintly and all of the greats that I have loved watching.
"I'll be in Melbourne for three weeks taking in the carnival but the Monday after the carnival finishes, I'll be back at the markets for sure."