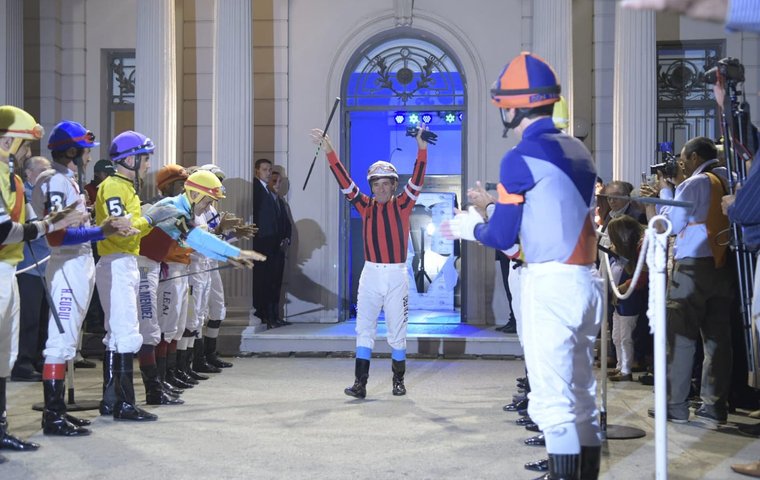 A legendary riding career came to an end in South America on Monday when Pablo Falero, the jockey dubbed 'racing's Maradona' in Argentina, returned to his native Uruguay for his final ride after more than 9,500 winners and 38 years in the saddle.

However, there was to be no fairytale ending for the 53-year-old – who stands at third on the all-time jockeys' list with 9,580 career victories – when his mount Olympic Harvard could finish only fourth in the Gran Premio Jose Pedro Ramirez at Maronas racecourse in Montevideo.
The G1 over 1m4f on dirt was won in brilliant fashion by the favourite Ajuste Fiscal, who scored by seven lengths. But the main focus of attention on Uruguay's most prestigious raceday was the homecoming of Falero, who has been based across the River Plate in the more exalted racing arena of Buenos Aires for the last 28 years.
Falero's colleagues welcomed him with a guard of honour at the entrance to the ornate Maronas grandstand ahead of the final ride of a career featuring nearly 50,000 rides and about 170 G1 winners, among them four victories in the Gran Premio Carlos Pellegrini, the 'South American Arc'. Falero's last ride in Argentina had come last month in the most recent edition of the same race, when he was unplaced on Fromm behind Brazilian winner Nao Da Mais.
Palero, currently standing at 119 in the TRC Global Rankings, in which he is the fifth-highest ranked Argentina-based rider, retired with no fewer than 21 jockeys' titles to his name, five in Uruguay (1987-1991) and 16 more in Argentina, where he formed a formidable long-running partnership with trainer Juan Carlos Maldotti and the Lottero family's Haras Vacacion stable, for whom he is now set to take up training duties.
"The numbers are amazing – winning 9,500 races is a huge amount and I didn't keep count!" he said. "The time has passed very quickly and I must thank my family for all their support throughout my career."
"I do not regret the decision to stop riding," he went on. "It's true to say that I still feel great and I think I'm still riding well and my reflexes are as good as ever. But I said I would finish at the end of 2019, and here I am, keeping my word."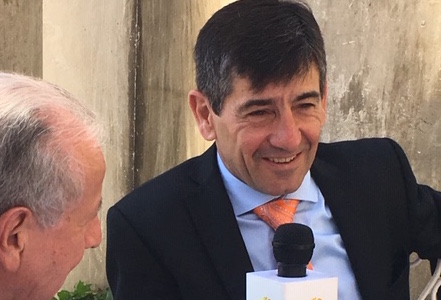 On the verge of tears as he addressed the crowd at Maronas, Falero expressed his gratitude for the warmth of the response he received. "I will never forget this tribute," said the rider. "I could not believe the ovation I received when I came on to the track with Olympic Harvard and I'm also astonished to find so many Argentinian horseracing people here for my farewell."
Born in Conchillas, Uruguay, in December 1966, Falero had his first ride aged 14 at the Real San Carlos in Colonia de Sacramento on the Uruguayan coast; his first winner, named Unica, came on his third mount at the same venue when he was 15 in 1982.
Owing to the unreliable nature of records from that era, it is difficult to be entirely confident of his career figures, but sources in Uruguay put his overall tally at 9,580 – enough to place him third on the all-time list behind only Jorge Ricardo, Falero's colleague in Buenos Aires for nearly two decades, and the now-retired North American Russell Baze.
Other statistics published in Argentina suggesting a total of 8,347 completely ignore several seasons in Uruguay before he moved across the River Plate and are therefore clearly deficient.
What is unarguable is that this hugely popular figure has won a multitude of G1s in South America, including the continent's biggest races, the Gran Premio Carlos Pellegrini (four times - Potrillon 1991, Potri Pe 1992, Guarachero 2000 and Storm Mayor 2005) and the GP Latinoamericano, which he won on Potrillon in 1992.
However, Falero identifies the victory of Delivery in the G1 Gran Premio Enrique Acebal at San Isidro in 1998 as his most important triumph as it came after nine months on the sidelines following a horrific injury in morning trackwork in which he fractured three cervical vertebrae. Doctors had warned he might never ride again.
Jorge Ricardo, still riding in Buenos Aires after serious illness and injury in recent seasons, heads the all-time jockeys' list with 12,975 winners. There is widespread rumour in Argentina that the Brazilian jockey known as 'Ricardinho' will retire when he reaches 13,000.
According to the Pagina de Turf website, the world leader among trainers in career victories is Peruvian-based Juan Suarez Villaroel, who had registered 9,535 winners as at January 5.
My thanks to Luis Costa Baleta for his assistance with this article
ALL-TIME JOCKEYS' TOP TEN
as at January 8, 2020
1. Jorge Ricardo 12,975
2. Russell Baze 12,844
3. Pablo Falero 9,580
4. Laffit Pincay 9,530
5. Bill Shoemaker 8,833
6. Pat Day 8,803
7. David Gall 7,396
8. Edgar Prado 7,342
9. Fumio Matoba 7,273
10.Takemi Sasaki 7,153