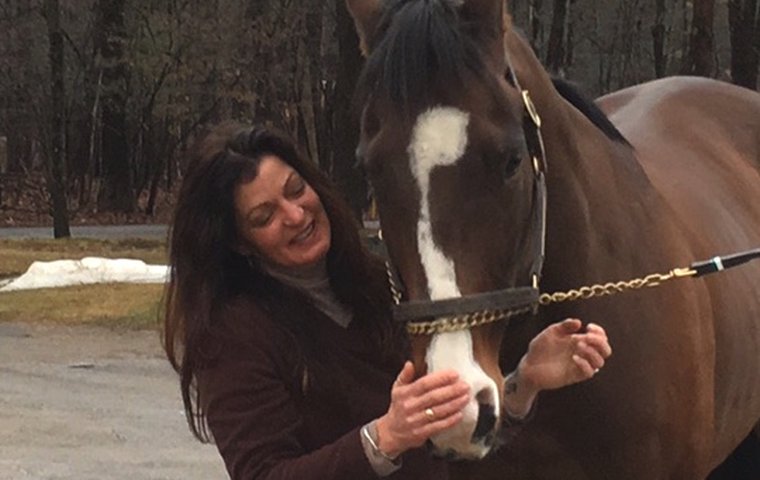 In a tough time for Thoroughbred horse racing and in an even tougher winter environment, an experienced horsewoman is defying the odds and has started a breeding and foaling operation in the shadow of Saratoga Race Course.

The farm, called Mahoney Eden Manor, is a dream come true for Britt Wadsworth, a native of Florida, and her Saratoga-born partner Sean Mahoney. Wadsworth relocated three years ago from Ocala, where she was a partner in Leprechaun Racing, and, after a search for land, the pair purchased a 13-acre farm to continue pinhooking weanlings, raising yearlings and boarding mares in foal and retired racehorses.
"I had fallen in love with Saratoga and had been coming here for years, buying at the yearling sales and galloping for trainers in the summer," Wadsworth said, mentioning Linda Rice, Ralph Nicks and Shug McGaughey as among those for whom she worked.
"So several years ago, I decided to run away from home," as Wadsworth puts it about the journey north.
And now, hard work, some luck and 100 percent devotion to Thoroughbreds have combined to give the couple a heady start in this highly competitive industry.
Itinerant lifestyle
Both Wadsworth and Mahoney, who spent summers working concessions at the race track when he was a kid, are wise enough to keep their day jobs: Wadsworth as administrative assistant at nearby Rood and Riddle Equine Hospital, and Mahoney as bar manager at Sperry's, a popular downtown Saratoga restaurant.
For years, Mahoney had commuted weekly from Saratoga to Ocala to see Wadsworth, but the closeness of their bond convinced them it was time for a change.
"I'd stay in Saratoga through Saturday, get out of Sperry's late, catch the first flight to Florida on Sunday morning, fly down and come back Wednesday and go straight to work," Mahoney said.
This was no way to live for a couple that bonded to each other and shared a dream of owning a horse farm.
"We wanted to have a farm and a life together and that has become a reality," said Wadsworth. For months after her move three years ago, they lived either with friends or in Mahoney's small apartment – their furniture and other belongings in a U-Haul parked at Rood and Riddle. But soon they bought the mare Hennyville (Henny Hughes – Carsonality, out of Carson City), who was being boarded in Kentucky at the time, and it became clear they needed to look for land if they were to have more horses.
The itinerant lifestyle was "stressful and not fun", said Mahoney.
Like other events in their new lives, things fell into their laps.
A special spot
One night at dinner with William Wilmot and Joan Taylor, two prominent Saratoga breeders and veterinarians, they learned the couple were selling their former manager's house, which was vacant.
"We closed on the land on Saratoga's opening day (July 22, 2016) which was awful for me because it's one of the busiest days at the bar," said Mahoney.
"We had found a special spot and we think we can raise good racehorses for the New York breeding program. We want to be a small operation that provides outstanding care for horses," said Wadsworth.
That special spot is a lovely sloping piece of farmland, off of Route 9P, less than three miles from the racecourse. The ranch house and other buildings, including a four-shed barn just put up for the winter, sit at the base of a massive cliff (the Wilmot's farm is on the other side). In the winter the land sparkles with fresh snow; in the fall it is enveloped in orange, gold- and red-leafed trees. In the spring and summer, patches of black-eyed Susans explode everywhere like mini-galaxies.
Shug McGaughey's endorsement
Wadsworth's venture has the endorsement of McGaughey, who called her "an outstanding horse woman" with experience in all facets of the industry.
"She has a great understanding from top to bottom," he said. "I could talk to her about different things with a horse and she was always very insightful." He recalled seeking her advice about a spot for Orb, who won the 2013 Kentucky Derby, after he jumped at the gate, in his fourth and finally successful attempt to break his maiden.
"What am I going to do with him now?" he asked Wadsworth at the time. "Run him against winners," she replied. "She was right on line," the Hall of Fame trainer said.
McGaughey predicted she'll be very successful and said he would have no second thoughts about laying up horses for rest and rehab at her Saratoga farm, especially during the summer meets.
Mares in foal
Wadsworth has a long experience in the sport. Her family is ninth generation from St. Augustine; her grandfather owned a few racehorses.
"I always watched the Triple Crown and memorized the winners' names," she recalled. "My mom said I came out horse crazy. One of my first words was 'horse'."
These days she has proper names attached to 'horse', as there are nine Thoroughbreds on the property, including Mahoney's fav, Hennyville, in foal to Liam's Map, Florida Sun, in foal to Palace Malice, Sage Cat, in foal to Will Take Charge, I'll Take Notes, in foal to Atreides and Rock 'n Wolin, in foal to Goldencents.
Twistaway will be bred to Outwork later this year and another mare, Auspicious, will be bred in the future. Wadsworth and Mahoney are boarding the mares for owners; they are also part owners of some of the horses.
There are also two males, including a special 'rescue' horse.
The story of that rescue
In fact, horse rescues are the result of a chain of human kindness in Britt Wadsworth and Sean Mahoney's lives.
The most prominent resident of Mahoney Eden Manor is Flexnow, a 10-year old son of Tiznow (out of a Fleas Louise mare by Storm Cat), who now has a safe and happy home forever.
Wadsworth broke him as a yearling when he was in her stable at Leprechaun; he went into training with Steve Asmussen, changed hands several times and, sadly, she lost track of him.
A picture of the dark bay had been on her various desks for nearly a decade.
"I knew he was one I always wanted back," she said.
Eventually, Mahoney picked up Flexnow's trail and last September, after negotiations that took the horse from Churchill Downs to a truck repair shop in Ohio to Rood and Riddle in Saratoga, he arranged a heartwarming reunion through a complicated ruse with the help of dozens of people sworn to secrecy.
'Fairy godmother'
Through friends, Mahoney found out that Flexnow was still in training in Kentucky with Ron Moquett. "I noticed he wasn't running well," Mahoney said, figuring he'd buy him off of a $5,000 claiming race at Churchill in June of 2015, and that would be the end of his 29-race career ($77,000 from 9-2-2).
"I'm keeping track of his breezes and they were not so good," said Mahoney. "I really just wanted to retire him and get him back here for Britt. "I thought 'he's run poorly, the price will drop'."
But the quixotic nature of this sport prevailed and Flexnow won the race, albeit as favorite.
"I'm like now he's (Moquett) not going to give this horse up," Mahoney said.
But sometimes fairytales come true, and this time the godmother was Danzel Brendemuehl, a close breeder friend of Wadsworth's from the Ocala days, as well as Chelsey Moysey, who worked for trainer William Bradley, in the barn next to Moquett's at Churchill.
Sealing a deal in the rain
"I was bothering Moquett and Chelsey every week for months," Mahoney said, the latter acting as a spy and listening in on the trainer's plans for the horse. A year ago, when she heard he was going to ship to Oaklawn Park, she immediately told Mahoney.
Plans were put on hold – again
But, when it comes to Thoroughbred careers, nothing is in stone, and so one night during dinner at Sperry's, Mahoney saw Moysey's number light up on the bar phone.
He snatched the phone before Wadsworth could see it and heard a breathless whisper. "Ron wants to get rid of the horse."
Mahoney rushed outside and, standing there on Caroline Street in the pouring rain, he sealed the deal with Moquett, who gave Mahoney the horse at no cost on the condition that the new owners promised to never run him again.
"I told him 'this is a forever home'," Mahoney recalled.
Through Brendemuehl and Moysey, they arranged for a horse van to bring him to Saratoga. Though a brand new truck, the racing gods still had tricks up their sleeves and the truck broke down in Ohio, forcing Flexnow to spend the night in a repair shop. Finally they chugged into Saratoga Springs, got him to Rood and Riddle at 3 in the morning where the staff was in on the surprise.
The emotional reunion
The next morning when Wadsworth went to work, one of the vets asked her to check out the lameness in a horse. Mahoney was outside hiding with a video camera to capture the whole thing on film.
"I thought this is weird," Wentworth recalled, noting that rarely did she do this in her job.
But she did as she was told and went outside.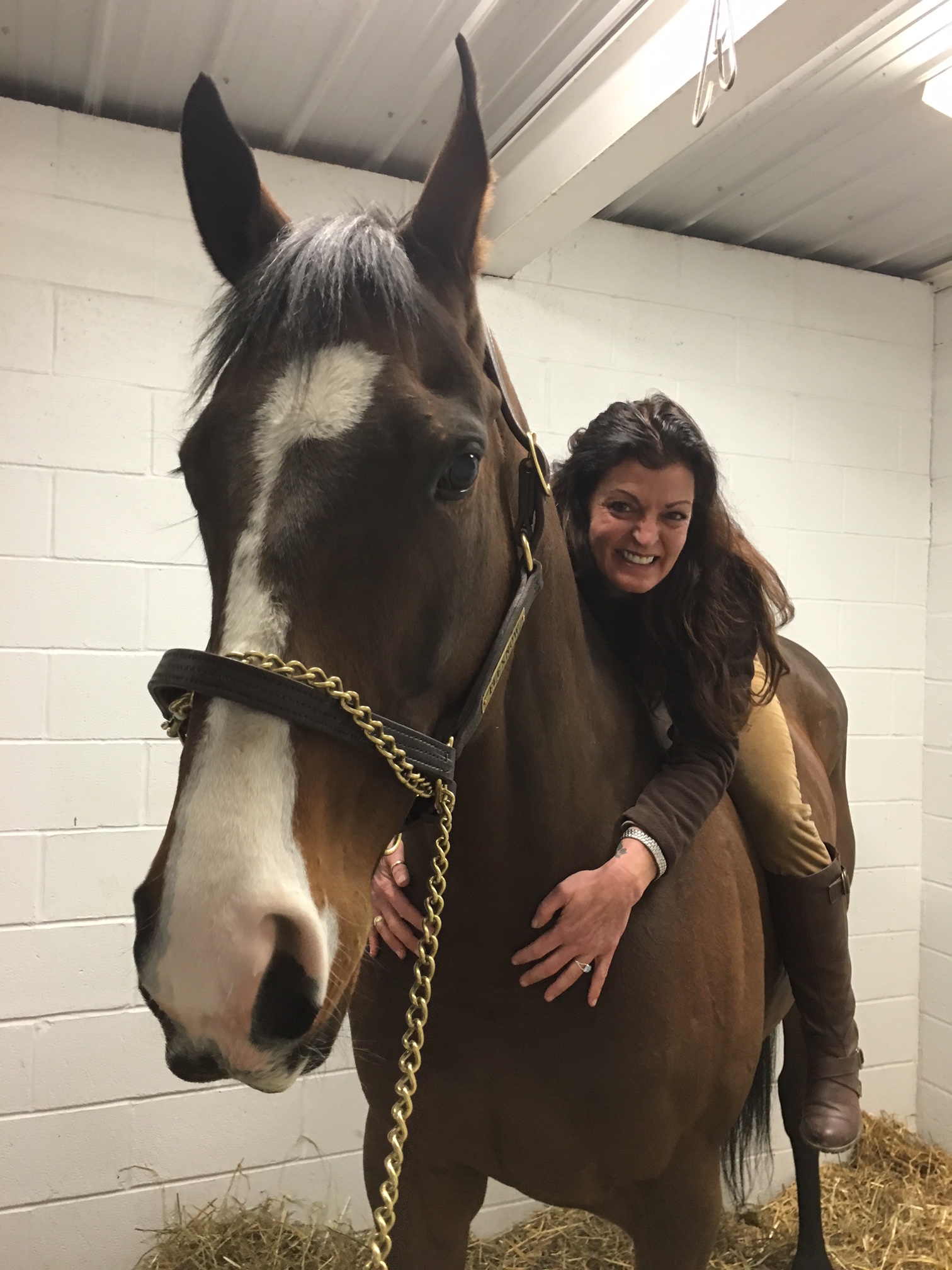 One of her co-workers, Scott Welch, said she's thinking, "What the heck is Dr. (Travis) Tull having me look at lameness for ... we're race trackers, we've seen lameness all our lives. What's going on here?"
"I think the horse figured it out pretty quick – his ears pricked up when he recognized her," Welch said. "I've got a lot more four-legged friends than two-legged friends, and I've learned horses are smarter than most people," added the veteran of 25 years in the business, primarily on backstretches.
"Flexnow stared at her. She checked him over, hugged his head and went right up on him," Mahoney recalled. "She was bawling the whole time."
"I see this horse with big ears on a shank walking over to me and I said, 'I don't see much wrong with him - bring him over,'" Wadsworth recalled.
She examined his legs, then at the halter (which had a different name on it) and then recognized the full-length, crooked blaze on his face.
She flashes a huge smile, throws a halter on Flex, hugs him and finally climbs aboard. Laughter from those in on the surprise explodes in the background.
Another rescue that saved a starving mare
Brendemuehl was more than willing to be a part of the plot because of her own experience with a 7-year-old mare, Silver And Smoke, whom she had bred but lost track of.
Through the help of Miami Dade County law enforcement and animal control officials, Brendemuehl recently rescued the starving horse, which was awaiting slaughter. "She resembled a coat hanger with a rag thrown over it," Brendemuehl said.
She brought her home, where she'll live out her days.
And there was a side benefit for Brendemuehl, who was undergoing chemotherapy. "I got to concentrate on something other than myself," she said. "This is a testament to how dedicated horse people are. What if Flex had fallen through the cracks? The last thing I wanted was for Britt to go through what I did," she said referring to losing track of Silver And Smoke. "The guilt I felt – I bred her, and then I sold her and someone did that to her. I felt responsible."
And another that found a good home
Moysey, too, has a rescue story. At one point, working for Ocala breeders, she got attached to a 6-year-old bay colt, Determinate (With Distinction – Katiegotomarquet out of Marquetry). "He was a difficult horse but I got along with him very well," she said.
Eventually Determinate was in training and Moysey, who had moved to Kentucky, kept an eagle eye on his racing career. In his second start, he got claimed at Tampa. "I was heartbroken, she said. "I knew not to get attached to a claiming horse."
But sometimes those pesky little emotions get in the way.
"I was so upset, I didn't go back to Kentucky," she said. Instead, she went to Gulfstream Park and pestered a friend enough to get him to claim Determinate (the horse didn't like racing in the heat), bought him back for $3,000, left him in Ocala with her mother and returned to Kentucky.
The plan was to get him back in racing shape, but an injury prevented that so, when a friend in Iowa said she was looking for a trail horse for her kid, Moysey jumped at the opportunity to place him in a good home.
"I didn't want him to sit in the fields," Moysey said. "He was the type of horse who needed love and a family."
As did Flexnow, who runs freely in a large sloping paddock in Saratoga, with his buddy Dodgertown, a 4-year-old Hard Spun gelding, who is also boarded at Mahoney Eden Manor.
Wadsworth spends time with Flexnow every day. Rides him, feeds him, teases him. He is the love of her life, and the other love of her life (Mahoney) made it all happen through dedication to the horse and a gritty determination to succeed in his quest.
True grit for true Britt.