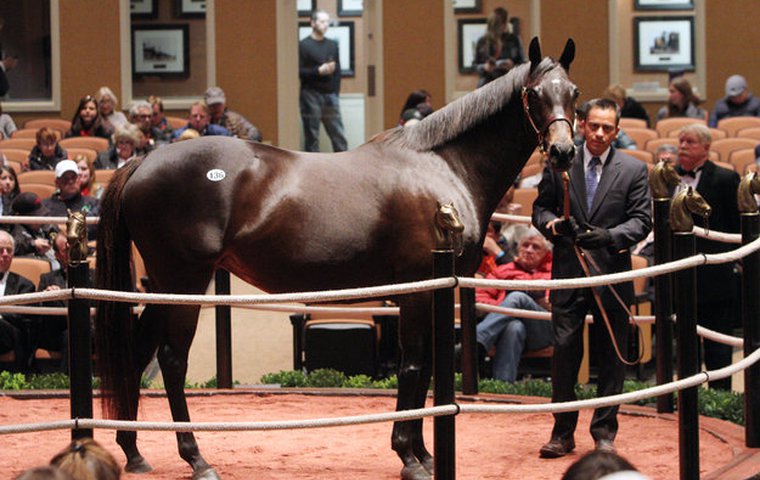 Fresh from reaping the benefits of a rising yearling market, investors returned to the marketplace in no uncertain fashion in Kentucky this week to provide a memorable opening to the 2014 select breeding stock sales season.

Fasig-Tipton compiled a blockbuster catalogue of 200 horses that included 21 G1 winners as well as the dams of 14 G1 winners. Even though several failed to make their engagement, the company was rewarded on Monday evening when selling 23 million-dollar lots.
The momentum carried over to Book 1 of the Keeneland November Sale, which concluded its two-day run on Wednesday with 18 million-dollar lots. They included a Tapit filly, who set a North American auction weanling record when commanding $3 million from Bridlewood Farm during an electric second day of trading.
By comparison, 24 million-dollar lots changed hands at the 2013 Fasig-Tipton November Sale while 14 were sold during last year's renewal of Book 1 at Keeneland.
"It's been very strong," said Pat Costello of Paramount Sales, consignor of the Keeneland sale-topper Aloof for $3.9 million. "We're getting a lot of action at the barns, a lot of vetting and the upper-level mares have been selling really well - several have exceeded expectations."
Fasig-Tipton's November Sale featured plenty of memorable transactions but against that, several high-profile mares failed to change hands, including Kentucky Oaks heroine Believe You Can, who was unsold at $4.9 million, and Breeders' Cup Filly & Mare Turf runner-up Stephanie's Kitten, who was retained by Ken and Sarah Ramsey for $3.95 million.
Such buybacks prevented Fasig-Tipton from arresting a 14 percent drop in aggregate to $63,678,000. The median also fell 20 percent to $200,000, although the average rose three percent to $589,611.
Domestic players such as Bridlewood Farm, Summer Wind Farm and Barbara Banke's Stonestreet Stables secured their share of elite lots, but American money unsurprisingly faced fierce competition from international interests, notably those from Japan and the emerging China Horse Club.
The Fasig-Tipton November Sale has been a magnet for high-end Japanese buyers for several years; for instance, they accounted for at least $13.6 million worth of stock in 2013. This year, the Yoshida family came away with five million-dollar lots, led by last year's brilliant 3-year-old filly Princess Of Sylmar, who was knocked down to Shadai Farm for $3.1 million. Taylor Made Sales sold the daughter of Majestic Warrior on behalf of breeder Ed Stanco, in whose colours she swept the 2013 Kentucky Oaks, Coaching Club American Oaks, Alabama Stakes and Beldame Stakes.
Not long after her sale, Stanco sold her dam, Storm Dixie, for $1.9 million to Olin Gentry, acting as agent.
Shadai also paid $1.3 million for Demoiselle Stakes winner Unlimited Budget, while Katsumi Yoshida came away with the top two from last year's Breeders' Cup Juvenile Fillies' in Ria Antonia (cost $1.8 million) and She's A Tiger (cost $2.5 million).
"We've found it hard to buy but we did manage to get a very nice mare," said Henry Field, managing director of the Australian operation Newgate Stud Farm, which paid $1.2 million for Prioress Stakes winner Lighthouse Bay. "It's a strong international market and the good mares are selling extremely well."
The top price of $3.1 million failed by quite some way to match last year's high of $5.2 million, paid by Mandy Pope's Whisper Hill Farm for Betterbetterbetter. However, it's very possible that it would have been surpassed by original entry Beholder, who had to be scratched in the days leading up to the sale after developing a fever. Another notable absentee was Breeders' Cup Filly & Mare Sprint heroine Judy the Beauty.
One noted Breeders' Cup performer who did change hands in the ring was the Filly & Mare Turf victress Dayattthespa, who deservedly became one of the highlights when selling for $2 million to Stonestreet Thoroughbred Holdings.
Also set to remain in American hands are 2013 Test Stakes winner Sweet Lulu and American Pharoah's dam Littleprincessemma, who were sold in foal to War Front and Pioneerof The Nile for $3 million and $2.1 million to Frank and Jane Lyon's Summer Wind Farm. Wine Princess, a G2-winning daughter of Horse of the Year Azeri who was knocked down to DATTT Farm for $3 million, was another high-profile mare in foal to War Front. Craig Bandoroff of Denali Stud in Kentucky signed the ticket.
The Chilean-based Don Alberto Corporation, which is chaired by Liliana Solari, ended the sale as leading buyer with three bought for a total of $5.65 million. The operation purchased a Kentucky arm - what was formerly Vinery - in October last year and subsequently signed for $10.75 million worth of breeding stock at public auction in Kentucky last November. They bolstered their stock again this time around, paying $2.6 million for Canadian International winner Sarah Lynx and $2.4 million for La Cloche, a G3-winning half-sister to Winter Memories.
While the likes of Don Alberto Corporation, Stonestreet and Katsumi Yoshida later made their presence felt at Keeneland, one of the talking points of this year's edition of Book 1 was the spending power of the China Horse Club.
Under the guidance of club chairman Teo Ah Khing, general manager Eden Harrington and agent Michael Wallace, the club made their first official buying trip to Keeneland a memorable one by paying $5.575 million for seven horses. They included this year's Clement L. Hirsch Stakes winner Iotapa, who commanded $2.8 million, and supplementary entry Last Full Measure, the 2013 Madison Stakes winner who sold in foal to War Front for $1.5 million.
As has come to be expected, mares in foal to War Front and Tapit were extremely highly sought after; the pair returned covering sire averages of $3.1 million and $995,000 respectively.
The combination of War Front and Galileo in particular provided the perfect commercial storm. Top billing went to the Irish G3 winner Aloof, a Galileo daughter of top British sprinter Airwave who sold in foal to War Front for $3.9 million to Mandy Pope's Whisper Hill Farm. Meanwhile, the only mare catalogued in foal to Galileo, G3 winner Peace Preserver, a daughter of War Front, realized $1.9 million to the bid of John Malone's Bridlewood Farm.
War Front was also the covering sire of Naples Bay, a G3-winning Giant's Causeway half-sister to Medaglia d'Oro, who topped the opening day when selling for $3.6 million to MV Magnier.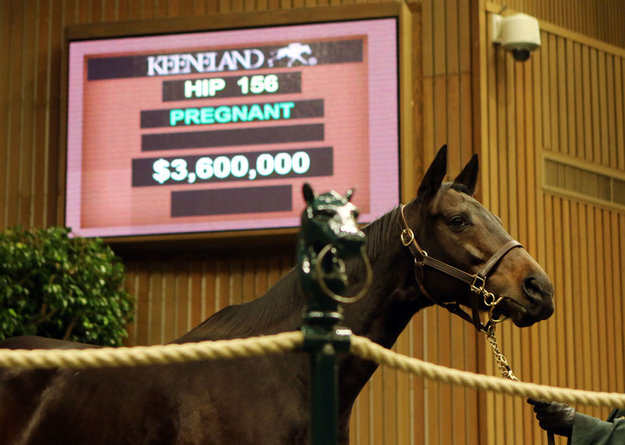 Bridlewood Farm, which is based in Ocala, Florida, made quite an impact at Keeneland by signing for $7.9 million worth of lots to end Book 1 as leading buyer.
Their purchases were headed by a filly by Tapit that sold for a North American weanling record of $3 million. Consigned by Hill 'n' Dale Sales Agency, she boasts an exceptional pedigree as a half-sister to G2 winners Noble Tune and Honor Code and daughter of stakes winner Serena's Cat, herself a granddaughter of Serena's Song.
In what was a particularly memorable day for John Sikura's Hill 'n' Dale Sales, the agency also sold Modeling, a 2-year-old Tapit filly from the immediate family of Rags To Riches and Jazil, for $2.85 million to Don Alberto Corporation. Unsurprisingly, Hill 'n' Dale was the leading vendor during Book 1 with 19 sold for a total of $14.84 million.
Despite not offering a major dispersal, such as that from the E. Paul Robsham Stable, which bolstered the 2013 renewal, Keeneland has already recorded total sales of $95,852,000, up 11 percent on 2013.
Granted, the average of $351,106 is down minimally from last year's figure of $357,570 while the median is down 9 percent at $200,000. But, given the number of buyers who failed to strike during Book 1, it wouldn't be surprising to see those numbers swing the other way during the upcoming books.
TOP FIVE SALES FASIG-TIPTON
| | | | | | |
| --- | --- | --- | --- | --- | --- |
| Name | Breeding | Covering sire | Vendor | Purchaser | Price |
| Princess Of Sylmar | 4 f Majestic - Warrior - Storm Dixie | N/A | Taylor Made Sales Agency | Shadai Farm | $3.1 million |
| Sweet Lulu | 4 m Mr. Greeley - Successful Outlook | War Front | Taylor Made Sales Agency | Summer Wind Farm | $3 million |
| Wine Princess | 5 m Ghostzapper - Azeri | War Front | Hill 'n' Dale Sales Agency | DATTT Farm LLC | $3 million |
| Sarah Lynx | 7 m Montjeu - Steel Princess | Street Cry | Brookdale Sales | Don Alberto Corporation | $2.6 million |
| She's A Tiger | 3 Tale Of The Cat - Shandra Smiles | N/A | Hill 'n' Dale Sales Agency | Katsumi Yoshida | $2.5 million |
TOP FIVE SALES KEENELAND NOVEMBER BOOK 1
| | | | | | |
| --- | --- | --- | --- | --- | --- |
| Name | Breeding | Covering sire | Vendor | Purchaser | Price |
| Aloof | 5 m Galileo - Airwave | War Front | Paramount Sales | Whisper Hill Farm LLC | $3.9 million |
| Naples Bay | 6 m Giant's Causeway - Cappucino Bay | War Front | Claiborne Farm | M V Magnier | $3.6 million |
| -- | filly foal Tapit - Serena's Cat | N/A | Hill 'n' Dale Sales Agency | Bridlewood Farm | $3 million |
| Modeling | 2 m Tapit - Teeming | Distorted Humor | Hill 'n' Dale Sales Agency | Don Alberto Corporation | $2.85 million |
| Iotapa | 4 f Afleet Alex - Concinnous | N/A | Lane's End | China Horse Club | $2.8 million |