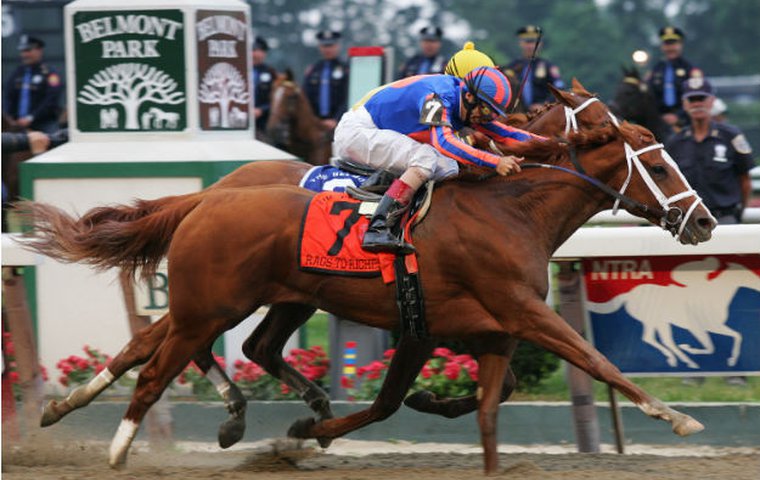 The book may be closed on American Pharoah's brilliant career on the racetrack, but the final chapter in his legacy is still being written.

As Thoroughbred racing revels in the afterglow of its first Triple Crown champion in 37 years, a different part of the industry is now getting its chance to inhale the rarified air that followed the Zayat Stables superstar to places like Monmouth Park, Saratoga and Keeneland.
For the first time in more than three decades, a farm can offer the services of a first-year sire who just so happens to be a Triple Crown champion, and the breeding industry is showing the same unbridled enthusiasm for American Pharaoh as the fans who packed racetracks to get a close-up look at him.
Even with a lofty fee of $200,000 per live foal, Coolmore America already has far more requests for American Pharoah than available mating sessions with the homebred son of Pioneerof the Nile during his initial season at stud.
"This is the biggest response we're ever seen," said Charlie O'Connor, Coolmore America's Director of Sales. "Who wouldn't want to breed an outstanding mare to the likes of American Pharoah? He has captured the heart of the racing world and beyond. All of our top clients and the top breeders from around the world are going to send their top mares his way.
"Our biggest problem is picking out the best mares for him because so many people have been submitting mares and we want to give this horse every chance in the world to be a great sire."
Glorious dreams
Owner Ahmed Zayat sold American Pharoah's breeding rights to Coolmore America in May in a $20 million deal that was announced shortly after the 3-year-old's romp in the Preakness. The deal, which included performance incentives, allowed Zayat to retain a share of American Pharoah's breeding rights and also control his racing career through the end of the year.
His days at the racetrack ended in a majestic fashion on Oct. 31 at Keeneland when he cruised to victory in the $5 million Breeders' Cup Classic, becoming the first horse to complete a historic Grand Slam of the Kentucky Derby, Preakness, Belmont Stakes and BC Classic.
Now, while racetrack aficionados will spend the coming years comparing the accomplishments of American Pharoah and the Triple Crown winners who came before him, the long-awaited 12th Triple Crown winner will begin a new life in the breeding shed in 2016. He'll take up where Affirmed, Seattle Slew and Secretariat left off, generating glorious dreams of a regal champion producing sons and daughters as amazingly swift and talented as their famed sire.
"It's a matter of breed the best to the best and hope for the best, and then cross your fingers," O'Connor said. "It doesn't always happen, but it certainly helps to have great talent. There's no guarantee, but there's a high percentage of success when you match the best broodmares with the best sires. It's a great starting point."
Finding the best possible mares for American Pharoah has proven to be relatively simple for Coolmore America. Slated for no more than an initial season of 150 bookings next year, the graceful colt has attracted more than 200 applications from highly interested breeders.
The list of those mares reads like a who's-who of distaff stars. It includes:
Take Charge Lady, the dam of 2013 champion 3-year-old Will Take Charge, G1 winner Take Charge Indy and a War Front weanling filly who just sold for North American-record $3.2 million at the Keeneland November sale.

Charming, the dam of Take Charge Brandi, the champion 2-year-old filly of 2014 who was sold for $6 million at the Keeneland sale on Nov. 3.

2014 Breeders' Cup Filly and Mare Sprint winner Judy the Beauty.

Untouched Talent, the dam of Zayat Stable's 2012 Kentucky Derby and Preakness runner-up Bodemeister.

G1 winner Awesome Maria, whose daughter out of War Front sold for $2 million at the Keeneland sale.

Ivanavinalot, the dam of Songbird, a breathtaking winner of the 2015 Breeders' Cup Juvenile Fillies.

Playa Maya, the dam of Uncle Mo, the 2010 2-year-old champion and one of this year's top first-year sires.

Arch's Gal Edith, dam of the colt who beat Bodemeister in the 2012 Derby and Preakness, I'll Have Another.

Rags to Riches, who in 2007 became the first filly since 1905 to win the Belmont Stakes.
"It's an exciting time because we know American Pharaoh will get the cream of the crop in the breeding shed," said Justin Zayat, the oldest son of Ahmed Zayat and racing manager for Zayat Stables. "As great a race horse as American Pharoah was, it doesn't necessarily mean he'll be a great sire. But he will get every chance to become a great sire and if it doesn't happen he'll have zero excuses."
With such a bevy of fabulous mares in his future, it would seem a mortal lock that American Pharoah will be represented by a legion of G1 winners in a few years, but it's never that easy. Even with racing royalty in their veins, some horses never live up to their grandiose expectations or even make it to the race at all.
It's all part of why people "hope for the best" when they "breed the best to the best".
"What I do is more art than science," said Ed Rosen, a bloodstock adviser who works primarily for owner Mike Repole. "Yet everyone wants to make this a science because people are so tuned in to algorithms and computers. They want to put in seven variables and have the answer spit out for them. But these are living things. They run through fences, they get colic, a lot of different things happen to them."
The hope and disappointment that mixes together in the breeding industry is best reflected by the three Triple Crown winners before American Pharoah.
The immortal Secretariat was syndicated for a world record $6.08 million before his unforgettable 1973 Triple Crown sweep, but the son of Bold Ruler never achieved acclaim as a sire until his daughters began to produce a series of G1 winners and champions.
Commotion at a sale
Affirmed, the 1978 Triple Crown winner, proved to be no match for his racetrack arch-rival Alydar as a sire.
Only Seattle Slew, whose humble pedigree made him the least likely of the three to thrive at stud, lived up to the great expectations attached to a sire with a Triple Crown sweep on his resume.
"Seattle Slew cost $17,000 and he'll be an influence in breeding for a century," Rosen said. "There's no predicting what can happen when you breed horses, even great ones. The more you do it, the more you find that there's no one, single way to do it. That's why no one has dominated for decade after decade. A lot of people come and go and the Phipps family might be the longest-running success story [in America].
"More and more people are commercial breeders now and they breed for the market, so they don't really develop families they way the Phipps, Vanderbilts and Whitneys did. They had very good female families and then they developed and cultivated them. They knew all the characteristics of those families, physical- and temperament-wise, and they would breed out the bad characteristics and double up on the good characteristics.
"Now, if I'm a commercial breeder, I want to breed to a stallion that I think will be hot when I sell the weanling two years from now, regardless of whether it's a good cross or not. They are less worried about producing a successful racehorse than they are about producing a good product to sell."
Even when the "very best" is bred to the "very best" there are no guarantees.
Intriguing possibilities
The bidding for a son of a Triple Crown champion out a dam who was a champion herself would certainly cause a commotion at a sale. Yet crossing American Pharoah with some of the superstar fillies of recent years, at least on paper, might not work as well as it would seem.
For example, using the TrueNicks ratings available at www.truenicks.com, an offspring of American Pharoah out of once-beaten 2010 Horse of the Year Zenyatta only rates a mediocre C on a scale where some crosses could receive an A++ rating.
Still owned by Jerry and Ann Moss, Zenyatta won 19 of her 20 starts, but, as a dam, she has yet to produce a winner from two colts: Cozmic One, a 3-year-old son of Bernardini who has finished seventh and sixth in his two career starts, and Ziconic, a 2-year-old son of Tapit who has yet to race.
Dottie Ingordo-Shirreffs, the racing manager for the Moss stable, said 2016 breeding plans have not been finalized for Zenyatta, adding that, while American Pharoah offered some intriguing possibilities for Zenyatta, she was uncertain if two of the best horses in the last 10 years would be bred to each other.
"In looking for a sire to match with Zenyatta, you want an accomplished horse with a nice pedigree and a great race record. You're looking for the whole package. We want someone with some speed because we think that would be a tremendous thing for her," she said.
"A foal by American Pharoah and Zenyatta would have great potential, but there's too many other factors involved in breeding. Genetics are one thing, but you need luck as well."
Though a son of Zayat's 2009 Kentucky Derby runner-up Pioneerof the Nile, the key figure in finding the best possible crosses for American Pharoah is his grand-sire, Empire Maker. Ratings, like TrueNicks, analyze how previous crosses between the sire and dam's families have done in the past to predict future success – or failure.
As for how good of a match American Pharoah would be for some of the great female champions in recent years, here's the TrueNicks ratings for those hypothetical foals.
Beholder, who was scratched two days before her highly anticipated showdown with American Pharoah in the BC Classic, was rated a B off a cross of Empire Maker with Storm Cat.
"I don't know if Beholder will ever be bred to American Pharoah," Justin Zayat said, "but I can assure you Mr Hughes (Beholder's owner B. Wayne Hughes, who operates Spendthrift Farm) would not be in a hurry to sell that one."
Untapable was also given a B.
Goldikova received an A++ off an Empire Maker-Danzig cross.
Havre de Grace was listed as a D for an Empire Maker-Halo.
Two-time Eclipse Award winner Royal Delta is too closely inbred (3 x 2) to American Pharoah to be a match for him.
Coolmore's Rags to Riches, a daughter of A.P. Indy, received a promising B+.
"American Pharoah is sort of an outcross to everything because he doesn't have all the big names up close in his pedigree," Rosen said. "The A.P. Indy line is a good match for him. The thought is that if you breed Rags to Riches to American Pharoah you will get something close to Royal Delta."
While it will be taken to rare heights in coming years, matching legendary champions in the breeding shed is hardly a new phenomenon.
Earlier this year, Jess's Dream, a 3-year-old son of the late Jess Jackson's great champions, 2007-08 Horse of the Year Curlin and 2009 Horse of the Year Rachel Alexandra, won at Saratoga in his long-awaited career-debut.
The TrueNicks rating for a Smart Strike (Curlin)-Sadler's Wells (Rachel Alexandra) cross is just a C+.
"If you based it on the percentages for the Curlin-Rachel Alexandra breeding, you probably would not have done it," Rosen said. "But Jess Jackson owned both horses so they did it and got a horse who can obviously run. The numbers are not foolproof."
The 2-year-old Rachel's Valentina, by Bernardini out of Rachel Alexandra, (who will no longer be bred due to complications while delivering her two foals), was second to Songbird in the Breeders' Cup Juvenile Fillies.
Yet more often than not, the offspring of two famed champions have failed to live up to the heavy burden of the expectations that surrounded them.
During Secretariat's era, one of his most famous foals was a daughter of owner Carl Rosen's Chris Evert, who swept the New York Racing Association Triple Tiara series in 1974 and was voted that year's champion 3-year-old filly.
"Secretariat was the greatest horse we had seen in 40 years, so my dad was very excited about the prospect of breeding her to Secretariat," said Andrew Rosen, a son of Carl Rosen. "Clearly American Pharoah, like Frankel, is the greatest racehorse we've seen since Secretariat and breeders get seduced with the idea that these horses can sire something as great as themselves. Sometimes they do, most times they don't."
Carl Rosen, who passed away in 1983, was so excited about the offspring of the two great champions that he brought his entire family, including a teenaged Andrew, to Kentucky to watch the birth of the foal in 1976. He then gave the newborn filly a name befitting her regal bloodlines, Six Crowns.
History will generally regard Six Crowns as a disappointing runner, largely because of the expectations sparked by her parents. Yet she was a stakes winner with five victories in 15 career starts while finishing out of the money only twice and placing third in the G1 Ladies Handicap, which are better than average results.
Andrew Rosen (who is not related to Ed Rosen) has a stable of his own and serves as a member of the NYRA Board of Directors, and he vividly remembers Six Crowns' career. While reflecting on it, he says he plans to breed one of his fillies, G3 winner Theyskens Theory, to American Pharoah.
"I was considering breeding her to American Pharoah this year, and then I got a season to War Front and decided to go there first," said Rosen, the 58-year-old CEO of Theory, Inc., a manufacturer of contemporary clothing. "But I will definitely breed to him in the next year or two. I think American breeders have to breed to him. He's a must breed-to."
If he is, part of the reason involves what happened once Six Crowns headed to the breeding shed. The blood of the two great champions in her finally came to the fore as a dam. She produced two G1 winners, topped by Chief's Crown, who was the champion 2-year-old colt of 1984, placed in all three kegs of the Triple Crown, won the 1995 Travers and sired an Epsom Derby winner (Erhaab in 1994).
"Obviously it was an amazing thing that happened with Six Crowns," Andrew Rosen said. "She became worth her weight in gold in the breeding shed. I sold her offspring for many millions of dollars. It worked out great in the end."
Which is known to happen sometimes when you breed the best to the best.