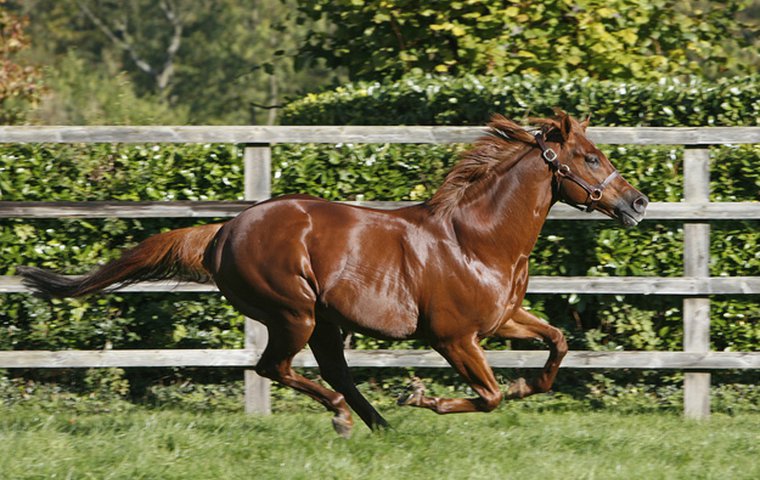 It is easy to pinpoint elite sires, those with huge reputations and exalted records. But, for some, their history contains periods of under-achievement, underestimation, lack of faith from the racing community, or sometimes just plain rejection. Here we look at a broad selection of stallions who at some point sat in an unpromising situation yet overcame that to establish themselves in the top echelon of sires.

Sunday Silence
1986-2002, Halo-Wishing Well, by Understanding
Sunday Silence's racing and stud prowess are in no doubt. But Americans didn't want him at the sales, and they didn't want him as a stallion.
He found no buyers as a yearling, and his breeder, Arthur Hancock, retained him for just $50,000 as a 2-year-old. Twenty months later he had won the Kentucky Derby, Preakness and Breeders' Cup Classic, each from his Belmont conqueror Easy Goer, but the U.S. racing public never quite believed Sunday Silence was superior to the superbly bred, imposing chestnut.
Easy Goer was received warmly at stud in the U.S. at a large fee, whereas no-one fought hard for Sunday Silence.
Zenya Yoshida's bid secured him for Japan, and he departed without much regret – until his first runners appeared. He was Japan's leading sire with his first 3-year-olds in 1995 and did not relinquish the title until 2008, six years after his death.
Even now he dominates Japanese racing, thanks to his stallion sons and grandsons, and his influence has spread a little thanks to big-race wins around the world for his descendants, but the few attempts that have been made to propagate his line outside Japan have had limited success.
Sir Tristram
1971-1997, Sir Ivor-Isolt, by Round Table
Sir Tristram was bypassed as a stallion in the Northern Hemisphere because his racing career fell well below the standard required. He had talent, demonstrated by the fact that he contested the 1974 Kentucky Derby (in which he was 11th), but two minor wins in France from 19 starts did not advertise him.
At the time, however, Australasians had had much success importing well-bred stallions lacking racing prowess. The good-looking (though temperamental) Sir Tristram, from the second crop of an Epsom Derby winner and tracing to Hyperion's dam Selene, qualified well. Bought by Patrick Hogan to stand in New Zealand, Sir Tristram started at a modest fee but became one of the most important Australasian sires of his era.
He sired three Melbourne Cup winners, plus important sires Grosvenor, Kaapstad, Marauding and Zabeel. He earned countless sire and broodmare sire titles in Australia and New Zealand, and his name remains ubiquitous in modern pedigrees.
Blushing Groom
1974-1992 Red God-Runaway Bride, by Wild Risk
Virtually throughout his racing and breeding careers, Blushing Groom carried a huge reputation. But his start at stud was distinctly slow.
Bearing in mind that Blushing Groom was an outstanding French juvenile, he disappointed by failing to get any Group or Graded winners in his first season with runners (1981).
For modern-day stallions, that can deal a damaging or fatal blow; in 1980s Kentucky, breeders retained their faith. Fortunately for them, that first crop did contain three U.S. Grade 1 (and two minor European Group 1) winners.
The best was to come – horses of the calibre and/or influence of Al Bahathri, Arazi, Mt Livermore, Nashwan, Rahy, Rainbow Quest and Sky Beauty.
His broodmare daughters were equally successful; a truncated list of their successes includes Epsom Derby winners Kahyasi and Lammtarra, three-time Breeders' Cup Mile winner Goldikova, and influential North American sires Awesome Again and Carson City.
Riverman
1969-1999, Never Bend-River Lady, by Prince John
In common with Blushing Groom, Riverman was a top-class French-trained miler who made a slow start at stud.
He initially stood at Haras du Quesnay in Normandy, but his first two crops included just three individual Group winners, none at the top level. Modern-day stallions generally are punished severely for that; Riverman, however, redeemed himself with three outstanding runners in his next two crops – miler Irish River and Arc-winning fillies Detroit and Gold River.
Many good colts followed, but Riverman's legacy lies with his distaffers, and in this he closely resembled two other key members of the Never Bend sire line, Mill Reef and Darshaan.
Sadly two of Riverman's best – River Lady and Triptych – did not survive to have foals. Detroit, however, foaled Arc winner Carnegie, and Korveya produced Bosra Sham and Hector Protector. In more modern pedigrees, Riverman sired the grand-dams of Anabaa, Rail Link, Street Cry and Treve.
Sharpen Up
1969-1992 Atan-Rocchetta, by Rockefella
Sharpen Up carried two impediments to stud – although a top-class six-furlong 2-year-old, he had failed to win at three, and his sire was a little-known winner of his only race in the U.S.
His start was reasonable but unexciting – two individual Pattern sprint winners in two crops – and he appeared to be going down the 'reasonably priced sprint stallion' route. However, Kris appeared in crop three, Sharpo in crop four, and Diesis and Pebbles soon afterwards.
Kris's success prompted Sharpen Up's transfer to Gainesway in Kentucky after the 1980 season, and his reputation continued to grow; Sanglamore, Selkirk and Trempolino followed.
Sharpen Up's pedigree lacked Northern Dancer and contained some rarely found European elements, which made him a natural outcross for many mares. His main agent for extending his male line is Halling, sire of Jack Hobbs, and he is also broodmare sire of Cadeaux Genereux and Danehill Dancer, while Kris is broodmare sire of Invincible Spirit.
Danehill
1986-2003 Danzig-Razyana, by His Majesty
Top-class six-furlong runner Danehill qualifies for this as his first two Irish crops gave no indication of his impending influence. There were smart runners among them, including Kissing Cousin (G1 Coronation Stakes), but nothing exalted.
However, this habitual shuttler took off immediately in Australia and became that country's most influential sire of modern times.
In Europe, his reputation grew inexorably thanks to tough colts like Dansili, Desert King, Dylan Thomas, George Washington, Rock Of Gibraltar and Westerner.
Much like Ahonoora and Indian Ridge, Danehill regularly sired horses who stayed far better than he did and sometimes sired runners superior to himself.
His influence as a sire of sires has grown over the past two decades to the point that he is one of the most ubiquitous names close up in modern pedigrees. His European-based sire sons and grandsons include now retired Danehill Dancer (and his sons Choisir and Mastercraftsman), plus Australian-bred pair Exceed And Excel and Fastnet Rock, and his daughters foaled Frankel and Teofilo.
Sea The Stars
2006- Cape Cross-Urban Sea, by Miswaki
A recent example of the phenomenon of a slow start masking real impact. This outstanding half-brother to Galileo carried huge expectations to stud, but his first runners were slow to appear, slow to win, and just one won a Group 3 by the end of his first season (2013).
A total of 29 yearlings reported as sold for 200,000gns or more in 2012 but the figure was just six in 2013, illustrating the buying public's nervousness about his record.
However, in 2014 along came three Group 1 winners from that first crop, notably Taghrooda and Sea The Moon, who showed himself an outstanding German colt before injury intervened. This year Storm The Stars was placed in two Derbys. High-class, progressive middle-distance horses are Sea The Stars' forte, juveniles are not, and he is the perfect example of the dangers of judging a horse too early.
Pivotal
1993- Polar Falcon-Fearless Revival, by Cozzene
Pivotal deserved a place at his owner-breeders' Cheveley Park Stud near Newmarket by establishing himself as one of the best sprinters of his generation. He won the King's Stand and Nunthorpe Stakes, Britain's best five-furlong races, but his racing career extended to just six races, and his pedigree – though respectable – lacked flamboyancy.
He started as a modestly priced stallion, likely to get fast juveniles, but with shrewd support from the large broodmare collection of his owners and his own influence, Pivotal has become one of the most important British-based sires since the Millennium, with a fee peaking at £85,000 in 2007 and 2008.
His G1 count stands at 26, his sire sons include the useful Kyllachy and highly regarded Siyouni plus youngster Farhh, and his daughters have produced, among others, Pivotal's stud mate Mayson (Invincible Spirit).
Ahonoora
1975-89 Lorenzaccio-Helen Nichols, by Martial
Indian Ridge
1985-2006 Ahonoora-Hillbrow, by Swing Easy
A remarkable father-and-son sprinting combination who wildly outperformed expectations from their Irish National Stud base.
No-one who witnessed Ahonoora line up at 50-1 for the 1978 Stewards' Cup at Goodwood could have foreseen his influence, in terms of stamina as well as class. Ahonoora won that race, improved into a high-class five-furlong specialist, and retired with aspirations to be a commercial sprint sire. What emerged from this unfashionably bred chestnut were horses of the calibre of Don't Forget Me (2,000 Guineas), Dr Devious (Derby), Indian Ridge and Inchinor.
The first two disappointed at stud, the last two didn't. Just as importantly, Ahonoora has had a major impact on the Epsom classics as broodmare sire of New Approach (Derby) and Cape Cross. The latter has sired two Derby winners (Sea The Stars, Golden Horn) and an Oaks winner (Ouija Board).
Indian Ridge joined the Irish National Stud after giving hints of his influence as a sire, and his fee peaked at €85,000 in 2004. His progeny included Breeders' Cup Mile winners Domedriver and Ridgewood Pearl, plus sprinters Compton Place and Namid, who became fair sprint sires. His daughter Rain Flower is dam of Dancing Rain (Oaks) and grand-dam of Maybe (G1 Moyglare Stud Stakes), and he is also broodmare sire of G1-winning miler and young Coolmore stallion Excelebration (Exceed And Excel).
Ahonoora and Indian Ridge were able to dovetail well with the influx of North American bloodstock; both had pedigrees free of Northern Dancer and Native Dancer, which made them natural outcrosses. Their ability to get offspring who stayed far better than themselves elevated them into the classic bracket.
Dark Angel
2005- Acclamation-Midnight Angel, by Machiavellian
Winner of the Mill Reef and Middle Park Stakes at two and retired to stud at three, Dark Angel carried hopes of siring precocious, speedy types, popular commercially. His fee pattern since then tells a powerful story.
An initial cost of €10,000 in 2008 had dropped to €7,000 two years later - a fairly common move in a busy stallion market. However, those first juveniles in 2011 fulfilled all hopes (the fee rose to €12,500 in 2012) and subsequent performances of his progeny surpassed them, to the extent that Dark Angel's 2016 fee of €60,000 puts him in the elite category.
He is a natural to follow a similar path to his ancestor Ahonoora (broodmare sire of Acclamation) though he is yet to demonstrate he can get top-class horses at a wide range of distances.