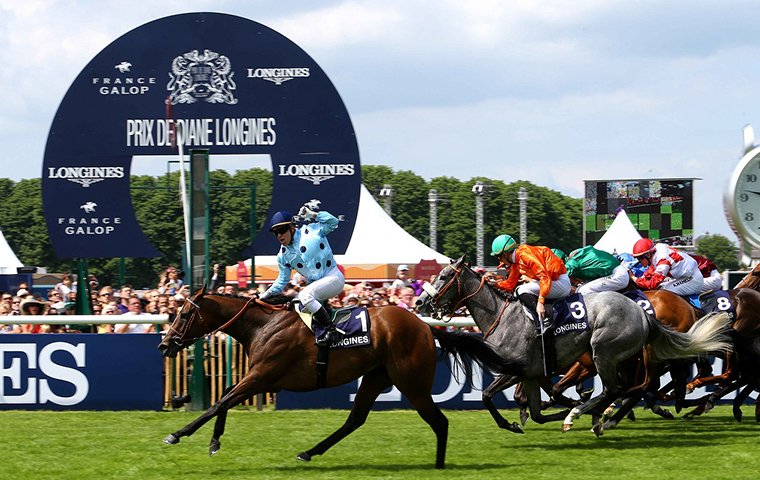 The next time you spot Oscar-winning actress Kate Winslet on a visit to the races and she is glancing at her watch more often than might seem necessary, don't assume she is bored or itching to get to her next engagement. She is simply doing her duty.

Just like Steffi Graf and Andre Agassi, the Mr. and Mrs. of the tennis world, or Bollywood actress Aishwarya Rai Bachchan, or Aaron Kwok, the sell-out singer and dancer dubbed the Michael Jackson of Hong Kong, or Simon Baker, the Australian TV star best known for his role as Simon Jane in "The Mentalist," or Taipei-born actors Chi Ling Lin and Eddie Peng.
They are all ambassadors for the high-end Swiss watchmaker Longines, currently the most visible brand name in world horseracing, and under the terms of their contracts they have to be available to show off the company's latest products here, there, and everywhere. And, with so many Longines events taking place each year, that often involves appearing on racecourses from Ascot to Tokyo, from Santa Anita to Flemington.
Peng was among the official party at the Longines Hong Kong International Races earlier this month, and his every public move was followed by enthusiastic fans, mainly female, who scrambled for a prominent place around the winner's enclosure, where they held up hastily-prepared banners bearing the 32-year-old actor's name.
For his part, Peng responded just as the sponsors' would have wanted, breaking away from the side of his escort, Hong Kong Jockey Club Chief Executive Winfried Engelbrecht-Bresges, to pose for pictures and shake the hands of animated racegoers, before being ushered on his way by a burly security guard doing his own job.
Peng, like the rest of the ambassadors' squad, and particularly Kwok, who performed similar duties in Hong Kong for the inaugural Longines sponsorship of the last major international festival of the year in 2013, is a perfect fit for the role – a clean-cut character who appeals to a wide age range and is well-known either internationally or in a region that is important for the brand.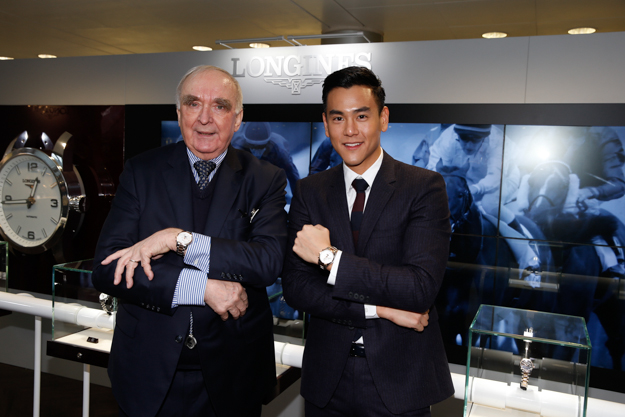 The link with international horse racing starts to become more apparent as Longines President Walter von Känel explains that the company's watchword is elegance, which extends to its choice of ambassadors.
"I don't think there is a single definition of elegance, it is made up a lot of things," he said. "The ambassador has to feel comfortable with the Longines family, be part of the team. They should not have a back history, such as drugs; we want clean hands.
"Then they must be positive - I preach the whole day that this company must be positive – and it is a plus if they are attractive, but they have to be known. We cannot launch a new star.
"As an example, Aaron Kwok is the best salesman we have. Last year he was at the International Races in Hong Kong and was talking for about 20 minutes about one watch. In the end I had to tell him to shut up."
Von Känel, whose energy and enthusiasm belies his 73 years, 45 of which have been spent with Longines, is the driving force behind the company's rapid expansion into horse racing partnerships, sponsorships, and timekeeping, which for the year starting this June will attach the brand to a minimum of 35 different events.
On the racecourse there is direct sponsorship of such as the Dubai Sheema Classic at Meydan, the Gran Premio Latinoamericano (the big G1 that annually migrates around South America), the Queen Elizabeth Stakes at Randwick, the Prix de Diane at Chantilly, the Grosser Preis von Baden, and the Singapore Gold Cup.
Partnership agreements bring association with the Emir's Trophy in Qatar, the Chengdu Dubai International Cup in China, the Triple Crown and Breeders' Cup in the U.S., Royal Ascot and Champions Day in Britain, the Melbourne Cup festival in Australia, the Japan Cup, and the Hong Kong International races.
Then there are tie-ups with a number of representative organisations, such as the International Federation of Horseracing Authorities, which has resulted in the Longines name being attached to the World's Best Racehorse Rankings – the annual list for which will be published this week – and a World's Best Jockey award, and Fegentri, the international organisation for amateur riders.
Every competition has a winner and von Känel and his vice-president, Juan-Carlos Capelli, who also acts as head of international marketing, make the most of each photo opportunity, having turned the flick of a left wrist to expose Longines' latest product for posterity into a fine art.
Von Känel is quick to point out that they are merely continuing a long history in equestrian sports for Longines, which has been based at Saint-Imier in Switzerland since 1832 and produced its first chronograph – a combination timepiece invented by Louis Moinet in 1816, incorporating a stopwatch and a display watch - in 1878.
Three years later Longines timepieces were being used to time races in the U.S. and the tradition began, being expanded to include various equine representations on the company's products from the 1920s. However, the blanket exposure through sponsorship and partnership is a much more recent exercise.
"We started with races in Melbourne and Royal Ascot," von Känel explained. "Then, step by step in the last five years, we have had the green light to focus more heavily on our work with equestrian activities, show jumping and horse racing, because we believe they match our concept of elegance.
"Going back to the mid-1990s I decided to make a qualitative survey of what Longines meant in the world. Out of that, we decided on two things – to stay in our high-range price segment and to focus on elegance.
"So in terms of marketing, we got out of things such as Formula One motor racing and cycling, and focused on what we considered to be elegant sports.
"I was 17 years in Formula One, all over the world, every second weekend. But what is elegant about Formula One? Broom, broom, broom – that's Formula One. I have two reasons why my hearing is not so good – I wasn't disciplined in the Swiss army and didn't use earplugs, and Formula One.
"We leave motor racing to Rolex now and focus on the elegant sports – gymnastics, which is part of my life, alpine skiing, which is important in our region in Switzerland, and tennis at Roland Garros stadium, because it's not only tennis, it's Paris, which has a great attractiveness.
"And then, step by step, we became very heavily involved in horseracing and equestrianism."
Von Känel admits it is not possible directly to measure the results of Longines massive marketing investment in sport. "But we do know that our company has been multiplying turnover by 4.2 percent over the last 10 years," he said, "and everything we do contributes to that."
Future strategy will be determined by strict business principles, von Känel said. "It's my duty to focus on two things for the company – to keep the momentum going in greater China, where we do 60 percent of our turnover and are No. 1 in the market, and to invest more in America and Japan.
"As for horse racing, I'd like to be in Russia, but it's not so easy to be involved, so I will have to go there myself, and Korea, where things are moving in the right direction."
Inevitably, approaches for a share of Longines' largesse have come thick and fast since its expansion became visibly obvious, but not all are taken up.
"We have no limit but we have to make a choice, and sometimes you have to please – you have to invest in one place to get somewhere else," von Känel said. "Overall, though, we make consistent decisions, and the results are there to see."