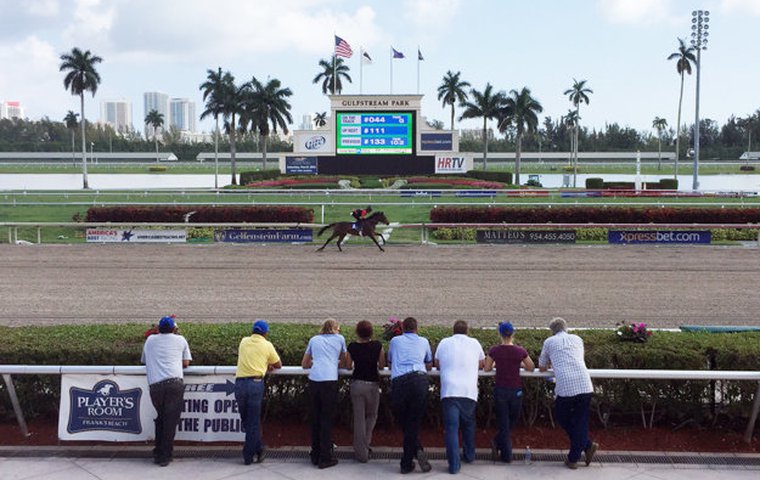 Fasig-Tipton's decision to return their flagship 2-year-olds in training auction, the Florida Sale, to the Miami area following a four-year hiatus was vindicated on Wednesday as the first renewal staged at Gulfstream Park resulted in improved total sales against the backdrop of a festive atmosphere.

The sale, a boutique event, came off the back of a tricky year in 2014, when only 47 horses were sold at the edition held at Adena Springs South in Williston, Florida. Luckily, with regard to the sale's image, they included several stars of last season, notably the first two home in the Hopeful Stakes at Saratoga, Competitive Edge and I Spent It, as well as unbeaten Nashua Stakes winner Blofeld.
By contrast at its new home on Wednesday, 89 horses were listed as selling for $20,095,500, up a significant 50 percent from 2014. Even though the average and median fell 21 percent and 28 percent to $225,792 and $130,000, respectively, the top price of $1.4 million surpassed last year's high of $1.2 million and the number of horses to break the $500,000 barrier rose from eight to 14.
A total of 34 of 66 pinhooks who were listed as changing hands as yearlings made some kind of profit for their connections on paper.
However, particularly eye-catching was the rise in clearance rate from 55 percent to 67 percent. Given that a quarter of the catalogue was withdrawn before the event - including potential high-hitters such as colts by Galileo and Tapit (a $650,000 pinhook) and the sole War Front filly - that clearance rate translates into only 51 percent of catalogued lots. But that is an aspect of boutique 2-year-old sales we have come to expect and is a marked improvement on last year's figure of 30 percent.
"I think the market was a bit polarised but we've come to accept that," said consignor Nick de Meric. "A lot of strong points have come out of the sale. I think Mr. Stronach and Fasig-Tipton pulled off the impossible and made it work. It needs a little bit of fine tuning, but I hope the sale here becomes a fixture in the future. It had a great atmosphere, the same kind as Saratoga, and I hope we continue to do business here."
Terry Finley, president of West Point Thoroughbreds, which purchased two horses, was also complimentary about the switch to Gulfstream Park. "It's a new and enjoyable place to hold a training sale," he said. "It's certainly a great place to bring a partner or someone looking to get into the horse business. The electricity was evident.
"It was certainly a very solid sale. Now, all of us buyers can see if we did our jobs over the next several years by having our purchases perform on the racetrack."
Wednesday's sale was the fifth consecutive renewal staged at a venue owned by Frank Stronach, and unsurprisingly it was heavily supported by his Adena Springs operation, which sent through 47 2-year-olds -- 27 percent of the catalogue.
In a break from tradition, each galloped during the breeze show rather than turn in timed works. And, while the draft included several by his flagship stallions such as Awesome Again and Ghostzapper, there were also several by some of Adena Springs' lesser known, regional stallions alongside those that had been bought back for as little as $4,500 as yearlings. Most of the draft found new homes, with 41 of the 47 selling for a total of $2,403,500.
The top end of the market was fuelled by expenditure from Coolmore, who came away with the $1.4 million sale-topper, a son of Scat Daddy, as well as a $900,000 colt by Tapit. MV Magnier signed for both lots, while the operation also snapped up a colt by Bernardini for $900,000 in partnership with Barbara Banke's Stonestreet Thoroughbred Holdings. The pair teamed up at last year's Barretts March Sale to buy the Malibu Moon colt Stanford, now a highly regarded 3-year-old, for $550,000.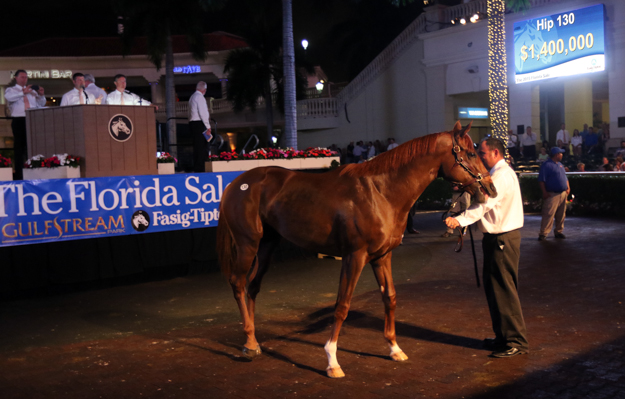 The sale-topper is the most expensive 2-year-old to ever sell at public auction by Ashford Stud resident Scat Daddy and boasts one of the best pedigrees in the book as a half-brother to Breeders' Cup Classic winner Bayern. Out of the unraced Alittlebitearly, a daughter of recently pensioned Ashford sire Thunder Gulch, his second dam is G2 winner Aquilegia and descends from blue hen Courtly Dee, ancestress of Green Desert and Arch among others.
"He is a fantastic mover and his brother [Bayern] is a very good horse," Magnier said. "His mother can obviously breed a good horse and let's hope she does it again."
His sale provided a memorable pinhook for Jim Crupi's Crupi's New Castle Farm, who paid $450,000 for the youngster at Keeneland in September. The operation also struck with a Hard Spun filly, a $175,000 purchase out of the Fasig-Tipton Saratoga Sale, who was resold for $850,000 to syndicate Let's Go Stable.
The $900,000 Bernardini colt, a half-brother to minor stakes winners Third Chance and Banner Bill, also provided a good return, having cost vendor Northwest Stud $400,000 at last year's Keeneland September Sale.
Perhaps surprisingly, Al Shaqab Racing, which purchased Khozan out of last year's Florida Sale, were conspicuous by their absence on the buyers' sheets this time around, although their team were present on the grounds. Sheikh Mohammed, once such a dominant player in this market, secured just one lot, with Darley Stud Management signing at $600,000 for a son of their stallion Hard Spun.
However, the sale benefitted significantly from increased interest from Japanese buyers, among them Katsumi Yoshida and agent Kenji Ryotokuji. Yoshida's purchases last year included recent Hyacinth Stakes winner Golden Barrows, and unsurprisingly the Northern Farm head returned to the well again, this time paying $1.44 million for three lots including $800,000 for a Giant's Causeway filly out of Canadian champion handicap mare Embur's Song. Consigned by Niall Brennan Stables, she had been a $290,000 pinhook by Velera Stable LLC.
Northern Farm also made its presence felt at the Barretts March Sale in California last month. It will be interesting to see if Japanese buyers assume a similar level of prominence at the next stop on the 2-year-olds in training sale circuit, the OBS March Sale in Ocala on March 17-18.