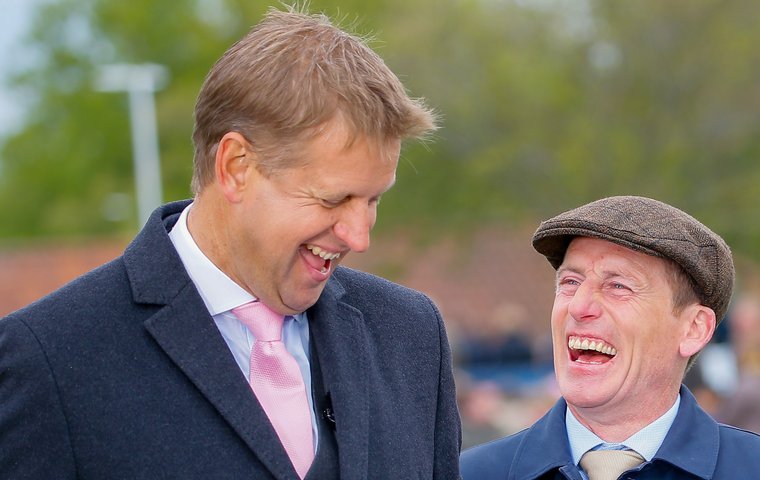 As the chief presenter of ITV Racing, top sports broadcaster Ed Chamberlin is one of the best-known faces in British racing. A lifelong racing fan, Chamberlin, 46, began his broadcasting career at Sky Sports in 1999, eventually becoming their main football presenter in 2011. He became the main presenter for ITV's racing coverage when the network took over terrestrial coverage of the sport in 2017.

Since then, this hugely popular figure has hosted extensive coverage from all Britain's top meetings, including all the Classics headed by the Investec Derby at Epsom, Royal Ascot and York's Ebor meeting on the flat and the Cheltenham Festival and Aintree Grand National over jumps.

Who do you believe is the most important figure in the history of racing around the world?
The Queen, whose love and support for the sport has been invaluable for so many years. British racing probably won't appreciate just how valuable that has been until she's gone. She lights up Derby Day at Epsom every year and ensures the eyes of the world are focussed on Royal Ascot. The royal procession has been an iconic event for decades and remarkably remains as popular as ever.
Which is your favourite venue and race?
For the venue, it's Cheltenham and Royal Ascot in an Alpha Delphini-Mabs Cross style photo finish [Coolmore Nunthorpe Stakes at York in 2018]. They are two contrasting but magnificent events, and both signpost the pinnacle of the sport – Cheltenham in the winter over jumps and Ascot in the summer on the flat – and showcase the 'best of British'.
But my favourite race takes place at neither venue: the Grand National. It's the biggest buzz to present as it remains a global sporting monster watched by hundreds of millions around the world. When the director announces on National day, "a minute until we are on air," my heart beats out of my chest. It was a huge honour to become just the seventh person to host the race on terrestrial television in the UK. It's the day the nation goes racing – and was also the event that got me into the sport with my first bet on Spartan Missile in 1981.
In the early 90s I used to stand behind my hero Des Lynam trying to get on TV. Little did I know where I'd be stood a few decades later!
Watch the 1981 National - and see how Chamberlin's first bet fared
Read more about the historic 1981 race here.
What is your fondest memory in racing?
Winning a BAFTA for the ITV coverage of the 2017 Grand National is my fondest moment in racing and in 21 years' working in television. I'm very lucky in that I am surrounded by so many brilliant people at ITV Racing, particularly those behind the scenes. It's a monster and everyone plays their part. But if I'm brutally honest, I didn't expect to win. I really didn't. For racing to be competing on that stage and winning has got to be great for the sport.
What do you see as the biggest challenge racing faces today?
Welfare. The public perception of horse racing will be all important in years to come and I'm delighted to see the BHA on the front foot with government and in explaining the wonderful life of a racehorse. Educating people about our sport and welfare is the best way to secure its future and I'm fully aware ITV has a big role to play in doing that.
If you could change one thing in racing, what would it be?
I'd introduce a law that at least 90 racedays have to be shown on terrestrial television every year. Racing is currently the envy of most others sports in Britain with its presence, every Saturday and for every big meeting, on terrestrial TV and I hope that lasts for a long time to come – whether that's on the BBC, ITV or Channel 4. Participation is reliant on eyeballs and for horseracing to have a secure future it needs as many people watching it as possible.