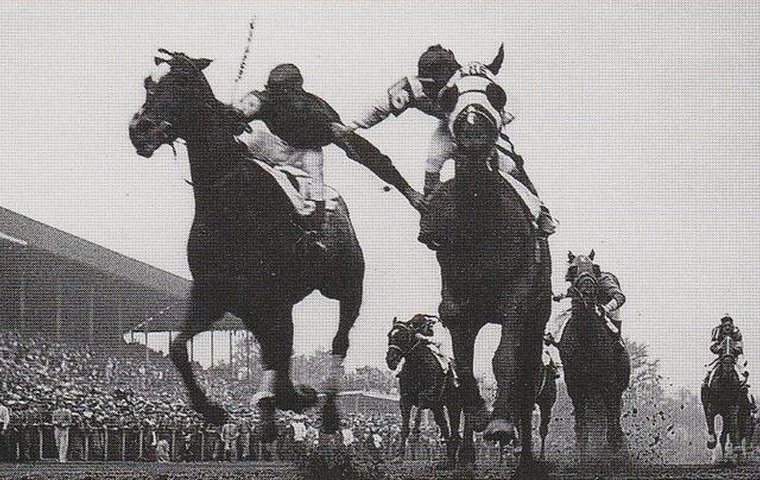 History repeats itself over and over, like a harassed parent asking a teenager to tidy his bedroom. Sometimes it repeats itself as tragedy, sometimes as farce, sometimes in the ultimate triviality of a horse's name.

Such repetition is unavoidably poignant and often unwelcome to those who remember with fondness an earlier iteration, but life goes on and other lives do too. Every year brings a revisionist treatment to some gilded line on the roll of honour.
So what, then, lies ahead for the new incarnation of Brokers Tip, a 2-year-old trained on the Curragh in Ireland by Darren Bunyan?
The chestnut son of Anjaal has a lot to live up to, in more ways than one. His nominative predecessor stood centre stage in the jaw-dropping, eye-widening conclusion to the 1933 Kentucky Derby that left its dirty thumbprint pressed firmly on the annals of the sport. It is not uncommon, of course, to see a fistfight at the racetrack; it is rarity itself to watch it take place on horseback.
Yet that is what happened on May 6, 1933, when Brokers Tip and Head Play fought out the finish of America's greatest race. As the horses duelled in the stretch, jockeys Don Meade and Herb Fisher conducted their own personal punch-up, a set-to that continued after the race and one that still echoes down the ages.
"I know that Kentucky Derby all right," says Bunyan, who bought the colt who would become Brokers Tip at Goffs in October for just €2,500. "It's an amazing race, isn't it. Comical, really. I've had the name registered for some time and have been keeping it back, waiting for the right horse to come along.
"There's a family connection as well. My mother Mary was born the year of that Derby [1933], she's still with us, and you'd say there's no-one better than her for giving a tip. And my brother Brian, who owns the horse, works in the financial markets in London. It's all connected, the broker, the tip, the year.
"So I had the name Brokers Tip in hand, and I was telling Brian that I liked what I'd seen of this horse, that he had promise, and I just thought 'this is it' and decided to give him the name.
"We'll be donating ten per cent of his winnings to the Whittington Babies Charity, which supports the families of premature and sick babies at the Whittington Hospital in North London. David Mercer, of the LMAX Group, is a great friend and supporter of our stable, and one of his team members currently has their baby girl being cared for at the Whittington, so we wanted to give them all a bit of support. Hopefully we'll be able to donate plenty of money."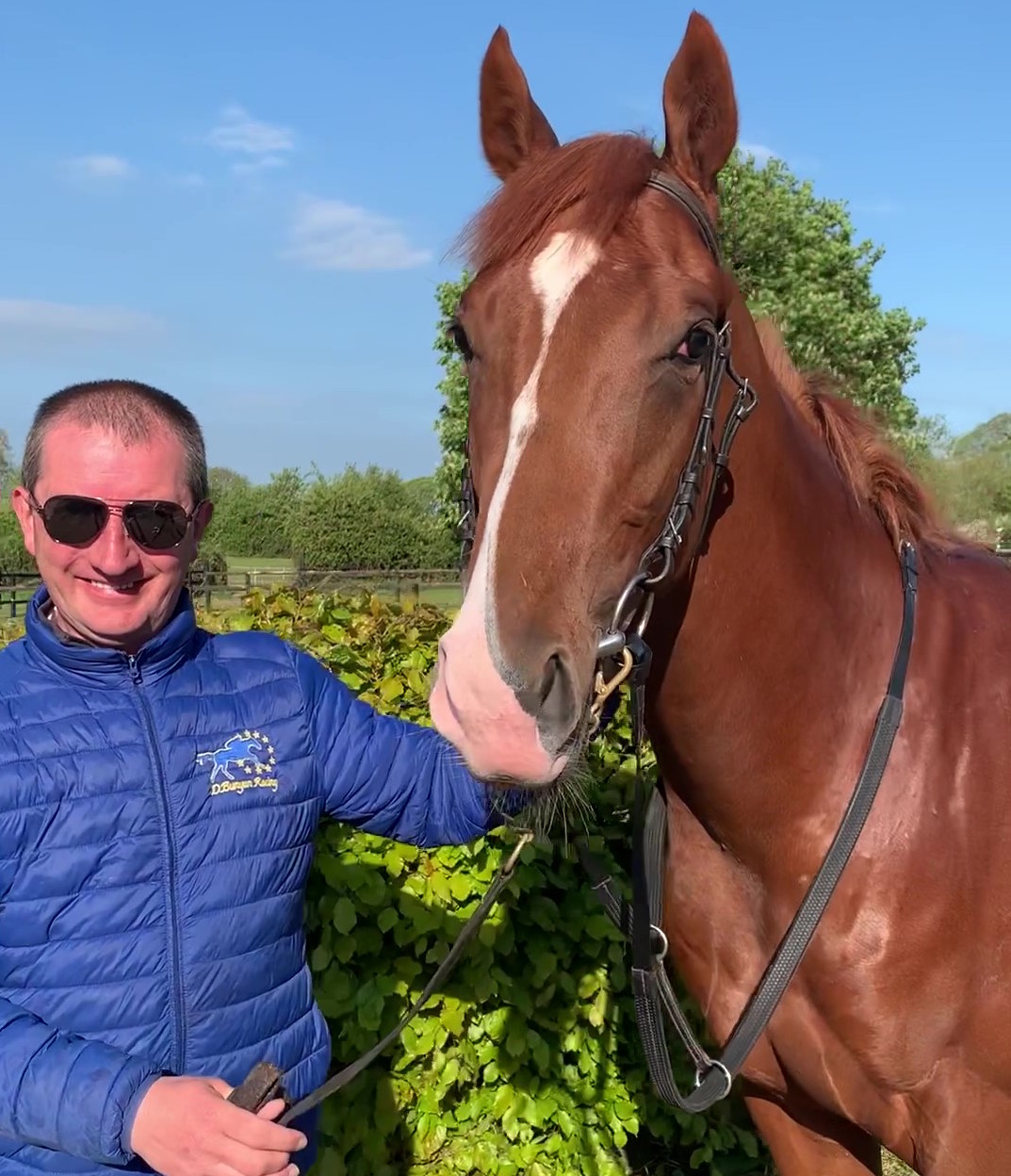 Back to the big fight. In the red corner was the original Brokers Tip, who had no real business winning the Kentucky Derby, having never won a race before in his life. He had a certain pedigree for it nevertheless, trained as he was by Herbert Thompson, who already had three Derbys to his name, a name consequently embellished by the sobriquet 'Derby Dick'.
His owner, Edward Bradley, who self-referentially, self-reverently gave all his horses names that began with B (for Bradley), had combined with Thompson to win those three Derbys in the green-and-white colours of his Idle Hour Stock Farm, notably 12 months earlier with Burgoo King. In this way, Brokers Tip had impeccable connections, yet until the stalls sprang open that fateful afternoon he had failed them quite spectacularly.
In the blue corner was Head Play, whose route to the Roses had been more conventional, having won the Derby Trial Stakes on the opening weekend of the Churchill Downs meeting. And, for the first mile of the Kentucky Derby, it was as blissfully conventional a contest as anyone could have hoped for.
As the 13-strong field negotiated the wide, sweeping far turn, Head Play and Herb Fisher were in the lead and going well. Then, on straightening up at the top of the stretch, Don Meade suddenly dashed Brokers Tip through the narrow embrasure of daylight on the rail and into a challenging position. Seconds, as they say, out.
Fisher began to lean his mount in on the rail-running interloper, something that Meade took exception to. Later in his career he would be designated the 'Bad Boy' of horse racing, and this is where the prosecution would begin to make its case. Meade reached over and grabbed at Fisher's orange and black silks.
'I only grabbed him to protect myself'
A no-doubt-surprised Fisher, adhering to the principle of nemo me impune lacessit (no-one provokes me with impunity), took hold of Meade's saddle with his left hand. Meade shifted his grip, and took Fisher by the shoulder.
"I was the one that grabbed him first," Meade - then just 19 - told the Louisville Courier-Journal on the 50th anniversary of the bantamweight bout. "But I only grabbed him to protect myself. I wasn't going to have him put me through the fence.
"I couldn't push him away from me because he had ahold of me, so I had to get ahold of him. So from there down to the wire, that's what it was - grab and grab and grab. It was more or less everyone for themselves in those days.
"It was the survival of the fittest. I couldn't sit there and let him rough me around and not do nothing about it. And, by the same token, he couldn't let me do anything that I wanted to do. He had to retaliate."
Well, of course he did. Fisher gave as good as he got.
"When I put Meade in tight quarters," he told the Courier-Journal, "he reached over and grabbed my saddle cloth at the eighth pole and held onto me. I tried to shake him loose by squeezing him against the fence and he just held on to me. I was so amazed I hit him across the head with my whip once or twice before and after the finish."
Amid the brawling, a horse race broke out, one in which Brokers Tip hit the wire first for the only time in his life, getting the better of Head Play by a nose, although in those olden times there was no photo-finish camera to prove it. A viewing of the race film (see video below) leaves room for doubt, and indeed Fisher claimed for the rest of his life that Head Play had won the race, although, given the circumstances, it's fair to say his attention was elsewhere.
There may have been no photo-finish, but there was a photo of the finish, and photographer Wallace Lowry's famous single-shot capture of the two jockeys flailing away at each other is one of the great images of any sporting contest. The photo was published under the legend 'Fighting Finish', the easy option summing it up most succinctly.
Fisher, howling foul, went immediately to see the stewards, although those august gentlemen, having seen him clearly slash Meade across the face with his whip after the line, were not listening. To them, in those rougher, tougher days, it was merely six of one and the same of the other, and they sat stone-faced to Fisher's entreaties and let the result stand. Anecdote has it that Fisher stood and sobbed.
He had dried his eyes before he reached the jockeys' room, where he waited for Meade to return in triumph from the victory rituals and then leapt on him, the pair continuing to duke it out before being separated by their valets and a couple of reporters, who must have been thrilled to bits with the situation and the story. Not so happy were the stewards, who later gave both jockeys 30 days off without the option, and an extra five days' suspension for Fisher for restarting the fight behind closed doors.
Brokers Tip never won again, becoming the only horse ever to record his sole career success in the Kentucky Derby. Next time out Head Play - who would be crowned U.S. champion 3-year-old colt at season's end - won the Preakness, with Brokers Tip plumb last.
Will anyone be writing about the new Brokers Tip after 80-odd years have passed? Perhaps - for isn't that the glory of an unraced 2-year-old?
Now Irish racing has resumed, Broker's Tip is due to make his debut in a pretty hot-looking five-furlong maiden contest at the Curragh on Friday (June 12).
"He's a very forward type, is from a fast family and has a lot of speed, but I don't think he's just an early sort," said Bunyan. "I think he'll progress through the year.
"I like him a lot, he's a nice horse. His head is right, mentally he's very professional, behaves a bit like an old handicapper rather than a fresh 2-year-old. We'll start him over five furlongs, of course, but later on he might get a fair bit further.
"Run him in the Kentucky Derby? I'm not thinking like that at the minute, but you never know. We'll see how he progresses. You need plenty of speed, anyway, to do well in that race.
"My brother and I went to Churchill Downs in 2006, the year of Barbaro, and it was an incredible experience. I remember him saying that, if there was one race he'd love to win above all others, this was the one. He just needed to find the right horse. Well, this one certainly has the right name."
There is certainty, though, even here in the uncertain world of racing. It won't be, can't be, could never be the same story. History may repeat itself here and there, but we must not expect it to be word-perfect.

Brokers Tip finished ran well for a long way but ultimately finished out of the places behind the Ballydoyle colt Admiral Nelson.