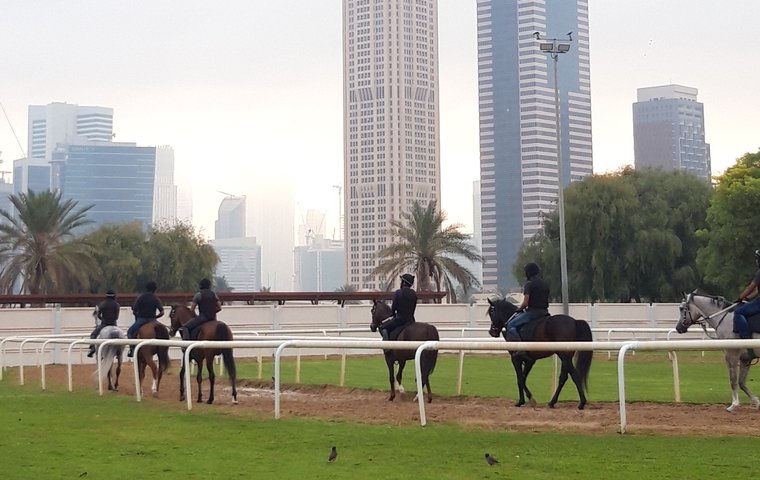 Anyone who has visited Dubai knows it's a city all about change. Cranes are still prevalent in a skyline that boasts some of the most impressive buildings on the planet where once there was desert.

Until recently, less of this ongoing quest for improvement seeped through into the domestic racing industry. Outside the Dubai World Cup Carnival, the sport, which has been run under official guidelines since 1992, was largely reliant on the ruling Maktoum family to provide and race the horses. Racing at Nad Al Sheba and Jebel Ali in the 1990s and 2000s saw a proliferation of horses carrying their maroon and white silks – all variations on Sheikh Mohammed's original colours, plus plenty in the blue and white of Sheikh Hamdan and the famous yellow and black of Sheikh Ahmed.
Now though, it's all changed, thanks largely to the Racing In Dubai Sales, which began in December 2015, when 53 mostly ex-Godolphin horses passed through the ring at Meydan – with no reserve price attached. There was a condition though; horses must remain in the UAE for two seasons. The aim was clear; to improve racing here and encourage new owners into the sport.
Encourage them it did, especially thanks to a generous bonus for graduates of the sale who subsequently won a race.
The first batch included Fitzgerald and Shillong, who both went on to score at listed level, as well as three-time winner Tried And True, who was second at the 2019 Carnival. Six more editions of the sale have followed, and it is now the stuff of local history that North America, winner of the G1 Maktoum Challenge Round 3 in 2018, was purchased at the second sale for 140,000 dirhams [about $38,000]. Since then, he's been sold to Chechen leader Ramzan Kadyrov for an undisclosed fee rumored to be well in excess of $1 million.
The gelding, who arrived in the UAE as a maiden, stayed in the yard of trainer Satish Seemar, who has done well at the sales. He also trained G3 winner Raven's Corner, who was picked out by owners Touch Gold Racing for AED135,000 [$34,000] at the September 2016 sale. Seemar has been foremost among the UAE's trainers in embracing the changes, actively seeking out new support.
"I'm so happy that I now have at least 18 to 20 new owners," says the six-time champion trainer. "It's a good change and it compliments this mega racecourse, Meydan. "With the sales, you have to do a lot of homework, have plenty of meetings with the veterinarians, but we always seem to find the right one."
For established trainers such as Seemar, the idea of 20-plus enthusiastic, but perhaps uninitiated, syndicate members trampling through their pristine stables every morning might not be ideal, particularly when the royal owners of yesteryear preferred to watch on from afar. There is an element of education that comes into it, he says.
Happy owners
"I'm quite direct with them – that if you're thinking of making money then you're better off going into another industry. That said, we've done quite well for some of them and I think, if you break even at the end of the season, you're ahead of the game, and, if you make money, that's awesome. One or two owners will always have a tough time each season, and that's quite normal, but most of them are quite happy as they are getting their enjoyment from the horses."
One of the most enthusiastic is Libyan Nasir Askar, who is something of a fixture at Seemar's Zabeel Stables in the mornings. He bought the ex-Mark Johnston-trained Secret Ambition for AED150,000 [$40,000] and the 6-year-old entire has since won seven times, including a G3. The first horse Askar had in training in the UAE, Secret Ambition fuelled a passion and he now has ownership interests in Europe, including with Joseph O'Brien in Ireland.
"Owners like [Askar] are what Dubai racing needs; he's just so keen," adds Seemar. "He goes to so many sales and never comes back without a horse. If I don't stop him, he might buy 20 horses!"
Microsoft Gulf Manager Sayed Hashish, who purchased three at the recent September sale, has supported the initiative from the off, benefitting from the bonus with subsequent Meydan winner Ticket Holder. "I've always liked these sales," he says. "You can get horses with very nice pedigrees without having to travel to Europe or America."
Frank Gabriel, Executive Director of Racing for Dubai Racing Club, explains that the idea for the sales was a collaboration between Godolphin and the Emirates Racing Association board.
"It's generally been a positive thing for racing here," he says. "The sales have given us quality horses and allowed partnerships and syndicates access to some really great pedigrees. I believe a lot of it is due to trainers going out and getting the new owners, too – it's a team effort, not just an owner popping up and wanting to get involved."
Marie Sullivan, Godolphin's Bloodstock Sales Manager, has been heavily involved in the sales and points out that they extend the careers of plenty of the operation's ex-UK horses.
"Godolphin is an immensely proud supporter of the Racing In Dubai Sales," she says. "We get so much pleasure from seeing our old friends' contribution and share the enjoyment with all the new owners they have brought to racing in Dubai."
Another major change to racing in Dubai recently has been the arrival of 2-year-olds. Prior to 2016, there were no dedicated races for juveniles, with the UAE Guineas Trials in January the first opportunity for 3-year-olds. There's now a fast-evolving programme, starting with a 2-year-old maiden on Meydan's opening card this week (on Thursday, October 24], which was won last year by subsequent Guineas Trial winner Walking Thunder. Picking out and training youngsters is something six-time champion trainer Doug Watson particularly enjoys.
"It's a new dimension for us," he says. "In the past, owners would send us over the odd 2-year-old from Europe and they'd do okay, maybe pick up a cheque in the UAE Classics, and you'd be happy with that. Now we get a chance to start them ourselves, which is great.
"Going to the sales is the fun part, and it's great to have the owners who want to do that."
While the ruling royal family remains a hugely important part of racing here, Dubai now has a brave new world where smaller owners can mix it with the big ones and, increasingly, come out on top.