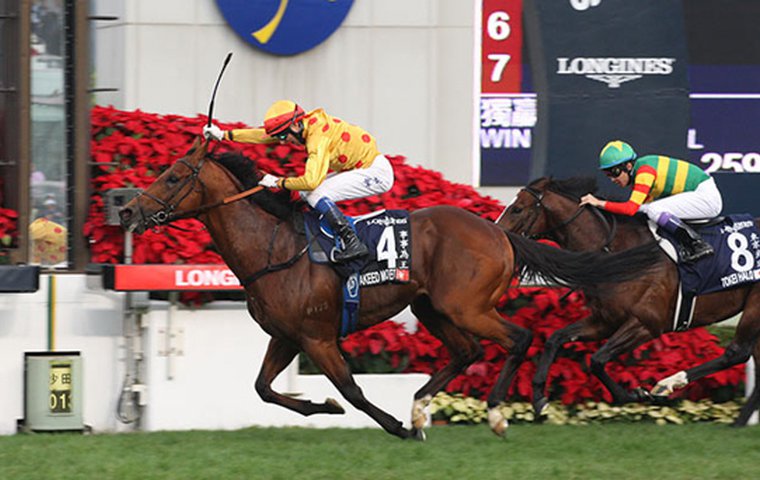 Yesterday, Lissa Oliver outlined the Irish career of a colt who won the respect and affection of his great trainer John Oxx, who regretfully saw Akeed Mofeed leave for a new one in Hong Kong. Today, we look at his huge success in his new home, his preparation for the world's richest race, and the glittering future that awaits him when his racing days are over.

Read about Akeed Mofeed in Ireland.
----------
It's not exactly a transformation. Without wishing to belittle the achievement of trainer Richard Gibson, now in only his third Hong Kong season and already one of the elite, it's not as though Akeed Mofeed was a moderate horse in Ireland who suddenly become a champion in Hong Kong. His distinguished Irish trainer John Oxx expected great things of the son of Dubawi, so much so that he was prepared to take the unprecedented step of letting him take his chance in the Irish Derby – after a string of setbacks in the spring – without a single prep.
It's not uncommon either for horses who were not much more than decent performers in Europe to find themselves recreated in the different environment, and the flat fast tracks of Southeast Asia. (Or Australia for that matter. Think Fiorente, and at least a dozen others).
What is remarkable is for a 4-year-old entire to travel to Hong Kong to begin a new career in February; win the G1 BMW Hong Kong Derby, the most coveted race for Hong Kong owners, just two months later (unlike other Derbies, this is a 4-year-old event); and then win the territory's premier international race, the G1 Longines Hong Kong Cup, before the year is out.
It may be news to the rest of the racing world that the equine population of Hong Kong is made up almost entirely of geldings. One reason is that there's no breeding industry, mainly due to lack of space. Another, and probably the more important, is that geldings are reckoned to be a lot easier to train, particularly in the relatively restricted environment of Sha Tin Racecourse where all Hong Kong's racehorses are stabled and work. The only factor that would have worked in the young stallion's favour is the almost complete absence of fillies.
Gibson attributes much of Akeed Mofeed's current contentment to the horse's character, which is one of the reasons Oxx was so reluctant to see him leave his yard.
"He's got such a good character," Gibson said. "He's a Dubawi and they're known for their good temperaments, but really since the day he arrived here no-one has ever even once seen with his ears back.
"Yes, of course we targeted him," he continued. "There was already plenty of interest in him because he'd already put in some very good performances for John Oxx. So we knew he was going to be hard to buy, and that John Oxx, like all top trainers with a very good horse, would be very reluctant to lose him."
But Gibson was fortunate in having in Pan Sutong, a wealthy mainland-China-based businessman who was willing to spend whatever it takes to get the horse he wanted.
"It was a private sale," said the trainer, giving nothing away. The figure rumoured though is $2.5 million.
"Unlike most Dubawis, he's a massive horse," Gibson said. "He probably gets that from his dam [the German-bred Wonder Why, by Tiger Hill], who was a very big mare. And because he's so powerfully built, he takes a lot of getting fit. In fact he needs races for that, because the amount of work you can put into him just doesn't do it."
It was to get Akeed Mofeed fit for last month's Hong Kong Gold Cup that the Englishman sent him out for the G3 Centenary Vase over 9 furlongs at Sha Tin, with the warning to the public that he was only 85 percent ready for the race and it was essentially a prep. Under his now regular rider, multiple Hong Kong champion Douglas Whyte, Akeed Mofeed gave weight – 20 pounds of it to the runner up - and a beating to nine good class rivals.
Understandably his trainer was then bullish about the Gold Cup itself, confident that he now had what was beginning to look like Hong Kong's next big thing primed and ready for the G1 engagement. While he emphasised that it was "one race at a time," he still found himself having to field media questions about whether the international target after Gold Cup victory would be Dubai or the new The Championships to be held in Sydney next month.
Or both.
Because of quarantine problems, Sydney was soon dismissed. But Dubai remained, and the eagerly asked question was whether the target there was going to be the G1 Dubai Duty Free Stakes over 9 furlongs or the 12-furlong G1 Sheema Classic, both among the richest turf races in the world.
Then came the Gold Cup. It was never going to be a cakewalk as Akeed Mofeed was up against the reigning Hong Kong Horse of the Year and winner of the 2013 Singapore Airlines International Cup, the John Moore-trained Military Attack.
But this was a horse Akeed Mofeed had beaten into fourth place in the Longines Hong Kong Cup on Dec. 8, so the presumed champion-in-waiting was sent off odds on. However, in the Hong Kong Gold Cup, Akeed Mofeed, who'd had Japanese star Tokei Halo and respected French warrior Cirrus Des Aigles between him and Military Attack on Dec. 8, could only finish fifth of seven behind his old rival. As Military Attack, on his way to comfortable victory, swept by him early in the straight some thought they heard a soft pop and the hiss of escaping air.
Gibson though was far from downhearted, not least because he knows better than to start losing faith after one poor run. If not, why would he have hunted down Akeed Mofeed after the colt had been left floundering in fourth behind Camelot in the Irish Derby mud? There was an obvious excuse, and a plausible one too.
"It's always disappointing when a horse doesn't run to his best" he said. "Particularly when you feel he's gone out in almost perfect condition. But that's what racing does to you sometimes. He got a heavy bump from Blazing Speed very early on and just never settled afterwards."
There was never a question of cancelling the Dubai plan even if, for once in his life, Akeed Mofeed seemed to have revealed a chink in his prodigious unflappability. (Maybe it was the soon-healed suspensory cut that had irritated him during the race.) On the contrary, after long discussion with Mr. Pan, the team decided to go for the Dubai World Cup.
On Saturday at Meydan, Akeed Mofeed will again meet Military Attack, whose Gold Cup victory earned him a late invitation for Dubai's $10 million showpiece; and he'll have to provide a satisfactory answer to the question of how he'll perform when he tries synthetic for the first time. But Gibson is very optimistic about the possibility that he'll actually relish Tapeta.
"His physique suggests it," Gibson said. "He's got a big powerful backside, which usually means a horse will like the surface. Dubawis generally go on it. He's trained very well going left handed, and I've thought for a while that I'd like to see him on a surface with just a little more give in it than we usually have here."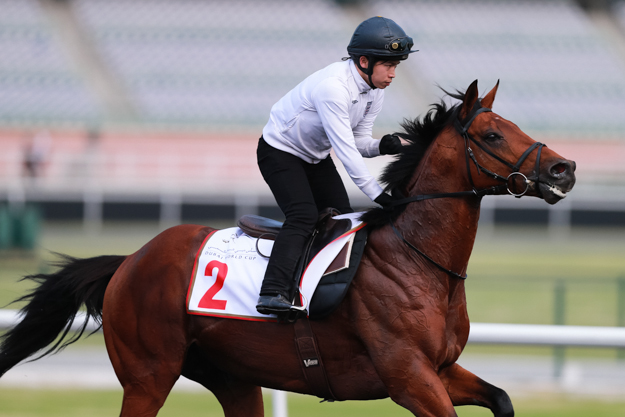 If Akeed Mofeed does become the first Hong Kong-trained horse to win the world's richest race, it may seem something like a completion of a remarkable international odyssey for his trainer who, while training in France, won the Man o' War Stakes at Belmont Park and back-to-back Hong Kong Vases with Doctor Dino, the horse who planted the seed of a Hong Kong career in his mind. Akeed Mofeed's Meydan mission will follow the hit-and-run pattern of flying in during the week before the race: the policy that worked for Doctor Dino.
And what if he does win? Is his trainer worried about losing his star to stud while the horse is still at the peak of his powers?
"It wouldn't be losing him," Gibson said. "It would be quite nice to take him to Ascot for The Prince of Wales or something. But Mr. Pan has already bought Lindsay Park in Australia from the Hayes family - it's now renamed Goldin - and that's where Akeed Mofeed is going to stand."
It seems unlikely that his equine rivals in Hong Kong know the future that awaits Akeed Mofeed, still less the price paid for the palatial establishment created by the great Colin Hayes (another private sale) where, win, lose, or draw, he will spend his post-racing days. But if they did, they might be more than a little resentful of the big young stallion in their midst - however likeable a chap he might be.