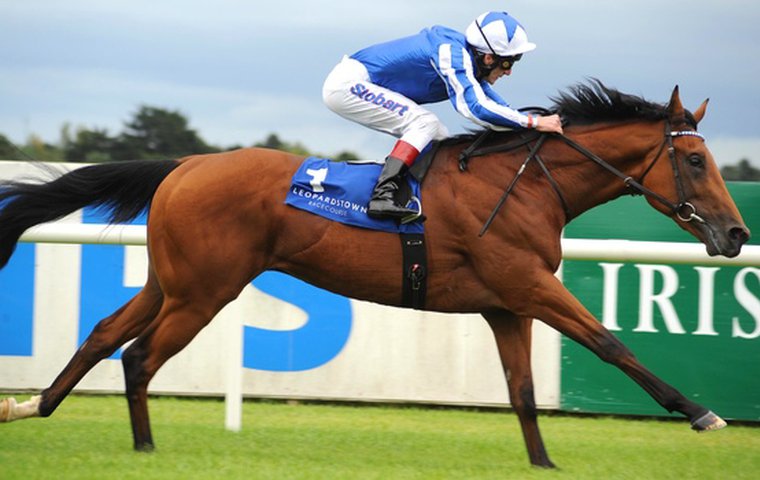 Akeed Mofeed, a horse who showed great promise in Ireland but did not realize his full potential until arriving in Hong Kong, this weekend has an opportunity to land the richest prize of them all - the Dubai World Cup. How did it happen? What was the key? How did a horse who failed to flourish in the capable hands of trainer John Oxx find huge success in such a different environment? Today and tomorrow, we look at Akeed Mofeed then and now.

Read about how Akeed Mofeed thrived in Hong Kong
----------
Two winters ago he was being whispered in the same breath as Camelot – named as a likely superstar of the 2012 European Classic crop, but it didn't quite work out like that. After a couple of encounters with brutally heavy ground – including a floundering, distant fourth in the Irish Derby – Akeed Mofeed was gone – and, for a while, forgotten.
He re-emerged last February in Hong Kong a different proposition entirely, and was soon racing for vast prizes on fast ground - and in December, he finally became the superstar he had once promised to be with a heart-pounding victory in the Hong Kong Cup.
Listening to trainer John Oxx speaking of his one-time charge rekindles a definite sense of loss for "the one that got away." Akeed Mofeed from the very first was a horse of promise, and while we are left dreaming of what might have been in Europe, we're nonetheless proud to be following his mighty progress.
"He was a beautiful horse and one of my favourites ever, really," recalled Oxx, who trained Akeed Mofeed for owner Jaber Abdullah. "He was a very big horse, not like most Dubawis, who can be quite small, but he was out of a big dam, so it was a very good mating. The only thing that can be said against him was that he wasn't a good walker, but I've since found that's typical of his sire and I've been told even Dubai Millennium, his grandsire, wasn't a good walker.
"But he was a beautiful horse to look at, and he had a wonderful temperament," he said. "He was completely bombproof, nothing would flap him. We could work him as hard as he liked and he would take it in his stride. We never had any problems in getting him fit, but I hear that as a 5-year-old entire he can now get a bit heavy, which is probably to be expected now that he's matured and muscled up.
"In his first race [1,400 meter maiden at Leopardstown], he ran very green, but when the penny finally dropped, he finished like a train. He won next time out [same course and distance] and we had high hopes he'd win the G2 Beresford Stakes [1600 meters at The Curragh], but it was terrible ground, almost unraceable, and he just couldn't quite cope with it."
Nevertheless, he finished a close second and went into the winter as a strong Derby contender.
"We were full of hope," Oxx recalled. "But he suffered a series of minor setbacks, nothing serious, just little things, one thing after another. He missed everything and finally we had to run him in the Irish Derby. He was probably the first horse to make his seasonal debut in the Irish Derby, but he was such a promising horse we just had to run him, and his owner was probably getting a little anxious!"
In the three weeks leading up to the Irish Derby, Oxx did something he had never done before with the horse. He gave Akeed Mofeed fast work every day, in short, sharp distances.
"I couldn't have done that with most other horses, but he'd just walk out every day, very laid back, and come back in relaxed and eat up, not a bother on him," Oxx said. "He had the constitution and temperament of a high-class horse and was full of courage. We just about got him ready, but the ground was bottomless and he really faded in the final furlong and a half. We had to think he didn't stay, even though he has a very stout pedigree, but he really collapsed in the last furlong and a half due to lack of stamina."
Due to Akeed Mofeed's hard training before the Irish Derby, Oxx waited five weeks before running him again in the mile-long Platinum Stakes (Listed) at Cork Racecourse on Aug. 5, 2012. Shortly after the race, the horse was sold to Pan Sutong, chairman of the international conglomerate Goldin Group, and transferred to Hong Kong-based trainer Richard Gibson.
"He didn't beat a lot that day, but he did it in style," Oxx said, recalling the Platinum Stakes. "We had big plans for him then, and were full of ideas. But lo and behold, he was sold in a flash! And that was that.
"It was very understandable, but I really loved the horse and we were all very sorry to see him go and are all delighted to watch his success. He had the constitution and temperament of a top-class horse, and that's rare enough. It's what distinguishes a top-class horse from the rest."
---
Tomorrow: Paul Haigh examines Akeed Mofeed's huge success in his new home, and his preparation for the world's richest race.