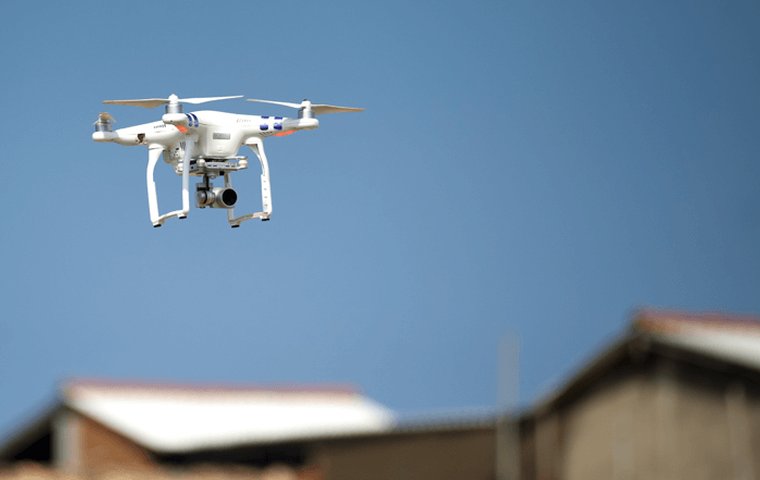 The use of drones in filming is growing rapidly in all sports, and horse racing is at the forefront. But how safe are they? Do they represent a real danger on the racetrack? Geir Stabell investigates.

In July, 2016, Frankie Dettori was unseated from a juvenile spooked by a camera-carrying drone at Newmarket racecourse. The filly, set to make her debut, became upset by the noise from the drone.
The British Horseracing Authority (BHA) issued a temporary ban on drones, but soon after allowed their use after having drawn up new guidelines.
However, the noise is not the biggest worry. Drones have crashed heavily at other sporting venues, both before and after the Newmarket incident.
Noise 'like a swarm of bees'
Dettori told the media that "the noise it made was like a swarm of bees". Ryan Moore and the official starter reportedly also made comments, and a stewards' enquiry was held.
Two months later, the BHA published their new guidelines. Head of raceday operations Brant Dunshea said in a press statement, "We have made appropriate amendments to the operating guidelines to ensure that drones can once again be used in a safe and controlled manner." He said the Racecourse Association, Professional Jockeys' Association and the National Trainers' Federation had been consulted.
The changes to the guidelines included a rule that drones would not be permitted during juvenile and maiden races, and that the operator would have to have a spotter in place who could easily communicate with both the starter and the pilot.
The most significant points in these guidelines, however, are those concerning altitude. Clearly worried about any noise, though perhaps not considering the risk of a crash, the BHA decided that, while drones were being used down at the start, "the minimum altitude would have to be 50 metres from the ground". The minimum permitted altitude when drones follow races in-running was set at 30 metres.
Ten months before the BHA's new guidelines were put in place, a filming drone crashed from a height of 20 metres at a skiing competition in Italy. Missing an athlete by inches, it gave a scary demonstration of how damaging these things can be.
A drone falling 50 metres at a race meeting would of course pose even more of a threat.
Ignoring any air friction, a 10kg object falling 20 metres has a speed of 71.28 km/h (44 mph) when hitting the ground (1,960 joules at impact), while the same object falling 50 metres reaches 112.70 km/h (70 mph), with 4,900 joules, at impact.
Near-miss on the ski slopes
Back in December 2015, the world's best Alpine skier, Austrian Marcel Hirscher, came close to an accident that could easily have destroyed his entire season as a camera drone crashed immediately behind him while he was racing in the FIS World Cup slalom competition at Madonna di Campiglio in Italy.
The drone, with a camera weighing 10kg, dropped 20 metres from the sky, took a heavy cash, leaving debris scattered over the slope. Hirscher was travelling at a speed of close to 40km an hour at the time. He said he could hear the drone crashing behind him.
The video below shows how the incident was reported on the U.S. TV network ABC News.
Hirscher – a dominant force at the Winter Olympics in South Korea last month – called it "insane" and said after the incident that he would not compete anywhere such drones were to be in use in the future. The International Ski Federation (FIS) issued this statement on the day:
While FIS and its partners aim to use new technology to enhance the fan experience, an accident such as the drone crash cannot happen again. Even if - unlike in Austria, Switzerland and other countries - drones are authorized to fly over a crowd during events in Italy, FIS and the host broadcaster will work together with all the involved parties to see what occurred during the crash and ensure that this will not happen again.
The FIS explained that the TV broadcasters had been given permission to use drones but not to fly them directly above the skiers, which they clearly did. Soon after, FIS introduced a complete ban on drones for filming at all their competitions around the world.
The drone crash at Madonna di Campiglio is not an isolated incident. Five spectators at an event in Virginia in 2013 were injured when a drone crashed into the crowd, and at the 2015 US Open tennis, a drone flew into the stadium during a match between Flavia Pennetta and Monica Niculescu, crashing hard in an empty section of the stands.See video below.
Players and fans feared the worst, believing it was a bomb, but it emerged that the drone belonged to a teacher from the Academy of Innovative Technology in Brooklyn. He was flying it in a nearby park and lost control of it.
It's not hard to imagine how dangerous drones might be when used at race meetings, whether they are being flown directly above the horses or not, and it seems strange to decide that they should fly as high as 50 metres above ground level. Of course, the further away from the horses they are, the less likely they are to be heard, but a drone falling 50 metres (more than twice as high as the one that almost hit Hirscher) would have a very serious impact on landing.
Would it not be best to ban them altogether?
In 2017 at Killarney racecourse in Ireland, St Killenagh was struck by a drone in the paddock before a steeplechase. It was flown by an American tourist. The stewards were heavily criticised for not seeming to take the matter seriously. According to Irish regulations, it is illegal to fly drones lower than 120 metres altitude above an area where more than 12 people are assembled.
Del Mar: not allowed during races
When asked about the use of drones in California, where the question was raised at Del Mar, hosts of the 2017 Breeders' Cup, the California Horse Racing Board's public information officer, Mike Marten, says, "There is no regulation governing the use of drones. However, for safety reasons, any plan to do so must be approved by the stewards. This issue came up once at Del Mar. The stewards ruled that the drone could be flown over the track but not during any race. Stewards at other locations might rule differently."
Rapidly increasing safety risks
Last year, a study sponsored by the U.S. Federal Aviation Administration (FAA), concluded with a sharp warning of how dangerous drones can be, and recommended that they should be made using less metal and more plastic, to make them "as harmless as geese" - this was in relation to potential collisions with airplanes, not crashes on people and animals.
With an increasing number of drones, there is an increasing safety risk. According the FAA, reported drone safety incidents in the U.S. averaged 250 per month in 2017, compared to 50 per month in 2016. This included causing risks by flying improperly and getting too close to planes and helicopters.
It's not only horses that can end up getting injured merely by the sound or sight of a drone. A helicopter crash landing in South Carolina last month was thought to have been caused by a civilian drone flying into its pathway. The aircraft, a Robinson Helicopter, was being flown by an instructor and his student. They told investigators that, in a manoeuvre to avoid a small drone that appeared right in front of them, the instructor altered course sharply. This caused the helicopter's tail to hit a tree or a bush – forcing a crash landing. Both men were unhurt.
Drone regulations are being tightened around the world, but they vary greatly from jurisdiction to jurisdiction.
In America, for example, drones can be legally flown no higher than 400 feet (122 metres) above the ground and must always be in sight of the pilot. As we learned from the paddock incident at Killarney, in Ireland drones over crowds must fly "at least 120 metres above ground".