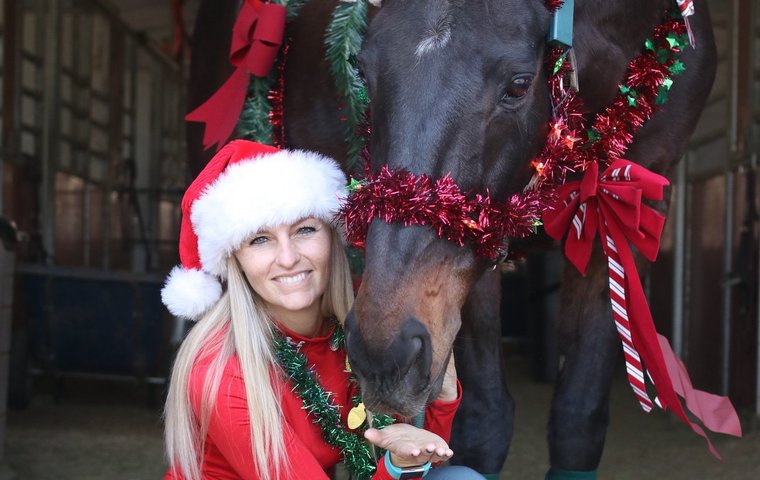 "They aren't unicorns," said owner Summer Kenesson. "There are plenty out there." Kenesson was referring to off-track Thoroughbreds, horses whose racing days have ended and now need a place to go for a second career. 'Plenty' is a bit of an understatement: more than 20,000 registered Thoroughbreds are born in North America each year. It follows that roughly 20,000 will need post-racing homes every season, too.

While Thoroughbred aftercare awareness is on the rise, the challenges of rehabilitating, retraining, and in some cases simply rescuing these horses are many, from the staggering expense to a lack of demand. Organizations in California are doing their best to tackle the root problem of changing public perception, and helping people view retired racehorses as valuable commodities and exceptional partners.

There are hundreds of rescue organizations across the country. This article will focus on some of those based in California.

Exercise rider Sarah Parlier realized she wanted to play some part in finding new homes for those who were unable to continue racing. "I didn't want to see them thrown down the tubes and never heard from again," she said. "They are such awesome animals, and we are the ones making them perform these sports. It's only fair we do our part and be responsible enough to ensure they go into good homes."
In 2005, her business Equine Racers began out of Los Alamitos, and has since blossomed thanks to word of mouth. "The public isn't even aware that these horses are available and looking for homes," she said.
Trainers know to call Parlier when they need a horse moved. She takes photos and videos of each available one, posts them on her website, and facilitates 'normal' people meeting them on the backside of the track, as well as helping to set up pre-purchase exams with track veterinarians. Twelve years later, Parlier has rehomed 600 retired Thoroughbreds.
Public perception
A big issue with public perception is the idea that racehorses are strung out, wild, or simply 'crazy', but Parlier and others work hard to dispel that notion. Racehorses are exposed to more elements than the average horse, such as cheering crowds, farm equipment, riding in close quarters with other horses, and are handled by an endless stream of different people through their racing lives.
"I would never sell someone a horse that I didn't think would be a good fit, but I have even placed them with people who are newer to riding," she said. "It's all about your personal experience, and if you have anyone else experienced around to help."
While many people looking to buy a retired racehorse hope that the animal was just too slow to be competitive, injury is the most likely reason a horse's career ends. In California alone, there are countless organizations that are trying to take horses off the track, give them time to recover from their injuries, retrain them, and move them into new homes.
The necessary funding for each horse is shocking. While the horses themselves can be bought off the track for as little as a few hundred dollars, between shipping, several months' board while the horse recovers, x-rays, ultrasound, and ulcer medication, every rescued horse can cost thousands even before feed, shoes, and supplements are factored in.
Helping to offset these costs are organizations such as After the Finish Line and CARMA (California Retirement Management Account).
Dawn Mellen's After the Finish Line is a non-profit organization that awards monthly emergency grants to aftercare groups all over the U.S. "We are dedicated to the welfare of Thoroughbred horses that can no longer race or breed," she explained. "These funds that we award can be used for saving horses at auction, buying hay, the vet, boarding or transportation costs."
While some similar groups offer annual grants, Mellen's gives money monthly. "Every day is a day that a horse needs our help," she said. "We have awarded 510 grants since we started, helping over 3,100 horses. Maybe the money helps five horses or 40 horses a month, it just depends what the rescue organizations are applying for."
Significant prize money
CARMA is one such organization that offers an annual grant to aftercare partners that apply and meet certain requirements, such as that the horses need to have started at a qualifying California racetrack. But CARMA has evolved over time, and now their annual grants are just one of their three main branches.
Another is the CARMA Placement Program, which is a service for horsemen that need help placing their retiring horses and have, "exhausted all their other options. They may not have connections to people that have farms where the horses can be turned out," said Lucinda Mandella, CARMA's Executive Director.
CARMA also runs two Thoroughbred-only horse shows, taking place in the spring and in December each year. "The Thoroughbred Classic Horse Show is an all-discipline show that aims to create demand for the breed," Mandella explained. "We need Thoroughbreds to be more popular in the wider equestrian world. They have a stigma – a reputation - associated with them from people who are unfamiliar with the breed. That's why outreach is so important."
CARMA has also been putting money towards purses at all-breed shows by sponsoring Thoroughbred-only classes. "Thoroughbreds are perfect because if you don't have the disposable income to purchase a $100,000 warmblood, you can still have a competitive horse. And now we are providing significant prize money where there normally wouldn't be any." For instance, they offer $500 to the first two finishers in a 2'6'' Thoroughbred jumping division at the Camelot horse show series. "We are incentivizing having Thoroughbreds at open breed shows," Mandella said. "The field sizes are growing at our two annual shows."
Where else can 'outsiders' find retired Thoroughbreds that need homes? The national Communication Alliance to Network Ex-Racehorses (CANTER) organization has helped move an estimated 700 horses in the last nine years. It offers a dual pronged-attack on the difficulties of placing horses by not only taking in and rehabilitating injured horses, but also offering free listings for any trainer that wants their horse made available to the public.
Ali Dacher is CANTER California's Founder and Director of Grants and Sponsorships. "I was looking for a horse ten to 12 years ago, and California had seven racetracks at the time but no resource for people who wanted racehorses at all. If you didn't personally know a trainer, there was no way for people to know what was available. It inspired me to look at other CANTER listings, and wonder why we couldn't do that here."
She noted that trainers are often 'not technically inclined', which means they don't know how to list their horses online. CANTER's volunteers go out and walk the barns, taking photos and videos of horses and posting them on the website. "The trainers don't have to do anything but let us know," Dacher said.
Willing horses
CANTER is volunteer-run, with fundraising being their biggest obstacle. "We only take the horses we can fund," she said. "We all work full time, and it takes a lot of time and energy. But we work hand in hand with the racing industry and we've developed a really good relationship with them."
She also thinks that, "The stereotype is changing. There are so many good Thoroughbreds coming off the track that the horses can fly off our listings. You have to be willing to take a little risk because you don't know what they will be like in a different environment, but 99 percent of the time you will end up with a great horse."
And it isn't just no-name horses available for adoption, either. Cassandra Andersson's Fresh Start Sport Horses advertises rehabbed and retrained horses on Facebook, with many of them being classy, older former runners such as multiple Graded stakes winner Si Sage, and stakes winners Sacred Ovation and Fancy Shoes.
"I think they're very willing horses," Andersson said of the breed. "They are easy to train compared to some warmbloods, and are more amateur-friendly than people think. Some of them come off the track beginner-safe. I had a stallion last summer that came off the track after 15 races, we gelded him, and a few weeks later sold him to a beginner and it worked out great. He was totally bombproof. Thoroughbreds are perfect for people on a budget that still want a nice horse."

But while there are endless options for sound horses, those that are injured so badly that they cannot move on to jumping, eventing, or barrel racing have fewer options. One is the Square Peg Foundation, started by Joell Dunlap and husband Darius.
"We wanted to fill the gap between kids who weren't going to fit in a therapeutic riding program and ones that couldn't fit in a traditional riding program either," Joell said. "My husband and I spent a year going to different therapeutic riding programs and saw some beautiful things, but what we felt was left out was the care of the horses and that barn vibe you have at any kind of boarding barn or show barn; that community of just hanging out with the horses and being together. We got this crazy idea to put people who knew what it was like to be a 'Square Peg' and not fit in with horses who also weren't fitting in."
Of the 19 horses on the 28-acre property, 13 are Thoroughbreds. They are paired with children dealing with autism, anxiety, eating disorders, and other issues. "We see an average of 50 families a week right now," Dunlap said. "You need to totally focus 100 percent on the special needs family, so we don't even have a sign at the entrance on the road. We want families to have total privacy."
Some horses are not even able to take on the task of carrying children, and their futures can look bleak. Helen Meredith's United Pegasus Foundation was founded in 1994 exactly for these kinds of horses. "We keep retired horses until the end of their days," said founder Helen Meredith. "We survive on grants, fundraising, and miracles."
Getting them back
Meredith, who wishes she could take in 200 horses, had tough words for the racing industry. "There's always a 'Let's race them one more time'. The unfortunate thing is that trainers aren't going to change what they do. I was in racing my whole life, and I couldn't stand to see what was happening to these horses that were giving everything."
Her reach extends past the racing career, too. "We have a policy that we always take back what we adopt out, because what is the point of 'rescuing' a horse if you're just going to close the door on them? Once they can't jump anymore or their second careers are over, the owners may want to get a new horse and they can't afford two, so the horses can be brought back."
With the expense of land in California, Meredith is also worried that the demand for horses in general is diminishing. "Even if every horse came off the track sound, there's not enough homes for them. And they need qualified riders, because they need to be re-educated when they come off the track."
But, for some, getting back a racehorse that they knew is everything. Ali LaDuke, a former California resident and longtime racetrack employee, was following the career of a low-level runner named Bold Chance that she sale-prepped as a yearling.
"I spent several years following his career around Arizona," she said. "He'd run once or twice at a fair meet and then disappear for months at a time. Eventually I found the contact info for his owner-trainer and began the process of 'pestering' him to sell. I called, I had friends call, but nothing worked. I once even showed up at Rillito Downs in Tucson with $1,000 cash in my pocket and he refused."
LaDuke remained undeterred and resolved to get back the Thoroughbred that stole her heart. After 25 starts over five racing seasons, Bold Chance was given away for free, loaded on a trailer and returned to California, where he is now pursuing his second career.