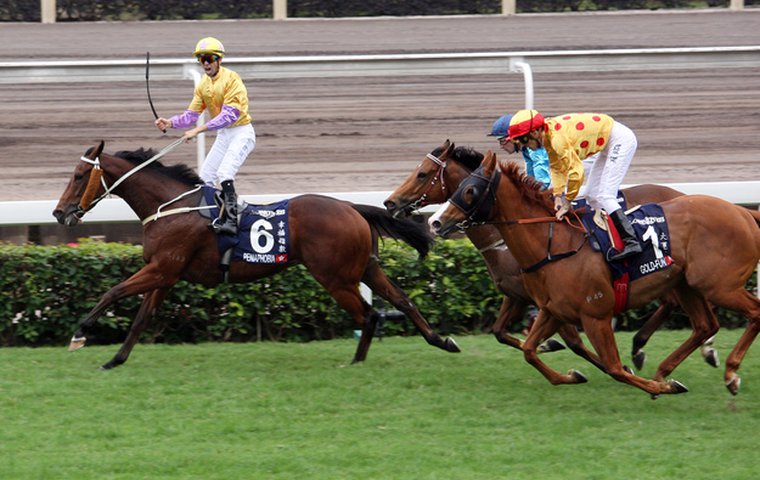 Well maybe it's not quite the "World Turf Championships" any more than the Breeders' Cup is the "World Racing Championships" or the "Dubai World Cup" is the World Cup. But, if you set aside the grandiloquent subtitle, it's an exceptionally good race meeting and certainly one that attracted just about every one of the best horses available at this time of year.

Golden Horn wasn't there. Solow wasn't there. Tepin wasn't there. Treve wasn't there. Lovely Day wasn't there. But their understudies were - Flintshire, second in the last two Arcs; Mondialiste, second in the Breeders' Cup Mile, Staphanos, second in the autumn Tenno Sho; and Mongolian Saturday, winner of the Breeders' Cup Turf Sprint.
In all, 29 of the 53 who turned out on Sunday for the four major G1s that make up the Hong Kong International Races (HKIR) were G1 winners themselves, and you can hardly ask more of a race day than that, particularly when it takes place just 12 days before Christmas.
Two national heroes turned out, not just on the same card but in the same race. The Hong Kong Mile saw Japanese champion Maurice extend his unbeaten sequence to six this year, with local Horse of the Year Able Friend only third.
A miler to take on the best in the world
Quite a few people, and not just patriotic Japanese but his rider Ryan Moore too, would be happy to back Maurice against any miler in the world. They'd answer those who'd point out that, when the two met, Solow beat Able Friend by more lengths than Maurice did on Sunday by claiming correctly that the Able Friend, who went to post in an agitated state at Ascot in June, bore no resemblance to the Able Friend who'd risen to the top of the world Thoroughbred rankings before that ill-fated trip, whereas the Able Friend who almost drew alongside Maurice before being outstayed in the last 100 yards was a champion restored to something very near his dazzling best.
The Mile wasn't the only race in which horses with pretensions to being the best on earth at their distance confronted each other. Everyone knows by now that Hong Kong sprinters are monstrously hard to beat, especially when they're playing at home. Those who were sure Gold-Fun was a cert reckoned, however, without Joao 'Magic Man' Moreira, who routinely extracts more from horses than even they know they contain.
HKIR day isn't a single event but a series of jamborees culminating in the Sunday races themselves. At the gala dinner in the Convention Hall on the Friday night, Frankie Dettori was declared successor to Ryan Moore as the "Longines' World's Best Jockey", with Moore and Victor Espinoza dead-heating for second.
Those who get passionate about these accolades rather than trusting their own judgement might point out that the method of assessment is flawed as it depends on the number of G1 races won.
Nobody gets more passionate than those Hong Kongers who idolise Moreira. That's at least 6.95 million out of a total population of just over 7 million. For them, the question is hardly worth asking. Joao just doesn't get the G1 opportunities his rivals do because he's largely faithful to Sha Tin and Happy Valley, but for sheer brilliance they'd say, he has no peer.
He showed his amazing talent this time by jumping Peniaphobia (no loutish jokes please, it means 'fear of poverty') out like a missile from the 14 gate on a tight track, cutting across to make the running, kicking early straight and holding the favourite all the way to the line.
No disgrace for Breeders' Cup hero
Mongolian Saturday, who got excited beforehand, or maybe just intrigued, ran a respectable race to finish fifth. The Wesley Ward-trained, Joel Rosario-ridden Green Mask, third to Mongolian Saturday at Keeneland, finished almost a full second behind the winner in eighth. But the Hong Kong Sprint is annually the hottest 1,200m dash anywhere, and Americans can take considerable heart from the fact that a slightly bemused Mongolian, racing right-handed on a course that perhaps interested him more than the opposition did, finished first of the overseas challengers behind four hometown heroes.
According to international rules, of course, neither American horse had the option of racing on Lasix even if their connections had wanted it (Mongolian Saturday raced without it at Keeneland).
Moore, whose fans would argue that only an injury that cost him a bagful of rides at the peak of the season prevented him from retaining his "World's Best Jockey" title, had already put down his marker against Moreira when driving Highland Reel past Flintshire in the Hong Kong Vase. Handicappers will have noted that on all known form Flintshire is a better horse than Highland Reel. Moore got more out of the winner. Ergo…
But we know it doesn't quite work that way. Highland Reel, winner of the G1 Secretariat at Arlington in August, and Aidan O'Brien's first winner at the Hong Kong meeting in 11 years of trying, is beginning to look like a serious improver. He's certainly a horse who hardly notices travelling, as his previous outing was his third place in Australia's most coveted non-handicap, the Cox Plate. Flintshire may have lost just that crucial sliver of enthusiasm after attempts at the impossible behind Treve and Golden Horn.
The Hong Kong Cup itself looked the most competitive on the card. Plenty of pre-race babble concerned Arc sixth Free Eagle who had Irish Champion Stakes form with Golden Horn; APQEII winner Blazing Speed; Australia's Criterion, and Japan's Staphanos.
It took 2.0.60, just half a second outside the track record on ground that had seen torrential rain in midweek, for Japanese star A Shin Hikari (yet another son of beloved Deep Impact) to put the lid on all the chatter with a stunning front-running performance.
Few of his rivals dared to follow the pace set in a magnificent ride by Yutaka Take. One of them was Free Eagle, but turning for home he was already starting to look like a Wanchai nightclub reveller at closing time. Maybe only Moore judged the pace absolutely perfectly when bringing the winner's compatriot Nuovo Record from the rear.
A dream that's probably unattainable
As they swept through the field it looked as though he might be about to deliver one of the greatest rides. A Shin Hikari wasn't having any of that though. Nursed home by Take, he just refused to stop. How the hell did we let a horse who'd won eight of his ten starts in just that style go off at 37.7-1?
Is he a world champion? Probably not. How big a deal are the HKIR, and can they attain the ambition of making them in reality the World Turf Championships? Probably not. Wrong time of year. Wrong hemisphere.
But it's very likely that there isn't a right time or location to summon runners from every one of the world's major jurisdictions at the same time. The dream of a generally accepted World Championship meeting is probably unattainable and we'll just have to settle as we have been doing for the aggregated evidence of the great meetings around the world – Dubai, Ascot, Longchamp, Breeders' Cup and the rest - of which this is now undoubtedly one.
Ten years ago 44,000 people went to Sha Tin to watch what was then still the Hong Kong Jockey Club's loss-leader event aimed at raising the profile of the former colony rather than issuing any challenge to racing's more traditional big occasions. On Sunday it was 85,000, with turnover at HK$1,449 million (nearly US$190 million). The evening ended, as usual and entirely appropriately, in a colossal firework display to the sound of thrilling music.
As an innovation, instigated by the HKJC's newly appointed American Public Affairs manager Pat Cummings, a team of carefully selected (mainly North American) social media fans (the twitterati) had been flown in to raise the meeting's profile. Sometimes it seemed there were at least 140 of them, but in fact it was less than a dozen. As you might expect, because invited guests do not look gift horses in the mouth, they were uniformly ecstatic.
Just like the Hong Kong fans really, who certainly have no equals anywhere in the western world in their addiction to this sport.