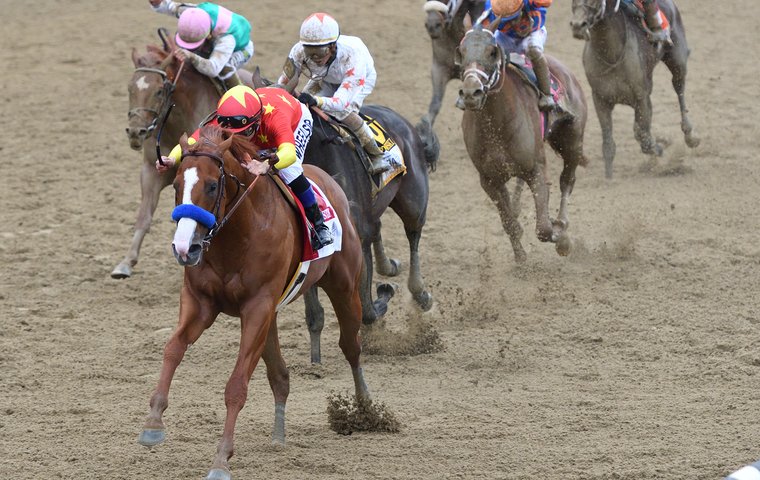 Is it a case of the tail wagging the dog as the breeding industry continues to rob racing of its best horses? Shane McNally looks at recent evidence.

Imagine Triple Crown winner Justify and freakish Australian colt The Autumn Sun taking on Accelerate, City Of Light, Cracksman and Roaring Lion over ten furlongs (2000m). Wherever the race was run - Ascot, Meydan, Flemington or Longchamp - the world would stop for that race.
That's all you can do, of course. Imagine. They're all retired, some of them before they reached what would almost certainly have been the peak of their racing prowess.
People who follow Thoroughbred racing for the sheer simple joy of watching the best horses in the best races are forever on social media platforms these days wondering what might have been and asking why their champions are gone too soon. Aren't the $12m Dubai World Cup, the $6m Breeders' Cup Classic or the A$13m Everest worth enough? They'd ask.
They love it when a champion like Beauty Generation comes along. Like undisputed greats Kingston Town, John Henry, Manikato, Wise Dan and Phar Lap over the best part of a century, the Hong Kong superstar is a gelding and that means he is likely to display his great ability - just as they did - season after season.
But Beauty Generation is the exception rather than the rule in today's racing world, where a colt with similar form and ability is retired before he can be beaten or have his racing record tarnished in any way. An unblemished racing record can be worth tens of millions of dollars and it's a risk owners aren't prepared to take.
In the past year alone, the imaginary field has been lost, along with world-class sprinter Trapeze Artist and U.S. champion Gun Runner - all in good form and perfectly placed to add millions of dollars to their racing records. But owners preferred the certainty of a high service fee to the risk of racing and losing.
The previous year, racing lost Arrogate. The superstar winner of the Breeders' Cup Classic, Pegasus World Cup and Dubai World Cup had lost all form and was retired before more damage was done. On the flipside, of course, he wasn't given the chance to redeem himself. He was thrashed in two of his last three races and retired to stand at Juddmonte Farm at a fee of $75,000.
Arrogate makes a great case for both sides of the argument. If he had retired as an early 4-year-old after winning the Dubai World Cup in such emphatic fashion, the fee would be much higher. But, if he stuck around and contested the same three open class races he won the year before, he might have added another $18 million to the coffers. That's a lot of service fees.
HOW GOOD DID THE AUTUMN SUN LOOK IN THE CAULFIELD GUINEAS?
In the case of Accelerate, who stands at just $20,000, it's fair to say he would win more money on the track than in the barn in a given year. Justify, standing at $150,000, is another matter and it's hard to make a financial argument for continuing to race the horse when owners can make $10-$20 million a year from fees. Likewise, The Autumn Sun was not likely to make the A$10 million his service fees would produce every year on the racetrack - if ever.
The current best horse in the world, Beauty Generation is a former good Australian 3-year-old who grew into a sensation in Hong Kong. He'll race on because no stud is waiting for him. Immortals like John Henry and Kingston Town, two all-time greats, raced for many seasons, and 1918 Kentucky Derby winner Exterminator continued to thrill crowds until he was a 9-year-old, winning 50 of his 99 starts. That was their job. They were racehorses.
Nobody would expect Justify or The Autumn Sun to emulate those deeds, but would another 18 months to two years have made them any less effective as stallions?
Perhaps the whole focus on breeding and the potential great sire is part of the problem. From a racing perspective, perhaps the purists don't give geldings enough respect. Perhaps too much focus is on the breeding component of the industry. The world's most prestigious race, the Prix de l'Arc de Triomphe, doesn't even allow geldings to start. It's not a Derby, which places stock in the breeding potential of its champion, it's just a tradition.
In 1980 and 1981, when Kingston Town was ineligible to run, Detroit and Gold River won the great race. Neither would be mentioned in the same breath as 'The King', and it's fair to say the best horse in the world was not able to run in the race either year.
WATCH KINGSTON TOWN'S REMARKABLE THREE COX PLATE VICTORIES
Australian racegoers made heroes out of Winx's owners for keeping the mighty mare racing into her eighth year and, even then, many suggested she should have kept racing while she was so dominant. But Winx is a mare and, regardless of what she produces, she can only make what that foal is worth. For the record, Winx won 25 G1s in her 37 wins compared to an average of four G1s won by the ten highest-rated colts to retire in the past year.
In the end, it comes down to owners loving the thrill of the race enough to keep their horses going, knowing that, with ordinary fortune, they will still make plenty after the career ends. Ironically for an industry based on gambling, it seems the owners of a great colt are not prepared to take the punt on continued racetrack success, preferring the sure thing of cashing in their chips while on top.
11 top male horses retired in the past year
Justify - U.S. Triple Crown winner (after 6 starts)
The Autumn Sun - 5-time Australian G1 winner (after 9 starts)
Good Magic - Haskell Invitational and Breeders' Cup Juvenile winner (after 9 starts)
Cracksman - dual Champion Stakes winner (after 11 starts)
City Of Light - Pegasus World Cup winner (after 11 starts)
Roaring Lion - 2018 Cartier Horse of the Year (after 13 starts)
Saxon Warrior - Newmarket 2000 Guineas winner (after 9 starts)
West Coast - Travers Stakes winner (after 13 starts)
Gun Runner - Breeders' Cup Classic and Pegasus World Cup winner (after 19 starts)
Trapeze Artist - 4-time Australian G1 winner (after 20 starts)
Accelerate - Breeders' Cup Classic winner (after 22 starts)