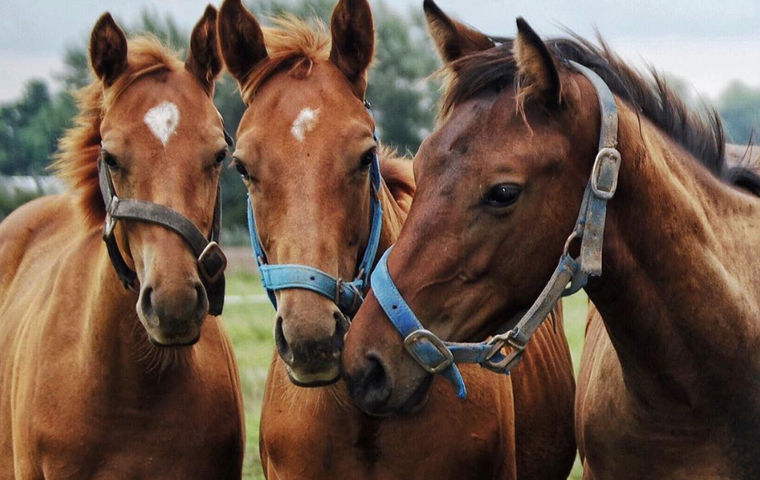 It has already been a year of new territory for sales company Arqana. Little over a month after a successful first edition of 'The Auction', at which a collection of horse embryos offered by some of the show jumping world's most respected breeders were sold in an online auction staged between Deauville and Hong Kong, Arqana broke yet new ground with the launch of the Gran Venta Selecta Sale at San Isidro racecourse in Buenos Aires, Argentina.

Argentina obviously has a rich history within the Sport Of Kings. However, bar the private acquisitions of some of their top runners, it's a market that remains relatively unexposed to an international audience, with a typical sales season comprising a smattering of auctions at individual farms.
Enter Haras Vacacion and Haras Abolengo, two of Argentina's most successful breeders.
Pablo Zavaleta's Haras Vacacion is probably best known outside Argentina as the breeder of American champion Paseana. It today stands five stallions, including Kingman's G3-winning half-brother Remote and Seahenge, the 2017 G2 Champagne Stakes winner who shuttles from France.
Place in racing history
As for Haras Abolengo, today under the stewardship of Julio Menditeguy, its place in racing history is assured as the breeder of Candy Ride. It also stands six stallions, including leading sire Equal Stripes and the former high-class Ballydoyle inmates Treasure Beach, Long Island Sound and John F Kennedy.
Between them, the studs put together a selection of 88 yearlings to come under the hammer at the inaugural Gran Venta Selecta Sale on March 21, hosted by Arqana in conjunction with Arg Sales (Haras Embrujo, also consigned three yearlings to bring the total catalogue to 91). It was the first ever yearling sale to be conducted in Argentina by an international auction house and was certainly a select affair, containing 11 siblings to G1 winners in addition to those by popular commodities Equal Stripes and Roman Ruler alongside the potentially exciting Remote and John F Kennedy.
Several days on from the auction and those connected with it were satisfied that it had achieved one of its major objectives: to bring Argentina's breeding industry to international attention.
Overall, 76 of the 82 yearlings through the ring were sold, led by Vacacion's Equal Stripes sister to G1 winner Schoolmistress, who set a new record for a yearling in pesos of ASD5.6 million ($140,000) when sold to the Argentinian-based Al Ramon.
Total turnover checked in at $2,741,500. While that wasn't far ahead of the $2.6 million achieved by the cream of the Vacacion and Abolengo yearlings combined across the 2018 season, it does however read creditably against Argentina's current fragile economic backdrop; the peso has plunged to record lows over the past year and currently sits at ARS23 against the dollar.
However, just as importantly, the sale succeeded in attracting international participation, in particular from Malaysia, Hong Kong and North America.
The Hong Kong-based agent Dennis Loh, for example, paid the equivalent of $120,000 for Vacacion's filly Roman Ruler out of the G1 winner Que Piensa Cat. Belmont Stakes winner Roman Ruler was a major sire for Vacacion until his death in 2017.
"We're definitely very happy," says Arqana's executive director, Freddy Powell, who was instrumental in getting the sale off the ground with Arqana's South American representative, Matias Villamil. "The selection was very good. The quality of horses was amazing - there was one good model after the other. These horses have never worn shoes, they have great feet, bone and they're super strong. It's such a different way of breeding, very natural.
"When you have that quality of stock, there is a very good base from which to build upon."
Value for international buyers
Agents Emmanuel and Laura de Seroux, of the Californian-based Narvick International, came away with two lots in a daughter of Asiatic Boy out of a half-sister to Equal Stripes, who cost the equivalent of $85,000, and a Hurricane Cat filly out of the G2-placed La Malcriada, bought for $30,000.
"The sale was a big success," says Emmanuel de Seroux. "Abolengo and Vacacion presented some very nice yearlings, with high-class pedigrees and strong conformation.
"Those yearlings sold were excellent value for international buyers, although they also offered good prices to the sellers by Argentinian standards."
He adds: "It was a first and, as for all new ventures, improvements will come from experience and I trust this sale will go from strength to strength."
Also positive was John Fulton, another with a strong buying presence. The American-born agent, who has long been based in Buenos Aires, signed for three yearlings, led by a daughter of accomplished shuttler Orpen, who cost $100,000. One of the highlights of the Abolengo draft, she was a half-sister to G1 winners Galicado, also a champion, and Got Talent.
"You had the top breeders sending some very good horses to this sale," he says. "It's very hard to get into these families and then, when you have the combination of conformation over that type of pedigree, it offers a real opportunity. I didn't want to let that go by. And you can get exceptional value here - you have a real chance of getting a high quality horse for a real value price."
He adds: "It's not that easy to get Northern Hemisphere buyers down to Argentina - for one thing, you're fighting against the hemisphere age difference with the yearlings - but I thought the sale created awareness around the globe of what we're doing here. The land is very good, as is the horsemanship, and a lot of very good horses have come out of South America."
With the first sale in the books, Arqana are already looking ahead to next year's renewal, which will coincide with the return of South America's most important weight-for-age race, the Gran Premio Latinoamerico, to San Isidro.
In the meantime, Arqana will continue to work on furthering its exposure internationally, with particular emphasis on the earlier release of the English catalogue.
"What did delight us was the amount of interest we had beforehand, even if some of those people didn't end up coming," says Powell. "Next time, we will work on getting the English catalogue out earlier.
Weight on the world stage
"And next year, the sale weekend will be during the Gran Premio Latinoamerico at San Isidro. It will be a fantastic weekend, a great time for people to visit Argentina.
"We definitely have something to build on - the appetite is certainly there."
That appetite is undoubtedly fuelled by a strong passion for the sport. But there is also deservedly an immense pride in the weight that Argentinian stock continue to hold on the world stage.
Lane's End Farm's Candy Ride (world-ranked 9)arguably leads the current charge as a leading Kentucky stallion. Indeed, his trajectory is similar to that of Forli, another powerful Argentinian-bred and a major influence of his time around 40 years ago.
Japanese breeders, meanwhile, are fully aware of the worth of Argentinian-bred mares given they are responsible for the likes of Satono Diamond and Danon Fantasy, both recent champions who are out of G1 winners Malpensa and Life For Sale.
"I have followed Argentinian breeding for years," says de Seroux, "and have always been impressed by the quality and the soundness of their horses.
"I hope other leading farms will join this new venture to create an international market."