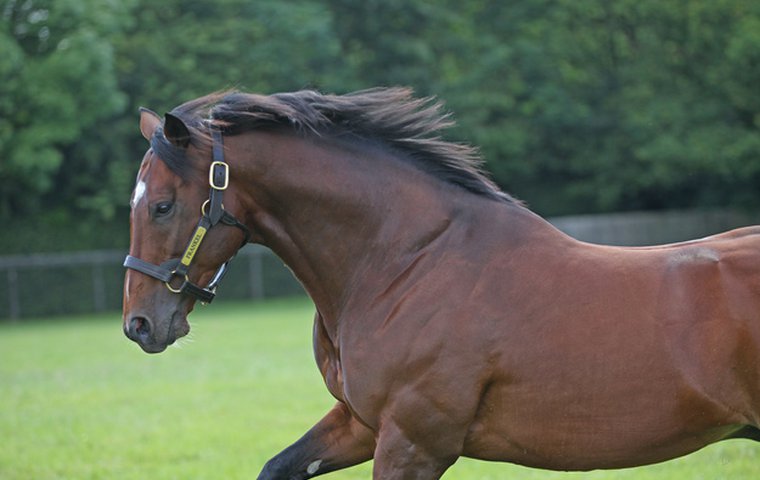 In Europe at least, Frankel has become the benchmark by which excellence in the racehorse is measured. Against that, he is now at the stage where he has to make his name all over again.

In the eyes of the outside racing public, Frankel is the horse who marched through his 14-race unbeaten career, whose average winning distance was 5.4 lengths and who was awarded a Timeform figure of 147, the highest in the organization's history. Enhancing his popularity further was the fact he was handled by the much loved Sir Henry Cecil, who passed away within a year of Frankel's retirement.
However, the bloodstock industry is an unforgiving arena, one where a stallion's merits are ruthlessly analysed and discussed before he has even had runners. Fashion often dictates the market and even a champion such as Frankel will never emerge unscathed.
From the moment Frankel walked into Banstead Manor Stud to start his new career, he had the eyes of the racing and bloodstock world watching him. For a start, his fee of £125,000 was the highest set for a first-season sire since Ghostzapper retired to Adena Springs in Kentucky at $200,000 in 2006. In addition, he boasted a pedigree out of the top drawer as a son of Galileo and the listed-winning sprinter Kind, a Danehill mare from Juddmonte's noted Rockfest family.
He attracted an outstanding book of 133 mares in his first season, among them 38 G1 winners and 25 dams of G1 winners. While Juddmonte sent him 24 of their own mares, including Binche, dam of G1 winners Proviso and Byword, Clepsydra, dam of G1 winners Timepiece and Passage Of Time, and multiple G1 winner Midday, outside breeders supported him with the likes of Dancing Rain, Danedream and Vodka alongside the dams of Dubawi, Lope De Vega and Shackleford.
Lofty sums paid for his first foals at auction
The first foal by Frankel, a colt out of G3 winner Chrysanthemum, was foaled on January 11 at Coolmore in Ireland. His first filly, a daughter of the well-connected Song, was born eight days later at the National Stud in Newmarket. Such was the intense interest in the youngster that within the week she had adorned the front cover of various British daily newspapers: The Daily Mail ran with the headline 'Wonderfoal! First step of the £3 million filly who's father is the greatest racehorse ever'.
The Mail wasn't that accurate in its assessment of the filly as she later failed to sell for €375,000 at the Goffs November Foal Sale. However, the public's craving for a star Frankel was fully satisfied that same day when a filly out of the Newmarket and Irish 1,000 Guineas heroine Finsceal Beo sold in front of a packed sales auditorium for €1.8 million, an Irish record for a foal at auction. Agent Dermot Farrington signed the ticket on behalf of an undisclosed owner, who plans to race the filly in Britain.
Her sale completed an unsurprisingly noteworthy few months for the first Frankel foals at auction.
Five months earlier at the Goffs London Sale, a colt out of Crystal Gaze had sold alongside his dam for £1.15 million to MV Magnier. Then several weeks later at the JRHA Select Sale in Japan, a Frankel half-sister to top Hong Kong runner Gold-Fun sold for 96,000,000 yen (£495,857/€711,188) to Toshio Terada.
They were lofty figures that befitted Frankel, but in return it was impossible to expect every foal and yearling to justify expectations.
That much was evident at the Tattersalls December Foal Sale, where the day began with a BBC News bulletin profiling the Frankel foals and ended with not one of the trio having changed hands in the ring. A filly out of Kirinda later sold privately to Dermot Farrington for €150,000.
Impressive list of buyers at yearling sales
Various Frankel yearlings went on to gain their share of print at sales this year.
A filly out of Platonic sold for €1.15 million to Charlie Gordon-Watson at the Arqana August Sale to make her the most expensive filly of the sale. At the Goffs Orby Sale, a daughter of champion Alexander Goldrun realised €1.7 million to the China Horse Club, while a colt out of multiple G1 winner Dar Re Mi sold for 750,000gns at the Tattersalls October Sale to Al Shaqab Racing.
Frankel returned an average of €566,667 for six sold at Arqana, an average of €915,000 for two sold at Goffs and 445,000gns for nine sold at Tattersalls. He was also represented at the Keeneland September Sale, where colts out of Rose Of Summer and Compelling sold for $800,000 and $500,000.
The list of buyers was impressive, containing the likes of China Horse Club, Al Shaqab, Shadwell Estates, Charlie Gordon-Watson and Tony Nerses. Juddmonte Farms also showed their support, paying 620,000gns for a colt out of Heaven Sent from Cheveley Park Stud.
But it wasn't all plain sailing for those with Frankel yearlings.
Of the 30 lots catalogued in Europe, 22 made it to the ring. Six failed to sell (a colt out of You'll Be Mine changed hands outside the ring to Dermot Farrington) while several, including high-profile youngsters out of Discreet Brief and Musical Treat, were withdrawn in the hours leading up to their dates in the ring - such withdrawals meant that only half of the six catalogued to Goffs made it to the ring.
Double-edged sword of social media
As with any stallion, there were also a handful of individuals that realised figures which wouldn't have cleared costs.
The hype surrounding his yearlings was reminiscent of that for Sea The Stars when his first crop sold in 2012.
Sea The Stars' first crop included the Arqana August sale-topper, a €1.2 million colt out Alpine Rose, as well as three colts that broke the 500,000gns barrier at Tattersalls. He returned an average at that year's Tattersalls Book 1 of 269,474gns for 19 sold, far removed from that recorded by Frankel this year. However, only three of his 22 offered at that sale failed to sell.
Social media was starting to gain real ground in the bloodstock world when Sea The Stars' yearlings made their auction debuts. Since then, the use of it as a tool by industry to promote, discuss and dissect has evolved significantly. As far as Frankel was concerned, it was arguably a double-edged sword, with such intense scrutiny only adding further to the hype and in some cases magnifying disappointment when one didn't live up to expectations.
Take his various sale averages on their own and it's a positive picture. But most present at those sales would probably agree that the market on occasions offered an unforgiving view towards his progeny. Add that to the fact that his yearlings were generally bred by top-end breeders who aren't pressurised to sell their stock and it's easy to see why the performance of his first crop at auction might have been perceived in some quarters - especially to the outside world - as underwhelming.
It's interesting to note that only one Frankel foal, a colt out of Laurelei and entered in the Tattersalls December Foal Sale, has been catalogued in Europe this winter. Perhaps breeders are waiting to see what unfolds with his first 2-year-olds next year.
So what could the future hold? Frankel was a phenomenon, perhaps the best we've ever seen. Yet with that belief comes the understanding that he is one on his own. In that respect, it's unfair to expect him to replicate himself.
However, what we do know is that he's in the hands of an operation with a strong history of producing successful stallions and that to date he has received the best possible support from breeders. He has every chance to succeed.
TOP FIVE YEARLING SALES