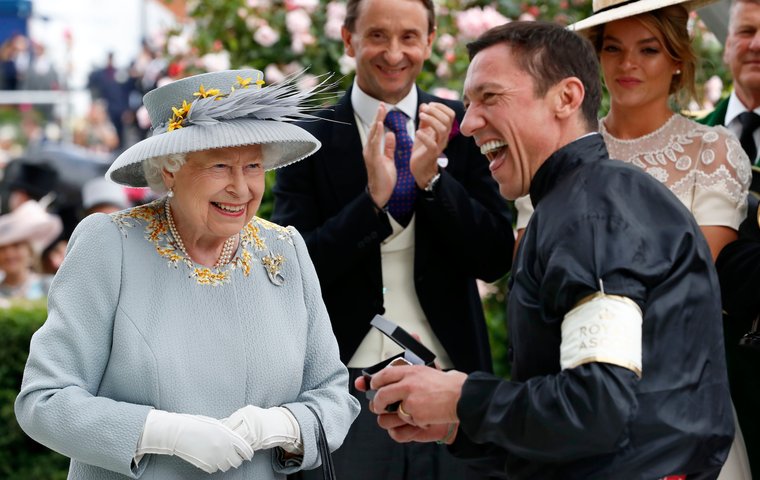 Inevitably, this week's TRC Performers of the Week awards are dominated by one particularly outstanding racing festival last week. This is particularly so in the jockeys' category, as James Willoughby explains.

TRC JOCKEY OF THE WEEK
Now that the highlight of the British season is in the books, let's recap the performances of the leading jockeys at Royal Ascot 2019 in Group races:

An extraordinary seven wins – including three G1s – propels FRANKIE DETTORI to gain 16pts, which is an unprecedented rise among competitors already in the world's top five (a competitor's ranking prior to Ascot precedes his name in the table) in any category.
Remember that the change in ranking points each week (shown in the column on the extreme right) is a function of achievement relative to rank. In other words, it is proportional to the so-called 'statistical shock' of performance, relative to expectation in an average week.
So, it is much rarer for a jockey already of Dettori's standing to make a sharp rise than for a colleague with only a small number of rides or wins, or one who exists in a less globally significant jurisdiction. In fact, here are the biggest climbers since our rankings began by a competitor already in the top five:

Dettori won the G1 Gold Cup at Ascot for the second straight year on champion Stradivarius. He also added wins at the same level on Crystal Ocean in the Prince of Wales's Stakes (the best performance by a horse at the meeting, according to Racing Post Ratings) and Advertise in the Commonwealth Cup.
In total, his Group wins spanned a distance range from five furlongs to two and a half miles, and they came for seven different owners, five different trainers and on the progeny of five different sires.
Prior to this week, Dettori did not even feature in our weekly presentation of the world's leading jockeys by aggregate Group or Graded wins in 2019. That has obviously changed: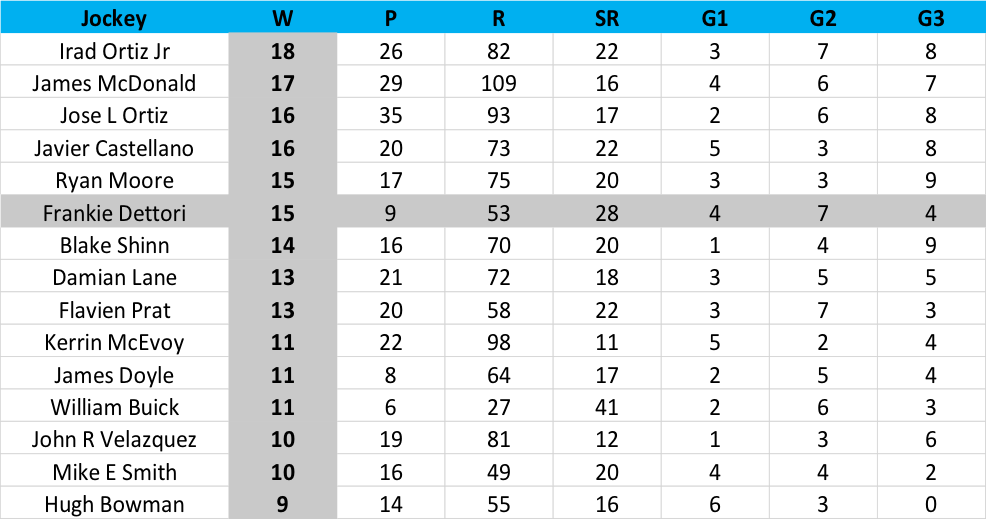 Dettori – who has the highest strike rate in the table for jockeys with at least 15 wins – sits just behind Ryan Moore (+3pts, stays #1) on the basis of the same number of wins but fewer placed horses. And, he now has only Moore above him in the main rankings. (You may recall us having pointed out more than once that Dettori has never made world #1 since our rankings began in 2014; he has now rated #2 for a total of 15 weeks.)
It would be remiss to end this review with no mention of the brilliant Ascot experienced by Daniel Tudhope (+18pts, #51 from #69). Now on the verge of the world's top 50, the unassuming Scot – who rides mainly in the North of England – reaches a new career-high in terms of ranking, but, in common with Silvestre De Sousa (+4pts from four places at Ascot, #50 from #51) has been impressing for years in races that don't count towards TRC Global Rankings on account of being less than Group events.
Hopefully, Tudhope will see his services called upon more often now in races that do count here. From only six rides, he 'hit for the cycle' at Royal Ascot by landing the G1 Queen Anne, the G2 Duke of Cambridge and the G3 Jersey Stakes.