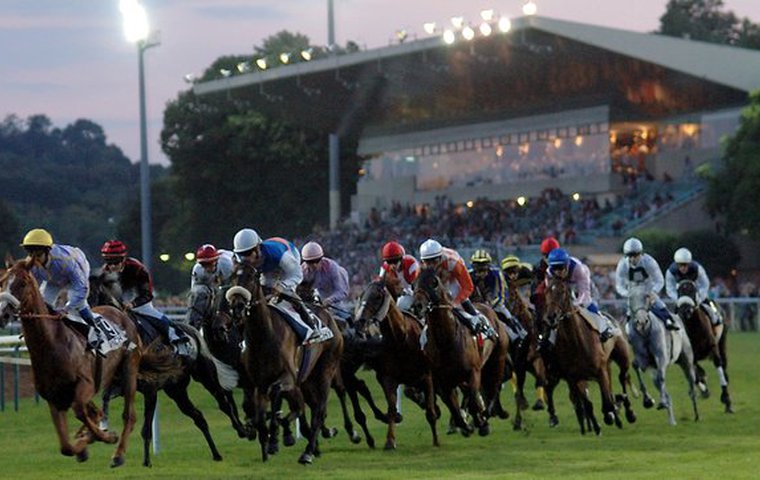 Britain has Royal Ascot and Glorious Goodwood, Ireland has the Punchestown and Galway Festivals (and both countries have many others), but the concept of the big festival week has never caught on in France – or at least it hadn't until 1998, when the "Grande Semaine du Galop" was introduced at the provincial racecourse of Vichy. The event flourished for a decade, but it has struggled in recent years. Emmanuel Roussel reports on a major new effort to breathe new life into the meeting, which starts on July 20 with a total €1.427 million ($1.9 million) in prize money.

Back when France was managing a sizeable empire in Africa and Asia, its colonials were always eager to make regular trips back to the homeland. As well as seeing relatives or experiencing the joys of Paris by night, there was another attraction - to take the Vichy waters.
Located about 400 kilometres (250 miles) south of Paris by the charming Allier River, the spa resort was created in the 19th century after its waters were found to help fight digestion disorders, a common affliction for colonials, and various skin diseases. Of course, visitors to Vichy also wanted a good time, so palatial hotels and restaurants sprang up, and opera and sports were commonplace.
Racing, a favorite pastime in those days, took place as early as 1875 at picturesque Vichy Racecourse at Bellerive, on the opposite shore of the Allier.
So when World War II started in 1939, Vichy had one of the top telephone and telegraph networks in the country, and more hotels than any other city in France except Paris. And that was the only reason the city was chosen as the home of the infamous puppet government that nominally governed France during Nazi occupation and remains one of the most shameful regimes in the country's history.
The unfortunate city is still associated by the poorly informed with that infamous period and continues to pay the price today – as if the place were still in disgrace. Therefore the French often overlook the success of Vichy in many other fields, such as cosmetics and sports.
However, it is difficult to ignore Vichy when it comes to horseracing. Even though it is far from any metropolis, the flat, 2,000-metre right-handed course with its lush grass and abundance of trees has always attracted top trainers and jockeys, both in racing and harness. It explains the large number of boxes available at the track: 350 until 2005, 400 now.
Vichy's racing and trotting was managed by the Société de Sport de France from 1958 to 1995, when the racecourse took over the role itself under the umbrella of the two main administrative organisations, France Galop and Cheval Français.
A new trotting track, inside the flat racing track, was built under floodlights in 1965, and evening meetings at warm, humid Vichy quickly became popular. France's first flat race evening meeting took place at Vichy in 1992.
The Vichy meetings were always well supported, mainly by trainers from the Marseilles (475 kilometres south) and Lyon (165 kilometres east) regions, and also from Paris and the west, especially harness trainers, who appreciated the holiday atmosphere there more than most.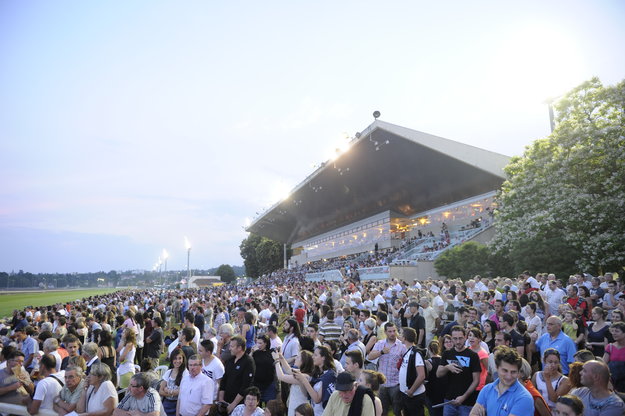 In 1988, always progressive Vichy created a trotting triple crown that attracted media attention as horses sometimes just failed in the third race to get their owners the million-franc ($200,000) bonus. It was an unusual challenge in France and it put Vichy on the map once more, although that triple crown no longer exists.
Charles Le Tertre, secretary of the defunct Société de Sport de France, the previous ruling body of Vichy Racecourse, put on some special race meetings over several days from 1995. The 10-furlong G3 Grand Prix de Vichy-Auvergne (won in 2011 by Cirrus des Aigles) was the star attraction in a programme that featured a number of important Listed races.
Then in 1997, a new team took charge of the racecourse - the president, Jacques Bouchara (who was also vice-president to Jean-Luc Lagardère at France Galop), and his deputy, Bernard Ferrand, a local businessman. Ferrand was instrumental in promoting the new "Grande Semaine du Galop" meeting in July 1998, a week-long uninterrupted meeting allowing the racecourse to get the full attention of French racing for seven days.
A shrewd marketer, Ferrand used a few tricks to ensure the success of the project. First, he made sure that local politicians put in some cash to promote the event. Second, he issued lavish invitations to the trainers and owners with the most runners during the meeting.
The invitation included stays at the best hotels in Vichy, an open bar at the spa, lobster and bubbly at every corner, evening gala dinners, opera, concerts, and so on. He also invited minor celebrities and organised fireworks at the night meetings to attract larger crowds.
This type of festival meeting had never really caught on in France, but Vichy's event was an immediate hit, and it was soon nicknamed the "Club Med of racing" by Parisian trainers, owners, and jockeys after the European company famous for party-atmosphere holidays. Up to 800 horses, many from Parisian stables, were sent to race at Vichy during that week alone. The harness equivalent was launched - with similar success - in 2001.
The late '90s were also the start of a decentralization of French racing, with daily national handicaps introduced at provincial courses throughout the country. Through its president, Jacques Bouchara, and with the backing of France Galop, Vichy got heavily involved, and it paid dividends. It had been the first provincial racecourse to fully embrace the changes to French racing and managed to steal a march thanks to its organization and the quality of its facilities.
By 2003, Ferrand was boasting attendance figures of 120,000 a year, and the annual pari-mutuel turnover went from €80 million ($108 million) in 2000 to €229 million ($311 million) in 2013. Certainly more meetings had been offered to punters nationwide, but still the increase was staggering.
In 2008, Ferrand was sacked from the presidency (he had taken over in 2002). He had become chairman of the French Thoroughbred Breeders' Association and ruled both organisations with an iron fist, and made many enemies.
He was replaced by a local breeder, the down-to-earth Roger Winkel, also president of Moulins racecourse, a less ambitious track 60 kilomeres away. Winkel checked the accounts, did not like what he saw and ordered the racecourse to cut costs. The meeting became less lavish, the sparkle was reduced, lobsters became shrimps - and that was a long way from the spirit of Ferrand's Grand Semaine.
Two years later, Winkel stood down and was replaced by Philippe Bouchara, also a member of the France Galop board, and the son of the late Jacques Bouchara, Ferrand's predecessor as president.
By then, the Grande Semaine's popularity had faded. The media was losing interest, the high-end trainers had vanished, and the jockeys were not keen anymore. Field sizes were down, and racecourse attendances followed. Betting turnover was also dropping, as it is throughout French racing. And local organisations, hard pressed as the 2008 financial crisis bit hard, began to reduce their financial support to the racecourse, even though it is estimated the Grand Semaine brought 5,000 extra tourists to the city annually.
Yet Bouchara's team is not ready to let go. The aim is to bring about a revival of fortunes for the Grand Semaine, promoting the racing via the much under-exploited (in France) social networks, on a web TV channel featuring tipsters on the racecourse, and through different events during the Grande Semaine with participants sharing their thoughts about the next day's racing. A new owners' lounge has also been set up in the grandstand, and there are still those special hotel offers (listed below) to trainers to encourage them to take part.
Obviously, the worrying downward curve of betting in France won't improve just because of a few videos posted on Facebook and a new lounge for already privileged professionals. Yet, since nothing noteworthy is being done in Paris to buck the trend, it appears to be down to racecourses like Vichy to explore new directions.
---
Special offer to trainers at Vichy's Grande Semaine meeting (July 20-26)
Those with 10 or more runners during the week - a double room at the 5-star Hotel Les Célestins.
Trainers with 7 to 9 runners – free accommodation at the 4-star Aletti Palace.
Those responsible for 5 to 6 runners - a stay at the 3-star Le Thermalia or Hotel Les Nations.
These trainers, plus a companion, will be invited to every event during the festival week.
More information can be obtained by contacting: festivals@coursesvichy.fr