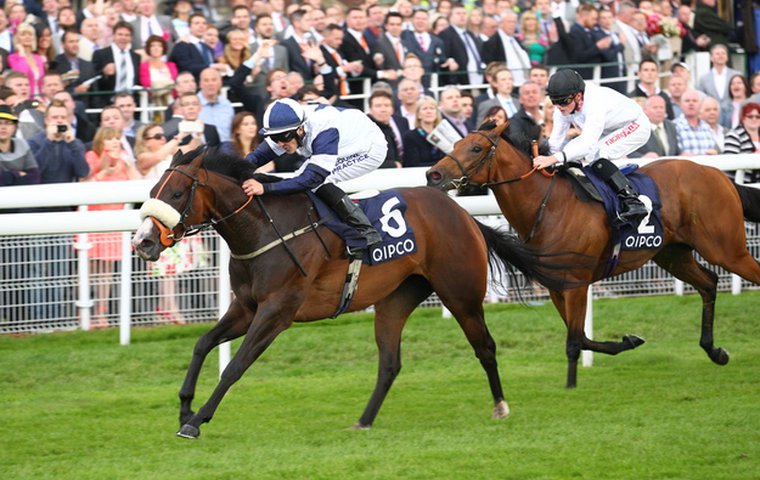 It has been a turbulent winter for one of the fledgling talents of the British weighing room.

Kevin Stott was scheduled to spend five weeks riding out with Graham Motion's string in Florida. Yet, within days of arriving in the Sunshine State in November, he had to retrace his steps when his youngest brother became seriously ill.
"I was sad that it didn't work out," Stott said. "But family comes first."
Stott, 20, earned this opportunity of a lifetime when he won the £50,000 Qipco Future Stars Apprentice Handicap at Newmarket in October. Part of the prize put up by the race sponsors was a working holiday for the winning rider with Motion at Palm Meadows Training Center.
The chance to refine their craft in the U.S. is much treasured by young British riders, who are rarely required to gallop horses against the clock. "Even though I only rode morning exercise a handful of times in Florida, it was an interesting experience," Stott reflected.
"I managed to learn a bit. It wasn't what I was used to, and it wasn't easy, but I'm sure I'd have got the hang of it had I been able to stay for five weeks."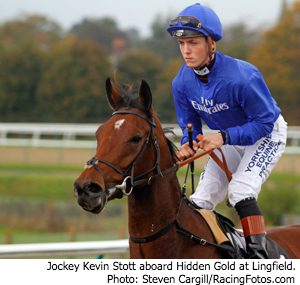 Instead Stott flew back to Denmark, where his family lives, for 10 days before he returned to Kevin Ryan's stable in north Yorkshire, where he is indentured as an apprentice. And, if that wasn't sufficiently deflating, Ryan immediately told him he was grounded from race riding for the whole of January.
Though hard to swallow, Stott recognised the dictat was in his best interests. As apprentices make their way, the weight allowance they can draw decreases with success. It made no sense for Stott to ride out his claim on the low-grade all-weather circuit, where he would have learned little.
It's fair to say Stott hasn't enjoyed the kind of winter he envisaged when he won the Qipco-sponsored Newmarket handicap in October. Qipco is an investment company aligned with members of the Qatari royal family. One of them, 25-year-old Sheikh Fahad Al Thani, started owning racehorses in Britain three years ago under the Qatar Racing banner.
A feature of the sheikh's involvement has been a desire to give youth its head. And Stott's triumph brought to bear a pleasing symmetry, since Ryan, to whom he is attached, trains a sizeable string for Sheikh Fahad. Motion is also on the sheikh's roster of trainers; hence the working holiday for the winning jockey.
Despite his lament, Stott's triumph in that Newmarket handicap has proved an invaluable springboard. He gained it aboard Winter Thunder, a horse trained by Saeed bin Suroor for Sheikh Mohammed's Godolphin operation. It was Stott's debut ride for bin Suroor, who followed up by giving the jockey a further four winners from 14 rides by the year's end.
That liaison got Stott noticed – in particular by another Godolphin trainer, Charlie Appleby, for whom Stott rode one winner from three rides in December. And Appleby rekindled the alliance when Stott returned from his benched January by legging up the jockey for two more winners in the first week of February.
"That side of things has worked out really well," Stott said. "It's a big plus on my résumé to ride winners for Godolphin, and it's always a thrill to put those [royal blue] colours on."
Stott might have worn colours of a different hue had he not stopped growing when he was 13. "I was a decent soccer player as a kid," he related. "I actually had a trial with [leading British Premier League team] Tottenham Hotspur, but they thought I was too small to make it as a professional."
A childhood obsession with soccer meant that Stott had never ridden at faster than a trot when he joined Ryan's stable three years ago. He was born and raised in Denmark of a British father and a Danish mother, who had different career paths in mind for him.
"My father and two older brothers were all jockeys, so I guess my mother wanted me to do something different," Stott said. However, his father, Ken, set about converting him to the family cause.
"Dad ended up training quite successfully in Denmark, but he is retired now," Stott said. "He watches all my rides closely and we talk on the telephone every day. I'd be lying if I said he wasn't my sternest critic."
Stott's career has progressed apace since he rode his first winner towards the end of 2012. Another 20 winners followed in 2013, and he duly advanced to 28 in 2014. His star is on the rise.
And all is not lost in respect of his aborted stint in the U.S. "I am hoping to go back there next winter and give it a good go," Stott said. "My dad rode there in his time and he has some contacts. Hopefully I can go for a couple of months. Those few days in November really whetted my appetite.
"All the best jockeys in Britain have spent a winter or two in the U.S," he continued. "Kieren Fallon [who is currently riding at Santa Anita] told me it was the best experience he ever had."
Before then, Stott will go all out to win this year's champion apprentice title in Britain. His riding claim recently dropped to 3 pounds when he rode his 50th career winner. He has come a long way in a short time.
"When I moved to Britain three years ago, I'd never have believed I'd have ridden more than 50 winners by now," Stott said. "It has all been a bit like a dream."