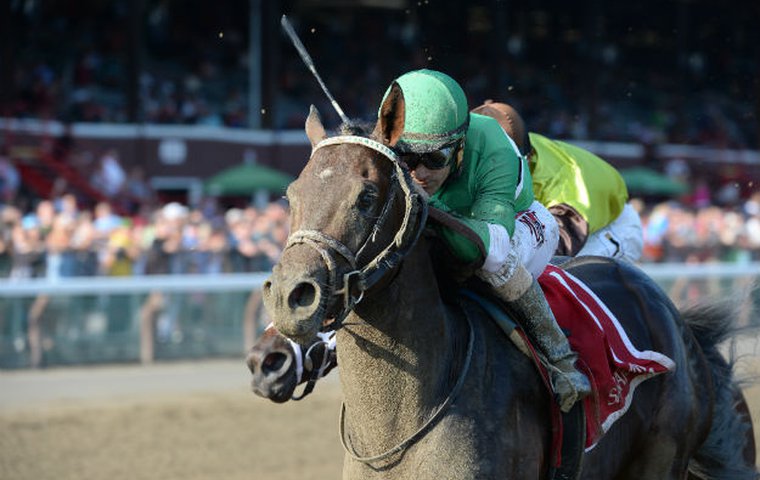 Desormeaux: what we WON'T do with Exaggerator to try to beat Nyquist

Say what you will about Keith Desormeaux, he's persistent.
At a time when many would find discretion to be the better part of valor, the 48-year-old trainer remains undaunted and is pressing forward in one of racing's more unusual rivalries.
Unlike what happened between two great horses when Affirmed and Alydar squared off in the 1978 Triple Crown, what's taking shape in this year's series involves a budding superstar matched up against a trainer and owner who have been his constant shadow.
When the undefeated 2-1 favorite Nyquist captured the 142nd Kentucky Derby, the horse that was gaining ground on him in the final furlong and finished second in a highly familiar scenario was 5-1 second choice Exaggerator, a colt trained by Desormeaux and owned by a partnership headed by Matt Bryan's Big Chief Racing.
"Anytime you run that well in a race like the Kentucky Derby, which is so difficult just to get to, much less to win it, and to do it with my first Derby starter, I can't feel much disappointment," Desormeaux said. "I'm grateful we ran second in our first attempt there to a very nice horse."
Zero frustration
While it may have been Desormeaux's first trip to the Derby, it was hardly his initial tussle with owner Paul Reddam's Nyquist. It actually marked the seventh time in Nyquist's eight career starts that he faced at least one Big Chief Racing horse trained by Desormeaux and, more astonishingly, the sixth time one of them finished second to the 2015 2-year-old champion.
Numbers like that can eat away at a trainer's psyche, but they have yet to rattle Desormeaux's spirits.
"If you told me every time the best 3-year-old in this country runs, I'm second to him, I'll take that all day long," said Desormeaux, who also sent out Santa Anita Derby winner Exaggerator to a runner-up finish behind Nyquist in the G2 San Vicente in February and endured the sting of four second-place finishes to him in graded stakes – including the Breeders' Cup Juvenile - with Big Chief Racing's currently sidelined Swipe.
"There's zero frustration for me over finishing second so often," he added. "There's 35,000 foals born in the world every year. Nyquist is an exceptional horse, and you're telling me I have the second- and third-best Thoroughbreds out there compared to 35,000 of them. Why the hell would I ever complain?"
Exaggerator getting better
Desormeaux's mellow demeanor figures to be put to another test on Saturday. Instead of backing off and waiting for the Belmont Stakes in five weeks, Exaggerator will take one more swing at upending Nyquist when they resume their lopsided rivalry in the $1.5 million Preakness at Pimlico Race Course on Saturday.
No sooner had the Derby ended than Desormeaux stamped Exaggerator as a Preakness candidate, which caught one member of Team Nyquist off guard.
"I would have thought he was sick of us by now," Reddam quipped at a press conference after the Derby.
Reddam then offered more respect for Exaggerator. "No, his horse, obviously, ran great. And he was the closest threat. And, if I were him, I would want a rematch, too. The horses are not machines, so it will be a great race."
While Reddam's initial words could quickly change the tone of a rivalry, Bryan got a chuckle out of them.
"I think it was interesting what Paul said. He thought we'd had enough of him, but we're not going to dodge him. He has a great horse but we have a great horse, too. And Exaggerator is only getting better and better with every month," said the 46-year-old Bryan, head of the M.G. Bryan Equipment Company in Texas, who owns the $110,000 yearling purchase in a partnership with Ronny Ortowski's Rocker O Ranch, Sol Kumin's Head of Plains Partners, and Desormeaux.
Competitive fire
"It's not frustrating when you have a $5,000 horse like Swipe finishing right next to a $400,000 horse like Nyquist. I'm not frustrated. I'm pretty excited about my return on investment. If we had paid $5 million for these horses, I'd be frustrated."
O'Neill, having witnessed Desormeaux's competitive fire both on the racetrack and during summer basketball games at Del Mar, expected nothing less from his counterpart.
"Well, I know Keith really well and he's a super competitive," the two-time Kentucky Derby-winning trainer said. "If you've ever played basketball with Keith, he ain't going to give you an easy layup, I can tell you that. He'll tackle you before you get an easy layup. He's a very competitive guy. He's a great horseman, and what they have done with Exaggerator has been brilliant. He won the Santa Anita Derby. He won the Delta Downs Jackpot. He won the Saratoga Special. He has run second a few times but he's also won some big races, and he ran a winning race in the Kentucky Derby. He just had a lot to do. We kind of got a head start on him."
For Desormeaux, the decision to head to Baltimore was a relatively simple one because of the way his $2 million earner bounces back so quickly from starts.
Denied the opportunity to challenge
"I knew as soon as the Derby was over that he was probable for the Preakness because of his ability to recover. He doesn't miss meals. He doesn't get stressed after a race. He's always been a very sound horse. It was an easy decision," Desormeaux said.
Exaggerator's trip in the Derby also added to his connections' eagerness to tangle with Nyquist one more time. Fifteenth after the opening half-mile, nearly 18 lengths off the lead, he ran into some traffic issues approaching the three-eighths pole but still managed to make up nearly eight lengths on Nyquist in the final quarter mile.
"He went around the racetrack in excellent order and maybe around the half-mile pole I was splitting horses," said Exaggerator's rider, Kent Desormeaux, the Hall of Fame jockey and Keith's younger brother. "By the time we got to the three and a half, the door closed sharply. I had to slow him down, redirect him to the rail, and asked him for his life which he gave. He took off as fast as he could all the way to the wire.
"It denied me the opportunity to challenge Nyquist. I could never catch up to him. I know I would've caught up to him around the eighth pole, (though I) daresay I'm not sure Nyquist would've let me by."
Keith also expressed a belief that regardless of the trip, the first Saturday in May belonged to Nyquist.
Silly to change
"The only part that makes me pause is that he had to check, maybe twice. As Kent put it, he had to put on the brakes for a couple of jumps when a horse came over on him," the Louisiana native said. "He really had to accelerate to get out of trouble instead of putting in that nice, steady move that is more desirable. As I look back on it, I don't have any of these moments where it's 'Damn, we could have won this thing'. It's more of a what-if. If I'm being honest, I don't think it would have changed the outcome."
Trying to reverse the outcome in the Preakness shapes up as a tall task for Exaggerator, especially in the shortest of the three Triple Crown races. Kent Desormeaux, who has finished second to Nyquist five times, says he plans to let the son of Curlin "show more of his natural speed" in the mile-and-three-16ths test, but brother Keith has no intentions of tinkering with anything.
"You can't complicate this stuff," Keith Desormeaux said. "All I know is this horse has run some monster races coming from off the pace. Why in the world would I try to fix something that's not broken? I'm not going to change my horse's running style from what he does best to soften up Nyquist. It seems like a great idea to some people but to me it seems silly to change a horse's style that's been so effective.
"That being said, the styles may change according to the pace. It's all about the jockeys. If they go slower, we'll be closer. The important thing is that he runs at steady pace in the early part so that he has that powerful kick.
Another intriguing chapter
"I hope the pace is steady and when Kent turns him loose he has a full, powerful kick to get to Nyquist before the wire. And you have to hope somebody else in the race softens up Nyquist. I'm not going to use my horse to do it. It doesn't seem smart."
And so, as Nyquist braces for a fifth challenge from Exaggerator and the eighth from the ubiquitous Keith Desormeaux, the Preakness looms as another intriguing chapter in this long-running and entertaining tussle.
It should also help paint a better picture of how history will recall these battles. Affirmed versus Alydar remains the gold standard for a Triple Crown rivalry and, before Nyquist and Exaggerator can even approach that lofty status, there needs be a lot less of Wily E. Coyote and the Roadrunner in the matchups. Aside from the runner-up finishes in the Kentucky Derby and San Vicente, Exaggerator was fourth to Nyquist in the Breeders' Cup Juvenile and fifth in the horses' career debut on June 5 at Santa Anita.
"What sticks out in my mind about the Affirmed and Alydar rivalry was that Alydar was there every time, pushing Affirmed. You have the burning memory of watching that stretch duel in the Belmont Stakes. That was a race. That's a true rivalry," Desormeaux said. "Whereas with Exaggerator and Nyquist, we might have scared him a bit in the Derby, but we have never really put that true fear of getting beat into him yet. I don't consider it a rivalry yet until we hook him eye-to-eye and test him to his core."
On Saturday, perhaps that will finally change.
At some point, persistence figures to pay off.