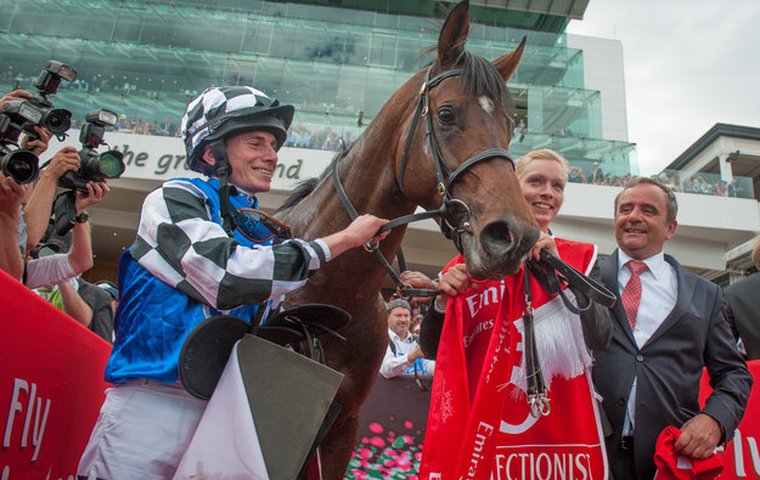 David Conolly-Smith looks at the hugely successful career of German trainer Andreas Wöhler, who won yet more plaudits earlier this month for the way he produced Protectionist to an impressive triumph in the most famous race in the Southern Hemisphere.

It was during the four-hour drive back home to northern Germany from the spring meeting at Baden-Baden Racecourse at the beginning of June that the big idea hit Andreas Wöhler.
The trainer, who has been sweeping all before him for more than two decades, had just seen one of his horses run second in a G2. But this was no ordinary horse. This one had long occupied a special place in Wöhler's affections, a horse he was nursing back from serious injury and one he believed had the potential to win something big. But where, and which race?
And then suddenly he knew. The race he wanted Protectionist to run in was indeed something big. And it was on the other side of the world.
Wöhler started hatching a plan to run the colt in the Melbourne Cup.
The 4-year-old's victory in the "race that stops a nation" by a long-looking four lengths earlier this month was remarkable less for the fact that it was the first by a runner from Germany and more because of the outstanding feat of training that had brought Protectionist to the top after a bizarre accident in 2013.
"We always thought a lot of Protectionist and he was, in fact, my fancy for last year´s German Derby," Wöhler said. "But a freak accident put him out of the race: A deer ran out of the woods as my string was exercising. He was brought down and fractured his splint bone. He had to have an operation and was out for the rest of the season.
"We brought him along slowly this year and he was runner-up on his first two starts, at Hoppegarten and then this race at Baden-Baden. I had not lost faith in him and was convinced he was capable of winning a big race somewhere. It was on the way home from Baden-Baden that it occurred to me what that big race might be."
Wöhler discussed this idea with the colt's owner-breeder, Dr. Christoph Berglar, and his advisor Ronald Rauscher and got the go ahead.
"It required a lot of planning and expense," Wöhler said. "The Australians are very welcoming, but they don't pay your costs, and the logistics were complicated, but in the end, it all went well. You always need luck in such ventures, but fortune was on our side. We were able to get the jockey we wanted [Ryan Moore], and Protectionist won in the way we hoped."
Andreas Wöhler was destined to become a racehorse trainer from an early age. His father, Adolf, a leading jump jockey in the days when Germany had good racing over the obstacles, had gone on to become one of the country´s top flat trainers, winning the Deutsches Derby twice, with Königssee in 1975 and Surumu in 1977, with young Andreas present as a teenager on both occasions.
Andreas was soon riding out for his father, and then race-riding with some success, winning 50 races over jumps and 29 on the flat. He took a course as an industrial manager, but his father was grooming him to eventually take over his stable at Bremen in northern Germany, so Andreas spent time with such luminaries as Michael Dickinson in England and Charlie Whittingham in California.
The call to take the helm came earlier than expected. Adolf´s health deteriorated, and it was decided Andreas, then just 23, should assume control in 1985. His father died shortly afterward.
After a promising start, the stable struggled for a year or two. "I was probably dropped in the deep end too early because of my father´s illness, and had to learn from my mistakes," Wöhler said.
However, fortunes began to pick up rapidly, and 1991 was an outstanding year for Wöhler. The big star was Lomitas. He had to be withdrawn from the German 2,000 Guineas after playing up dramatically at the start and was then an unlucky second in the German Derby, but he finished the season in a blaze of glory, winning three G1s and being rated the third-best horse in Europe.
Even more significant, this was the year Wöhler first won top races outside Germany: Martessa had won the German Oaks and went on to win the Prix de l´Opera at Longchamp, while Scandinavian-owned Tao won both the Danish and the Swedish Derbies. Young Wöhler had arrived.
The following year, he won the German Derby for the first time with Pik König, and he followed up with Belenus in 1999.
By now, his Bremen stable was one of the top addresses in German racing. Then came the years of the globetrotters Silvano and Paolini, who put Wöhler's name in lights all over the racing world. With the careers of this pair of huge earners, Wöhler demonstrated that he had not only mastered the art of travelling his horses long distances but that he was able to keep them in top form for lengthy periods.
Silvano, a Lomitas colt, won the Audemars Piguet QE II Cup in Hong Kong, the Arlington Million, and the Singapore Cup, all as a 5-year-old in 2001. He is currently a top sire in South Africa.
Paolini, foaled a year later, had an even more spectacular career, being placed in several of the world's richest races, including the Canadian International, Hong Kong Cup, Arlington Million, and Dubai Duty Free, which he won in a dead-heat as a 7-year-old in 2004 having been runner-up 12 months earlier. He retired as the winningest German racehorse ever in terms of prize money.
In a way, those two horses paved the way for Protectonist. "Silvano and Paolini had run fourth and fifth in the Cox Plate," Wöhler said. "I loved it there and was determined to go back when I had the right horse."
Wöhler left Bremen in 2004. Plans to close the training centre and move all horses at all the yards at Bremen to a new area at Mahndorf about six miles away were delayed, so Wöhler went to Ravensberg at Gutersloh, 80 miles south.
Ravensberg is one of the great names in German breeding history. The stud was founded in 1907. The training stables were built in 1926 with a training track added in 1934. The Ravensberg runners were trained here, with great success, until the death of their last private trainer, Heinz Gummelt in 1994.
"We had to do a lot of renovation," Wöhler remembered. "I changed some things around to my own specifications, but basically the facilities here are wonderful."
And the successes kept on coming. The last five years, in fact, have seen new peaks for the Wöhler team.
Scalo was Germany's champion 3-year-old in 2010 and Horse of the Year. The year-older Altano became Germany's most successful stayer, winning the Prix du Cadran at Longchamp last year at the age of 7; he is owned by veterinarian Dr. Ingrid Hornig, one member of the team who accompanied Protectionist to Australia.
Querari, Earl of Tinsdal, and Sortilege were all G1 winners in Italy; Waldpark won the Deutsches Derby in 2011.
But, Protectionist aside, the horse for which Wöhler is best known is Novellist.
Like the Melbourne Cup hero, Novellist is a son of Monsun bred by Dr. Christoph Berglar. He was narrowly beaten at odds-on in the 2012 Deutsches Derby by Pastorius, who went on to win two more G1s. But Novellist realised his full potential at four last year, when he was unbeaten in four starts, including the King George at Ascot, Britain's mile-and-a-half, all-aged summer showpiece, a victory Wöhler rates even higher than the Melbourne Cup win.
"I am certainly very proud of my achievement in winning the Melbourne Cup, but would have to place the Ascot victory even higher from the point of view of prestige, as it is one of world´s greatest weight-for-age races," Wöhler said.
Wöhler, now 52, has conquered Flemington, Hong Kong, Dubai, Arlington, Woodbine, Longchamp, and Ascot, as well as all the top German races. So what is left? The Arc perhaps?
"Obviously, that is a race I would love to win," he said. "But I could say that of all top races. The one race which really excites me is the Epsom Derby. I had a runner there last year, Chopin, but he did not stay. I have not yet given up hope of finding the right horse for Epsom in the next few years."
You have been warned.