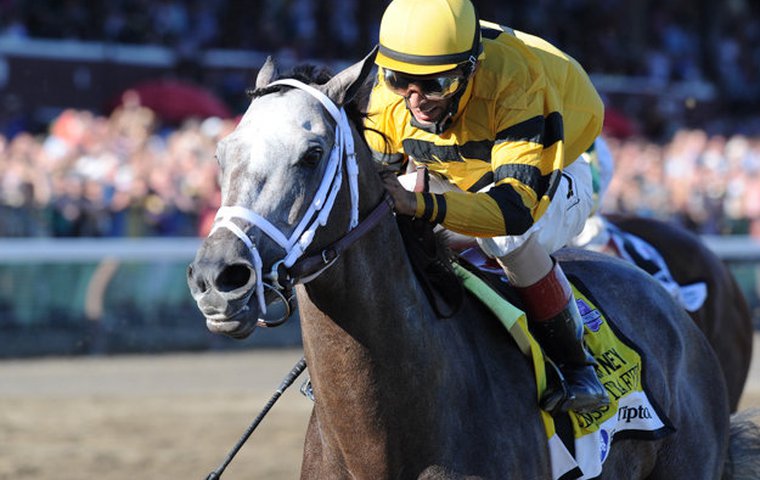 The promise of a deal on a stallion nomination has long been part of the armoury employed by farms to attract breeders to their horses. In this game, margins can be tight for both breeder and stallion owner, and trading on seasons not only saves the breeder money but can add greater numbers to a stallion's book.

However, in today's industry, the idea of relying solely on the good old fashioned deal is slipping away. In its place is a growing demand for incentive schemes, ranging from those that ensure a breeding right in a certain stallion to others that waive the stud fee if the resulting foal does not bring a certain price at auction. In the words of John Sikura, owner of Hill 'n' Dale Farm in Kentucky, such programs have become "the standard way of doing business."
The bloodstock industry endured one of its toughest periods of recent memory when the recession took hold in late 2008. As breeders and farms across the U.S. felt its effect, the number of foals registered with the Jockey Club fell from 32,324 in 2008 to 21,725 in 2012. Not only did that have a knock-on effect on the size of books for some stallions but also on the number at stud; for instance, the number of stallions registered as standing in Kentucky dropped from 355 to 244 over the five-year period from 2008 to 2013.
One Kentucky farm that did gain greater prominence during that time was B. Wayne Hughes' Spendthrift Farm. Alongside an expanding roster, Hughes launched the "Share The Upside" program whereby a breeder earns a breeding right to a Spendthrift stallion after paying a one-time deposit and committing one mare (or two depending on the stallion) to that horse for two consecutive seasons. In the third year, the breeder receives their lifetime breeding right to the stallion and unlike a syndicate, isn't billed for expenses relating to care or advertising.
Such a program minimizes breeders' risk but, from a farm perspective, it also offers the promise of an early boost to a stallion as well as a consistent level of shareholder support in the years beyond.
Spendthrift launched the program in 2009 with two second-year horses, Notional and Into Mischief. While Notional now stands for $2,000 in Oklahoma, the group that took a chance on Into Mischief were rewarded big time; at one time available for $7,500, Into Mischief sired G1 performers Goldencents and Vyjack in his first crop, covered a book of 203 mares at $20,000 in 2014, and will stand for $35,000 in 2015.
Various supporters of Spendthrift's program hit another home run this year through Warrior's Reward, whose first five runners each scored at the first time of asking back in the summer. By early September, breeding rights in the horse were selling for $94,500.
Little wonder that Share The Upside for three of Spendthrift's new recruits, Cross Traffic, Goldencents, and Itsmyluckyday, is already sold out.
And Spendthrift hasn't stopped there. Another eight of their Kentucky stallions are available on their "BreedSecure" program, in which no stud fee is payable unless the resulting foal sells for $6,000 or more as a weanling or $12,000 or more as a yearling.
Today, Share The Upside isn't restricted to just Spendthrift Farm. At Darby Dan Farm, it is attached to young stallions American Lion and Dialed In. Get Stormy and Country Day are part of the program at Crestwood Farm, while Keep Up is a Share The Upside stallion at Mill Ridge Farm.
"[Share The Upside] is a great opportunity for breeders to get into stallion ownership without the cost of quarterly bills and the expense of a share purchase," said Robert Hammond, general manager of Darby Dan Farm. "It was very successful with American Lion and Dialed In. Both programs were limited to 50 units and both filled quickly."
Meanwhile, other Kentucky farms are establishing their own incentives. In 2015, Hill 'n' Dale Farm will stand three horses belonging to Gary and Mary West - Flashback, New Year's Day, and Power Broker. Flashback and New Year's Day stand for $7,500 while Power Broker is advertised at $5,000.
Breeding to all three stallions entitles the breeder to the "Team West Trifecta," whereby the total fee is $15,000. And under "Team West Guarantee," the stud fee is only payable in full if the resulting foal sells for a certain price at auction (in the case of pricier Flashback and New Year's Day, the price is $15,000 and above for a weanling, and $22,500 and above for a yearling).
The Wests are also offering an array of lucrative bonuses to breeders and agents. For example, should any one of their stallions sire the winner of a Breeders' Cup juvenile race in 2018, a $1 million bonus is awarded to the breeder.
"Each of those stallions are well-bred Grade 1 horses," said Hill 'n' Dale Farm owner John Sikura. "They would be attractive without incentives. But the market for horses at $10,000 and under in Kentucky has become extremely competitive and the emergence of these programs has become the standard way of doing business.
"The goal is to breed a full book to these stallions and the Wests could have supported them themselves by going out and buying a number of mares. But, by doing it this way, it's also a real opportunity to help the breeder."
The response to the "Team West collection" has unsurprisingly been good, with Flashback, a G2-winning son of Tapit, particularly quick to sell out.
And there has also been a good reaction to Gainesway's new BreedSecure plan, which is attached to third-year stallion To Honor And Serve (stands for $20,000 under BreedSecure) as well as the proven Hat Trick ($15,000). Under this plan, the money equal to the BreedSecure stud fee goes to the breeder when the foal is sold at auction.
"It's a highly competitive market and there's a very wide choice of product in Kentucky in the price range between $7,500 and $20,000," said Michael Hernon, director of sales at Gainesway. "To Honor And Serve is entering his third season, a notoriously tough year, and the program has placed greater focus on him. And if someone wants to breed to him live foal [instead - at $15,000], they can."
In another incentive, Gainesway stallion Birdstone, the 2004 Belmont Stakes hero who sired classic winners Mine That Bird and Summer Bird in his first crop, is available for free to approved mares who have Graded stakes earnings in the first two generations of their family.
"Birdstone has achieved a lot but he's still a bit under the radar," Hernon said of the stallion, whose official live foal fee is $5,000. "We've targeted mares with Graded stakes earnings under their first two dams to help maintain the quality of his book and the market has responded well to that."
When it is considered that 96 stallions will stand between $7,500 and $20,000 in Kentucky in 2015, it is not hard to see why a growing number of farms feel the need to offer such incentives. After all, numbers help make a stallion. But while filling a book seems to be the prime objective in many cases, representatives of the various farms were keen to stress that all mares are vetted in terms of quality and reproductive history before they are accepted.
While there might be a growing expectation for farms to offer the likes of Share The Upside in Kentucky, such incentives aren't nearly as prevalent in Europe. However, perhaps the tide is starting to turn. In 2011, breeders who used Notnowcato at Stanley House Stud in Newmarket had the option of not paying a stud fee of £8,000 until the resulting foal won. And over the next few years, those who breed or buy a foal by the 2011 Melbourne Cup and Hong Kong Vase hero Dunaden, who is standing his first season for £3,000 at Overbury Stud in Gloucestershire, could be richly rewarded by the Dunaden Owners and Breeders Premiums.
With the backing of Sheikh Fahad al Thani, all 2- and 3-year-olds by Dunaden will have their winning prize-money in Britain and Ireland supplemented by 64 percent, which goes to the owner. In addition, the breeder is awarded 15 percent of the owner's total earnings while a £25,000 prize will be given to the breeders of stakes-winning 2- and 3-year-olds by Dunaden in Britain, Ireland, and France.
For now, however, programs such as Share The Upside and BreedSecure are the domain of the American breeder. An element of risk has been removed from what is a high-risk game, and breeders have understandably not been shy in showing their support. Given the way they have been embraced, such incentives are only likely to grow in prominence and perhaps in time become part and parcel of the industry.