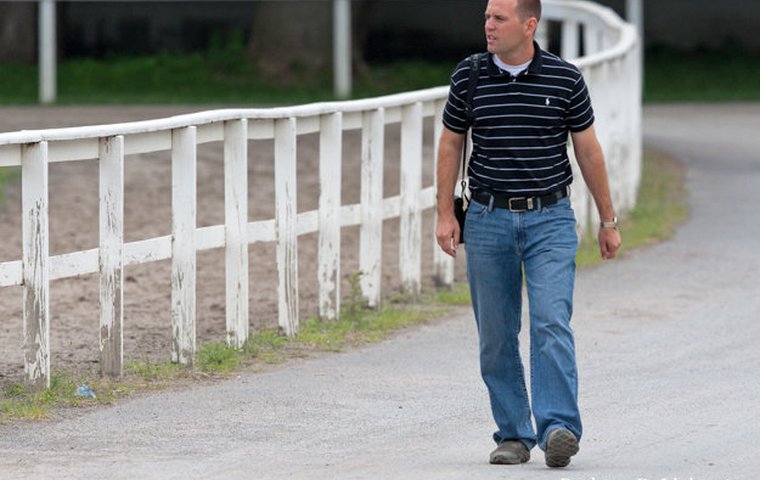 If there is a drawback to posting a personal-best season, trainer Chad Brown said it's finding the means to build on that success going forward.

So far, this has not been a stumbling block.
Since 2008, Brown's first full year of training, purse earnings generated by his runners have markedly increased with each subsequent season, and his stable has grown exponentially in both quantity and quality.
In 2014, horses conditioned by Brown earned $15,383,930 in purse money. That number ranked the 36-year-old trainer second behind North America's perennial leader, Todd Pletcher.
For the first time in his career, Brown is a finalist for an Eclipse Award. His opponents are Bob Baffert, a three-time Eclipse Award recipient, and Pletcher, the record holder with six training championships. The winner will be announced Saturday evening at the 44th annual Eclipse Award ceremony at Gulfstream Park in Hallandale Beach, Florida.
Three of Brown's horses are Eclipse Award finalists: Dayatthespa [Female Turf Horse and Older Female]; Lady Eli [2-Year-Old Filly]; and Stephanie's Kitten [Female Turf Horse]. Dayathespa is the favorite in the female turf division and if she wins, the mare would join two other Brown runners who earned Eclipse Awards in that category, Stacelita and Zagora. Only one trainer, Brown's former boss, the late Bobby Frankel, has won the female turf championship with three individual horses.
Last year from the 11 starters he saddled at the Breeders' Cup, Brown won three races during the course of the two-day event: Bobby's Kitten [Turf Sprint], Lady Eli [Juvenile Fillies Turf], and Dayatthespa [Filly & Mare Turf]. The feat put Brown alongside an elite group of trainers, D. Wayne Lukas, Richard Mandella, and Pletcher, to have won three or more races in a single year at the World Championships.
"It's been an incredible year and I think we deserve to be in the [Eclipse Award] conversation, judging by what we've done," Brown remarked three days before 2014 came to a close. "I believe the Eclipse Award horses, and the people associated with them, need to have success at the Breeders' Cup, or don't call it a championship [event]. We went to Santa Anita, me, my clients, and my staff, and we did our jobs."
While Brown enjoyed the ride that was in 2014, his intense and serious professional persona does not allow for him to blithely bask in past glories. With the sale of Dayatthespa following the Breeders' Cup, and the retirements of G1 winners, Real Solution and Minorette, Brown's barn lost some star power heading into the new year.
The good news is some of Brown's stalwarts will remain in training in 2015, including Bobby's Kitten, Lady Eli, and Stephanie's Kitten, and he also has a couple of exciting 3-year-old prospects in last year's G2 Remsen Stakes winner Leave the Light On, and recent Fred "Cappy" Capossela Stakes winner Majestic Perfection.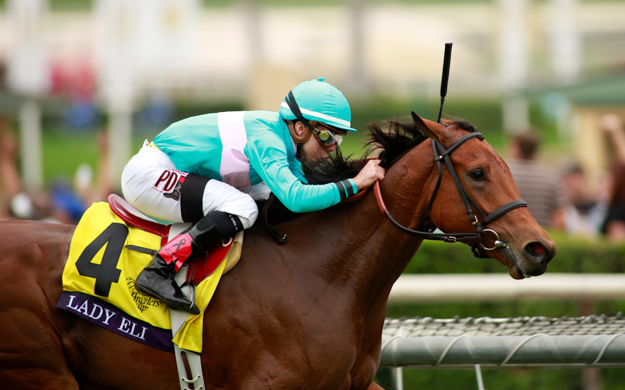 "I will be candid, you have a good year, and it can be so gratifying, but at the same time it also can be so depressing, because it's like, 'How do you do it again?'" he said.
"When your barn loses [top] money earners from 2014 through sales or retirement, you're thinking about where your replacements are coming from," Brown added. "You just have to hope they come, and they develop, and normally they do. We're optimistic that they are some good candidates in our barn to take their place."
Brown gained notoriety in his first full year of training when he won the 2008 Breeders' Cup Juvenile Fillies Turf with his initial starter at the World Championships, Maram.
"Maram really gave [my career] a kick-start," Brown said of the filly whose halter hangs in his Belmont Park office. "Unfortunately, she produced only one foal before she died. That was really upsetting to me. Maram was a horse who had done so much for me, personally. She was incredible advertising for our stable, that's for sure."
A native of Mechanicville, New York, a small city that is a short car drive from Saratoga Springs, Brown attended the races at Saratoga Race Course as a young boy with his parents. He said his interest morphed into something beyond that of just a casual fan when he came to visualize horses as "beautiful athletes" and realized the sport was "so rich in history."
As a teenager, Brown worked with Standardbred horses at Saratoga Raceway. He went to Cornell University in Ithaca, New York, with the thought of becoming an equine veterinarian. But while working in the barn of Hall of Famer Shug McGaughey during summers when he wasn't at college, he had a change of heart and decided he wanted to become a Thoroughbred trainer.
Although Brown called an audible on his academic direction at Cornell, he said his Ivy League education, which yielded an undergraduate degree in animal science, served him well in his chosen career path.
"The level of organization and work ethic you need to get through an university like [Cornell]...you have to have a certain level of discipline or you're not going to graduate, Brown commented. "I've definitely applied that to my business, and how I manage my time."
After he left McGaughey's shed row, Brown's racetrack studies continued with Frankel. In November 2007, after five years as one of the assistants in the legendary horseman's operation, Brown set out on his own. He saddled his first winner later that month, Dual Jewels, at Churchill Downs on Nov. 23. The horse was owned by Ken Ramsey, who is among Brown's owners today. Together, Brown and Ramsey have celebrated important victories in numerous stakes with such horses as Big Blue Kitten, Bobby's Kitten [named for Frankel], Real Solution, and Stephanie's Kitten.
Brown speaks with reverence when discussing Frankel, who died in November 2009. He said the Hall of Fame trainer's method of training has become the "centerpiece" of his system.
"With Bobby I learned this: The care of the horse is first and foremost around the barn," Brown said.
Frankel had a way about him that brought out the best in his employees, the young trainer said.
"He had a presence about him, like a coach," Brown reflected. "Anyone who has played sports has had several different coaches in their life who were teachers. Certain ones have a presence about them, where you want to run into the locker room and run through a wall for them no matter what they say or do. Bobby was that type of person. As an employee of his, you wanted to do 110 percent. You just had that type of motivation when you were around Bobby.
"I try to do things as if I still have to report to him, and that drives me to get things as perfect as I can," Brown added. "I think it's important that you set the bar high enough for your employees, so you don't have complacent people working around you."
To that end, Brown said he has surrounded himself in his barn with people who share the same work ethic as he does. He has four assistants -- brothers, Jorge and Reynaldo Abreu, Cherie DeVaux, and Jose Hernandez. The stable's current size is 130 horses, with 100 at Palm Meadows Training Center in Florida, and the remainder at Belmont Park, under DeVaux's care. In the spring, summer, and fall, Brown's horses are located at Belmont Park and Saratoga Race Course. He also has a small division at Keeneland when it's open for racing.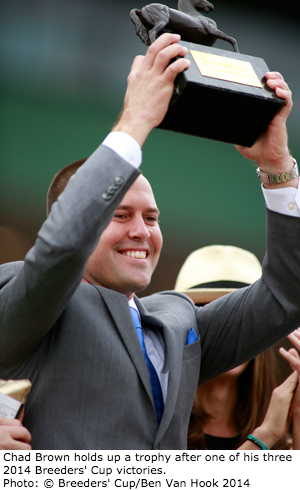 "I'm so lucky to have been able to hire really qualified people who are really bright," Brown said. "They are able to be trained by me, and are able to execute what I'm looking to do. Without them, there is no way I would be able to do this."
Owner Peter Bradley, who has known Brown since his days in the Frankel barn and is part of the partnership group that raced Dayatthespa, said he admires the trainer's ability to go with his gut when making decisions about a horse's training and racing campaign.
"He treats each horse as an individual, and is willing to change course with a horse when his instincts to tell him to," Bradley said.
Michael Dubb, who led the owner standings on The New York Racing Association circuit in 2014, has had horses with Brown for several years now.
"Chad is so analytical, so bright, so focused, and so detail-oriented," said Dubb, who has placed 20 of the 60 horses he currently owns in training with Brown. "Over the years, he has made so many more right moves than wrong moves with my horses. He has always looked out for my money, and treated it like it was his money. I absolutely think the world of Chad."
Dubb employs several other trainers, and said when it comes to determining which horses will come under Brown's care, he usually, but not always, provides him with turf and distance horses. This comes as no surprise, as Brown has stamped himself as a superior conditioner of grass runners who are stayers, particularly European imports. It's a list that includes G1 winners, Desert Blanc, Minorette, Real Solution, Stacelita, and Zagora. This prowess is similar to that of Frankel, who deftly managed the North American racing careers of so many wonderful European transplants, among them Champs Elysees, Intercontinental, Ryafan, Starine, and Wandesta.
"When I get horses from Europe, I'm definitely interested in the horses that can stay past a mile," Brown said. "For me, that's important in their form and pedigree.
"When I was with Bobby, we had a basic system we put them into after they got out of quarantine," Brown continued. "Of course, we allowed for flexibility, as they come in all shapes, sizes, ages, and different stages of their life. And with different behavioral issues, that means it will take some longer to adjust over here, to our way of training. So you have to be flexible.
"[My staff and I] like to make the most of that time when these horses are adjusting, while they are learning to train and race our way over here. It's about getting to know our style of training and our style of racing...the surfaces, and everything down to what direction they are going," he added. "It's about making the most of that period of adjustment and getting to know them. It takes some patience. Not every horse is agreeable. Not every horse adjusts well. But some improve over time; we've had a lot of them improve."
Brown said 75 percent of the horses currently in his barn are turf runners. Going forward, he hopes to increase the number of dirt horses in his stable to make for a 50-50 balance.
"We've gotten some good opportunities with dirt horses and I feel like we made the most of them -- we've already trained a pair of millionaires on the dirt, Zivo and Last Gunfighter," he said. "We went to the Derby with [Normandy Invasion], who really had a good chance and I'm sure we will back with more horses who have good chances."
Normandy Invasion, fourth in the 2013 Kentucky Derby at odds of 9-to-1, is Brown's only starter to date in the first leg of the Triple Crown. The trainer is currently preparing Seth Klarman and William H. Lawrence's Leave the Light On, the gutsy winner of November's $500,000 Remsen Stakes at Aqueduct, for this year's Kentucky Derby.
As he did with Normandy Invasion, Brown is looking to run Leave the Light On in two races before the first Saturday in May. He's tentatively circled the G2 Fountain of Youth on Feb. 21 and the G1 Florida Derby on March 28, both run at Gulfstream Park, as preps for the colt who currently has 10 points on the "Road to the Kentucky Derby" leaderboard.
"If [Leave the Light On] can run well in those two preps, win or lose, but run well and earn points, he will earn his own way into the Derby on the improve," Brown said. "That's really how I want to go into the race, to have a horse that is ready to peak on that day.
"I don't really want to get in the Derby unless I have a chance to win it," he added. "I mean that. I don't want to walk over there and be 50-to-1 in the race. That does nothing for me."