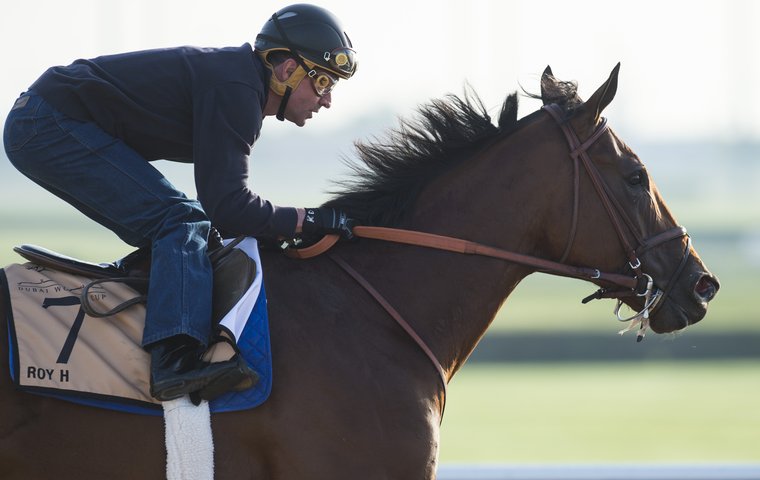 Once a distracted colt who did not focus on his racing, Roy H enters the Dubai Golden Shaheen as a devastatingly consistent winner of all but one of his last seven starts who wears the crown as American champion sprinter. What made the difference? In the parlance of horsemen, it was trainer Peter Miller's decision to make the "ultimate equipment change".

After Miller opted to geld the now 6-year-old in 2016, Roy H transformed into a tremendous force of nature. He now is a horse so concentrated on his job that jockey Kent Desormeaux says he has to spend more time trying to slow him down, waiting for the right time to unleash his speed, than urging him ahead in races.
"He was never a difficult horse so much to deal with. The decision to geld him was more because he wasn't focused on his job. He wasn't putting out," Miller recalled after watching Roy H breezing at Meydan this week.
"We knew he had Grade 1 ability. He would show it in the mornings sometimes, but he wouldn't show it in the afternoons. He was very inconsistent. That was very frustrating because we knew he had it in him, but he wouldn't put out.
"So, we thought gelding him would help — and it did wonders. And we did give him some time off too; he had a couple of little niggling issues, nothing major. He came back a different horse."
Bred by Ramona Bass in Kentucky from a mating of international sire More Than Ready with multiple graded stakes winner Elusive Diva, by Elusive Quality, Roy H always showed potential. He was sold as a yearling for $115,000 and then resold as a 2-year-old to current co-owner Rockingham Ranch for $310,000 at the Keeneland April sale of juveniles in training.
He made his racing debut at three, but in his first 11 races, he was only able to win a maiden at Santa Anita Park in 2015. After Roy H finished fourth in an allowance race on July 30, 2016, he was gelded - and the rest is history.
In seven starts since then, beginning with an allowance/optional claiming race on his return to action on April 8, 2017, Roy H has won six, including the G1 Breeders' Cup Sprint and Santa Anita Sprint Championship Stakes. He enters the Dubai Golden Shaheen off the easiest kind of win the G2 Palos Verdes Stakes at Santa Anita.
Miller said Roy H's progression to superstar was not immediate after the gelding procedure but rather a constant advancement in his racetrack performances. "He'd always trained like a good horse, so it wasn't so much that I saw improvement in his training, it was more the racing. When he started to show the consistency in the afternoons that he showed in the mornings, that's when I said, 'Now we're on to something.'"
Roy H became so proficient that Miller said he was expecting the muscular bay to prevail in the Breeders' Cup Sprint at Del Mar, as he did over nine rivals, including 2017 Dubai Golden Shaheen winner Mind Your Biscuits, who reopposes tomorrow.
Similarly, Miller also feels that Roy H - if racing luck goes his way and he is able to give his best - will win the 2018 Dubai Golden Shaheen.
"The Breeders' Cup was the best sprinters in the world, just like the Dubai Golden Shaheen has the best sprinters. I feel confident that, if he runs his race, he'll win on Saturday. But you know, that's a big if," Miller cautioned. "It's a different track, a different world, a different environment. I just hope he runs his race. If he runs his race, I think everything will turn out just fine."
Miller describes Roy H as "a sweetheart - a docile, lovely animal who is a pleasure to be around" in the barn and a horse who thrives on attention. He will always be special to the trainer as Roy H was Miller's first trainee to earn championship honors.
Looking back on the decision to geld Roy H, Miller said the horse's subsequent evolution to the top of the racing realm "means the world to me".
"To win the Breeders' Cup and to have a big chance to win the Golden Shaheen, it's just a thrill. These are the races that, 30 years ago when I took my trainer's license out, I wanted to compete in and try to win. To do so is just wonderful."