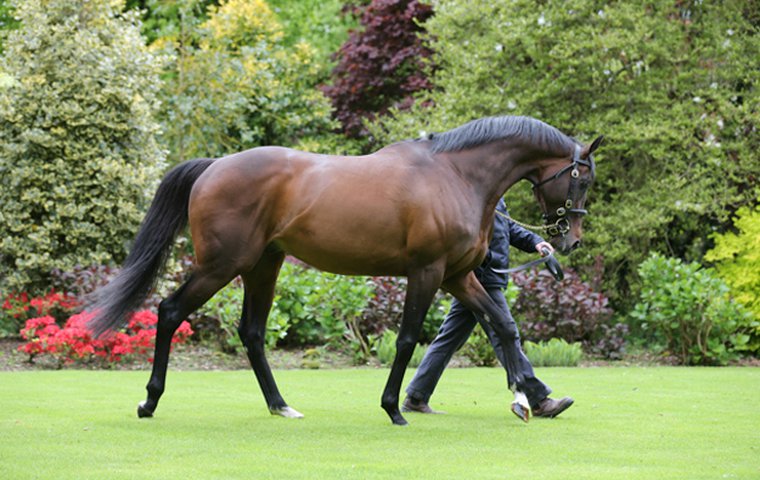 On Sep. 1, the breeding season kicks off in the Southern Hemisphere. In Australia, 445 stallions will serve duties, of which 42 are shuttlers. Of these, four are making their Southern Hemisphere debuts, and Jessica Owers looks at Coolmore's triple Classic-winner Camelot, one of Australia's more exciting, and polarizing, freshman sires.

Camelot, thought Aidan O'Brien, was almost too good-looking to be true. He was the sort of rare Thoroughbred with dressage-like movement, a type with tremendous class and style.
"With him, it's just natural. It's just the way he his," O'Brien said. Through the Guineas, then the derbies, the Montjeu colt was the best of his 2012 vintage.
John Warren, of Highclere Stud, remembers much the same. Foaled at Highclere on March 15, 2009, Camelot had presence that matched his pedigree page, Warren recalled. As Lot 649 in Book 1 of the Tattersalls October Yearling Sale, the young horse proved the top end of the Highclere draft, getting 525,000 guineas from Coolmore. He was the highest-priced Montjeu yearling that year.
"I have no doubt in my mind he was the best-looking yearling that I have ever seen at any sale," said Demi O'Byrne, Coolmore's chief buyer. "He's just an extraordinarily good-looking horse. Presence, scope, quality, action... he has it all in abundance." A trained veterinarian, and nearly 40 years scouting the likes of Thunder Gulch and Galileo, O'Byrne would know.
So Camelot was good-looking. He was elegant and correct, cut right from marble. But he also possessed a powerful pedigree. On the female line, he had speed through Danehill and Kingmambo, while his sire, the brilliant Montjeu, was out of the mile-and-three-quarter mare Floripedes.
"All the components of this pedigree came together with him," John Warren said.
As everyone knows, horse breeding is built on large doses of luck. Could a well-bred yearling that is impossibly good-looking be also brilliant on the racecourse? Coolmore held its breath, but not for long. The yearling Camelot showed that almost everything came pretty easy to him, and so he was given the name that Sue Magnier had held on to for almost 10 years.
Tony O'Meara is a stallion handler and breaker at Coolmore Ireland. Each season he "starts" many of the dozens of yearlings that will filter into Ballydoyle from Deauville, Tattersalls, and Goffs. In 2010, Camelot was one of them, and O'Meara remembers an extraordinary colt.
"I couldn't believe it when we unloaded him. He was just beautiful." O'Meara spent about five weeks working the young Camelot into a roller, bridle, and saddle, and said the colt was intelligent and gifted above most all others.
"I never had to teach him to change leads," he said. "Usually, we have to encourage a young horse to change by tapping them on the shoulder, but this fellow did it all by himself from the beginning, without any encouragement."
Camelot won both his starts as a 2-year-old, including the G1 Racing Post Trophy, which is known for pointing to the following season's Derby prospects. In the spring, he went fresh into the 2,000 Guineas and won by a neck, then cleaned up the English and Irish Derbies before a famous tilt at the St Leger. He lost in an agonizing tussle with Godolphin's Encke, a result made all the more frustrating by the later disgrace of Mahmood Al Zarooni, Encke's trainer.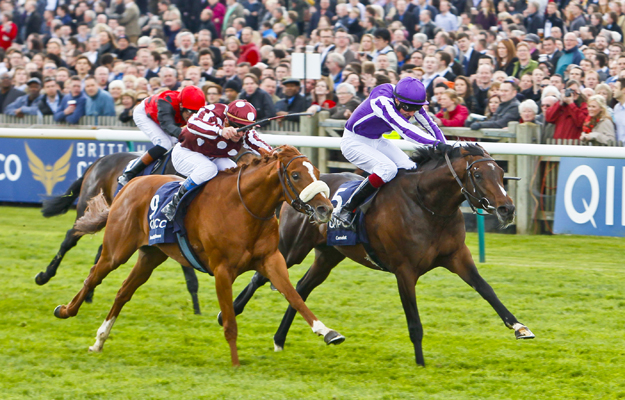 By that point, Camelot was a superstar in Ireland. O'Meara remembers the Irish Derby crowd at the Curragh as one of the largest in memory, and said everyone was there to see the local hero. After the loss of the Triple Crown, Camelot slipped little in the eyes of the devoted Irish, but when he resumed in the Arc that October, and again as a 4-year-old, it was obvious he was an embattled horse. Aidan O'Brien believes the colt was never right after colic surgery in the offseason, while others believe the bottomless ground in the Irish Derby might have undone him.
Camelot was retired on Oct. 14, 2013. He had raced 10 times for six wins at the highest level, including three European classics, and four G1s overall. He had a personal best Racing Post Rating (RPR) of 126, was Champion Cartier 3-Year-Old Colt of his season, and Irish Horse Of The Year. And yet, he had polarized racing fans around the world. In a year dominated by Frankel, Camelot's fading form after the St Leger left many questioning not only his merit, but also the merit of the 3-year-olds that season.
It was understandable, but the bare bones of Camelot's racing record are exceptional. He was streets ahead of his Classics competition, and was only out of the money once in 10 starts, in the 2012 Arc when he still finished ahead of St Nicholas Abbey and Sea Moon. Before the St Leger, John Warren believed Camelot was in rare air.
"He is one of the most versatile great horses we've seen since Nijinsky," he commented.
Camelot headed to Tipperary for his second career in the covering shed. In a way, he had been raced with an eye on his sire potential, as it is with most all of Coolmore's valuable colts. Camelot had done enough to be an exciting addition to the freshman ranks in Ireland in 2014, and he was wildly popular with breeders. At a fee of €25,000, he served a bulging book of 180, with a handful of breeders turned away, too late to make the cut.
"No one, after his retirement, had to improve his reputation," said O'Meara, who describes Camelot as not only a gifted, gutsy racehorse, but straightforward to handle. "He gets a bit hot in the mornings to get on with things, but he's otherwise just a beautiful horse to deal with. He's like his sire in that respect, and on looks alone, he is the closest to Montjeu that we have." It is a tribute to Camelot that he covered mares in Ireland, in his debut season, which would have gone to Montjeu.
It was no surprise then when Coolmore announced he would shuttle to Australia. Along with Declaration Of War, Camelot would be the exciting new addition to the outfit's Southern Hemisphere operation. The shuttle concept is well established in Australia, and Coolmore does it particularly well, but how will Camelot fare in a market driven more by speed and less by the wooden winning post at Epsom? This season's shuttling statistics may offer a clue.
Forty-two stallions have arrived for covering duties from the Northern Hemisphere. While 11 of these are Australian horses who reverse-shuttle (Fastnet Rock and Lonhro, for example), the number is the same as it was in 2013 (as of current figures from the Australian Stud Book). This year's shuttlers represent 9.4 percent of the 445 total stallions standing in Australia in 2014, against 6.3 percent in 2013. However, there has been a significant drop in overall stallion numbers in Australia this year. With 662 covering in 2013, and only 445 in 2014, there are 217 fewer stallions on duty. So, while total sire numbers have dropped, shuttler numbers in Australia have stayed the same, reflecting the healthy nature of the shuttling concept. Out of this year's 42 shuttlers, four are freshman sires and, along with Declaration Of War, Dawn Approach, and The Factor, Camelot is one of them.
He represents a small gene pool. In Australia, there is only one other son of Montjeu at stud – Roman Emperor, who stands at Bart Cummings's Princes Farm in New South Wales. Roman Emperor covered only 27 mares in 2013, and 33 the year before, so he is hardly on the same commercial foothold as Camelot. But the scarcity of Montjeu sire sons in Australia begs the question of demand. Are breeders not interested in Montjeu?
That is likely not the case. By Sadler's Wells, Montjeu has done enough to brand himself a very superior producer of staying racehorses. In Australia, Green Moon (Melbourne Cup), Nom Du Jeu and Roman Emperor (Australian Derby), Speed Gifted (The Metropolitan), and recent boomer The Offer (Sydney Cup) are just a cluster of G1 winners by Montjeu. Internationally, he is peerless. Four winners of the English Derby, the only horse since Blandford to achieve it, with 31 individual G1 winners and over a dozen individual Classic winners across England, Ireland, France, and Australia. Montjeu was, and remains, a very powerful sire.
But, in Australia, the Europeans can fire or not fire. Galileo has had little impact on Australian bloodstock, while High Chaparral has been a loud success. Is it something of a lottery? If it is, the odds are in Montjeu's favour. Australian breeders are shifting toward the staying lines once again, in hand with the injection of interest in staying races.
Michael Kirwan, general manager of Coolmore Australia, believes Camelot is Montjeu's most brilliant son. He said that not only was the colt a champion 2-year-old, but he is also the only Montjeu to clinch the 2,000 Guineas, demonstrating a classy combination of speed, maturity, and fortitude. But how did Coolmore arrive at the decision to send Camelot to Australia?
"All things considered, it was an easy decision," Kirwan said. "Camelot has all the credentials that we look for in a young sire, irrespective of the jurisdiction. Opportunities to bring horses like him down here are as rare as the advent of horses of his quality. They come around very rarely."
Kirwan added that it is also hard to bypass Camelot's tremendous physical presence. "He carries himself with an arrogance that is so synonymous with athletes of the highest class. It's easy to see why he was met with such enthusiasm as a yearling."
As a debut shuttler, Camelot received no special preparation for the long journey to Australia.
"He travelled extensively while he was racing, so he'd be used to it," Kirwan explained. He said that the horse has a nice book of mares ahead of him, and affirms that while Australian breeding is monopolized by the speed strains for shorter courses, the Classic horse, the one like Camelot that goes to a mile-and-a-half, can do very well.
Camelot was set an Australian stud fee of AUD$22,000, and he entered quarantine at Coolmore Ireland with his fellow shuttlers – Choisir, Declaration Of War, Excelebration, Fastnet Rock, High Chaparral, So You Think, and Zoffany (Uncle Mo travelled from Kentucky). Coolmore has an on-farm quarantine facility approved by the Australian Quarantine and Inspection Service (AQIS), and after 21 days, Camelot was on his way. He departed Ireland from Shannon Airport, landed in Dubai briefly before flying on to Singapore, and arrived in Sydney after 30 or so hours. He was trucked to the AQIS facility at Eastern Creek, western Sydney, where he stayed in isolation for a further 14 days. He was then ferried to Jerry's Plains in the Hunter Valley, arriving to the farm on Aug. 11.
It is hard to imagine that a more accomplished freshman has arrived to Australia in recent seasons. On pedigree, on race record, and in looks, Camelot is rare-cut cloth. A long time ago, Federico Tesio said, "One high-class horse in a year is plenty." This fellow might be it this year.