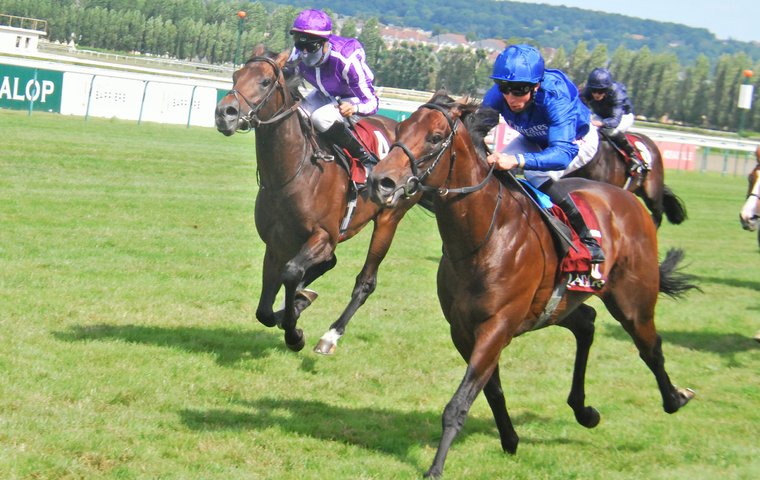 French racing was leading the way last week, bringing spectators back ahead of other major jurisdictions and enjoying a particularly successful day at Deauville for the Prix Jean Prat meeting, where the town was buzzing amid the first signs of relative normality for racegoers. Unfortunately, the meeting also underlined another area of horseracing where France seems to be falling further and further behind.

But first the good news. I arrived early at Deauville on a bright sunny day for the Prix Jean Prat meeting not knowing what to expect from this tourist and racing town after months of confinement. To my surprise, the place was thriving, with tourists, mask-free, relaxing in the famous outside terrace bars and packed beach area with everyone seemingly eager to escape after months of lockdown.
The famous Royal Barriere Hotel was full and, despite the expected reduced numbers of foreign owners and breeders likely in August, advanced bookings were strong. The important international three-day Arqana yearling sale in August has been moved to September in the hope that this will allow more foreign buyers to attend.
Wearing masks, however, is the order of the day on the racecourse, although France Galop were happy with the crowd of around 3,000, especially as the fact that spectators were to be admitted had not received much publicity.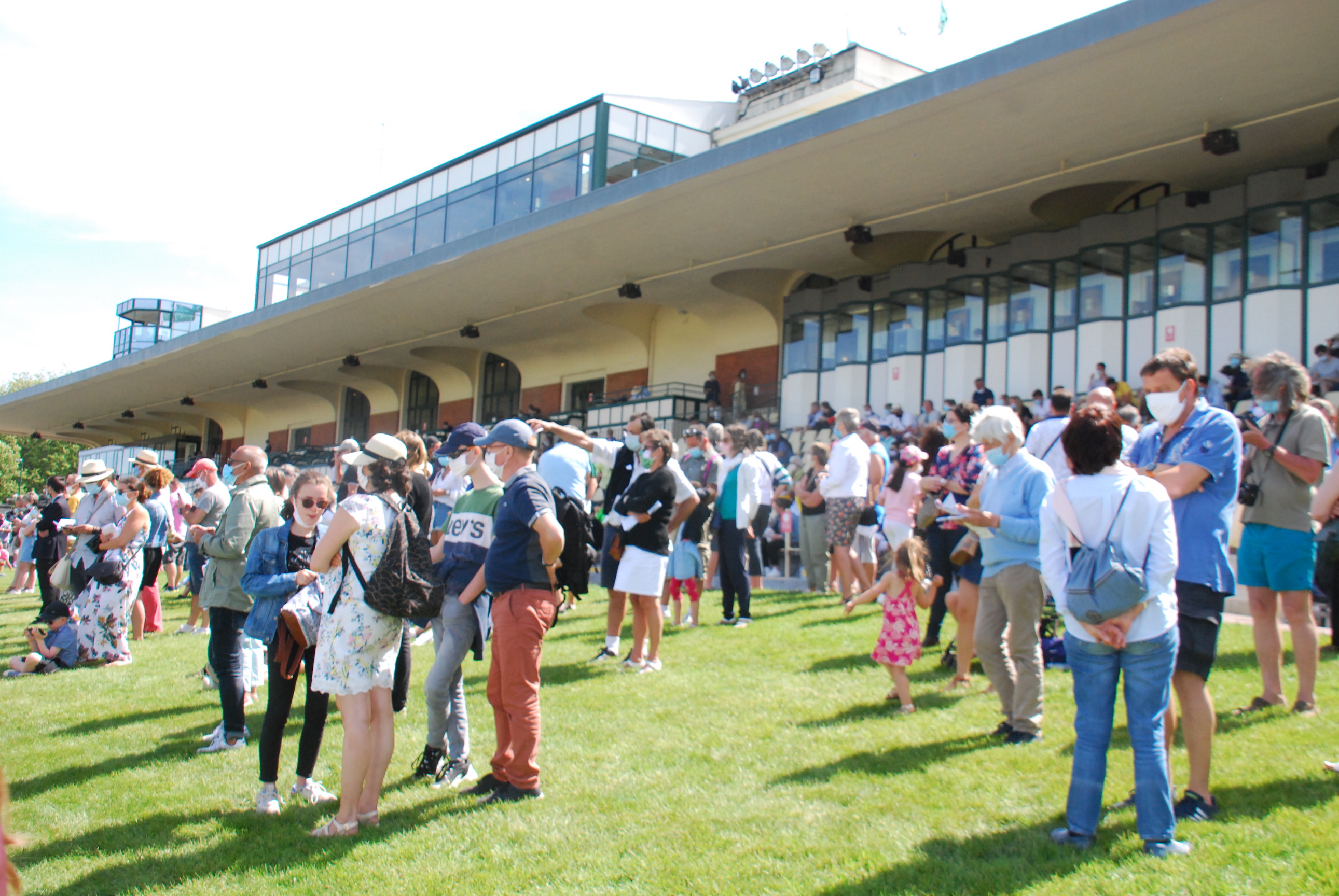 Now the bad news …
The day, featuring a Group 1 and a Group 3, wasn't a happy time for French connections. Pinatubo won the G1 Prix Jean Prat and Royal Crusade the G3, both trained by Charlie Appleby in Newmarket and owned by Godolphin. Appleby also won a listed race with Althiqua.
This came on top of the two big Classics a week earlier, the Prix du Jockey Club and the Prix de Diane, neither of which were won by France. An English colt won the Jockey Club, and the Diane featured an Irish 1-2-3.
Two days later at ParisLongchamp, the trend continued, with two of the three Group races won by British-trained horses, including another for Appleby, in front of a sparse crowd for the traditional Bastille Day meeting.
There is an excuse for the poor attendance - the complexion of the meeting was very different from recent years. Normally, this is an evening card, featuring the historic G1 Grand Prix de Paris, with music, a crowd of thousands and a party atmosphere. This time it was run in the afternoon, and the Grand Prix de Paris has been put back until September.
But back to the poor results for French-trained runners. Make no mistake, this is an ongoing and increasingly severe trend, and French trainers must be looking with apprehension at the upcoming racing throughout August at Deauville, where last year only Godolphin's André Fabre-trained Earthlight stopped a clean sweep of the five Group 1s by English and Irish runners.
Throughout 2019, home-trained horses won just 12 of the 28 Group 1s in France and 72 of 115 total Group races.
Yet, just eight years previously, they had taken 93 of the 110 Group races, including 22 of the 27 Group 1s.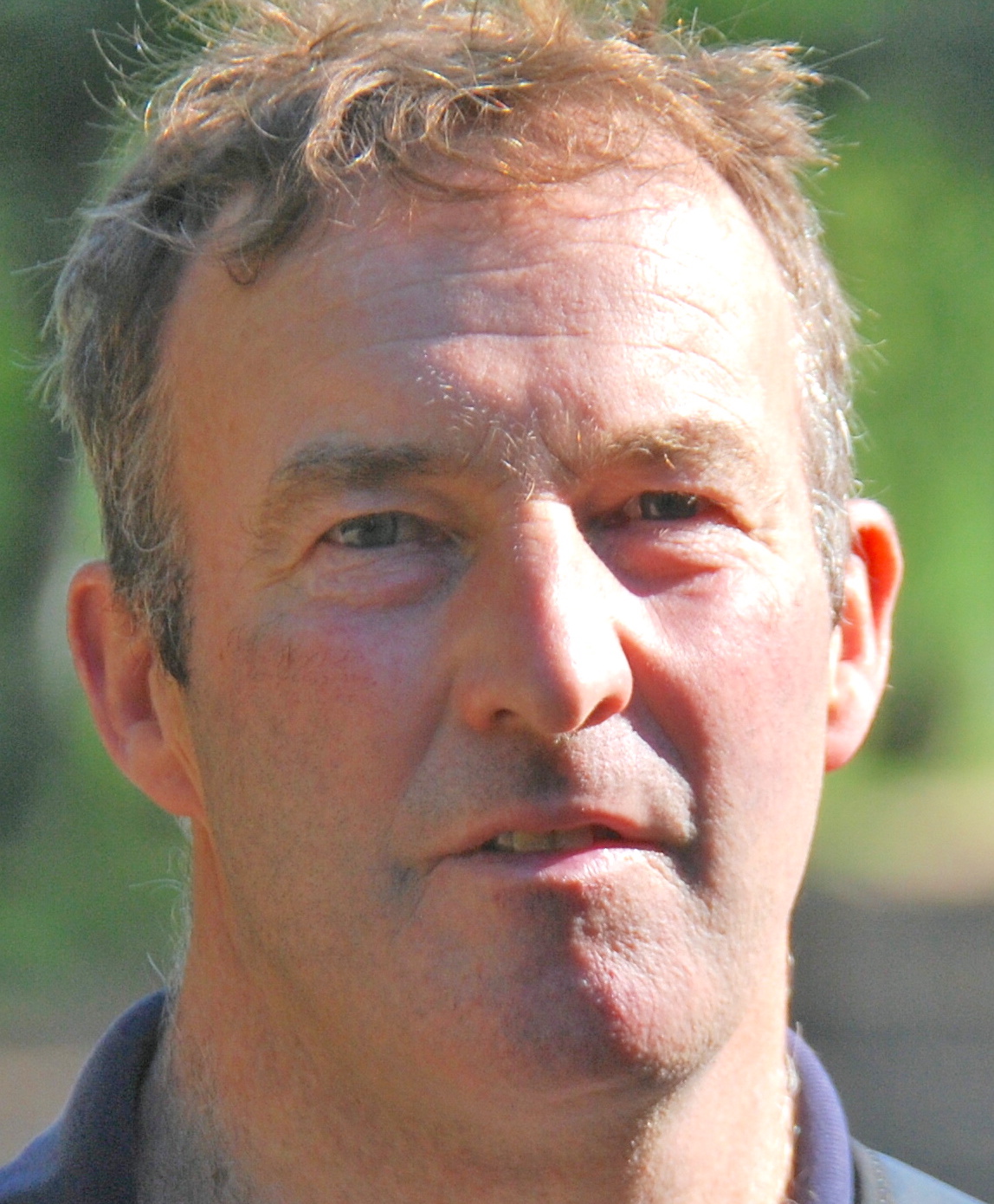 Englishman Andrew Hollinshead (pictured here), who has been training with wife Debbie in Lamorlaye in France for the past six years, may have some answers.
"In England, for a start, trainers are getting the bigger owners, who choose to have their horses trained there for one reason or another," he said. "Someone like Aidan O'Brien in Ireland is ahead of the game, but a number of French trainers are still stuck in the old ways of routine circuit training - not altogether necessary - with the horses sometimes appearing a little bit lifeless and demotivated."
Hollinshead, son of renowned British trainer Reg Hollinshead, indicated that, despite having gallops nearby that other trainers use regularly, he prefers to train his horses on a steep uphill sand forest track, which is some way from his stables.
"When I first arrived in Lamorlaye, I checked out all the gallops near my yard and decided they weren't what I was looking for. Eventually I discovered the Chantilly Piste des Lions gallops, which are some distance away but more to my liking, being an uphill sand track," he said.
"I usually go out for about an hour with a steady 25-minute walk through the forest, a warm-up trot, then a slow canter onto the sand track, where the horse gallops around 1,400 metres on the bridle. I like the Lions uphill gallop as it keeps the pressure off the front legs and makes the back legs work more. It allows the horses to work harder and has less chance of injury to the front end, where most of the problems can occur."
Possible reason
Hollinshead said it may not be surprising that a couple of successful trainers in Chantilly use the Piste des Lions stretch. "I have often seen Fabrice Chappet here with his horses, and André Fabre uses the less-steep bottom half. Nicolas Caullery, Andreas Schutz, Alain Junk and neighbour Carina Fey's string also use this sand gallop. "It's very common in Newmarket and Lambourn for trainers to use steep uphill gallops as part of their training methods, formally revolutionised by jumps trainer Martin Pipe. It's a possible reason why British horses have been proving so successful in plundering French Group races in the past few years."
The famous Warren Hill sand gallops at Newmarket have a 40-metre rise over the last 4½ furlongs, and are very popular, with around 16,000 horses working on them each month.
In contrast, there didn't appear to be many racehorses using the 4km Piste des Lions gallops for early-morning work yesterday, even though there are 2,400 racehorses stabled nearby. It's clear this magnificent, calm forest setting, which is ideal for training, is under-used.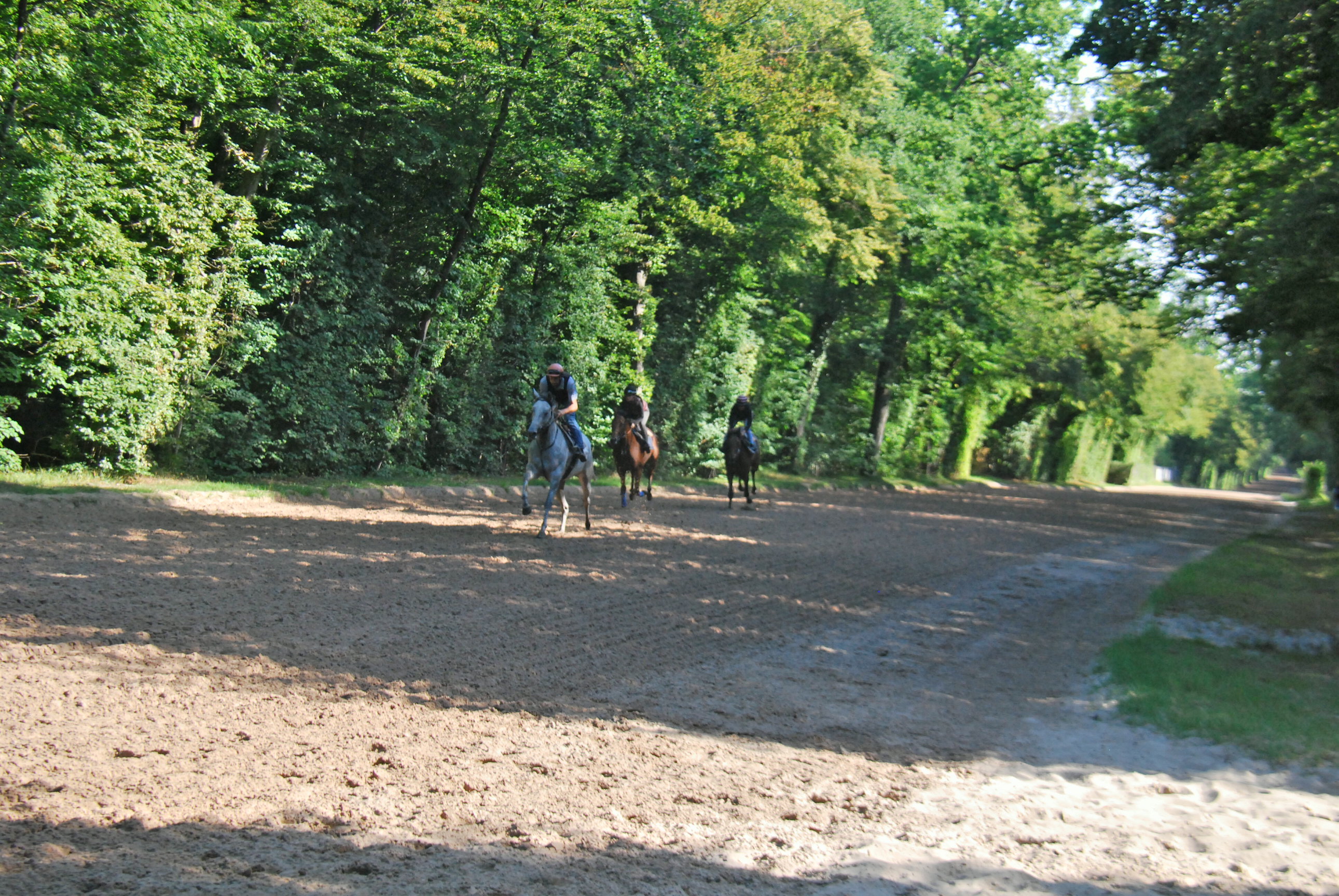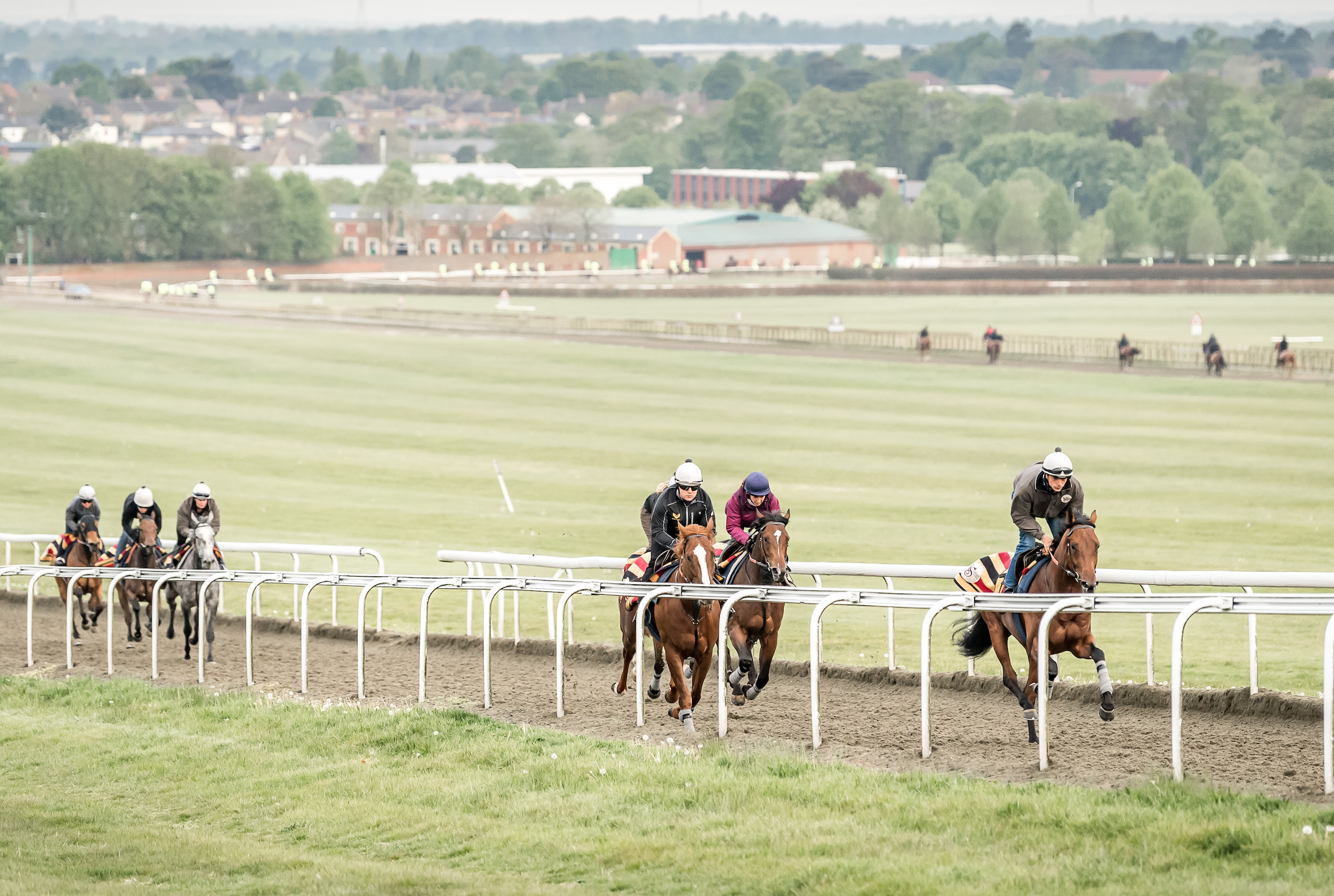 Hollinshead has just invested in a treadmill, but unlike other trainers is not interested in buying a walkway to supplement training. "The reason I bought the machine was that, every time we brought horses back from injury with light work on sand tracks, it seemed to aggravate the injury, so the treadmill ought to be beneficial," he said.
"I would never buy a walkway, especially with a roof. Having up to six horses circulating at the same time in an enclosed, limited space is a sure cause of possible disease if one of them has a sickness. Moving around on a walking machine and not in the open air is hardly healthy for the horse."
Hollinshead has shown he is open to changing techniques to improve performances. But, overall, something has clearly gone radically wrong in France. Years ago, the country was noted for quality middle-distance performers, which regularly won top races in Britain. The pendulum has swung completely, and now English horses at listed level in Britain are capable of winning Group 3s or higher in France.
Foreign owners regularly buying up the cream of young French bloodstock hasn't helped either, with many of these horses rarely being sent to be trained in France. The top 20 horses sold at Arqana's yearling sale last August were all bought by foreign owners.
French racing cannot continue to have its top races plundered by British- and Irish-trained horses, and some serious thinking needs to be done to try to rectify a problem that is becoming acutely embarrassing.
French prize money below listed level is up to six times better than in Britain, which is the reason Hollinshead went to France in the first place. Last year, his 11 horses won six races with 32 places, collecting €168,340 in prize money and French premiums.
Perhaps there is too much of a comfort zone at the higher level of trainers in France due to the generous overall prize money on offer - 75 flat trainers there last year each won over €500,000 in total prize money and premiums.
Looking at ways of improving and modernising training methods may be a step in the right direction, as would lobbying the Government to reduce the 20 percent VAT on buying horses. But there is no quick fix and, once again this season, France looks to be struggling to find homegrown top-class performers.