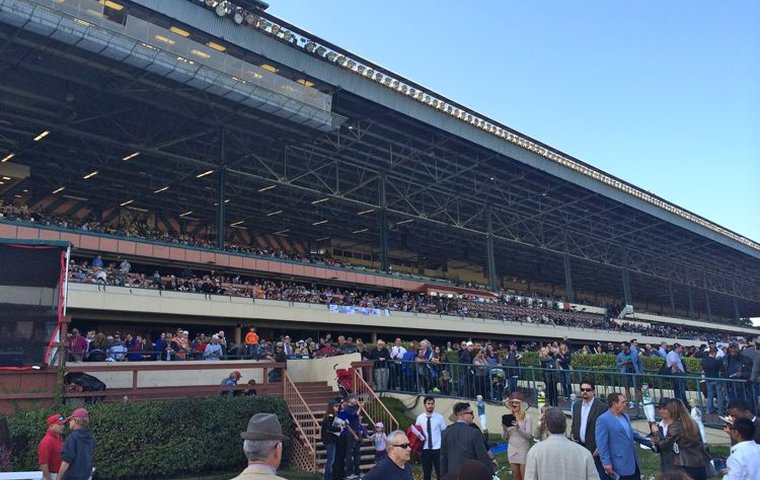 'Tis the season, so take your pick. If you're a gloomy Gus like Coleridge or Poe, the month of December is best described as 'bleak'. If you are both an artist and a young man, James Joyce would place you at a moment in which, "The swift December dusk had come tumbling clownishly after its dull day." Then again, if you share my reading list, the last word on December would come from Dr Seuss: "How did it get so late so soon?"

Northern Hemisphere racing in December never was meant to be a big deal. Santa Anita Park waited until December 26 to begin anew. Aqueduct lingered a couple of weeks into December, then sent its denizens south, where Hialeah did not restore first-class sport in the Eastern U.S. until mid-January.
The hungry and desperate found themselves in New England, West Virginia, or Maryland for the holidays, wrapped in woolen underwear and mittens and praying that the icy sleet would give way to gentle snow.
"When the track froze up, the clods would hit you like rocks the size of your fist," recalled Art Sherman, who did time riding at Maryland's Bowie Racecourse in December before turning to training in warmer California. "They'd crack your goggles. Your arms would be black and blue."
It follows, therefore, that the bulk of the December calendar produced very few races of consequence, at least not until Hollywood Park came along with a meet in 1981 that ran to the doorstep of Christmas. Both the Hollywood Futurity and Hollywood Starlet became targets of great appeal, not only to the local population of owners and trainers with late-developing 2-year-olds, but also to Eastern stables who could not be expected to resist purses that ran to half a million and a million dollars.
Hollywood Park offered its final December meeting in 2013. In Hollywood's place, a handful of racing dates have been offered at Los Alamitos, some 30 miles to the south, over a Quarter Horse course stretched to one mile to accommodate legitimate Thoroughbred sport.
The Futurity and the Starlet came along for the ride and have been run at Los Alamitos without interruption. The races have produced some promising winners, including Take Charge Brandi, winner of the 2014 Breeders' Cup Juvenile Fillies, who clinched her division championship by adding the Starlet.
As for the Los Alamitos version of the Futurity, what began as a great stroke of continuity for late 2-year-olds devolved quickly into a wholly owned subsidiary of the Bob Baffert stable.
Small fields
Beginning in 2013 with Dortmund, who went on to take the Santa Anita Derby and finish third in the Kentucky Derby, Baffert colts have won every single running of the Futurity, including the 2019 version on Saturday (December 7) with Thousand Words, a $1 million yearling by Pioneerof The Nile.
Baffert has had the good taste to win those six Futurities for six different ownerships, and there is no arguing with the quality of the winners. Among them are the 2019 Kentucky Derby favorite Improbable, Metropolitan Mile winner Mor Spirit, and Whitney Stakes winner McKinzie, last seen finishing second in the Breeders' Cup Classic. But the fields have been small, and without much depth of class, a recipe that resulted this season in the Futurity's demotion to a Grade 2 event.
The best American race ever run in December sprang from the fire that destroyed the Hollywood Park grandstand in May of 1949. Seventy years may seem like a reach, but this is what happened:
By late June of 1950, the grandstand was rebuilt and ready to open. There was only time, however, to squeeze in a meeting of 20 days before the Del Mar season was due to begin in July. Hollywood management was granted a one-off November-December meet of 30 programs, ending on December 16, 1950. The $100,000 Hollywood Gold Cup, displaced from the spring, would be the marquee event on Saturday, December 9.
The eight runners who lined up for the mile and one-quarter could have passed for the best Breeders' Cup Classic field ever imagined. Ponder won the 1949 Kentucky Derby. On Trust had won eight stakes, topped by the Santa Anita Derby. Great Circle proved his worth by winning the Cinema and the Del Mar Derby, while Palestinian was the able-bodied winner of the Westchester Handicap who would go on to win the Brooklyn Handicap in 1951.
Assault, then age seven, was a shadow of his younger days, but he wore the aura of a Triple Crown winner. Next Move was the consensus 3-year-old filly champion with victories over older mares in the Beldame and the Vanity. That left Hill Prince and Noor, the two principals, who finished in that order in the Jockey Club Gold Cup two months earlier at Belmont Park.
Noor made headlines early in 1950 by defeating Citation in four dramatic California races, including the Santa Anita Handicap. Hill Prince was a deadly honest 3-year-old who had won the Wood Memorial, Preakness, Dwyer and American Derby to outshine his contemporaries. His victory over Noor at Belmont was owed in part to home-field advantage, and now at Hollywood in December the roles would be reversed. They both carried 130 pounds in the handicap.
The 1950 Hollywood Gold Cup had enough appeal to be preserved in this archival treasure from Universal-International News.
That's Noor practically walking out of the gate for Johnny Longden, and there is also a glimpse of Hill Prince briefly blocked trying to get through inside horses on the final turn. Noor cruised past Palestinian at the end to win by a length in track-record time, while Hill Prince finished third, beaten the same four lengths by which he beat Noor in New York.
High note
In those days, voting for the national championships closed in November because no races of consequence ever took place in poor, bleak December – until 1950. As a result, Hill Prince was named Horse of the Year, while Noor had to settle for champion older horse. To his credit, Hill Prince roared back one week after the Hollywood Gold Cup to beat Next Move and Great Circle in the Sunset Handicap and went on to race at four and five.
Noor, though, was retired on the high note of the Gold Cup by his owner, Marcella Howard. In his biography of Noor, Milton Toby described the scene in the winner's circle that day, when Longden gave his horse an appreciative hug. Several years later, Noor's trainer, Burley Parke, remembered it this way:
"When Johnny leaned over and kissed Noor on the neck," Parke said, "and we all patted him and rubbed his head, and folks were talking kindly to him and saying, 'Fine going, old boy! – well, I could not help but feel that Noor understood it all, and that he knew he had done something that was very nice. I had a feeling, too, that Noor sensed this was the end."