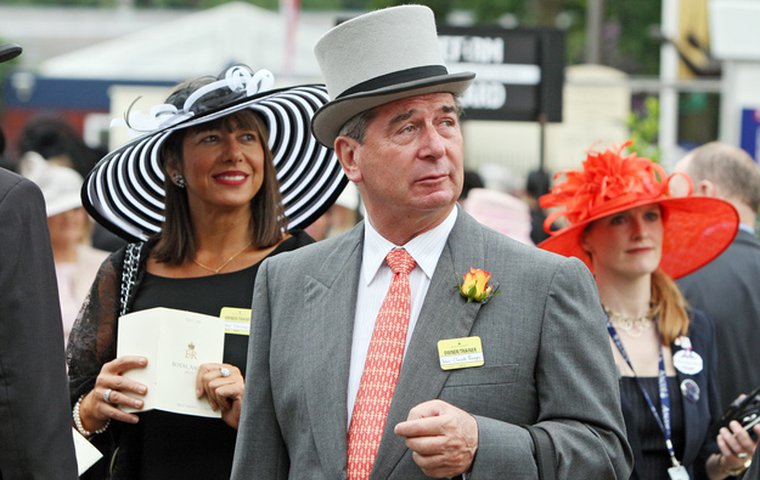 It won't seem the slightest bit out of place when Jean-Claude Rouget steps up to saddle top contender Ervedya in the Coronation Stakes at Royal Ascot. It's expected, after all, that animals like the Aga Khan-owned filly, already winner of the French 1,000 Guineas, should be with top trainers like Rouget. Yet, until six years ago, despite two and a half decades of prodigious success, Rouget was hardly accepted as a top trainer at all. Emmanuel Roussel reports.

Before French Derby day in 2009, Jean-Claude Rouget was regarded by most of his colleagues both as primarily a businessman and as annoying evidence that Chantilly was no longer the only place to train proper Thoroughbreds. They wouldn't refer to him as one of theirs. He wasn't a "classic trainer." He wasn't welcome at the club.
Since that day, however, they have a hard time refusing to grant him that distinction, if such thing exists.
Rouget's horses had already won almost 5,000-plus races in France. He was the country's leading trainer by number of wins since 1990, and had smashed the record of wins in a season back in 1994 with 242 over the flat. Chantilly-based icon François Mathet's previous record was set at 178 and had stood since the '70s.
The tall yet roundish Rouget was also known worldwide for his ability to buy successful yearlings and juveniles anywhere, from Keeneland to La Teste, from Newmarket to Deauville. He'd saddled his first G1 winner 15 years earlier, when Tattersalls graduate Millkom took both the 1994 Prix Jean Prat and the Grand Prix de Paris, and there have been many others since then, not just at home but also in Britain and America.
Yet a victory in the Prix du Jockey Club was still eluding him despite sending a couple of his best hopes every year. Only that stood in his way.
"My colleagues thought that I couldn't saddle a classic winner because I was getting my horses ready too soon," he said. "The thing is, I was only trying to take whatever was available before the top stables reached their peak."
Everybody reckoned Rouget was a shrewd buyer, an astute networker, and a proper businessman, scarce qualities in most trainers, even successful ones, but that "horseman" varnish was still missing because of those few missing milestones. Moreover, he trained in Pau, 800 kilometres south-south-west of Paris. That was unforgivable.
That 2009 season changed everything. Rouget ended the year as French champion trainer in prize money as well as in number of wins.
During the seven days between the Prix du Jockey Club and the Prix de Diane, his seven runners at Chantilly all won, the spoils including those two classics and another couple of Group races. Oh, and he also trained the two first home in the Diane.
"I don't know if the phone rang more than usual from then on," he said, "but the people who rang certainly were not the same."
Since then, he has trained for the Maktoums and the Aga Khan (since 2007), among other huge breeding enterprises. And no one would doubt him again on horsemanship grounds.
It was the last part of a long climb to the summit. One can argue, though, that Rouget is probably the most versatile trainer of the Thoroughbred France has seen for a long time, and a pioneer in many fields.
Rouget, however, can sometimes comes over as cold and standoffish. He's very opinionated -- and he's terrible on the phone (his vocabulary hardly extending beyond two words: yes and no). Like many in his trade, he has no time for fools. Last August, as he welcomed his first winner of the Deauville meeting, he was once again interviewed on Equidia (the French racing TV channel) and it was obvious he was not happy, even though the colt who'd just won looked very promising.
"What seems to bother you?" asked the interviewer. "It's noon," he replied briskly. "Racing so early is ridiculous, and I am fed up with such nonsense. I had to leave the training grounds at 11 a.m. and did not have a chance to have lunch. It always puts me in a bad mood. So no, I am not happy and I have called the CEO of the PMU to tell him about it. He said he'd work out something, but for now we're stuck here racing at lunchtime."
Yet Rouget can be warm -- charming even -- and generous. He cracks jokes around a table with friends and journalists, has a jukebox in his office, and answers every time Equidia asks for interviews (as you just noticed). In fact, when Avenir Certain won the 2014 Diane, he burst into tears in the arms of the same Equidia interviewer, ex-jockey Miguel Blancpain, bang in front of a camera. Rouget cried for nearly a minute as if he'd never won the race before.
Born 62 years ago in Normandy, where his father Claude was managing a Thoroughbred stud farm, Jean-Claude Rouget showed more interest in racing when his father started to train horses in the west of France at the age of 39.
"Breeding was nice, but I found it slow," he said. "Training was much more exciting."
He left school in 1972 with a baccalauréat noting that it took him "some time to get there," and went on to work with several trainers -- his father of course, but also Jean-Michel de Choubersky and Freddy Palmer, both based in Chantilly, and Paul Cole and Ian Balding in Britain.
"I was looking at what they were doing and how they were doing it, and was trying to figure out what I'd have done if I had trained the same horses. I was guessing. My choices were often the ones they'd make and one fine morning in 1977, I woke up convinced that the time had come to do my own thing."
Setting up his stable at Pau was a no-brainer. "I used to go there every winter with my father," he said. "I fell in love with this region. The lifestyle is much better than in Chantilly, and I didn't want to stay near my father in the west as he thought my move was too soon – he took his training licence at 39. Besides, the program in the south-west was good and pretty generous. It all made sense to me, even though I hadn't built a proper network in the area. Pau is known for jumpers and I, naturally, started with them, but not exclusively."
At first Rouget had about 10 jumpers in training. He said: "I have been lucky as I was able to take over a good yard and its staff, plus I hired one of the finest jockeys around, Philippe Boisgontier. It is much easier to train jumpers when you work with a good rider."
Two characteristics that still define the Rouget mix surfaced at that time: a sense of management and a taste for the sales.
"Philippe was in charge of the training routine, I was in charge of the program, the clients and the purchases. I had to buy claimers but also yearlings that I liked without any money in my account, so I needed steady support from my owners.
"[Owners] need to win races, regardless of the prize money. They are primarily driven by victory."
He added: "I like statistics and, from day one, my horses always won at an average 25 percent strike rate. Eighty percent of my runners end up getting some money, which keeps things going until they win."
Rouget can be hard on himself. "As soon as something goes wrong, I blame myself," he said. "There is no point blaming the rest of the world. Trainers make choices. Sometimes they get it right, sometimes they get it wrong. When it goes wrong, they must take the blame, and ask themselves what they did wrong. That's what drives me. My adrenaline fix comes with the choices I make, the risks I take. This is my favorite game."
Slowly, Rouget's operation improved and expanded. Within 15 years, 180 horses were stabled with him at Pau and he started to lead the trainers' tables by wins year after year.
He travelled a lot -- by car, from one racecourse to another, reading the program books page after page, mile after mile, and by air, to the sales wherever there was something relevant to buy.
That's how the provincial trainer, whose horses seldom ran on the top Parisian racecourses, ended a buyer at Keeneland as early as 1989.
"I went to Keeneland because I thought the yearlings there came cheaper than in Europe," he said of his early visits to Lexington, Kentucky. "I asked my main patron, Claude Gour, if he was okay with that. He was, so off I went. At that time, you had lots of European pedigrees in the Keeneland catalog, with European mares. And American breeders do a good job. It was easy for us and the competition was okay since there weren't too many of us Europeans on that middle market.
"I came back with five yearlings that first year, and they all did well. It was also a good way to build a good network of bloodstock agents, trainers, owners. I realized that these horses were easily sold back to the States if they did well in France. You could make a nice profit with them.
"It's different today. The catalog is 100 percent American, which also means that the whole pedigree has raced on medication. The yearlings are just as good as they were, but most of them are not adapted to our racing [in Europe]."
Soon after this first trip to America, Rouget decided to focus on flat racing. His associate, Philippe Boisgontier, had wounded his knee and could no longer ride. In 1992, he took over the jumps yard and Rouget followed his own course on the flat.
Two years later, he beat the national record and won his first G1 thanks to Millkom. Owned by Claude Gour, one of his first and most faithful patrons, the 15,000-guinea son of the rather obscure Cyrano de Bergerac came unbeaten from the provinces to win the G3 Prix de Guiche, the G1 Prix Jean Prat, and the G1 Grand Prix de Paris.
Favoured in the Arc that year, Millkom did not stay the extra two furlongs, but the die was already cast: a colt bought in England by a provincial trainer had won some of the most sought-after trophies in the country. And in 1995, Gold And Steel, also bought and saddled by Rouget, won the G2 American Derby at Arlington, while Millkom won the G1 Man o' War Stakes at Belmont.
Like Henri IV, a Pau-born Protestant-turned-Catholic King of France in Paris at the turn of the 17th century, Jean-Claude Rouget had turned the world on its head.
"Before that," he recalled, "we provincial trainers suffered of an inferiority complex. We were happy with our generous provincial stakes that hardly any Parisian stable would consider. Even when we had proper black-type horses, we had nothing to compare them with.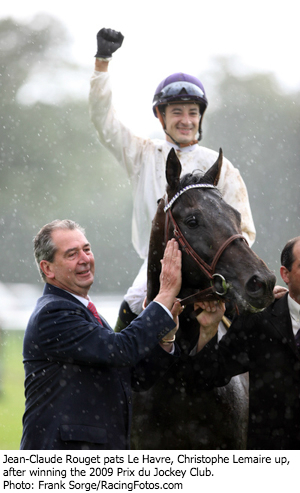 "The roads, the horseboxes were not that good either. From Pau, even a trip to Bordeaux was something of an adventure. We were racing in places you'd never think of. At Aire-sur-l'Adour, for example, we were running around a rugby field. Nobody would agree with that nowadays.
"However Millkom changed many things. Suddenly, the glass ceiling was gone. It made me think that we could go to Paris with our best horses. Everybody said it was impossible and it convinced me to try again. So we sent horses there on a regular basis. Sometimes it worked, sometimes it didn't and we brought them back to our region. But we had to be reckoned with."
At about the same time, France Galop started to offer French punters betting on provincial races on a national scale as its president, the late Jean-Luc Lagardère, expanded the betting menu during his time at the helm from 1995-2003.
Another musketeer, native of the Pau region, Lagardère used to say: "We are called France Galop, not Paris Galop!"
Rouget, of course, happily accepted the challenge and made the most of it, but he's now a classic trainer and that is what matters the most to him. "The sophomore season means everything to me," he said. "The Derby and the Oaks matter more than the Arc, I think. I also prefer racing in the spring than in the autumn. But once again, that's only me."
Many trainers in the provinces, particularly in the south-west where Rouget's stable is located, argue that his influence there is overwhelming, that he only leaves crumbs to his colleagues. Yet the south-west has come a long way since the rise of Jean-Claude Rouget. Many other trainers have risen and prospered there in the last few decades: François Rohaut, Antoine de Watrigant, Christophe Ferland, to name a few, are now well established in the national landscape.
So what's left to prove for Rouget? Not much, really. Some say he brags too much, that he's too self-important, that he shouldn't speak out the way he does. Maybe. Yet, he still has a band of faithful owners, most of them French, where all the top trainers in France have few.
Rouget's owners are happy owners. They keep on buying and they do not lose money -- they win races, sometimes big ones -- because Rouget is smart, because he runs a profitable business. He also does his best to promote racing.
Rouget is an owner too, although he doesn't have shares in horses in his own care for very long. "My father always told me never to own horses you train," he said. "It's a recipe for disaster and many here feel the pain because they did just that.
"Nowadays I have a few horses in training with other trainers, over the flat and the jumps. I really enjoy it. You take a different perspective on things, and you see how your colleagues work. But it is something I do for fun."
Certainly anyone who may feel Rouget is not an engaging character should ponder this: a man who hates to skip his lunch cannot be all bad.