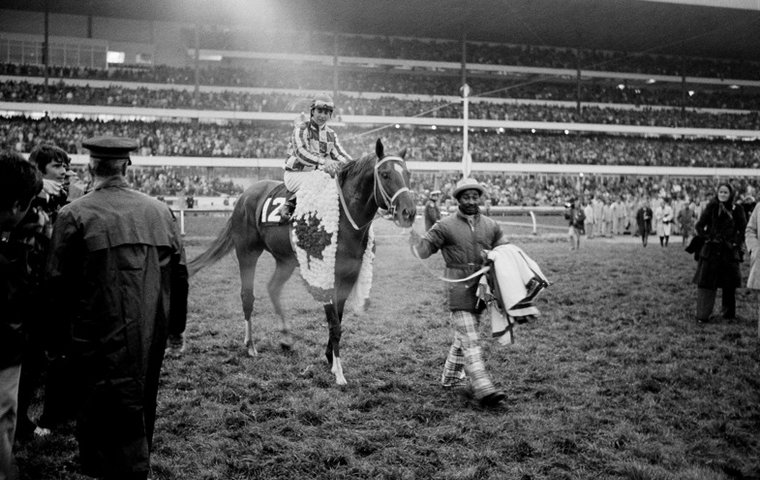 In the second of two articles looking back at Secretariat's never-to-be-forgotten visit to Woodbine for the 1973 Canadian International, Emily Shields talks to some of the people involved on a day that became one of the greatest in Canada's sporting history.

Three days before the 1973 Canadian International, stewards in New York suspended Triple Crown winner Secretariat's regular jockey, Ron Turcotte, due to a minor riding infraction. Owner Penny Tweedy (Chenery) and trainer Lucien Laurin were forced to find a new jockey on short notice, while simultaneously keeping an eye on the increasingly grim weather forecast in Toronto. Secretariat had already worked very quickly over Woodbine's turf course, but that was on firm ground. As Canadian racing fans readied to see the living legend in person, worries again arose that he wouldn't race at all.
The jockey problem
Turcotte had ridden Secretariat in 18 of his 20 starts to that point, but he would not be aboard for the mighty racehorse's final hurrah. Woodbine's former head of media, Bruce Walker, noted that two names immediately came up: Eddie Maple, who had ridden Tweedy's other Kentucky Derby winner Riva Ridge with some success, and Angel Cordero Jr.
A third name was tossed around as well, that of Canada's great jockey Sandy Hawley. "I came close to getting the mount on him," Hawley said. "My agent called Mrs. Tweedy and she said okay, but when we called Mr. Laurin he had already given the mount to Eddie Maple. For 20 minutes, I thought I was going to ride Secretariat. It would have been the biggest thrill of my career to have an opportunity to ride him, but it was great to just be around and see him."
Walker believes that the confusion was merely a misunderstanding on the part of Hawley's agent, Colin Wick. "Both Turcotte and Mrs. Tweedy told me that the only two riders considered were Angel Cordero and Eddie Maple. Maple got the nod because of his connections to the stable."
Maple, only 24 years old, was tasked with not only getting on the most famous horse of all time, but also navigating 1⅝ miles of Woodbine's tricky turf course, which started outside the main track, crossed over the dirt surface at the quarter pole, and then continued another lap on the inner turf. And he would have to do it under dramatic conditions.
Race day
After a surprisingly warm, pleasant fall, October 28, 1973, saw slick, freezing rain blanket the racetrack.
"It was a horrendous day," Woodbine racing analyst Jim Bannon recalled. "It was cold, rainy, there was sleet, and we didn't have any lights. There were discussions by the connections about whether or not Secretariat would even be running. Meanwhile, the place was packed with fans."
"A weather front came through and dropped the temperature to a few degrees above freezing," Walker said. "The rains were blowing in sideways. The connections were concerned about the footing, and the dull, dreary conditions persisted throughout the day. But I can still remember driving up early in the morning and there were already people lined up outside the gates in that terrible weather."
As the head of the media department, Walker remembers, "… how nervous we were that morning when Mrs. Tweedy, Lucien Laurin, and Ron Turcotte [who was on hand even though he wasn't going to ride] walked the turf course to determine if it was safe for Big Red. There was a huge sigh of relief when they announced it was fine."
Walker added that, because of the previous dry, mild weather, the track was able to absorb most of the water. "It was good footing," he said, "and no problem for the horse."
When he got to his office, Walker had a phone call from a man in Oklahoma. "He asked if it was true that Secretariat was indeed making his last start of his brilliant career at Woodbine. When I told him he was running, the man said, 'Great! I'm hopping on my jet and flying in.' I also told him the weather was dreadful. It didn't faze him."
Because of the significance of the $125,000 event, a helicopter was parked in the infield, waiting to fly iconic Sports Illustrated photographer Neil Leifer back to Chicago with the winning photo immediately after the race.
The 1973 Canadian International
Tom Cosgrove, Woodbine's current historian, was a groom for E.P. Taylor's Windfields Farm at the time. Although he was running Presidial in the race, Cosgrove had befriended Secretariat's groom, Eddie Sweat, otherwise known as Shorty.
"It was a gloomy afternoon," Cosgrove recalled. "There were no lights on the turf course, and it was rainy and cold. All the horses were walking over in thick blankets of an off-white, creamy color. I heard, 'Tommy, wait up!' so I stopped my horse, Presidial. Behind me came Charlie Davis on Billy Silver, Secretariat's pony, with Shorty and Secretariat behind him. I led them over to the paddock, and I think that was Shorty's way of paying me back for everything I did for him. Halfway over he yelled, 'Stop!' We waited for a minute, and could just hear the crowd and feel the electricity in the air.
"Any time a groom brings a horse over to race, you always think you're going to win. That was the day I didn't think we could. I remember being jostled around by people just trying to get photos of Secretariat."
Louis Cauz, Woodbine's former historian, remembered, "The crowds had gathered all around Woodbine's saddling area. Secretariat never saw a camera he did not like. He was always ready to pose, and he was such a huge star to have up here. There were 35,000 people there in the rain on a cold, yucky day."
The main threat in the race was Kennedy Road, a Canadian-bred who was a standout both in his native country and in California, where he won the G1 Hollywood Gold Cup before returning to Canada to set a track record in the six-furlong Nearctic Stakes just a week before the International.
"You could tell he was going to be the pace horse," Bannon said. "He was a local horse, a beautiful Grade 1 winner." Kennedy Road's track record stood for 26 years, and he has since been enshrined in the Canadian Horse Racing Hall of Fame.
Avelino Gomez was up on Kennedy Road and Sandy Hawley was on Cosgrove's Persidial. When the gates flew open, Kennedy Road immediately bolted for the front (as you can see in the YouTube video of the race, above), with Maple settling Secretariat just off him. The cross over the dirt track and back to the turf was uneventful, and Maple was content to track off the pacesetter until the backstretch. He ranged up alongside Kennedy Road, and Gomez immediately retaliated.
"He came out and bumped Secretariat three times down the backstretch," Bannon said. "Gomez was trying to intimidate him."
"Kennedy Road was a brute of a horse," Walker said. "A nasty horse, too, I can attest as he bit me once! You can see the moment when Secretariat is bumped as Kennedy Road angles out sharply, because it was so cold that you can see the steam exhale from his nostrils. Then the big horse just picked it up again and went on."
"There he goes!" track announcer Daryl Wells shouted. "There he goes! Secretariat on the outside!"
In the blink of an eye, Secretariat opened up five lengths on Kennedy Road. Hawley, on Persidial in fourth, watched the titan galloping away from him. "It was such an honor to be in the race," he said. "You're hoping to win, but you're cheering for Secretariat, too. As a Canadian, it was quite a thrill."
As Secretariat rolled into the stretch, fans jumped the rail along the grandstand and surged across the main track to see the legendary horse up close. "It was scary," Walker confirmed. "They jumped the outside rail and were running across the dirt track to get a good look at him. I'll never forget it."
"You can see people streaming across the track on the video," Bannon said. "It was quite a wild spectacle."
As the immortal horse turned for home, Wells proclaimed, "Secretariat is into the stretch in a blaze of glory! Ladies and gentlemen, he's all yours!"
The official margin of victory was a geared down 6½ lengths. Secretariat ended his career with 16 wins in 21 starts and over $1.3 million in earnings. Upon returning to the winner's circle, 'Big Red' was draped with a blanket of red and white flowers depicting the classic Canadian maple leaf.
"After the race when Gomez saw the footage, I asked him why he would do something like that," Walker said of the rough riding tactics. "I said, 'You could have hurt Secretariat's chances!' And Gomez nonchalantly answered, 'I ride to win, that's what I do!'"
As for photographer Leifer and his waiting helicopter, the photos never made it back to Chicago that night. "He was in tears," Walker recalled. "He said to me, 'I don't think I got a good shot!' Because of the weather, he lost the front page."
The weather conditions had left the parking lot a mess. "People could not find their cars," Bannon said, "and if they did, they couldn't get out of the mud. It was days before cars and trucks were cleared from the area."
Cosgrove, cooling out Persidial after his effort, said, "I didn't feed my horse until 9:30 that night, because he was so exhausted and ran his heart out. Hawley gave him an aggressive ride and he beat some American invaders. He gave it everything he had; I was very proud of him. When I left that night, there were lights in every direction as cars were pulled out of the mud. The tow truck driver had a field day."
Final impressions
Secretariat's one venture to Canada left everyone who laid eyes on him in awe. "The most imposing horse I ever saw was Horse Chestnut," Bannon said, speaking of the South African Triple Crown winner, "but Secretariat is the best athletic horse I've ever seen. His stride was extremely long."
"I was in the press box when he won the Belmont, so I knew what kind of power he had," Walker said. "Ron Turcotte and I are good friends, and he said to me, 'I've never been on a horse with this kind of power. It's unbelievable!' He never got to the bottom of him. And it's a shame Secretariat retired when he did, because he was really just getting good."
That is high praise for a horse that was Horse of the Year as a juvenile, and a Triple Crown winner at three.
Cauz saw Secretariat race more than most, starting with the 1972 Laurel Futurity, which Big Red won by eight lengths. "The two best horses in America both ran on that card," Cauz recalled. "La Prevoyante was unbeaten in 12 starts at two, and on that day she won the Selima Stakes. But Secretariat deserved to be named Champion."
Cauz was also present at Secretariat's Preakness and Belmont Stakes victories.
"If you looked at thousands of horses in your lifetime, he immediately stood out," Cauz said. "His posture, with his haughty attitude; he was the king. His muscles rippled under that beautiful chestnut coat with every step. How do you describe something like that? He was a sculpture, as good as Venus de Milo or any great person that has ever been captured in marble or stone. And it didn't matter with the way the race was run, or the weather, because nothing was going to stop Secretariat that day."