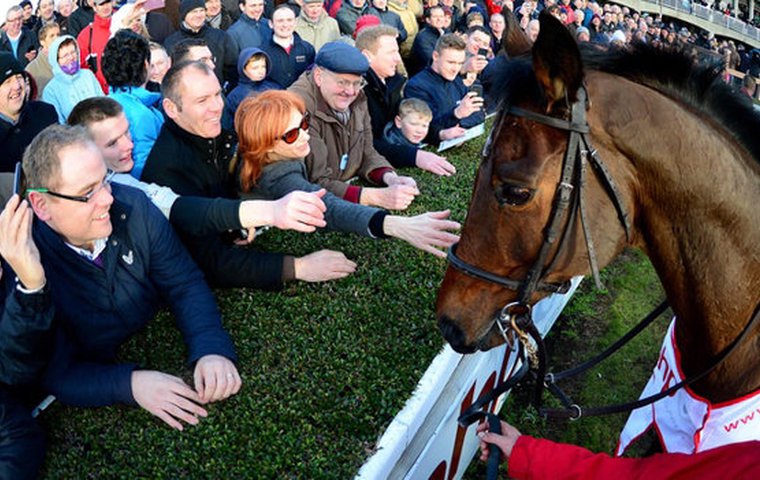 The day a bunch of old jumpers outshone the great Sea The Stars
Exploring the extraordinary popularity of jump racing in Britain and Ireland
Pulses are already beginning to quicken ahead of next week's Cheltenham Festival, the four-day extravaganza that dominates the hearts and minds of racing folk all over Britain and Ireland. Yet this is jump racing, a branch of the sport with niche interest elsewhere, at best a curiosity, at worst cruel and abhorrent to many observers. So what is so different in Britain and Ireland? Donn McClean reports from the most jumps-mad nation of them all on day two of our five-part series.
Read Part 1 on why Cheltenham illustrates the massive popularity of jump racing in Britain and Ireland
Read the supplement on breeding jumpers
----------
Sea The Stars was box office in 2009. He won six Group 1 races, one every month, starting with the 2000 Guineas at Newmarket in May and ending with the Prix de l'Arc de Triomphe at Longchamp in October.
He raced in Ireland just once that year, in the Irish Champion Stakes at Leopardstown in September. The pre-race promotional machinery went into rock concert mode: the best racehorse of modern times, an equine superstar, his only Irish gig this year, your last chance to see him race in Ireland. Yet, on a bright, warm crowd-inducing September day, more late summer than early autumn, just 9,000 people clicked through the turnstiles to watch John Oxx's star race to victory.
Fast-forward four months to St. Stephen's Day in late December. Same venue, same Leopardstown racecourse, but no Sea The Stars, no modern-day superstar whose retirement was imminent. Just seven high-class National Hunt races, four hurdle races, two steeplechases, and a bumper, all to be run under a weak, wintry sun in crowd-repelling coat and scarf temperatures. Even so, 18,000 people clambered through the gates and clasped glasses of hot whiskey with gloved hands, twice as many as went to witness Sea The Stars on what should have been an "I was there" day.
It is difficult to tell exactly why National Hunt racing is more popular in Ireland than flat racing. In 2012, 299,193 people went flat racing in Ireland, while 585,671 people went National Hunt racing. (No figures are available for the total amount bet as most of it is with fixed-odds bookmakers, who do not release details of turnover.)
It's not the weather, that's for sure – they don't call it the winter game for nothing. And it's not the glamour – you won't find many fascinators at Thurles on a Thursday afternoon in January.
Perhaps it's the history. Jump racing is an Irish thing. It was born in 1752 when Edmund Blake and Cornelius O'Callaghan raced their horses along the Awbeg River, over walls and ditches and fences and hedges, between the steeple of Buttevant church and the steeple of Doneraile church. Hence the name steeplechasing.
Or perhaps it's the horses, the longevity of their racing careers. National Hunt horses are around for so long – injury notwithstanding – that they become part of our psyche, part of us. You get to know their characters, their personalities, old friends who are around during the winter months, the source of delight when they return unfailingly every autumn after their summer holidays.
Take dual Champion Hurdle winner Hurricane Fly, one of the classiest hurdlers that this generation has seen. Willie Mullins' horse raced over hurdles for the first time in May 2008. He has now raced 24 times over hurdles in a career that has spanned six seasons, and he has won 21 times, including 19 at Grade 1 level, a world record.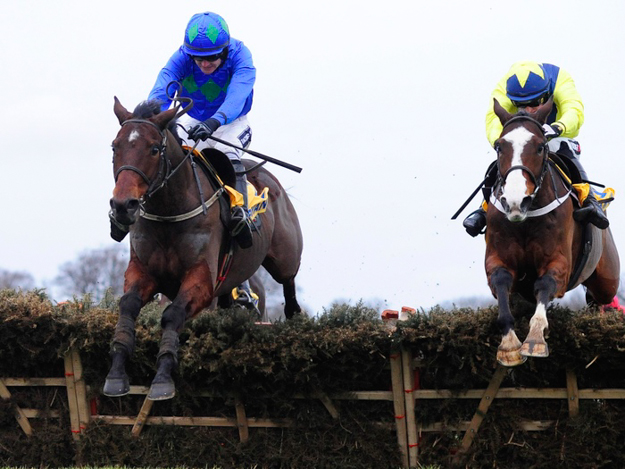 Hurricane Fly (left) clears the last hurdle before winning the Ryanair Hurdle at Leopardstown. RacingFotos.com
Commercial reality dictates that the top-class flat horses leave us before we have had a chance to get to know them properly. Sea The Stars was retired to the breeding shed at the end of his 3-year-old season, just when his popularity was at its pinnacle, just when he had transcended racing and moved into mainstream. Frankel raced on at four, and for that we were thankful, but he was retired at five. How much more exposure could he and Sea The Stars have garnered had they raced on for another season? Another two seasons? How many more followers would they each have attracted?
Imagine a 10-furlong race, say the 2014 Prince of Wales's Stakes at Royal Ascot or the 2014 Irish Champion Stakes at Leopardstown, in which Frankel and Sea The Stars would take each other on. Throw in Cirrus Des Aigles and So You Think and Danedream and Pour Moi and Camelot and Orfevre and New Approach and Zarkava and maybe even Treve. Unimaginable, you might think. It couldn't happen. And you would be correct. Not with flat racing.
But that type of thing is possible with National Hunt racing. Perhaps that is why it is so popular. Or perhaps it's just in our blood.
---
Tomorrow: Why jump racing in Britain is no poor relation to its swankier sibling.
Read Part 1 on why Cheltenham illustrates the massive popularity of jump racing in Britain and Ireland