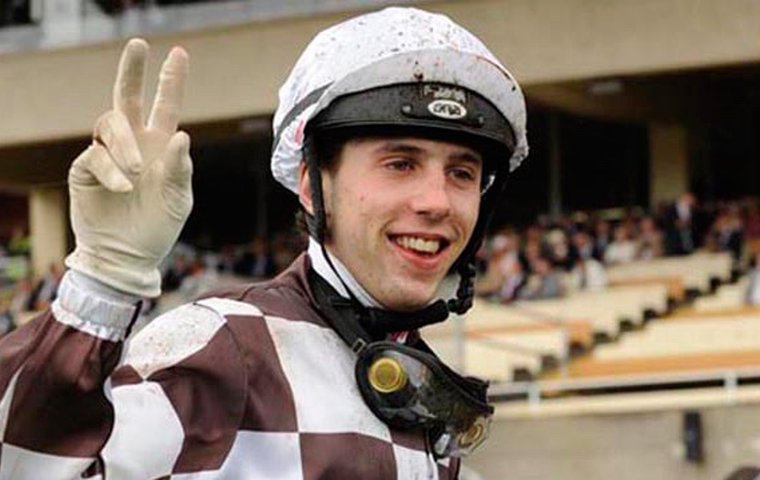 Even when you're right at the top, life as a jockey is seldom easy. Brenton Avdulla knows that as well as anyone, but right now life is good.

He's on a short break in Dubai with girlfriend Taylor before returning to Sydney two weeks into the start of the new Australian season. He'll attempt to emulate a hugely successful 2016-17 campaign, when he was just pipped by Hugh Bowman for the Sydney Premiership. This may be the embryo stage of the new season, but the big races are never far from his mind.
"We don't have an off season; 31st July is the end of the season and then the next day you're bang on into it," he says, settling into a chair at Dubai's plush Sofitel resort on the Palm Jumeirah. "It would be great if we could've had an off season, but basically you just take time off when you want and just sort of work your way around the carnivals."
Originally from Melbourne, where his father was a bookmaker, Avdulla returned home last November to bag one of the biggest races, the VRC Oaks, on Lasqueti Spirit, trained by Lee Curtis. It was an ambitious, frontrunning ride and earned Avdulla both plaudits for his riding skills and a fine for his wild celebration - after he stood up in the irons (see YouTube video below).
"It was definitely a surprise," he says. "I didn't really feature in the spring at all last year, nothing really came my way. She was the only filly in the race who had a run at the trip and we went out there and rode her accordingly. The game plan was that, if we strung them along and made it a true test, then maybe threequarters of the field wouldn't stay, and that's how it sort of panned out. Every screen up the straight I kept looking and she kept staying four or five in front. It's a day I'll never really forget."
The sports-mad jockey also had cause to celebrate with one of his heroes, Usain Bolt.
"That was pretty surreal too. He was the main face of the Oaks, so after the race we were able to get some photos with him. I love Usain; it's amazing what he's done. I saw something on Twitter the other day – if you took away all of the people who have been done for drugs then he'd have the ten quickest 100 metre times."
That day at Flemington might also have further endeared him to Godolphin, for whom he is a regular in the blue silks. He hopes to continue the association now that James Cummings has taken over as trainer.
"I was apprenticed to Anthony Cummings, probably six years ago. His son James is now in control of Godolphin so it's pretty amazing. He's been a great trainer in his own right, and had Group I winners, and now he's taken control of a massive ship and I'm sure he'll do well. In a way, he's only young to be in control of such a massive operation, but he's got the scores on the board already and he's getting winners.
"A few years ago, we never had the Godolphin blue in Australia, just the maroon of Darley, and I never rode for them. When it was taken over, John O'Shea and Henry Plumptre gave me a good go there and I'm very lucky to continue riding for them, without any fixed retainers or anything. I think last season they were probably my main stable for support, along with Chris Waller. It does make my job easier when you're riding the well-bred horses."
Riding abroad
He did plenty of that last season, riding 78.5 winners in the Metropolitan Jockey Premiership and finishing second behind Hugh Bowman, who rode 83.
"The last three seasons have been really good; four or five seasons ago I wasn't even in the top five in Sydney and I've been progressively getting better since. I just got pipped by Hughie and obviously he's rated one of the world's best jockeys on the [TRC Global Rankings]. It's a season I was very happy with; I was very consistent for 11 months and it was just the last month that got me."
Engaging and outgoing, success hasn't dented Avdulla's ambition, and he is keen to perhaps emulate some of his weighing room colleagues and ride abroad.
"I'd love to," he says. "There's a lot of riders in the top ten in Sydney that could dominate anywhere in the world with the right opportunities. Hong Kong's been a good breeding ground for that; Sam Clipperton's over there and he's going well. I'd love to get the opportunities over the other side of the world; be it Hong Kong, or little stints in England or Dubai - it would be something definitely on the bucket list."
So how about emulating compatriot Blake Shinn, who recently enjoyed a short stint at Arlington Park in Chicago?
"America is on the list, for sure," he continues. "I had one ride [on Goldstream] in the Secretariat Stakes for Australian Bloodstock, who've been big supporters of mine. Highland Reel beat me that day and we didn't know how good he was then. It's very different over there as they go a very different speed in their races. In a lot of Australian races we sit and then sprint."
At just 26, Avdulla should have plenty of years left in the saddle, although he is cautious about the longevity of his riding career.
"When I started my apprenticeship at 16, I was probably this tall, 168cm, and 53 kilos and everyone said to me I probably didn't have long in the saddle, but I'm 26 now and going strong; getting the right opportunities. I don't know if I'll be one of those still riding at 55 or older, but I'm enjoying my riding and I'll continue riding as long as I enjoy it.
"It's not something you can do every single day of the week. I suppose the weight's the biggest issue; it does grab you and I know now that I'll be a bit heavy, so I'm not looking forward to getting back home and stripping the weight off pretty quickly, but it's a way of life and as long as I'm enjoying it I'll keep doing it."