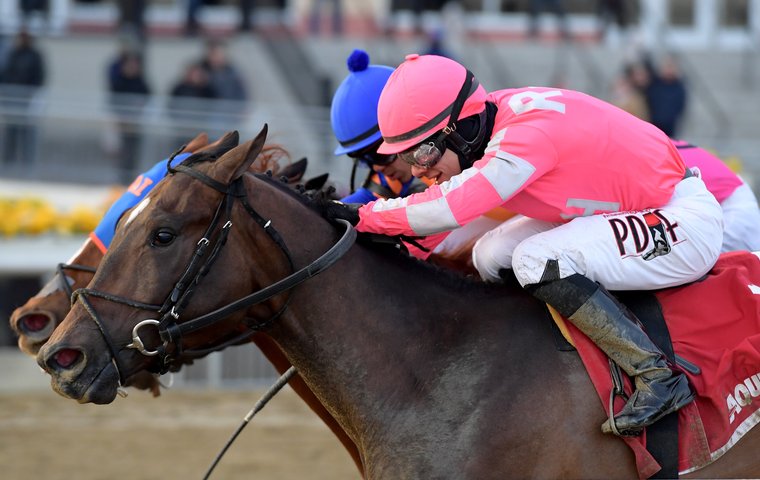 Lucas Stritsman's early days as an owner of Thoroughbred racehorses were meager – by anyone's estimation.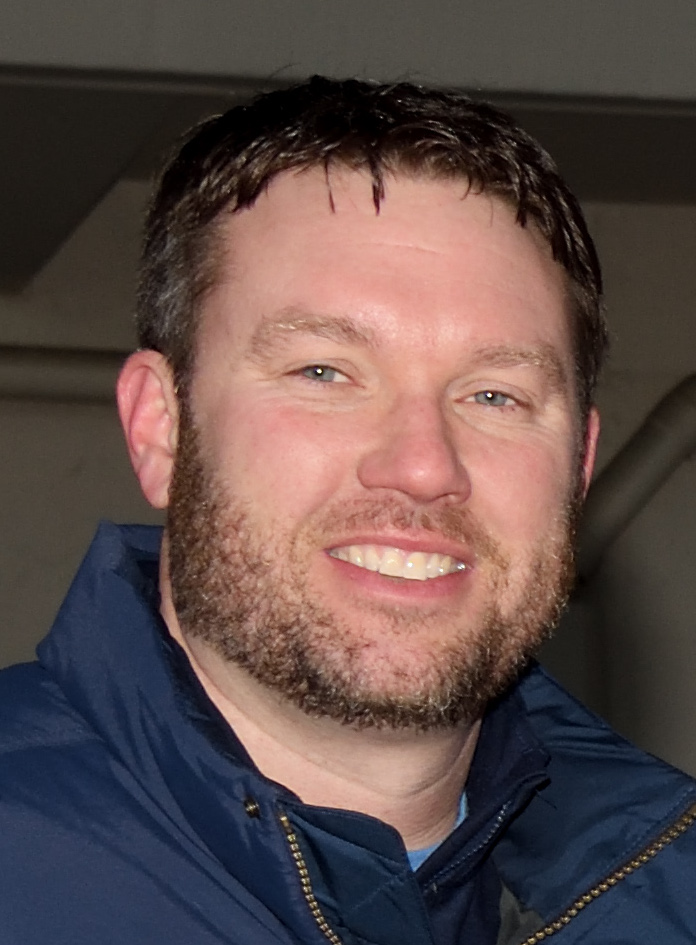 His first horse, Liberty's Thunder, raced without much success in $7,500 maiden claimers at Finger Lakes in 2011.
A few years after that, while operating under the banner of Corms Racing Stable, a name that honors a friend who passed away, he partnered with a few other stables to jointly claim horses at Belmont Park and Aqueduct but then ultimately lost them for much lower prices at Penn National and Finger Lakes.
One of them, Queen Mercury, was claimed by Stritsman (pictured) and two partners for $20,000 at Belmont Park in 2013 and provided him with his first victory when she prevailed in a $7,500 claimer at Penn National.
Another horse, a quirky New York State-bred named Thrill Hill, crossed the finish line about 15 lengths ahead of the rest of the field as a 2/1 second choice in a March 24, 2014, race at Aqueduct. Unfortunately, the headstrong runner had stumbled coming out of the gate, tossing jockey Jose Ortiz, and then ran past the other horses while circling the track until an outrider grabbed him.
Wishful thinking
"When I was watching my horses run at Penn National," the 42-year-old resident of Troy, New York, said, "it would have been wishful thinking to imagine I could own a stakes winner."
Little did Stritsman know what fate had in store him.
While those early days as an owner may be less than a decade old, they have become a distant memory for Stritsman. What was once a daydream has indeed become reality for him.
In the last two years, Stritsman has enjoyed the kind of success that can evoke jealousy from others with larger stables and far greater financial resources. In that time, he has been involved in two claimers that have been turned into Graded stakes winners by trainer Danny Gargan.
One of them, the 3-year-old Tax, won the G3 Withers Stakes at Aqueduct on February 2 and ranks as a legitimate candidate to be in the starting gate at Churchill Downs on the first Saturday in May, when the Kentucky Derby is contested.
In Divine Miss Grey, Stritsman made a $16,000 claim that would have been a bargain at ten times that price. Now a 5-year-old mare, Divine Miss Grey earned about $188,000 in 2017 after Stritsman claimed her that March.
Then, after selling a 50 percent share in her to Randy Hill prior to the start of last year's campaign, Stritsman and his partner were treated to an amazing 2018 season that saw Divine Miss Grey win five stakes, one of them graded.
The good fortune continued this year as Divine Miss Grey kicked off 2019 by winning the Heavenly Prize Invitational at Aqueduct for a second straight year and pushing her 2018-19 earnings to $695,700.
"She's a once-in-a-lifetime horse for me," said Stritsman, who celebrated his first Graded win when Divine Miss Grey triumphed in the G2 Chilukki Stakes at Churchill Downs on November 3, the race that followed the Breeders' Cup Classic and closed out the card. "There's no way I'll ever claim a horse for $16,000 again and earn more than $750,000 with her. It will never happen again. It's just not real. It's really surreal."
Success contagious
With Divine Miss Grey leading the way, Stritsman enjoyed a 2018 campaign that was indeed beyond his wildest beliefs.
By rolling the profits from her into new purchases, Stritsman's stable quickly grew by leaps and bounds and success proved to be contagious. After owning shares of just one or two low-end claimers some five years ago, he now owns a part of about 18 horses who have compiled some amazing results.
In 2018, Stritsman's horses made 45 starts, with 16 wins, ten seconds and seven thirds with earnings of $1,026,436. That adds up to a 35.56 win percentage and a mark of 73.33 percent for in-the-money finishes.
"I've re-churned the money from Divine Miss Grey. Guess I'm a sicko, but it's been pretty amazing lately and the success has helped justify everything to my wife [Erika]," Stritsman said. "I love being an owner. I've enjoyed the business side of it, but I also like the personalities and the relationships and I love the horses. When you can mix all of that together, I really like that."
Effervescent personality
In some ways, Stritsman has been like a kid in a candy shop while climbing the ladder from claiming races to Graded stakes. He's a long-time fan of the sport and its history whose passion for racing was sparked by family trips to Saratoga as a child. As a teen, he dreamed about owning a horse that could race at the Spa, but, as he grew into an adult, he became well aware of the financial risks. As an owner and general manager of Best Fire Hearth and Patio in Albany, he had only a limited amount of funds to invest in ownership. Yet those constraints have only heightened his appreciation of being an owner and the immense pleasure he has derived from every step forward he has taken since the forgettable days of Liberty's Thunder.
During the lean days, it was his friendly and easy-going nature that carried him through the rough times, and now his effervescent personality – coupled with an impressive run of good luck – has attracted a growing number of new partners to him.
"Luke is a great partner. I bought a piece of two horses he owns and won stakes with both of them," Hill said. "He's a terrific guy. You couldn't find a nicer guy. I'm so happy for him. He's not a guy with a lot of money, so for him to be in this situation is terrific."
Stritsman and Gargan met by chance at Gulfstream early in 2014, but perhaps it was destiny.
Racetrack relationship
Stritsman was sitting in the trackside Tiki bar area at Gulfstream Park in March when Gargan and a friend sat down near him. True to his affable nature, Stritsman soon started a conversation with Gargan, telling him about Thrill Hill's wacky exploits, and quickly developed a friendship with the trainer. Later that year, Stritsman entered into a partnership with one of Gargan's other owners, the Players Group, and bought a piece of Rap d'Oro, who won a February 15 race at Aqueduct for Gargan and thus began a racetrack relationship that both men have utterly enjoyed.
"I wish Luke would hit the lottery so I could train exclusively for him. He's such a nice person to be around," Gargan said. "I don't know anyone who doesn't like him. He's such a level-headed person with a great attitude, and he's always happy. He's an everyday guy who has been on a quite roll the last two years. The horses are running really well for him."
While Stritsman may be the one paying the bills, he's quick to tip his hat in respect for the work Gargan has done for him.
"We've had some good claims and I owe it all to Danny. He's so good at picking out spots and claiming horses, and I'm learning a lot from him," Stritsman said. "I never get in the way and let him put the horses where he believes they belong."
While Divine Miss Grey was the breakout horse for Stritsman, it's Tax who is at the forefront of his hopes and dreams.
Gargan and owner Hugh Lynch won a six-way shake to claim Tax for $50,000 out of an October 21 race at Keeneland, and, when Lynch wanted to add a partner, Gargan brought in Stritsman, who jumped at the chance to own a share of an intriguing 2-year-old.
Stritsman believed a starter allowance race on the turf was the target for his new acquisition, but a strong workout on dirt convinced Gargan to gamble and enter Tax in the G2 Remsen Stakes at Aqueduct on December 1.
In his first start for new connections, Tax pressed the pace of the victorious Maximus Mischief but weakened and slipped back to third at the wire in the $250,000 stakes, missing second by a half-length.
"He would have run second if he didn't try to win the race. We wanted to get into the race and see if we could get by Maximus Mischief, but the other horse was better. We got softened up and finished third," Stritsman said.
Impressed by that effort, Gargan gave Tax a two-month rest, presenting an opportunity for Hill and Dean Reeves to purchase a half-interest in Tax for a price that Hill calculated as about $175,000 with incentives.
Gutsy effort
Gargan cranked up Tax for his 3-year-old debut in the $250,000 Withers and was rewarded with a gutsy effort in which the son of Arch overcame a rocky trip and squeezed through a narrow hole on the rail in the stretch under jockey Junior Alvarado to triumph in the mile-and-an-eighth stakes by a head.
Up next for Tax is the Wood Memorial at Aqueduct on Saturday (April 6). It's a race that awards 100-40-20-10 points in the Road to the Kentucky Derby series to the top four finishers and could nail down a spot in the Run for the Roses for a horse that already has 12 points and finished at 63/1 odds in the latest round of Future Wagering on the May 4 opening leg of the Triple Crown.
"Tax is another storybook tale. We claimed him for $50,000 and I've told Luke and the rest of the partners, don't worry about being 60/1 in the Future betting. Just be happy to be in the picture," Gargan said. "If he runs well in the Wood, he should like the [Kentucky Derby distance of a] mile-and-a-quarter, and he's kind of horse that runs well in the Kentucky Derby. He has tactical speed and likes the inside, which helps because Churchill Downs can be an inside, speed bias racetrack. He'll come up the rail, which could help him that day.
"I'm not saying this to sound crazy, but there's not a lot of horses out there who want to go the mile-and-a-quarter. He will, and no one is running that fast. Plus, I haven't really squeezed him and I think there's a lot I can do to get him to run faster. If we can keep him fresh and get in the Derby, anything can happen."
Focus on the Wood
Stritsman's focus right now is the G2 Wood Memorial on the first Saturday in April as opposed to the first Saturday in May, yet it's hard for him to contain his enthusiasm about what could be awaiting him on a spring day in Louisville – especially after his last trip there.
When Divine Miss Grey won the Chilukki, he and Gargan parked in the barn area and walked to the racetrack, giving Stritsman a sneak peek of a certain ritual before the Kentucky Derby.
"It's a vivid memory for me," Stritsman said. "We're walking on the track and I'm thinking this is the same thing as the Kentucky Derby walkover. It was beautiful. It felt like an out-of-body experience."
As much promise as Tax has showed, he still has a long way to go to match Divine Miss Grey's heroics.
A daughter of Divine Park, Divine Miss Grey broke her maiden at three for a $75,000 claiming tag at Gulfstream Park in her third career start on January 11, 2017. Yet after a fifth-place finish in an optional claimer at 43/1, the $100,000 yearling buy was entered in a $16,000 claiming race on March 15.
Something magical
Stritsman believed she was too good of a possibility to pass up and dropped a claim slip for her through trainer Luis Ramirez. There was a four-way shake for the filly and Corms Racing was the lucky stable that came away with her.
After another fifth-place finish in a starter/optional claimer at Gulfstream Park, Stritsman sent Divine Miss Grey to Gargan in New York and something magical happened.
Entered in a $40,000 claimer at Belmont Park, Divine Miss Grey won by 3¾ lengths. She then won a starter allowance race, followed by a first-level allowance race, and the three-race winning streak earned her a spot in the G1 Test Stakes at Saratoga.
"The Test was my first stakes as an owner and it's a Grade 1 at Saratoga, where I grew up and was first exposed to the sport," Stritsman said. "That was tremendous."
Divine Miss Grey wound up seventh behind American Gal in the Test, but, after a pair of runner-up finishes, she closed out her 2017 campaign with an allowance victory.
Spectacular campaign
Prior to the start of Divine Miss Grey's 4-year-old season, Stritsman sold a half-share to Hill for $130,000 and the two of them enjoyed a spectacular campaign.
Divine Miss Grey opened 2018 with a victory in the Interborough Stakes at Aqueduct. She then won the Heavenly Prize Invitational and finished second in the G3 Distaff Handicap. Two races later, she won the Lady's Secret at Monmouth and later won the Dr James Penny Memorial Stakes at Parx. The Chilukki was her final win of the year, which was sandwiched between second-place finishes in the G1 Beldame Stakes at Belmont Park and the G2 Falls City Handicap at Churchill Downs on November 22.
All told, the remarkably consistent filly has won six of 11 starts in 2018-19 for Stritsman and Hill, with three seconds and earnings of $695,700 to give her career earnings of $929,372.
"I haven't been around horses a long time but I've never been around a horse like her where you could see the quality. Horses like Divine Miss Grey are a cut above the others," Stritsman said. "She was my first experience of being around a real good horse and we'd love to see her boost her career earnings above $1 million. She deserves that."
Dream come true
Among the races on Divine Miss Grey's radar is the seven-furlong G1 Humana Distaff at Churchill Downs on May 4. If that date sounds familiar, yes, it is Kentucky Derby Day, and it is indeed the stuff that dreams are made of for Stritsman, who knows that if he has one, two or no horses on that day's card, he's in the midst of an experience that seemed extremely far-fetched not too long ago.
"The goal is to run in the Kentucky Derby. After following the Derby horses for so long, knowing all the winners, tracking horses in the preps for years, doing all the Derby parties at my house with family and friends, and to be a big fan for so long, to have a chance to go there as an owner is a dream come true.
"It's the pinnacle of horse racing, and I'd love to be there with Danny. He's a Kentucky guy who grew up in Louisville. Randy and I were happy to get him his first win as a trainer at Churchill Downs, and the Derby would be an incredible thrill for everyone.
"My wife kept telling me that I was over my head with all the horses and then Tax wins the Withers and she's talking with my children [Klara and Evan], her sister and other family members about going to the Kentucky Derby. It's just unbelievable."
Unbelievable, yes, but certainly true. As Lucas Stritsman proves, there are indeed times in racing when storybook tales prove to be quite real.