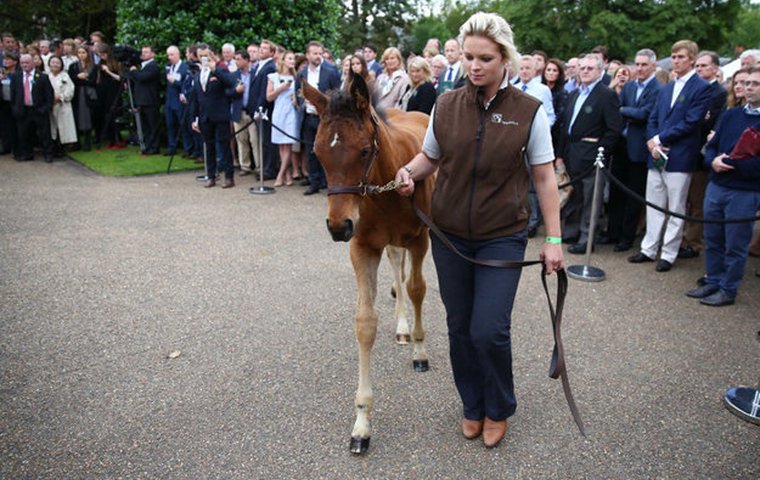 Delight and satisfaction were the feelings from the team at Goffs following a memorable inaugural London Sale on Monday.

The decision to deviate from tradition and host an invitation-only horse auction in central London with all but one lot off the grounds was a daring call, one that reflects the extent of Goffs' ambition. But the auction house ended the evening having been well rewarded, not only by the sale's returns, which included two seven-figure lots, but by an international event that was applauded for a vibrant atmosphere that provided the perfect complement to Royal Ascot week.
Set in the sumptuous surroundings of The Orangery at Kensington Palace and backed by QIPCO, the sale offered 65 lots, including 38 breeze-up 2-year-olds, 24 horses in training (the majority of whom held Royal Ascot entries), and a Northern Hemisphere breeding right to Invincible Spirit.
Without a doubt though, the star of the show in terms of publicity was lot 63, a package comprising the first Frankel foal ever offered at auction, catalogued alongside his stakes-producing dam Crystal Gaze, herself back in foal to Frankel. Bred by Qatar Bloodstock, which is headed by Sheikh Fahad and his brothers, the package was announced as a late entry in the days leading up to the sale, thus providing it with that extra boost of star quality.
Both were available to view at Kensington on the day of the sale and understandably attracted incredible attention, eventually selling to Coolmore's M.V. Magnier for £1.15 million ($1.96 million) while paraded in front of a sea of onlookers.
Even so, that price was trumped later in the evening by the £1.3 million ($22.2 milion) paid by Sheikh Fahad for Cappella Sansevero. He advertised the sale in fine fashion the following day with a second in the Coventry Stakes.
All told, 41 of the 53 lots offered changed hands for a total of £7,915,000 ($13.5 million), average of £193,048 ($329,067), and median of £120,000 ($204,500). Unsurprisingly given QIPCO's involvement, Qatari interests were well represented - in addition to buying the top lot, Sheikh Fahad's advisor David Redvers paid £280,000 ($477,000) for a City Zip colt and £160,000 ($272,000) for the Invincible Spirit breeding right - but encouragingly, there was also investment from across Europe as well as Australia, Hong Kong, Japan, Russia, and America.
"We're delighted with the sale and the enthusiasm that was shown by people right from the beginning for the whole concept," said Goffs CEO Henry Beeby after the sale. "It seemed to strike a chord with people - there was a great atmosphere. We'll certainly hold it again next year."
Although the breeze-up section opened on a strong note when lot 3, a Distorted Humor filly, sold for £600,000 ($1,022,00) to Stephen Hillen, the general consensus was that the horses-in-training section represented the stronger market.
With 21 horses holding entries at Royal Ascot, that had promised to be the case beforehand and anyone wishing to walk away with a proven performer had to dig deep; led by Cappella Sansevero, five horses in training realised £200,000 ($340,000) or more, including Cafe Society, who is heading to Australia after selling to Gai Waterhouse/James Harron for £330,000 ($562,000), and Caledonia Lady, who was bought by Narvick International on behalf of Japanese interests for £300,000 ($511,000).
"More and more, the tried horse market is becoming ever more international and ever more competitive, and this sale was a great example of this," Harron said.
"I thought the concept was great," he continued. "It made a real showcase of the sport during the exciting week of Royal Ascot, which can only be a good thing. I definitely think it worked. There was strong competition for the horses, especially the tried horses.
"It was great to secure a horse like Cafe Society with Gai Waterhouse and some of her most loyal clients who can experience what so few Australian owners get to experience - a runner at Royal Ascot [the horse was declared to run in the 10-furlong Wolferton Handicap on Friday], and just a few days after buying him."
Whether the breeze-up section is an area of this sale that has the potential to thrive to same extent over the next few years is not so clear-cut. In all, the 23 that were officially listed as changing hands sold for an average £126,521 ($215,666), led by two American-breds, the aforementioned daughter of Distorted Humor and a Giant's Causeway colt who was knocked down for £400,000 ($682,000) to the Russian-based Volga Star Racing.
"I was happy with how the sale went and would sell there again," said Willie Browne of Mocklershill, who sold seven lots including the Distorted Humor filly. "They put on a great show.
"But I found the market for the breezers was the same as every sale this year, in that the ones that breezed well sold well," he said. "I thought there might be someone there for the late maturing 2-year-old, middle-distance type but as with the other sales this year, that area was lacking."
The horses breezed two days prior to the sale at Kempton Park, situated on the outskirts of London, and were subsequently available to view at the track, a feature that Browne feels could be tweaked.
"I think, if possible, you need to have the horses on site," he said, "because if you parade them in front of people, I've found it tends to give them more incentive to bid, especially for the middle-market type."
Nevertheless, with a successful template set in place and the promise of graduates advertising the London Sale to good effect over the upcoming months, Goffs have a strong foundation from which to build upon.
In the meantime, we can look forward to a repeat of this innovative concept at the Goffs Champion Sale at Leopardstown Racecourse on Sept. 13.