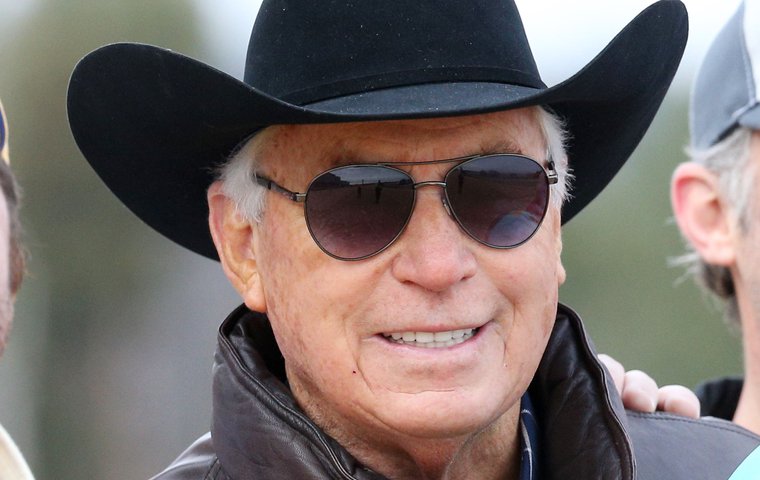 From Farma Way to Charismatic, Tabasco Cat to Serena's Song, Spain to Will Take Charge, the horses D. Wayne Lukas has trained over a career spanning nearly 45 years have taken him into virtually every winner's circle of note at every U.S. racetrack worth mention. And he's not done yet, as is clear from this short Q&A with Daniel Ross in TRC's fortnightly What They're Thinking series. The following has been edited for brevity and clarity.

Who do you believe is the most important figure in the history of racing around the world?
I would say the Maktoum family. They've been instrumental in so many areas and in so many ways. I would also put John Magnier and his associates in that category. Economics drive the industry. There's no question about that. The activity in the sales ring, stud syndications, and the stud fees generated from a prominent sire, all are things that fuel and drive the industry.
So, when you look at that, and you look at what John Magnier has done with Coolmore in the United States, Australia and Ireland, the Maktoums with their stud farms in Kentucky and throughout the world — those are the things that fuel and drive the industry. Gambling does not drive the industry. The purse structure, although it's gotten better in this country, if we just had to depend on that, I think the industry would greatly suffer.
Which is your favourite venue and race (anywhere in the world)?
I really like Santa Anita. I was there for a long time. And I love the atmosphere at Keeneland. They're my two favorites. Saratoga would come in a close third. But nothing upstages the Kentucky Derby. The [Breeders' Cup] Classic, the Pegasus, the Dubai World Cup — it doesn't matter. You put the 144 years of tradition behind a race that's universally accepted and watched, there's no way it can be upstaged. As a trainer, owner or a jockey, you'll want that on your resume, because when you get that on your resume, you've arrived.
What is your fondest memory in racing?
I really believe winning the Derby. It would be tough to separate which one, but I think, if I've got to really nail it down, believe it or not it was winning with Grindstone (see video below) for Overbook Farm and [William T.] Young, who long ago became less of a client and more of a real, real good, close friend. That was his dream as a Kentuckian to win it. That's the only time I've been totally emotional after a win. Normally I get pretty analytical. We had a number of entries that year, but I thought he was the least likely, and darn it if he didn't jump up and win it that year.
What do you see as the biggest challenge racing faces today?
Without a doubt, it's the medication issue. There's no doubt we need to have uniform medication — the public are never going to have the confidence they need until we give them, whether the perception or the reality that everybody is getting a fair shake out on the racetrack.
In addition to that, the tracks are like islands. Santa Anita doesn't give a damn about Monmouth Park. Aqueduct couldn't care less, if you want to know the truth, about Churchill Downs. They all have their individual agendas, and we don't have the power to bring the principles of the racetracks together to do what's best for the sport. That's our problem.
If you look at our National Football league in the United States, none of the teams can do anything that would hurt the league, or not benefit it. But in racing, every track does whatever it wants.
If you could change one thing in racing, what would it be?
The Jockey Club have to step up and declare that they will not sanction or recognize races [at tracks that don't operate in the] best interest of the sport. That's the only leverage they have. They're not going to recognize Santa Anita's races if they don't come along and do what's best for Del Mar. And Del Mar's not going to be sanctioned if they don't do what's best for Churchill Downs. Bring it all together under one umbrella, and you can do that with a governing committee or a commissioner.
The thing that makes the National Football League so strong is they lock all the owners in a room and they argue and fight, but when they come out, they're unanimous in what they're going to do that's best for the league. That's exactly what we need to do.