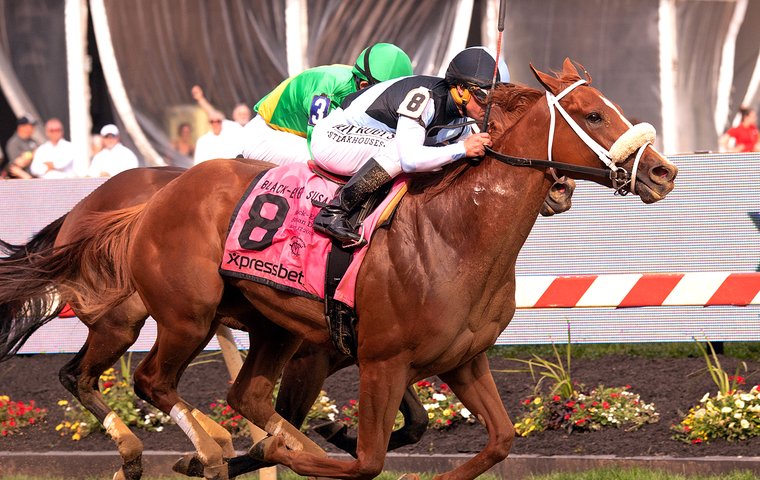 The TRC Global Sires Rankings takes a major step forward this week with the introduction of new categories for both Dirt and Turf stallions.

TRC SIRE OF THE WEEK
CURLIN (+7pts, #10 from #16) is the inaugural TRC Global Rankings #1 Dirt Sire in the world after a sparkling treble at the weekend.
Hill 'n' Dale's magnificent son of Smart Strike produced G2 Black-Eyed Susan winner Point Of Honor, plus a pair of G3 winners, also at Pimlico, trained by three different men and ridden by three different jockeys.
Starting this week, we are delighted to extend our classification of Sires on all surfaces to rankings specific to dirt and turf. We hope this resource will be especially useful because, in addition to the usual TRC mantra regarding the predictive power of our numbers, we have designed these new rankings to be complementary, so that it is easily possible to understand how a sire's overall ranking breaks down by surface.
Let's take some examples of a turf-only sire, a couple of more versatile sorts regarding the surfaces of their offspring's success, plus a dirt-only sire.
The obvious choice of turf-only sire is the great Galileo. In the Overall classification, the Coolmore leviathan is #2 with 1055pts. He is also #2 in Turf with 1064pts, and the difference between the two is accounted for by the absence of any record on dirt.
By contrast, world #1 Dubawi has proved more versatile regarding surface. Overall, he has 1084pts, with 1080pts in the Turf standings, added to which is a #12 standing in the Dirt rankings from a small sample of runners, mainly in Dubai.
So, Galileo's overall ranking is 9pts lower than his turf-only mark, while Dubawi's is 4pts higher. Again, the difference lies in the contrasting record of the two stallions on dirt.
A stallion whose record is even more surface-independent is the late Scat Daddy.
In the Turf classification, he lies #7 with 1035pts, while on Dirt he can be found at the same #7 spot with 1010pts (there are fewer dirt races around, so there is greater uncertainty over the sustainability of a dirt stallion's record, which is something we really care about from a predictive standpoint).
These records combine to make Scat Daddy world #3 sire in Overall, with 1046pts.
Another interesting stallion is War Front, sire of the G1 Preakness winner War Of Will on Saturday but actually better known for his grass runners. In the Turf ranking, War Front is #21 with 1017pts, while in Dirt he is actually #14 with 999pts.
So, War Front's Overall standing is higher than in Turf, with 1019pts, making him #17.
We don't want to get into implying that a stallion's runners are better on turf or dirt, because this is an oversimplification. The Turf-Dirt split is quite often a function of the predominant racing surface in the part of the world where a stallion's stock proliferates, and a circular effect may be at work leading trainers to campaign the runners of a stallion on a particular surface just because that is his reputation.
This important caveat is similar to the notion that, say, world #1 jockey Ryan Moore is not necessarily the world's best rider (though it is a good bet he is one of them) because, like every jockey, his record is strongly related to the opportunities afforded him as stable jockey to Aidan O'Brien and first choice, when available, for Sir Michael Stoute. Those two great trainers know a thing or two about good jockeys, and their call on Moore buttresses the notion that he is worthy of the status that our rankings allot him.
When it comes to stallions, any number of factors shape their success and failure, only one of which is their natural potency. But we don't need to know this independent of other factors for ranking purposes because we make no claim that this can be measured by our data.
We hope the surface-specific classifications available every week now will provide more useful information about the trajectory of the world's best stallions. We have tested their performance extensively for months now, and we have not taken this step of releasing them until we are sure they behave just as well as the Overall category when going live.
A major part of this exercise was back-testing. As part of this process, we have retrospectively produced the new surface-specific rankings for every week back to January 2014, bringing them into line with our other rankings.
You may find the Dirt rankings, in particular, interesting. In the table underneath, they are summarised historically, showing that we make Tapit the most successful dirt sire in the period under study, ranking him #1 for more than three and a half years (188 weeks).
You should be able to discern how stable these numbers are - despite the sample-size being a lot smaller than for stallions on turf. Only three other sires have been our world #1 on dirt – present #1 Curlin, Candy Ride and, right at the start of the epoch, Empire Maker.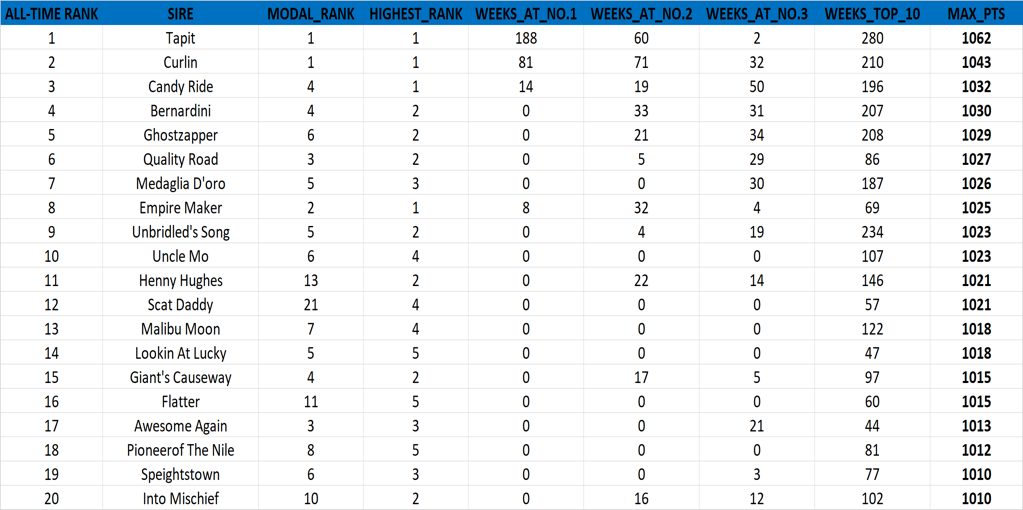 One final note: there is no reason why a stallion with mostly dirt runners should not rank #1 overall. Tapit, for instance, peaked at 1062pts, which would make him just 22pts off the top right now (Dubawi, 1084pts) and would actually have ranked #1 overall at a few points in rankings history.
Click here for a list of all last week's biggest TRC Global Rankings points gainers
Click here for a list of all the week's Group and Graded winners