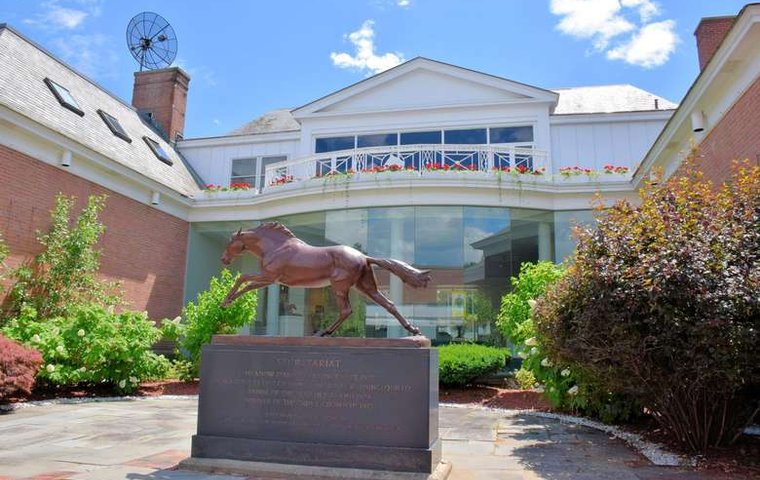 The annual rite of electing horses, trainers, and jockeys to the Hall of Fame of the National Museum of Racing in Saratoga Springs has commenced. Thankfully, the process is not nearly as complicated at the Democratic Party caucuses in Iowa. But neither is quantum theory, so that's not saying much.

As a member of the Hall of Fame nominating committee, this reporter is not at liberty to divulge the specifics of crafting the Hall of Fame ballot that eventually will be presented to the voting group. We are sworn to secrecy on a stack of old Turf & Sport Digests. Be assured, however, that there are no animal entrails consulted or rune stones scattered on the floors of darkened rooms. There is a dartboard, sometimes used, but we gave up the hooded cloaks several years ago, mostly because they were far from flattering.
The members of the nominating committee are the gatekeepers – you've got to get past them/us to make the ballot – and we are an eclectic bunch. There have been committee members in the past who believed in their bones that the Hall of Fame should have stopped at Man o' War, Citation, Ben Jones, and Sunny Jim Fitzsimmons, and then the doors shut and barred against unworthy interlopers.
Subjective roadblocks
The more contemporary breed of committee member has approached the challenge with a mind open to a broader definition of Hall of Fame excellence. King Leatherbury made it onto the ballot and then into Hall with a prolific career with claimers. Craig Perret, off and on the ballot several times, had been worthy of the Hall of Fame for more than 20 years before he was finally elected in 2019. And, while the vast majority of Hall of Fame horses have raced on dirt over a route of ground, in recent years a few sprinters have been elected, and even – gasp! – horses who excelled on grass.
The journey to any sporting Hall of Fame is littered with subjective roadblocks. This year, the Major League Baseball Hall of Fame in Cooperstown, New York, will welcome both Derek Jeter and Larry Walker. Jeter was in his first year of eligibility, while Walker was eligible for the last time before getting bumped to the oldtimers category.
Most major team sports require their Hall of Famers to be retired. Racing – like golf and, well, bowling – is different. After trainers train for 25 years they are eligible. Jockeys require 15 years of riding before they are considered. Horses, on the other hand, must be retired for five full calendar years before they can appear on the ballot, which is why Hall of Fame voters have had to wait so long for two-time Horse of the Year Wise Dan to be up for election. He'll be on the ballot this year, which is giving away no secret.
The racing Hall of Fame was established in 1955, an era in which horse racing filled the sports pages and seized headlines. That year was highlighted by the exploits of Swaps and Nashua. Bill Shoemaker, Eddie Arcaro, and Bill Hartack were as well-known as Mickey Mantle and Duke Snider. To be a sports fan was to be a fan of racing.
Instead of pandering to the modern game, however, the trustees of the National Museum of Racing decided to stock their first Hall of Fame class with names from the distant past. The horses enshrined were Ben Brush, Boston, Domino, Hanover, Hindoo, Kingston, Lexington, Salvator, and Sir Archy. If their names don't ring bells, no worries. Their foal dates ranged from 1808 to 1895.
The inducted trainers were William Preston Burch, Thomas Healy, Sam Hildreth, Jack Joyner, John Rogers, and James Rowe Sr. By 1955, none of them were alive.
As for the jockeys, they all were long past their careers, but at least a few among Laverne Fator, Edward 'Snapper' Garrison, Daniel Maher, Jim McLaughlin, Walter Miller, Isaac Murphy, George Odom, Earl Sande, Tod Sloan, Fred Taral, Nash Turner, and George Woolf still were around to enjoy the honor.
Sustained excellence
The induction ceremony itself, always on a warm August morning, has evolved from a small gathering at the museum on Union Avenue to a tent on the grounds and eventually to a major event open to the public and staged in the Fasig-Tipton sales pavilion, located nearby.
Trainer John Nerud, inducted in 1972, once recalled his bygone initiation day. "They gathered us together in one of the rooms at the museum and passed around some champagne," said Nerud, who enjoyed Hall of Fame status for 41 years, until his death at 102. "I took a sip and then had to leave to saddle a horse."
Compare that to the 2016 ceremony, at which both Zenyatta and Rachel Alexandra were enshrined. Tickets were issued for the event at the sales pavilion and a remote telecast site was provided to satisfy their multitude of fans.
It can be argued that annual awards are marketing tools of self-congratulation – the Oscars come to mind – but membership in a Hall of Fame represents sustained excellence over a significant period of time. Over the past 65 years, standards for election to the Thoroughbred racing Hall of Fame have changed, but certain constants apply, even as others fall by the wayside.
"There are still horses from the 19th century that should be in the Hall of Fame," said Allan Carter, who served as official museum historian from 2004 through 2019. "They raced more, carried more weight, and the mares ran against the males more often. It's hard to compare that era to today.
"And yet, I'll be heartbroken to see a horse like Justify get into the Hall of Fame someday with only six starts to his name," Carter added. "If I could take back one of my votes, it would be the one I cast for Majestic Prince – only ten starts, none against older horses, and he wasn't even a champion."
In the end, that is the beauty of the Hall of Fame process: subjective to a fault and vulnerable to second-guessing, an unwilling prisoner of trends in breeding, training and campaigning. The debates are entertaining and the results sometimes go down rough. But, as Carter noted:
"Once they are in the Hall of Fame, they are, by definition, 'great'."