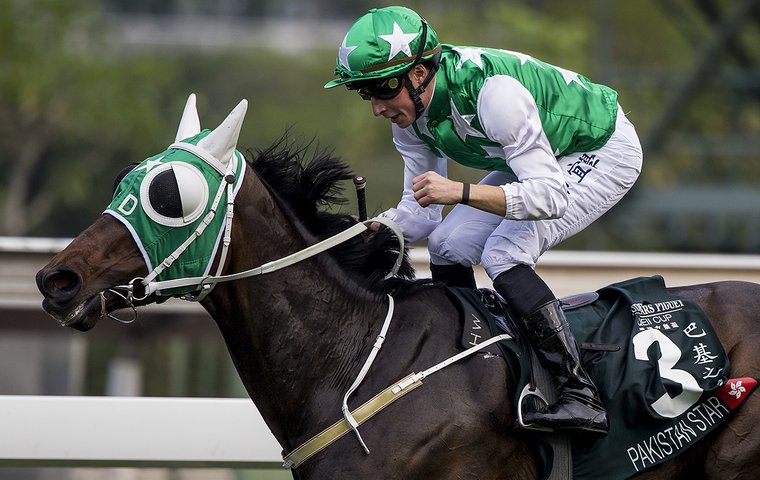 The spotlight has shone on Pakistan Star ever since his internet-rocking debut two and a half years ago, but this week, the biggest of all in Hong Kong's horse racing year, the mercurial one has been unusually peripheral.

Pakistan Star has gone about his regular routine without hoopla; a warm-up in the trotting ring, a canter on the dirt track - each day in company with his fellow Longines Hong Kong International Races-bound workmates, Time Warp, Exultant, Beauty Only and Winner's Way. All under the watch of world #6 trainer Tony Cruz, who has nine wins at the G1 spectacular.
The handler has - as normal - pedalled his bicycle from his stable block, to the sand yard, to the trainers' observation stand; back and forth to watch his yard's 60-odd horses go out in small strings. And while the event's overseas raiders have wooed the press pack at large, Cruz is content with what Pakistan Star has shown him ahead of Sunday's G1 Longines Hong Kong Vase (2400m).
"I'm very happy with him. He looks a real stayer now and his draw in gate two is ideal," the trainer said as he rested upon his bike's left pedal and shifted upright in the saddle. "I think the Japanese mare - Crocosmia - drawn one, is a front runner, so that could be perfect because I need something to lead him."
Cruz does not want a repeat of the 5-year-old's last run, an 18-length eighth of nine in the G2 Jockey Club Cup (2000m). Hurried forward early, three wide outside the duelling brothers Time Warp and Glorious Forever, the powerful gelding failed to settle and was a spent force in the home straight.
Instead, he wants a return to the brilliant performances that reaped G1 wins in the QEII Cup (2000m) and Champions & Chater Cup (2400m) last spring. To that aim, Cruz and owner Kerm Din have turned again to Pakistan Star's QEII Cup pilot, William Buick, the world's seventh-ranked jockey, who on that one previous pairing succeeded in settling his mount into a sweet rhythm before unleashing a devastating kick.
"William got him settled really nicely on the rail when he won the QEII and that's the best place to have him. When he's off the rail and sees daylight, he can be a bit keen - he needs to be covered up in behind," Cruz said.
And, while the Hong Kong International Sale graduate had to go through a barrier trial a week ago after the race-day stewards deemed his latest race effort to be substandard, Cruz now looks on that as a positive.
"He won that trial and he did it in a fast time, so we know he's fit and I'm very happy with him," he said. "I haven't done a lot with him this week, just routine work to keep him at his level. He's done everything already. His coat looks better than ever."
Cruz was calm and assured as he talked with confidence about a horse that has delivered so much drama in the past - stopping and almost stopping in races and trials. A look to the leaden, rain-dropping sky overhead changed his tone.
"The only thing I'm worried about is the weather - the forecast predicts rain. Pakistan Star likes a fast track, good to firm. If the rain gets into the ground, it won't suit him."
Pakistan Star faces a tough assignment in a strong renewal of the Vase and Cruz believes the German-bred's own stablemate should be right in the mix for the win too.
"Exultant is in good form, he'll be a chance," he said. "I'm happy with his draw, too. From gate ten, I want him running a bit handier because he only has one action all the way. He doesn't quicken too much, but he's a real stayer and the mile and a half will allow him to get into his rhythm."