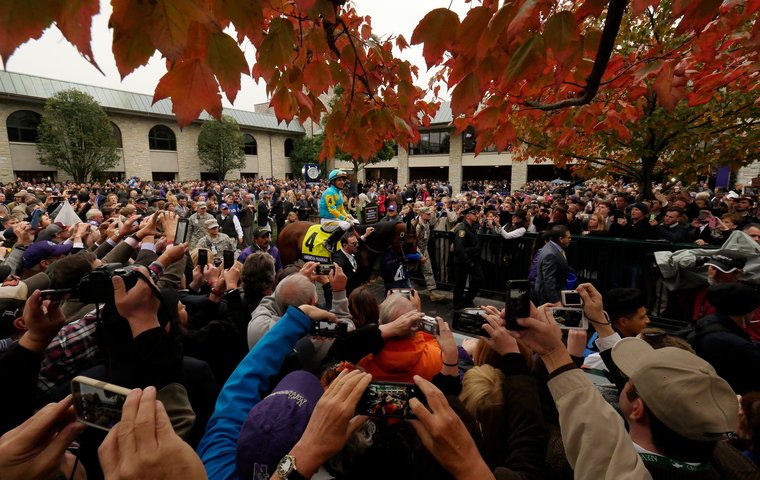 Craig Fravel's desk is where the buck stops this week. As president and CEO of the Breeders' Cup, he currently has the hottest seat in racing, at least until the World Championships come to a close after the BC Classic at Churchill Downs on Saturday evening. Fravel (pictured below) has held his current role since 2011, and was previously manager at Del Mar.

Who do you believe is the most important figure in the history of racing around the world?
Fortunately, I have the benefit of having read a number of previous responses to this question, and I can't argue with anyone who suggests such venerated names as Sheikh Mohammed, John Magnier, Charles II, or Lord Derby. Those names are clearly at the the top of any list and, since my career has led me to the Breeders' Cup, I have to agree with the inclusion of John Gaines in that company.
However, as I thought about this question, for some reason my mind took me back to a day at Del Mar many years ago when I was new in the business. I have no idea the year or the date, but I think it was a warm Saturday and I remember the conclusion of a race and a horse that collapsed well past the wire due to heat exhaustion. The outriders were a long way off and the human ambulance had pulled off the track and the horse and rider were alone.
I can still see in my mind a figure racing from the gap to kneel down and provide aid and comfort to the horse where he stayed until help could arrive. To be honest, I can't remember who it was, but it was one of our employees who had no connection to that horse or its trainer and whose only motivation was to take care of an animal in distress.
For me, that individual represents so many important figures in this game, whether at the farm, the training center or the track, whose hands-on love and attention to our horses is at the core of the game. They are frequently anonymous, generally unrecognized, but unbelievably important.
So for me that guy at Del Mar and so many women and men like him is the most important figure in racing because he cared about a horse.
Which is your favourite venue and race (anywhere in the world)?
No surprise here. I spent the first 21 years of my career in racing working at Del Mar, and I recall many times towards the end of the day wondering what it would be like to simply enjoy a day at the races sitting in my clubhouse box with my wife, daughter and friends.
Up until the time I went to work at the Breeders' Cup that opportunity never existed as any day at the track involved some sort of nervous tension about what might go wrong or did go wrong in the course of a day. In recent years, I have had that opportunity and a Friday evening at Del Mar with a race coming out of the turf chute backed by a brilliant sunset is my idea of a great racetrack. Combine that with all the friends we have made over the years sitting nearby and I have to put Del Mar at the top of my list.
As far as races go, I have to name two. The Breeders' Cup Turf, followed immediately by the Breeders' Cup Classic, is a double that can't be beat. They represent the best of international racing and the performances and champions over the years have been memorable.
To single one of those out, I have to say Zenyatta beating the boys in the 2009 Classic (see video below). I have never heard or experienced the reaction of a crowd like that day at Santa Anita nor been hugged by so many people at once. It was unforgettable – or unbelievable as Trevor Denman told us.
What is your fondest memory in racing?
I have so many great memories and am so grateful to have had a job in this great game for over 28 years now, but I only have to reach back to October 31 of 2015 at Keeneland for my fondest memory.
Our management team at the Breeders' Cup had gone out on a limb along with our friends at Keeneland to say that we could pull off this event at a venue the size of Keeneland and in a town the size of Lexington. Honestly, I never doubted the logic behind the decision and welcomed the challenge, but there were many doubters and naysayers who predicted disaster.
While there is nothing like the first Triple Crown winner in many years to help make a racing event a success, the commitment of our team at the Breeders' Cup and their counterparts at Keeneland and the enormous pride the community brought to welcoming the world to Lexington is a fantastic memory.
Watching American Pharoah coming down the stretch with his ears pricked is etched in my memory as a reflection of the entire event and the pleasure it brought to so many.
What do you see as the biggest challenge racing faces today?
As has been the case for years our sport is continually challenged by the need to compete in an ever changing world while coping with a highly labor intensive operating model and amazingly high inventory turnover (meaning attrition in the horse population through injury or retirement). We have made great strides in recent years in reducing the incidence rate of catastrophic injury, but we need to make further strides in diagnostic technologies and preventive care to improve the care of our horses and extend careers.
There are promising technologies on the horizon in imaging and a renewed emphasis on continuing education for trainers and others that I hope will move us forward, but we need to make improvements economically on both the cost side of the equation and the revenue components.
If you could change one thing in racing, what would it be?
I have always been a live racing guy and continued investment in the live racing product both in terms of fan amenities, wagering technology and innovation and backstretch conditions have to be a high priority.
Of course, it wouldn't hurt if horses like Justify and American Pharaoh could run until they were five or six years old.