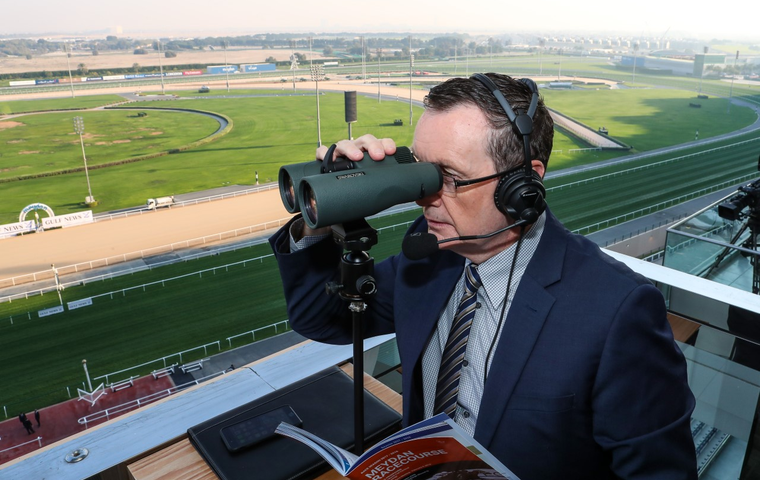 It will be the biggest day of the year for race-caller Craig Evans, although it will feel slightly different this time when he commentates on the world's richest race-day - Corvid-19 means there will be no public in attendance when he calls his third Dubai World Cup on Saturday week (March 28).

Evans, who has provided commentaries in seven different countries during 32 years in the business, has been the commentator for the Emirates Racing Authority since 2017, after spending the previous ten years as senior race-caller in Singapore.

He has been shortlisted in the past for full-time positions at Santa Anita and Melbourne. He called his first race at the age of 14 in Western Australia.

Who do you think is the most important figure in the history of racing around the world?
For me it would probably have to be figures rather than just one figure. I think it would be hard to go past the vision of several owners from the Middle East.
Led by Sheikh Mohammed and his Godolphin operation, the amount of money injected into racing from the Middle East in the last 30 years has been significant. If you pick up a race guide anywhere in the world today, there is a good chance of seeing horses owned by Godolphin, or several other high-profile owners from the region, racing in large numbers. Almost all racing jurisdictions benefit from sponsorship, and their influence on breeding on a global scale is unprecedented.
What is your favourite racing venue and race?
Growing up in Australia, I've always considered the Cox Plate as Australia's best race, and by extension my favourite race. If you own a very good racehorse you program your entire year around having that horse compete in the Cox Plate.
Run at weight for age, it always attracts the best horses in training and, being run at probably the most unique major racecourse anywhere in the world, nearly always produces something special. Moonee Valley is an absolute racing gem, and you really get the feeling that you are part of the action. Packed to the rafters, it only takes about 25,000 spectators with the city of Melbourne as the backdrop. The home straight is less than 200 metres long so it's a very tactical track and race.
The honour role is the best of any race in Australia, which is highlighted by Winx equalling the record of three wins by Kingston Town, and then going on to create history with a fourth. See Kingston Town's amazing third win in 1982 below.
What is your fondest memory in racing?
My father was a part-time bookmaker in country Western Australia, and along with his business partner would fly to weekend race meetings in a light aircraft that they owned but would charter out during the week.
In 1982, I was just getting interested in race-calling and he took me on a flight to Ascot racecourse in Perth (about a three-hour flight) to watch the Western Mail Classic, a race with similar attributes to the Cox Plate, run at weight for age and attracting the best horses. Ascot was packed, and I squeezed into a spot on the stairs of the grandstand to watch the race. It was the most incredible atmosphere I had ever experienced as Kingston Town, having his final race start, charged down the outside to a memorable victory. I often wonder if I hadn't experienced that race would I have been so passionate about pursuing race-calling.
What is the biggest challenge that racing faces today?
Without a doubt, it would have to be public perception. I think racehorses are generally looked after particularly well, but I don't think the general public see it that way. Racing needs a concerted effort to alter public opinion as I think many people are nudged away from participating in racing before they get the chance to see what a wonderful sport that it is.
The whip rules need to be stringently adhered to for two reasons. Firstly, public perception and secondly it is one of the most blatant forms of cheating in sport I can think of. If the guy abiding by the rules is edged out in a photo by the jockey who uses his whip even once over the limit and only gets a small fine, then it is not okay. $10,000 and a month suspension for every hit over the limit – they would learn to count very quickly.
If you could change one thing in racing, what would it be?
Somehow get the best colts to race on. I fully understand the financial realities of quality colts being rushed off to stand at stud, but it does not help the sport long-term. I have no idea what the answer is, but imagine the best 3-year-olds returning to do battle at four and then five. That would build rivalries that could be marketed as in other sports, capturing the imagination of racegoers and the public.