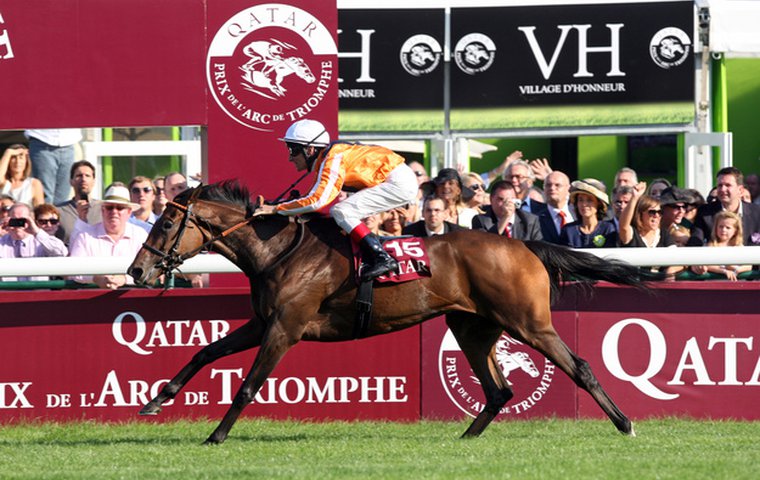 It's one of the great anomalies of modern racing - the bare figures tell you the German breeding industry is in decline, yet the horses being produced year-in, year-out tell a story of a flourishing and increasingly influential system envied more and more around the world.

Remember that this is a relatively minor racing nation, with just seven G1s through the year, and a bloodstock industry that's positively tiny alongside the likes of the United States, Britain, Ireland, France, Japan, and Australia. But it has a history of punching way above its weight, and that is at least as great now as it ever has been.
In the last four seasons alone, German-breds have won some of the world's very greatest races: the Arc (Danedream, 2011), the King George at Ascot twice (Danedream in 2012, Novellist in 2013), and the Melbourne Cup (Protectionist in 2014). And 2011 Kentucky Derby (and 2013 Dubai World Cup) winner Animal Kingdom was out of a German mare, who was bought at the Baden-Baden sales shortly after winning at the local racecourse.
Last season's top German 3-year-old, Sea The Moon, whose career was cut short by injury, was rated 125 in the World's Best Racehorse Rankings, making him the joint fourth best horse of the classic generation in the world (alongside Bayern).
German-breds are noted for soundness, stamina, and being able to maintain their form, even improve, as they mature, qualities many believe are less and less evident in Thoroughbreds being produced elsewhere.
So what is Germany's secret? What is it that enables its breeding industry to maintain a level of success proportionally so much higher than other jurisdictions?
Perhaps one of the keys lies in the system for selecting stallions, and in particular the distinction between approved stallions (the German word is anerkannt) under German rules and those not approved (nicht anerkannt).
The big difference is that foals sired by approved stallions are eligible for German breeders' premiums (currently 30 percent of prize money for 2- and 3-year-olds, and 20 percent for older horses), while those by non-approved stallions get nothing.
These premiums are a considerable factor in the financial planning of breeders, so the loss of them is a huge disincentive. Basically it means it is extremely rare for a leading German breeder to use a non-approved stallion.
The conditions a stallion must fulfil before approval is granted by the breeding commission at the Direktorium, the German racing authority, are very strict. He must have reached a certain level of form as measured by his performances on the track, he must be a good physical specimen free of defects - and he must be free of any artificial stimulant or medication.
He will be subject to a physical examination and must have correct conformation and prove his suitability as a stallion; five qualities are tested and given ratings, and a minimum mark must be reached. He must be totally free of any infectious disease and also of any congenital defect that could in theory be passed on to his offspring; rigs (cryptorchids) or parrot-mouths, for example, will not be allowed.
The rule that a horse must be free of any artificial medication is retroactive. If he has at any time been on artificial medication, he is automatically disqualified as an approved stallion. This includes medication commonly used in other racing jurisdictions but banned in Europe for horses in training, such as bute or Lasix.
The rules were introduced in 1997. Some ex-U.S. runners (mainly Northern Dancer line stallions) had been brought to Germany in the 1980s, and trainers and breeders had complained that they were in many cases siring "soft" offspring.
One notable "victim" of the rule is Fährhof stud's Sabiango, one of the few stallions now standing in Germany who is not approved. Sabiango was an excellent racehorse, winning three G1s, and has a fine pedigree, being one of the best sons of Acatenango and a half-brother to South African champion sire Silvano. He is good-looking and there are no problems with his conformation.
However, as a 6-year-old, he was sent to the states, where he won two stakes races, the Charles Whittingham Memorial and the Kentucky Cup Turf Handicap, both on Lasix. He came back to Germany afterwards, but is not approved as a stallion there because of those U.S. runs on Lasix, so he started his stud career in France. He is now back at Fährhof but covers very few mares.
Despite only minor support, Sabiango has had some minor success as a stallion - his daughter Jive won the Swedish Oaks - so it is possible he may have been a loss to German breeding.
On the whole, though, these regulations have strengthened the industry in Germany as they mean no "soft" horses will find a place at stud there. Breeders sending their mares to be covered in Germany can be confident the prospective mate will be healthy, have no defects and be drug-free. This is undoubtedly a major factor in the worldwide success of German-breds and helps account for the soundness, longevity, and stamina for which they are admired.
That is not to imply that German-breds are one-paced plodders. There is, of course, a long list of German successes in such stayers' races as the Prix du Cadran, the Gold Cup, the Cesarewitch, and the Melbourne Cup, as well as a host of top jumps races, but the best German-breds have the class to win at all distances.
Monsun, the most successful German stallion of all time, who stood at Gestüt Schlenderhan from 1996 to his death in 2012, did indeed sire the winners of these races, but he was also represented by several 2-year-old champions, as well as G1 milers such as Maxios and Manduro, although the latter, described by André Fabre as the best horse he has ever trained, seemed to be effective at many trips.
Yet a mile and a half is the key distance in Germany. Five of the country's seven G1s are run over that trip (the Deutsches Derby, the Grosser Preis von Berlin, the Grosser Preis von Baden, the Preis von Europa, and the Grosser Preis von Bayern), one, the Preis der Diana (Oaks), is over 11 furlongs and the other, the Grosser Dallmayr-Preis, is over 10.
Clearly a German breeder intending to race his own stock (as many of them do) will be trying to breed a horse whose best distance will be 12 furlongs. So it is no surprise that the German racing programme caters mainly for later maturing types with plenty of stamina - the 2-year-old programme is relatively weak, with hardly any races for that age group before August and only four Group races all year, all of them G3.
The mile-and-a-half Deutsches Derby, of course, plays a significant role, with many of its winners going on to success at stud.
Indeed there was nearly an unbroken run of almost a century of one line of Derby winners themselves each siring a Derby winner. It began with Herold, the 1920 winner. He sired three winners of the Derby, including the outstanding Alchimist, who won in 1933 and became the sire of Birkhahn (1948). The sequence stops there, but his son Literat (who broke down in the 1968 Derby when an odds-on favourite - and on all known form would have won), was the sire of Surumu, who won the race in 1977 and resumed the sequence as he was the sire of Acatenango (1985), who was the sire of Lando (1993).
The series could be coming to an end, as neither Lando nor Nicaron, Acatenango's other winner of the race, has yet produced a Deutsches Derby winner. One of Lando's best sons, Scalo, was hot favourite for the 2010 renewal but could only finish ninth.
Acatenango is also sire of Derby-winning filly Borgia, who is doing well as a broodmare, while he sired French Derby winner Blue Canari, as well as the dam of Kentucky Derby winner Animal Kingdom, Dalicia. So it is possible that this line could continue in another country.
German breeding has two big built-in advantages – the sheer number of strong female families that have flourished for generations, often for the same breeder, and the high number of quality stallions, often from these same families.
Although quite a few stallions from the Northern Dancer line were imported into Germany in the final quarter of the last century, they have far less influence than has been the case in many other countries, Ireland in particular, with the result that German stallions and mares are often complete outcrosses.
Yet, for all these advantages and this level of success, the number of Thoroughbred mares in Germany has dropped alarmingly from 2,079 in 2008 (and even more in the late 1990s) to 1,425 in 2014, while the number of live foals fell from 1,245 to only 748 in the same period, according to the Direktorium.
The numbers are expected to improve in 2015, as about 20 percent more mares were covered last year, but they are still well short of the numbers required to support a viable racing programme. Jan Antony Vogel, the secretary general of the Direktorium, has proposed that a minimum of at least 1,200 foals a year is needed.
It is to be hoped that this target can be achieved - otherwise the consequences could be be felt not just in Germany, but ultimately all around the world.